9 Educational Toys for Tweens to Learn Robotics, Coding and Science
*We are reader-supported! This page may contain affiliate links. As an Amazon Associate we earn from qualifying purchases. The price to you remains the same.
The tween years (ages 6-12) are a strange time for kids. They are too old to be a preschooler but not quite a young adult! They are beginning to find their feet and develop a sense of independence, but still need guidance and support. Education-wise, this is a crucial time. That's where the foundations of more complex STEM concepts are laid.
Educational toys are a great way to do this as they can provide out-of-the-classroom learning to complement the school curriculum. As an added benefit, they can also distract kids from unproductive entertainment like video games and TV!
It's hard to pick a winner in such a diverse field, but our top prize would have to go to the LEGO Boost. However, every child has different interests. So, read on for our top learning toys recommendation to keep tweens off (mindless) screens in 2023.
IMAGE
PRODUCT
DETAILS 

Best overall

LEGO Boost Creative Toolbox

This robotics toy isn't award-winning for no reason. Your tween can use it to build five cool robots and learn coding basics.

Best Coding Toy for Tweens

Piper Computer Kit

This DIY computer kit is a perfect gift for tweens and teens who love to make things.
After they create it, they can play Minecraft to their heart's content and learn beginner to advanced coding along the way!

Budget Option

Crayola Color Chemistry Set

Tweens, teens, and even adults can use this unique set for over 50 colorful, dynamic experiments.
9 Best STEM Toys for Tweens Reviewed
Best Overall — LEGO Boost Creative Toolbox
LEGO Boost Creative Toolbox
This robotics toy isn't award winning for no reason. Your tween can use it to build five cool robots and learn coding basics.
Lego Boost is one of the most successful additions to the Lego robotics collection. Following on from the massive success of Mindstorms, Boost is a kit aimed at a slightly younger audience, designed to teach kids how to build and program robots. The 850+ piece set comes with instructions for five builds, including a robot, cat, guitar, and a model-building factory!
It is all guided through App tutorials, so a compatible device is needed. The robots include distance, color, and motion sensors, as well as motors to enable movement. That is where the fun part begins! Through the App, your tween can control their robots and program custom movements and behaviors. To do this, kids have to drag and drop graphical code blocks that represent sequences of code. So it's super easy to learn.
The kit is a bit more high end than the UBTECH robot featured below, but three more robots are included, so we think it's pretty good value. Additionally, the associated App is fantastic and complements the whole learning experience – we wouldn't expect anything else from Lego! All in all, this is a great learning toy for tweens and teens to learn a whole host of skills.
Best Coding Toy for Tweens — Piper Computer Kit
Piper Computer Kit
This DIY computer kit is a perfect gift for tweens and teens who love to make things. After they create it, they can play Minecraft to their heart's content. And learn beginner to advanced coding along the way!
Building a computer isn't rocket science with the Piper Computer Kit!
So, once your tween unboxes the gift, the first thing to do is put together a computer. That will be a fun engineering task in its own right. The kids have to connect over 50 hardware parts to enable the Raspberry Pi microcomputer to work. Fret not about complexity – there are blueprints and instructions to guide the kid along the way.
It's a charming low-fi looking computer that your tween will be proud of!
But the real fun begins once the contraption is complete. That's when kids can start to learn coding! At first, they can use Blockly, a drag-and-drop programming language. There are 11 projects to guide them through the process. Kids of this age love to play Minecraft. Hence they will perceive the learning process as an immersive and wildly fun game. Bingo for everyone!
As they progress through the game, they will finally be able to delve into the world of Python. It is one of the most popular and versatile coding languages. No need to even emphasize the list of benefits from this coding kit!
Best Budget Option — Crayola Color Chemistry Set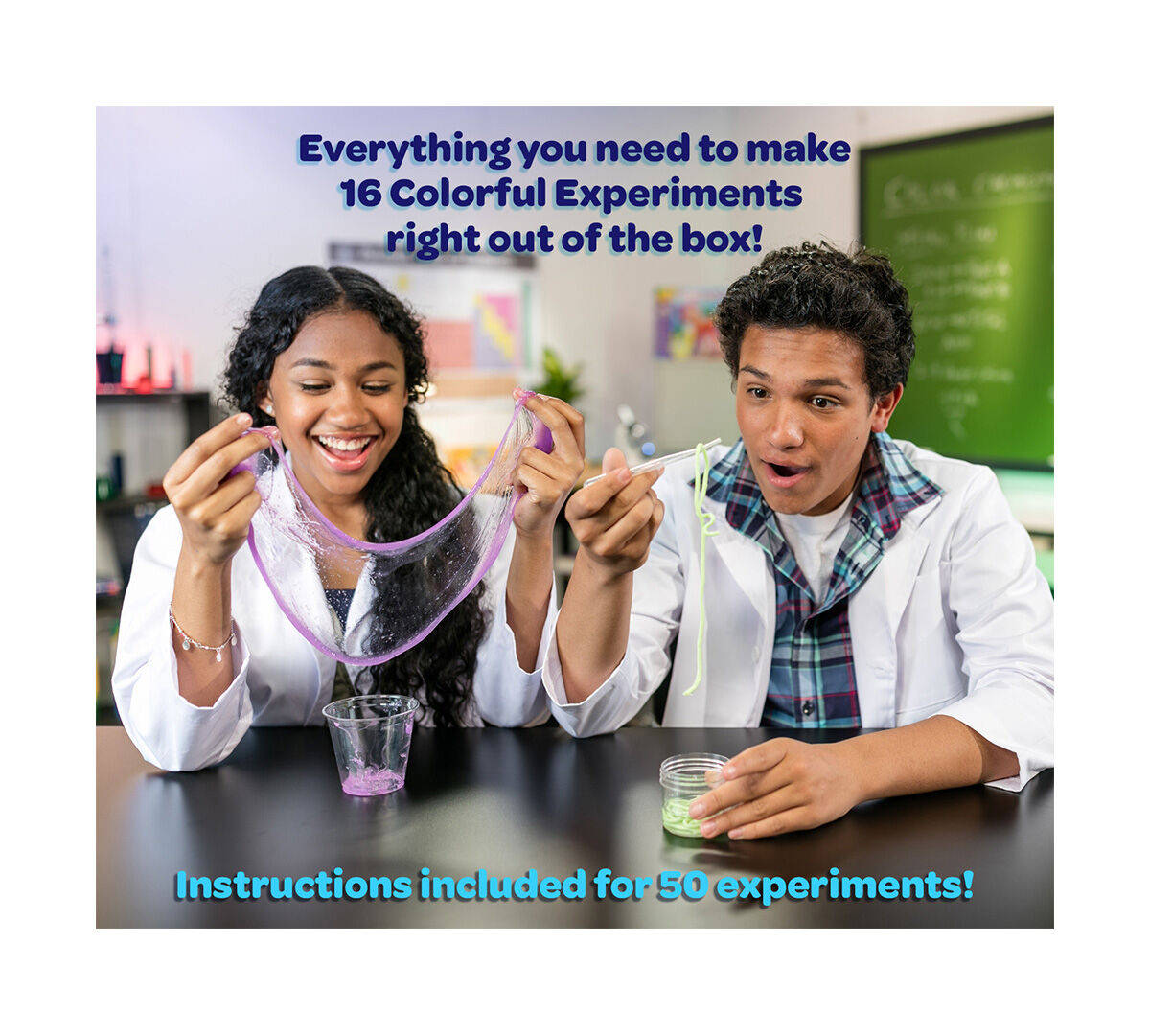 Crayola Color Chemistry Set
Tweens, teens, and even adults can use this unique set for over 50 colorful, dynamic experiments.
Crayola has grown into a household name for colors and creativity. Well, they haven't let us down this time either! Their Color Chemistry Set is a fun and versatile kit that provides scientific knowledge from an artsy-craftsy angle.
You may be wondering whether your tween will enjoy this gift. Let's just say one magic word: slime. And glow worms. And volcanos, and algae. All of those things that kids have deemed cool from the beginning of time.
The experiments include:
Glowworms
Erupting volcano
Colorful quicksand
Sticky slime
The set includes materials and supplies for 16 experiments. But you can always get more supplies and perform over 50 labs! Best of all, this toy is also suitable for younger kids. My friend has bought it for her five year old daughter. In that case, though, make sure to supervise your little one.
Unlike some other chemistry sets we've seen, this one doesn't include common household supplies. That would be the only downside. Once you run out of supplies, you just have to buy more.
Best for Imaginative Play — Osmo Genius Kit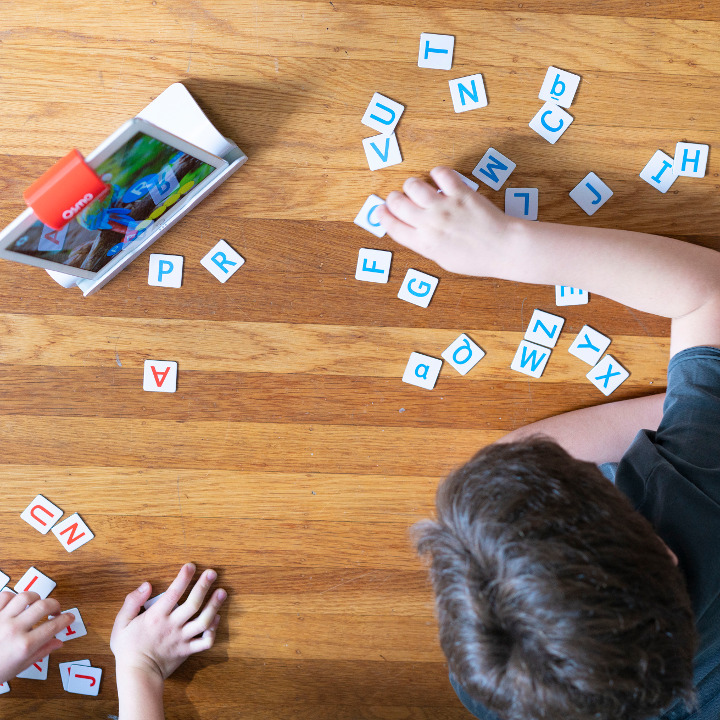 Osmo Genius Kit
Tweens will enjoy this brilliant toy, but it goes beyond ages and categories. Five apps allow for countless problem solving games from beginner to expert.
Looking for a way to get your tweens to use iPads for something productive? Look no further! Osmo is the innovative company behind an invention that bridges the virtual and physical realms with a simple iPad attachment. If you're looking to go deep and find out more about this game system, we have a detailed review of the Osmo Genius Kit for you.
Simply place your iPad on the stand, fix the Red Reflector onto the camera, download the apps, and start learning through interactive games. Still don't get it? At first, we didn't either. Check out the video below to see it in action. You'll quickly see why Time named it one of their best toys inventions. That's the main reason why we included Osmo on our educational toys for tweens list. Even in 2023!
The Genius Kit comes with five games that develop a whole bunch of skills. In Words, you use the tiles to spell the word from the clue on screen. Next, there's Newton, 60+ levels of virtual pinball where you have to use real-life objects to guide the balls. In the Numbers game, kids will need to count and multiply number tiles to solve the problem and pop bubbles to free the fish in the on-screen game.
In Tangram, the screen shows an image. You have to solve the puzzle by arranging physical tiles in the right way. Lastly, the Masterpiece is where you draw things in the physical realm, and they appear on the screen. Then you can bring the whole process to life with a time-lapse of your drawing!
But the fun doesn't stop there! You can get many other add-on games. We love this kit and think it is a fantastic way to encourage kids to learn with their iPads rather than playing mindless games! For more great suggestions, check out our article on the best coding toys of the year.
Best for Robotics Newbies — UBTECH Jimu Astrobot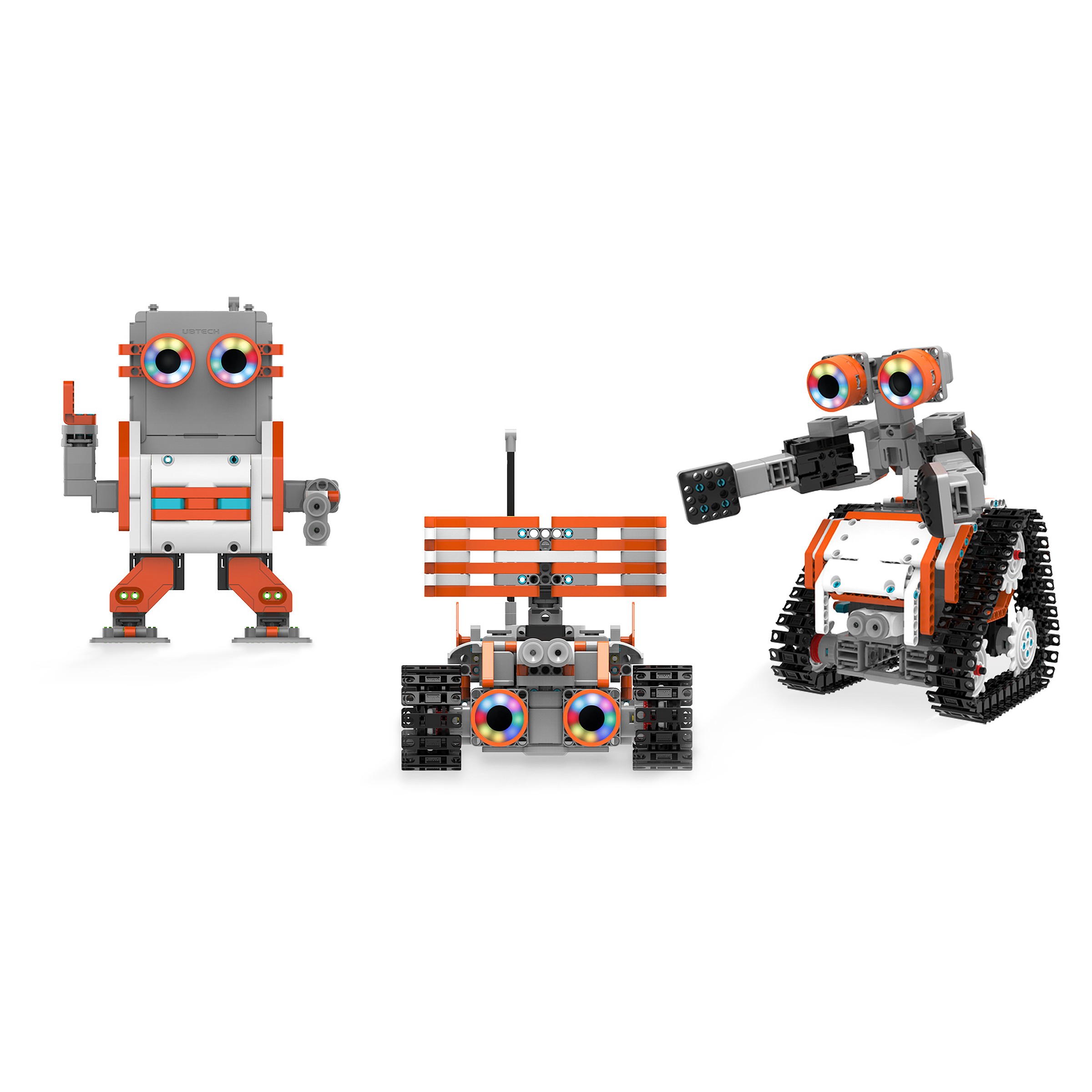 UBTECH Jimu Astrobot
A 387-piece kit that allows you to build three cosmos-inspired robots or let your imagination run wild and design your own! Affordable, expandable, and loaded with cool tricks. What's there not to love?
UBTECH's Jimu Astrobot Kit is all about building your robots and learning how to program them. The set comes with 5 smooth-motion servo motors and 387 snap-together parts. It thankfully includes a lithium-polymer rechargeable battery. No need to buy your own!
The components are of a similar style to Lego. It means that constructing and taking the robots apart are both super easy. Furthermore, the assembly is even more comfortable thanks to the animated 3D guide featured in the Jimu Robot App. There are guides for all three builds – the wacky and cute AstroBot, a Rover, as well as Astron, which is a little humanoid.
And we haven't even got to the best part yet! Using the App, you can then program your creations to walk, dance, jump around, and more. We have Google's Blockly to thank for that. It's a drag-and-drop, icon-based interface designed for beginners, so it's easy to get started. What's more, your child can learn coding concepts like variables, logical expressions, and loops. All of that builds the foundations for more complex coding.
One of the coolest things about the app is the community section. Here you have access to pictures, videos, and designs uploaded by creators from all over the world! With so many robotics kits available, it can be hard to know what's best for your child. Still, we think UBTECH's is both of great value and has an excellent user experience. Hence, they have earned our recommendation as one of the top gifts and educational toys for tweens to learn basic coding & robotics in 2023.
Best for Natural Science — My First Lab Duo Microscope
My First Lab Duo Microscope
This biology set will make your kids go outside and search for all kinds of samples in nature. Suitable for all ages and people from all walks of life.
We handpicked the products on our list of learning toys for tweens to provide your child with a balanced curriculum. So it's time for science toys, and My First Lab's Duo Microscope is a top choice. This microscope is a perfect way to get your kid into microscopy and microbiology from an early age.
There are cheaper scopes on the market, but low-quality parts result in low image quality. In contrast, lab-grade components and glass optics provide crystal clear resolution for a better image when looking down the lens.
With 40x, 100x, and 400x magnifications, you can look at the world in a whole new light. Ordinary things like skin and plant cells become exciting, which is excellent for fostering a natural scientific curiosity. The kit comes with everything you need to get started:
dyes
petri dish
test tube
forceps
slide covers
five blank slides
four pre-prepared slides
Additionally, it comes with an activity guide full of great ideas like observing onion cell mitosis, how to stain specimens, pollen observation, and more! The fact that it's a duo-scope further expands what you can do. It means that you can shine light from below while observing slides. Or from above while observing solid objects. It's a good all-rounder and a real science lab!
Best for Outdoors — Holy Stone Mini Drone
Holy Stone Mini Drone
It looks like a toy and costs like a toy, but a toy it ain't! Amazing functionality for the price.
Quadcopters and other drones are often expensive. Not a case with this little guy! The Holy Stone RC Mini Drone is advertised as a toy, but it will provide loads of fun for the whole family. Its maximum range of 50 meters (~160 feet) is more than enough for a beginner pilot. What's even more impressive, the three batteries that come included in the package will keep it up for about 20 minutes! It's an excellent value for the money.
Beginners will appreciate the headless mode. When a drone is up, it's often hard to determine its direction. If you're afraid of losing it, just turn on this mode. Or hit Emergency Stop, and it will come back!
This drone is easy to fly even if you've never done it before. Your kid can fly it indoors, but outside is preferable. You don't want it to end up in your lunch!
However, there are two things you need to keep in mind. Firstly, this drone is very lightweight, and you should only fly it when there's no wind. Otherwise, you may end up losing it. Secondly, kids under 14 should never fly drones without adult supervision. It's not only unlawful but also potentially unsafe. Now, that should give you an opportunity for some quality family time outdoors!
Best for Electro Engineering — Snap Circuits 3D Illumination Electronics Kit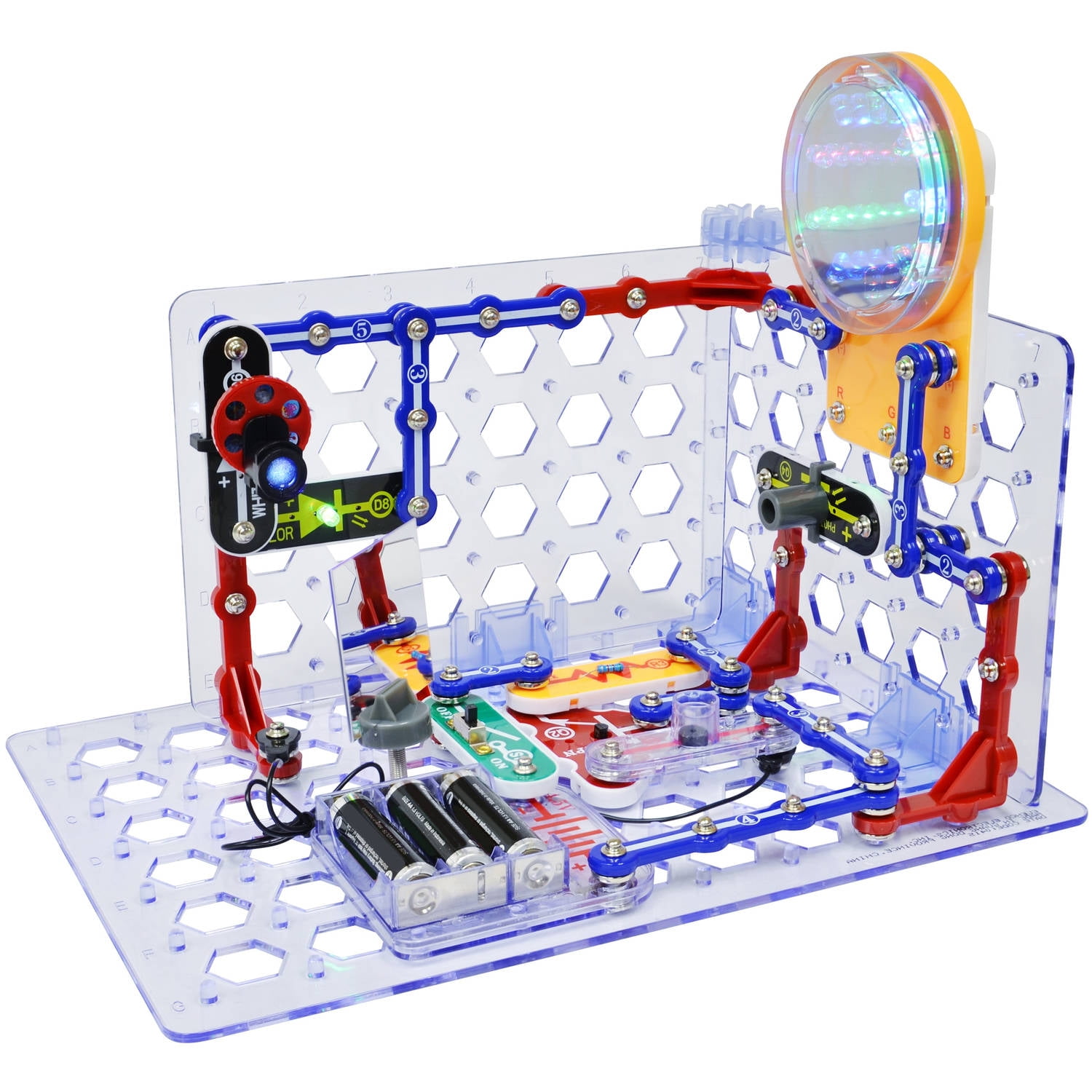 Snap Circuits 3D Illumination Electronics Kit
An electronics kit that lets your kid perform over 150 exciting experiments, it has expansion sets for years and years of play!
Snap Circuits is a multi-award winning company that makes kits to teach kids about electrical circuits. All the kits feature signature snap-together parts, which make assembling circuits easy. You need no soldering or any tools!
Furthermore, you can keep remaking circuits as many times as you like. There are tons of other Snap Circuits sets available, and they're all compatible. So if your tween gets on well with them, you can quickly expand the collection.
The 3D illumination set is a new addition with some pretty cool features.
Firstly, it comes with multiple circuit boards that fit together so you can build in any direction. What's more, it also includes 50 components, 10 of these being new modules. These include a three-color light tunnel, a projector, mirrors, and some cool reflecting circuits.
With over 150 different projects included in the set, your kid can learn the basics about how electrical circuits function. It may even translate to some cool learning for the whole family!
Best for STEAM — 3Doodler Create+ 3D Printing Pen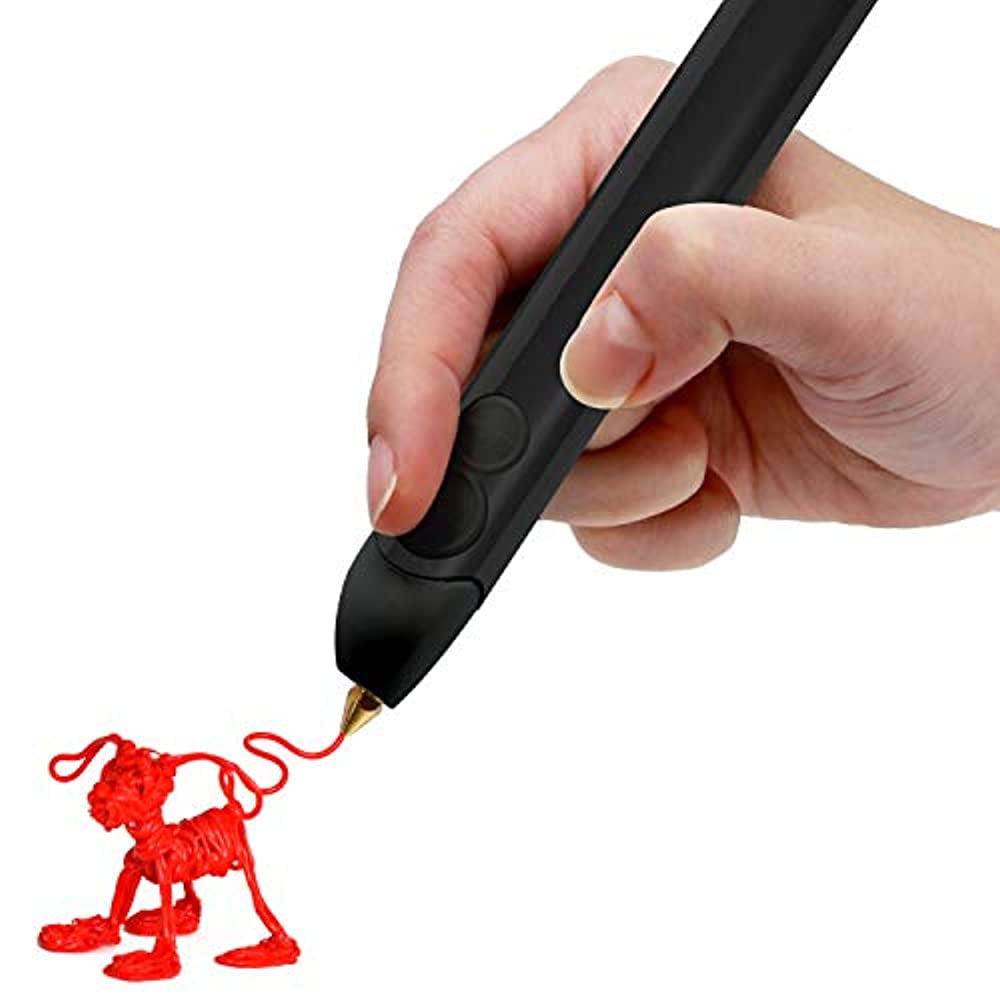 3Doodler Create+ 3D Printing Pen
Did a plastic component of your gadget go missing? Why draw it! This pen is a fantastic gift that will make your tween fall in love with 3D printing. Or rather, 3D drawing!
Everyone has heard of 3D printers. But how about a 3D printing pen? The 3Doodler Create+ will let you make beautiful shapes and structures. You'll get a power adaptor, three packs of plastic refills, maintenance tools, and a bunch of templates. There are free 15 colors – more than enough to make super cool shapes.
So obviously, the "art" in STEAM is there. But where is the rest of STEM?
Your tween will get acquainted with the 3D technique, for starters. Once they perfect their drawing, they will be able to fix things around the house. For example, to patch a worn-out cable. Or draw a missing part of their favorite toys. Everybody can use this pen to do something cool! Possibilities are endless, which is why we decided to feature this pen as a great gift idea.
This pen is one of those toys that are being marketed to teens. But tweens ages 9 to 12 will no doubt enjoy it too.
It's also worth noting that the company's customer service is spot on.
What to Consider When Buying STEM Gifts for Tweens
Age Range
Parents are often very particular about ages when they want to get a science kit. What's a perfect gift for 9, 10, or 12 years olds? No answer is definitive or precise enough. However, most STEM toys for tweens will usually work for all of these ages.
Educational toys will most often cater to various ages – from tweens to teens. Sometimes even younger kids. Safety is not an essential concern for this age range. These are not little kids that could hurt themselves or swallow tiny parts.
Interests
What does your child like? If they love a particular STEM branch, finding a great gift shouldn't be very challenging. However, some STEM toys are interdisciplinary and will cater to a wide range of interests. For example, LEGO toys are excellent for budding engineers. But you can also get a LEGO set for a kid who loves robotics or coding.
On the other hand, if your child loves nature, you could buy them a microscope or a programmable drone.
Does it grow with your kid?
Coding, building, and engineering toys often carry a hefty price tag. Luckily, most of these toys will also have great potential for open-ended play. So much so that they will appeal to older kids or even adults.
Frequently Asked Questions
What is a STEM kit?
STEM kits are toys that introduce kids to Science Technology Engineering and Math. Contrary to widespread belief, these disciplines are not all about counting and formulas, though. They also help improve your kid's critical and creative thinking, logic, and problem-solving! These are crosscutting concepts that are not just STEM skills but the basis of all and any science. That's why they are so important for child development. The fact that they are doing hands on activities will improve their self-confidence.
That's all the more reason to consider a science kit as a gift for your tween! Or, really, a kid of any age!
Do I need to know a lot about STEM to help my child play with STEM toys?
Absolutely not! You don't need to be a scientist or even a science dilettante. The most important thing on your part is to offer STEM kits to your child. Learning and acquiring new skills together will also be an excellent opportunity for some family bonding.
Are LEGOs good for your brain?
By all means, LEGOs and all other construction toys are excellent for a person's cognitive development.
Firstly, they build spatial reasoning. A child needs to choose from hundreds of bricks and blocks and find the right one. They also need to plan, anticipate, and visualize. There's counting, proportion, cause and effect, trial, and error. All of that requires so much patience and focus that kids with autism or ADHD will benefit from it. Just like anybody else!
Younger kids will also boost their fine motor skills and hand-eye coordination. Not to mention solving problems and coming up with new ideas, which is the basis of scientific inquiry!
What is STEAM activity?
STEAM is STEM enriched with art. The element of art will bring additional creativity and imagination into the STEM disciplines. In a way, it breathes life into scientific concepts. When you make something smart and useful, you'll admire it. But when you make something that is also beautiful, you will fall in love with it. That's why STEAM toys are often kids' favorite!