Top 9+ Best Robotics Kits for Middle School Students (2023)
*We are reader-supported! This page may contain affiliate links. As an Amazon Associate we earn from qualifying purchases. The price to you remains the same.
If your child is interested in STEM (or if you are, and you wish they were more interested?), I have great news: you're living in the golden era of consumer robotics!
It's a perfect opportunity to encourage your tween to early teen to learn through play. Welcome to our roundup of the best robotics kits for middle school students!
These robot kits are the perfect gift or rainy day activity to inspire learning and cultivate knowledge. Both girls and boys today have highly lucrative career options ahead of them, designing and building robots. Using STEM-related toys with your child encourages them to think analytically, problem solve, create, and have a fun time while playing. For middle school students aspiring to be one of those engineers, these robotics kits are a fantastic way to foster that love.
(And if you'd like to dip your adult toes into robotics, check out our roundup of the best robotics kits for adults.)
After a detailed study, our pick of the bunch is the LEGO Boost kit. It's such a great STEM toy for any child! However, every child is different. And every parent has various constraints! So, read on for our list of the top five robotics kits on the market for your middle school student.
IMAGE
PRODUCT
DETAILS 

Best overall

LEGO Boost Robot Building Set


Kids will build five fantastic robots and then use the app to program different behaviors.
Combinable with LEGO Arctic City and NINJAGO Stormbringer for even more fun!

Best Programmable Robot

LEGO Mindstorms 51515 Robot Inventor Kit

This brilliant toy will be equally fascinating to kids and adults alike.
Its five robots are a true engineering marvel, but wait until you start coding! The more you tinker with it, the more you'll want it.

Budget Option

4M Tin Can Robot

With this set, children will get a chance to tinker and create. Plus, they will learn about green life and repurposing!
A used tin can and this kit are everything you need to build two silly little robots!
10 Robot Kits for Middle School Students Reviewed
1. Best Overall — LEGO Boost Robot Building Set
LEGO Boost Robot Building Set
Kids will build five fantastic robots and then use the app to program different behaviors. Combinable with LEGO Arctic City and NINJAGO Stormbringer for even more fun!
The first robotics kit on our list comes from the educational toy powerhouse, LEGO. The Boost Creative Toolbox Robot Building Set and Educational Coding Kit allows your child to build and rebuild almost any robot their heart desires.
The LEGO Boost kit also introduces coding into the picture, which is a crucial skill for young robotics engineers.
This award winning toy comes with an app to download onto a phone or tablet. That will keep the fun and learning going once the robot is up. There are so many things the robot can do, such as interact with you and even dance! Don't you just love an open-ended toy that never ceases to surprise you?
Note that this building and coding kit advertises 7-12 age. However, that is just an approximation. Tweens and teens will be able to flesh out the toy's full potential. In fact, I've known many an adult (myself included) who have had a blast playing with LEGO Boost. LEGO robotics kits for middle schoolers will therefore work equally well with any other age!
So are there any cons to this kit? (Well, apart from the price, which can obviously be a bit too much for an average parent.) As with many other wildly popular LEGO sets, you can never count on it to be available exactly when you need it. It comes and goes in and out of stock all the time!
2. Best Programmable Robot — LEGO Mindstorms 51515 Robot Inventor Kit
LEGO Mindstorms 51515 Robot Inventor Kit
This brilliant toy will be equally fascinating to kids and adults alike. Its five robots are a true engineering marvel, but wait until you start coding! The more you tinker with it, the more you'll want it.
After seven years of waiting, the new LEGO Mindstorms 51515 iteration got up and running 2 years ago.
And it was hands down the most formidable robot kit that year and beyond. (Mindstorms fans are still divided on whether it outperformed the previous EV3 iteration, though.)
With nearly 1,000 pieces, the kit includes in-app instructions for building five robots. There's Blast, a missile-firing humanoid robot; two cute little bots Charlie and Tricky. You also get to make the powerful M.V.P. and Gelo that walks on four legs. All of them are customizable and expandable, with detachable robotic accessories.
LEGO never disappoints when it comes to sensors. This kit includes color, distance, gyro, and Bluetooth sensors. Kids can remotely control the robots via the Scratch based app. Once they boost their coding skills, they can ditch the remote control. It's possible to automate many functions fully!
However, 51515's greatest asset is its sophisticated and powerful coding environment. Beginners can use Scratch programming language, which is block based, visual, and easy to grasp. Once they master it, they can enter the never-ending world of full-blown computer science with the line based Python.
Like all the previous Mindstorms editions, the 51515 is excellent for teaching robotics in the classroom and at home. If you can't decide between Boost and this Mindstorms edition, check out our in-depth comparison!
3. Best Budget Option — 4M Tin Can Robot
4M Tin Can Robot
With this set, children will get a chance to tinker and create. Plus, they will learn about green life and repurposing! A used tin can and this kit are everything you need to build two silly little robots!
Our next robot kit for the junior high school student is the 4M Tin Can Robot. All you need to provide is an empty can, and the fun can begin! Not only is the final product adorable, but it also helps teach about recycling.
It's one of those robotic kits suitable for even younger kids. But we feel that it also makes for a fun and inexpensive project for middle school students. Making this robot can inspire your son or daughter to think outside the box about designing other robots from recycled materials.
It is also customizable, so there are plenty of opportunities to make the tin can robot uniquely their own. Furthermore, children need zero experience to begin, as there are in-depth instructions to handhold them along the way!
4. Best Solar Robot — Sillbird 12-in-1 Solar Robot Toy
Sillbird 12-in-1 Solar Robot Toy
This unique robotics kit includes 190 pieces for 12 robots. Great for fostering mechanics and engineering skills, from entry level through intermediate.
Who says that propper robotics kits for kids have to cost hundreds of bucks? Say hello to the fun and very affordable 12-in-1 Education Solar Robot Toy from Sillbird.
This kit allows your child to create twelve unique robots with just a single kit. It provides hours of entertainment for a great price – ideal for beginner robotics enthusiasts! We recommend this kit from early middle school. However, each robot has a different level of complexity, so it grows with your child's ability.
This kit is also solar-powered, which will add another layer of science to the experience. They will learn more about robotics while exploring renewable energy sources, which is a hot topic today. The kit comes with guides for each robot. But with 190 pieces, your child could also design variations on the robots. With a bit of imagination, they'll be able to think of many tweaks and options!
Note that there is a newer model of this product. However, we still prefer the old one as it employs more sophisticated mechanics. Gears, screws, and bolts are so much fun! Plus, it offers more room for growth. But if your kid is into space robot aesthetics, feel free to consider the newer model too!
5. Best for Total Newbies — 4M Table Top Robot
4M Table Top Robot
It's a silly little robot crab that's agile enough to move over the tabletop yet smart enough never to fall off! A simple build for dipping your toes into robotics.
Not all kids will have a penchant for complex tasks that take hours and hours of play to get them right. That's why there are straightforward robotic kits such as the 4M Table Top Robot. It's a silly little robot crab that can scuttle across the table, avoiding obstacles. It won't fall off the tabletop either!
It won't take more than an hour or two to assemble the crab. With an AAA battery, you've got all it takes to get it moving! There's no coding involved. And it doesn't have to be a downside. Not everybody is a coding enthusiast!
With this toy, children will get their share of hands on engineering. If they like it, you can always raise the game to another level with a more complex toy.
6. Best Robot Car — ELEGOO UNO R3 Project Smart Robot Car Kit
ELEGOO UNO R3 Project Smart Robot Car Kit
A top-grade product that has excellent features and is great fun to build.
This kit is specifically designed to provide hands-on Arduino programming skills for newbies. The kit requires just the right amount of patience which makes it perfect for kids in middle school.
The car comes with features like Ultrasonic Range finders, gyroscope, and optical sensors. This allows the kids to play with the programming options and use the sensors in various ways. Also included is an infrared remote control. Since it is Bluetooth enabled, you can also download the app and control it through your smartphone.
Elegoo has used XH2. 54 ports that make it easy for the kids to assemble the car. The unit is powered by a rechargeable battery. Both the electronic components and the hardware are of excellent quality.
A big plus of the Elegoo Uno kit is the excellent set of instructions. That makes it easy to assemble the car without making any mistakes. In addition, there are plenty of helpful YouTube videos you can check out. And the excellent customer service of Elegoo offers great support at all times.
Overall, if you want a relatively simple robotics kit for beginners, this is one of the best available options.
7. Best for Quick Learners — UBTECH JIMU Robot Builderbots Series
UBTECH JIMU Robot Builderbots Series
A cool robot that allows endless creative possibilities and allows kids to design and code their own robots.
Want something for a middle schooler who loves challenges? The Builderbots Series from UBTECH is a perfect gift for such a future engineer. 
It comes with 410 components that can be combined into endless robotic possibilities. While it's not the best option for newbies, the more advanced learners will love the challenge and the chance to get creative.
The kit comes with actual electronic components like servo motors, DC motors, ultrasonic sensors, and more. The ability to use the block-based coding system makes the robots more powerful and highly functional.
The components are sturdy snap-together plastic pieces that look a lot like LEGO bricks and are easy to use. To start with, you need to download the Jimu app which contains detailed instructions and step-by-step guides. 
And don't expect the process to be quick. An average robot can take anywhere between 3 to 5 hours to build. Programming the robot and controlling it is also done from the app. Since the kit comes with servomotors the robots can be made to move in complex ways.
While the instructions are detailed, chances are your kids will make a few mistakes. But that will allow them to discover more about making the right connections and unveil a few secrets. Moreover, it's great fun for the kids to figure out what went wrong.
UBTech's Jimu is a solid combination of robotics fun and coding capabilities. In short, older kids and adult hobbyists will love this well-designed package.
8. Best for Basic Programming — Makeblock mBot
Makeblock mBot
A cool robot that allows kids to learn and understand the basic concepts of robotics and is an affordable robotic kit.
The Makeblock mBot is a great hands-on introductory STEM education kit for your middle schooler. The kit is easy to assemble and it comes with all the components along with connecting wires and a screwdriver.
All the parts are well-built and the aluminum chassis can withstand collisions with random objects. The instruction booklet is detailed and extremely informative. Since it comes with multiple sensors, the kids can program it for collision detection and object avoidance. 
To start with, the kids can use Scratch-based programming for coding. As they grow their coding skills, they can use Arduino C. to program the mBot. The device comes with a remote control, or you can download the Makeblock app to use a smartphone as the controller.
Being configured with an open-source system, the mBot is compatible with a wide range of electronic modules and components from Makeblock platform. You can even integrate Lego parts with the robot. Also, the mCore electronics board is Arduino Uno compatible.
We have to say, if you don't want to break the bank with LEGO robots, this kit offers excellent value for the money.
9. Best for Coding — Sphero BOLT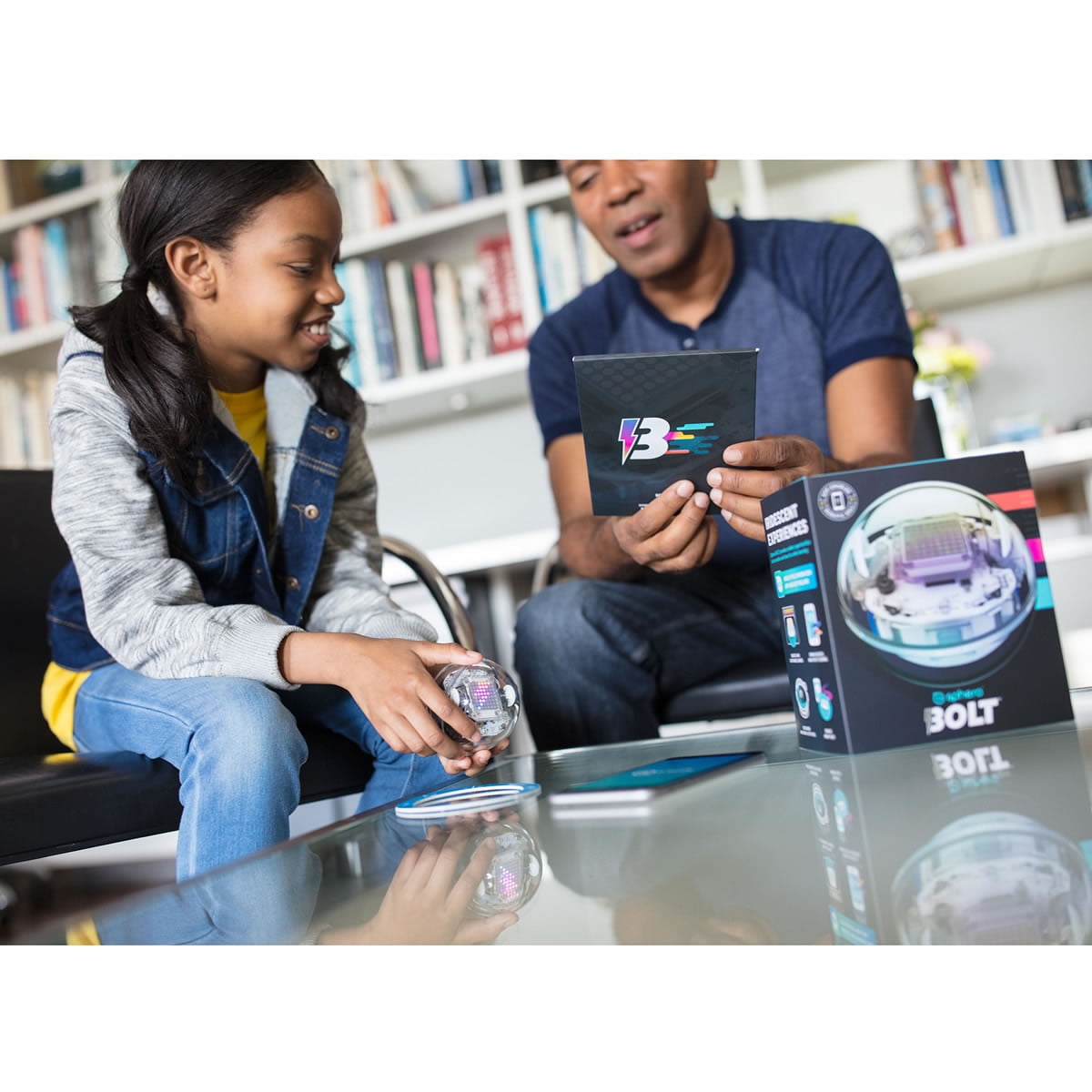 Sphero BOLT
A futuristic STEM ball that is a great way to play and also enhances the programming skills of kids.
There's a reason why Sphero has gained an almost cult-like following (despite the price which makes it a bit prohibitive for the wider fan base).
It's simple but incredibly cool and great fun. If you want your kids to learn block-based coding, it's a fantastic option.
No wonder many users have marked Bolt as the best Sphero yet!
At first glance, this tennis-ball-sized transparent sphere looks vulnerable. But the polycarbonate layer is robust enough to withstand bumps and bruises. Besides, the Bolt is also waterproof.
The Bolt has an 8×8 LED light matrix and a wide range of sensors including a compass, gyroscope, accelerometer, light sensor, and more. It also has an infrared sensor that allows it to communicate with other Bolts.
If you want to enjoy the Bolt as an outdoor toy, simply use the Sphero Play app to drive it around. There are three different games the kids can play with it.
When it comes to coding, you need to use the Edu app that supports both Scratch and JavaScript. With this app, you can program animations and actions. 
In addition, there are other interesting programs that you can experiment with. Or else, take support from the Bolo community to explore more complex options. Both apps come with an intuitive interface and are easy to use.
Now, the Bolt doesn't come cheap. But it is jam-packed with top-end technology and offers excellent value as an educational toy.
10. Bonus: Best for Outdoor Play — 4M Green Science Solar Robot Kit
4M Green Science Solar Robot Kit
This solar-powered toy is an excellent way to teach middle school students about robotics and renewable energy. It's also open-ended, as you can use household items to customize and upgrade it into a monster or a dinosaur.
The final product on our list of the best robotics kits for junior high school kids is the Green Science Solar Robot Kit, also from 4M. This robot can be taught how to perform simple tasks and is an ideal tool for teaching real-world robotics applications.
Once assembled, this robot walks and moves using solar power. Not only is this impressive, but green, renewable energy sources are a hot topic in the STEM community. We'll be relying on this younger generation to continue developing better sustainable energy options into the future! That's why it's good to introduce them to solar robots early on.
Note, however, that this robot will not work as well if it's not a sunny day. So, if you live in a cloudy area, it's probably wise to make another choice.
What to Consider When Buying Robotics Kits for Middle School Students

Are You Buying a Toy for the Classroom or Living Room?
If you're a teacher, it's probably wise to look for green robotic toys that will promote coding skills, engineering, as well as sustainable living. It's always advisable to aim toward a well-rounded curriculum that tackles as many STEM disciplines as possible.
Parents, however, should go for more personalized toys. It's always important to keep in mind your kid's personal interests. Nowadays, there are robotic dinosaurs, space vehicles, construction vehicles, arms, humanoids, and more.
The Capacity for Open-Ended Learning
Good toys will provide hours and hours of play. Great toys, however, will enchant you with versatility and endless possibilities! Hence their immense appeal to all ages.
When choosing STEM kits for 11-13 old kids, it's essential to keep in mind that these kids are not easy to impress. They are already entering puberty, which means they may appear averse to toys. Who's to explain to them that adulthood is not as fun as it might appear to a kid?
That's why it's crucial to offer them dynamic and exciting toys that will keep them interested for weeks or even months.

Online Or Offline?
Toys for coding and programming will naturally require a smartphone or a computer. Unfortunately, it translates even more screen time for your tween or teen who is glued to the phone as it is. A silver lining is that they'll at least use this screen time for learning instead of mindlessly scrolling through Instagram.
However, if you really want to cut down on their screen time, you should opt for toys with printed instructions. Granted, online instructions are often much more intuitive. But it doesn't hurt to scratch your head once in a while and try to solve a problem on your own!
But what if you want to reduce the screen time to an absolute minimum? As we saw above, some options focus on mechanical and electrical engineering. No coding skills necessary!
Frequently Asked Questions

At what age should you start robotics?
As early as possible! Not all robotics toys feature complex coding, engineering, or programming. Most of the good ones will go step by step. Education yields excellent results when served in small bites!
Therefore, the right age to start learning robotics is not set in stone. It will vary from kid to kid, depending on their personal preferences. Some children may be into arts or music and not very prone to science technology engineering and math. That's completely fine. But it's up to you to offer them some of the best STEM toys too.
What are the 3 types of robots?
There are certainly more than three types of robots. The most common and widely used are flying robots (e.g., drones), medical robots, and robot systems for education like the ones we listed above. Your Roomba vacuum belongs to the field of consumer robotics. The autonomous vehicle your kid will be driving in a few years is also a type of robot!
That's all the more reason to introduce them to robotics early on. Robotics will permeate every area of our lives!
Why educational robotics?
Robotics is a fast-paced, ever-growing field with a wide variety of jobs available. During middle school, there is an opportunity for kids to start exploring their pre-vocational interests more deeply.
It might be too early to focus heavily on the future and what kind of career your child wants to have. However, you often sow the seeds for lifelong interests at this age. Exposing them to educational and enjoyable activities can help them find their passion and facilitate a conversation about that. Also, putting things together, seeing how the mechanics work, and watching your robot come to life is super fun at any age!
What are programmable robots?
A programmable robot is a robot that you can program for many different behaviors. In other words, it is customizable if you have good programming skills! For example, you may program your robot to avoid obstacles, speak, find a path, or follow directions. With more complex systems, you can even completely automate them. That's the power and beauty of robotics and STEM in general!
Last update on 2023-06-08 / Affiliate links / Images from Amazon Product Advertising API