Osmo Genius Kit Review: Unboxing & Games You Can Play
*We are reader-supported! This page may contain affiliate links. As an Amazon Associate we earn from qualifying purchases. The price to you remains the same.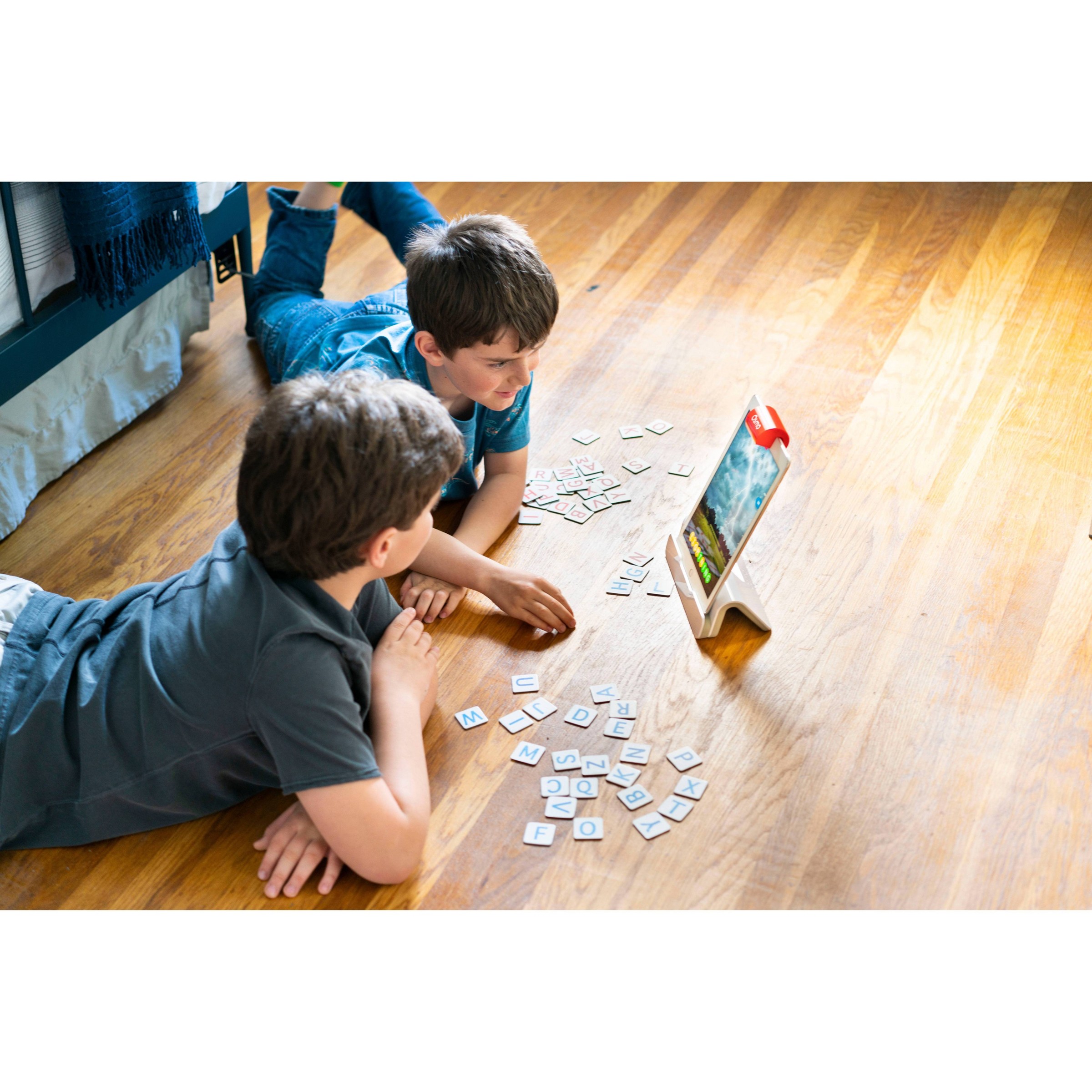 Osmo Genius Starter Kit for iPad
A versatile and portable system that grows with your child.
The Osmo Genius Kit is an educational game system that aims to combine physical play with the digital world. It is designed for elementary school-aged children through to early tweens, with an age rating of 6-10 years. As a learning toy, this kit targets some fundamental STEM skills, allowing kids to explore science, math, literacy and beyond. There's also significant scope for artistic expression, and hence this could be considered a STEAM toy – Science, Technology, Engineering, Art & Math.
Osmo is an innovative company whose products foster STEM skills by getting kids to use objects in the real world to interact with the digital world via iPad, iPhone or other screens. We tested the iPad version. The idea behind Osmo's approach is that kids learn best from hands-on activities. Five games are included in the Genius Kit that aim to help kids develop numeracy, literacy, creativity and problem-solving skills. Let's dive into our review!
Related Post: Tangiplay Review
What's in the Box?
The Osmo Genius Kit is designed with kids in mind, with bright attractive colors and a simple aesthetic. There are no complex instructions or difficult set-up process — it's all very straightforward.
What's in the Box?
iPad stand – A hard plastic stand the player's iPad rests in; a clip-on reflector is key to the Osmo games 'seeing' what the child creates.
Three Stackable Storage Boxes, with:

Words – Set of square cards with red and blue letters.
Numbers – Two sets of digits and two sets of 'dots'.
Tangram – Seven colorful geometric pieces – tans.

Instruction card – brief instructions on how to get started.
The only thing not included is a device to play the games. We were provided with the iPad version for review, however, the Genius Kit is also available for Fire Tablet. Although a base for iPhones was formerly available, it appears to have been discontinued.
We were pleased to see that the Kit works with a wide range of iPad models, even the venerable iPad 2! However, there are some notable exceptions, such as the 11 and 12.9-inch iPad Pro.
NOTE: The minimum iOS version needed is iOS 9.
Design
We were pleased by the overall design and presentation of the Osmo Genius Kit. The physical pieces provided in the kit have a feeling of quality. Osmo has obviously put a lot of effort into the choice of materials – they're tactile, robust and simply feel premium quality.  The kit is sleek and modern, with a very Apple-like feel to it. The components were all neatly packaged and it was very easy to get up and running. It's exactly the kind of experience you want with a new learning toy for your child.
Functionality
As soon as you see kids using the Genius Kit, you'll see the magic Osmo has created! The seamless interaction between the physical and digital worlds is really amazing. The clip-on mirror (seen in red in the attached images) allows the Osmo games to 'see' the space in front of the iPad, using the device's built-in camera. This kind of augmented reality has to be seen to really appreciate how 'cool'
Once the Osmo game of interest is loaded on the iPad, and the relevant physical pieces are gathered, the procedure for playing the game is very intuitive. Generally, the games usually involve placing physical objects in front of the iPad for it to 'see', the Osmo game recognizes what is presented and it reacts accordingly.
One thing that breaks the immersion and ruins the experience for augmented reality games is when the system doesn't correctly recognize the physical objects presented to it. Remarkably, we did not encounter a single instance of this type of problem with the Osmo Genius Kit. During an intense afternoon with four children (ages 7 – 11) putting all five games through their paces, the Osmo never made a mistake in recognizing the objects placed in front of it. This was a great relief, as many parents will attest to the extreme frustration that comes with trying to help (and console!) children to use a new toy that simply won't do what it is supposed to. Osmo must have put enormous effort into making its game systems as robust and reliable as possible, and we thank them for it!
Getting Started
Setting up this starter kit was very easy. Simply place the iPad (portrait orientation) in the base, and clip the reflector over the camera. There wasn't anything fiddly to watch out for – as long as the iPad is in the base and the reflector is fairly centered over the camera, you're good to go. The user manual is Ikea-like in its simplicity. Each game comes with a small card that simply directs the user to a URL to download the appropriate Osmo app. One downside of this system is that each game is a separate app. Since the iPad we used has password protection for new app installs, this made installing the 5 Osmo games somewhat tedious. As with many modern toys and games these days, if you are giving the Osmo Genius Kit as a present and want to hit the ground running with a child who is excited to dive straight in, we would recommend parents pre-install the apps the night before to save time. Especially for those of us whose kids have short attention spans!
Additionally, parents need to set up an Osmo account with email and password. Admittedly, this allows us to track what the kids are doing and how they are progressing, but it is one more set up step that needs to be borne in mind.
Games
The Genius Kit comes with five learning games. Three of these — Numbers, Words and Tangram — each have a set of physical pieces that come with the kit. The other two — Newton and Masterpiece — can be played without special pieces.
Numbers
The Numbers game uses square cards with either numerals written on each side, or a number of dots. There are several different game modes, involving skills like counting, adding, 'connecting' and multiplying. Children are presented with a fishing or collecting game of sorts, where stacks of water-filled bubbles displaying various numbers accumulate at a barrier. The player(s) must place the numbered cards in front of the iPad, which corresponds to a bubble. It's easier to play than to describe!
Count uses the dot cards, and players must simply place a total number of dots equal to the target number. Interestingly, there are only one-, two- and five-dot cards. This activity is a good starting point for new players to get used to how Osmo works. Older children will quickly find it lacking in challenge and move on.
Add requires the player(s) to combine separate numeral cards to add up to a target number. The addition can be achieved with two or more cards.
Connect brings in the concept of multiple-digit numbers, so, for example, a target of 17 could be achieved by bringing together the numerals '1' and '2' to make twelve, plus the numeral '5' to sum to 17.
Multiply is the most complex of the activities, requiring the use of multiplication and addition skills. There is significant flexibility in how players can reach target values, eg. '24' could be formed by placing '8' and '2' tiles adjacent to each other to represent '8×2', then a separate '8', so that '8×2+8' is recognized. Alternatively, the player could use adjacent '8' and '2', plus adjacent '3' and '2', plus a separate '2' to represent '8×2+3×2+2'.
There is enough 'gamification' in these activities to keep most kids interested and engaged, with a points system (and high scores), bonus points for combos, mystery crates, cute collectible fish and more. Kids love choice, so the fact that they can choose which of several different target numbers to achieve is great. Each activity has stages of increasing difficulty that progressively unlock, and any completed stage can be repeated to attempt to beat a high score.
Overall, this is a great activity for numeracy skills, and gives children playing it a good 'feel' for numbers, in addition to core skills of counting, addition and multiplication. Notably, subtraction and division are not present. We believe this activity is best suited to kids in early elementary school, or older kids who struggle with numeracy.
Words
The Words game has a variety of activities – Adventure, Versus, Zen and Zen Junior. In each of these modes, players are tasked with spelling out a word using the letter cards, either solo, or in competition with an AI opponent. Players are presented with a picture, and the target word is associated with that picture. It's somewhat like a modern-day game of 'Hangman' with incorrect letters being displayed at the top of the picture, and players having a limited number of incorrect guesses.
The pictures are all extremely high quality, fun and engaging. The word to be guessed can be obvious, or maybe somewhat cryptic since the pictures are detailed and multifaceted.
This game not only teaches spelling and literacy but provides an opportunity for players to expand their vocabulary and engage their lateral-thinking skills, by searching the picture for clues about what word is being sought.
Tangram
Tangram is a dissection puzzle with a long history, with origins possibly dating back over 1,000 to China. The tangram pieces, called tans, included with the Osmo Genius Kit are colorful geometric shapes that can be stored as a square shape. The real fun, however, comes from placing the tans in a way that makes interesting shapes, eg. animals.
The Osmo Tangram game gives the player(s) an abstract map where they can tap on a circle and they are then presented with a black silhouette, eg. a bird shape. Players must then try to construct the shape from the tans. Each time a tan is placed in a correct position and orientation, the silhouette lights up with that colored segment as positive feedback.
Of the games included in the Genius Kit, Tangram proved most captivating to our 7-11 year-old playtesters! They found it creative, fun and engaging. There was significant teamwork, and not a little heated debate as they tackled the animal silhouettes.
Apart from the benefits of manipulating geometric shapes and using problem-solving skills, Tangram also allows children to explore their creativity. When tackled by a group of kids, it even nurtures their teamworking skills!
Newton
Newton doesn't require any of the physical pieces provided in this Osmo Starter Kit. It is a physics-based game, where balls are fired from a starting position on screen, and to finish each level, a certain number of these balls need to reach specific locations. Players place a white surface in front of the iPad (we simply used plain paper). The augmented reality twist is that players must construct obstacles which the balls bounce off, roll along or otherwise interact with, by drawing on the white surface. It is even possible to place down dark-colored objects, eg. a pencil, that acts as a 'wall' or 'floor' in the virtual on-screen space in the Newton game.
Our playtesters had terrific fun with this one, and it was obvious that they were learning through play. For example, through experiment, they were able to see that the angle and velocity at which balls strike the virtual wall is important to achieve the desired trajectory. The game has two slightly different activities — Bounce and Roll.
Masterpiece
The final game in the Kit, Masterpiece, requires only a white surface that can be drawn on. The game provides an on-screen outline of a picture which is overlaid on the real-life drawing space in front of the iPad. Players can follow that outline, by watching the screen, as they trace with a pen, pencil, marker or any other drawing implement.
There is a gallery with a wide selection of outlines, from animals to objects, people and even letters. Players can alternatively take a photo using the rear camera of the iPad and Masterpiece generates an outline from the photo. This works best for relatively simple shapes, with high contrast, so the app is able to detect edges and transform them into the outline. Players can also select images from the iPad album or even search online for images.
This activity is not dissimilar to old-fashioned tracing. However, once again, the seamless use of augmented reality gives it a 'wow factor' that is hard to describe. Once completed, drawings can be saved and even emailed to others to admire.
Verdict
Overall, we were thrilled with the Osmo Genius Kit. It's a fantastic learning toy for kids aged 6-10. We loved how well implemented the augmented reality was. Perhaps the highest praise is that the technology is 'invisible' and players are simply left to explore the seamless, magical blend of physical and digital worlds.
The physical components may appear modest for the price point, and it may appear underwhelming compared to eg. some robot kits of comparable cost. However, with 5 highly varied activities on offer, we still believe the Kit to be good value-for-money. It certainly provides a great number and variety of educational experiences, wrapped in fun and engaging games.
We are somewhat concerned about young players knocking the iPad out of the base while playing. Our testing iPad had a case that was too large for the base, so we had to take the case off before using Osmo. Thankfully, if this is a concern, there are iPad cases that are designed to work with the Osmo iPad base.
We particularly like the fact that Osmo has been in this business for some time now, so there is a lot more you can do to expand from the Genius Kit. There are coding games, such as Coding Awbie (ages 5-12) and Coding Jam (6-12); Detective Agency (5-12); Pizza Co. (5-12); Hot Wheels (7+) and Disney Princess (5-11) games. We are also delighted that Osmo make available reasonably-priced replacements, such as the reflector, base and even stackable storage boxes.
We strongly recommend the Osmo Genius Kit for its high quality, variety of activities and strong STEM learning outcomes. But, most of all, we recommend it for the magical way it blends the physical and digital worlds!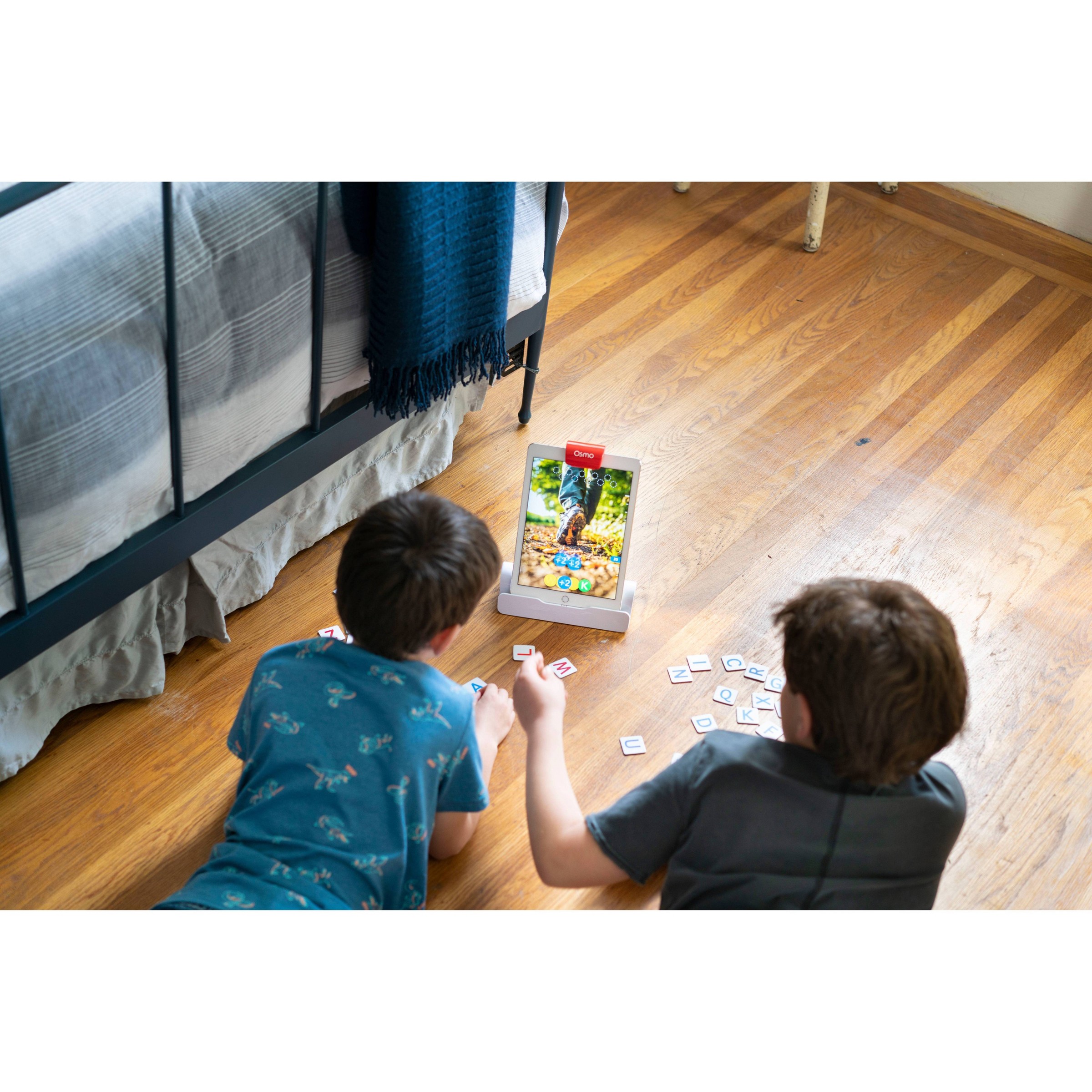 Osmo Genius Starter Kit for iPad
A versatile and portable system that grows with your child.
Frequently Asked Questions
What is the Osmo Genius Kit?
The Osmo Genius Kit is an educational kit for tablet devices, ie. iPad and Kindle Fire, that uses a clip-on mirror attachment to allow your device to 'see' the real world. It comes with five augmented reality (AR) games, which blend the physical and digital worlds.
What age is the Osmo Genius Kit for?
The Osmo Genius Starter Kit for iPad is recommended for kids 6-10 years of age.
Does Osmo only work with iPad?
Osmo is compatible with Apple iPad and Amazon Kindle Fire Devices. There is a different starter kit for iPads vs Kindle Fire devices.