Top 5 Best Robotics Kits for Adults in 2023
*We are reader-supported! This page may contain affiliate links. As an Amazon Associate we earn from qualifying purchases. The price to you remains the same.
Is there any aspect of our lives that hasn't been permeated by tech? From smartphones and digital cameras to AI and machine learning, we now find ourselves surrounded by technology.
One such area that has made strides in recent years is the field of robotic technology. A study by The Research Corporation predicts that the educational robot market will surpass $2.5 billion, at a healthy CAGR of 14 percent, by 2024. Together with the current global robot market size, it clearly highlights the rapidly growing interest in this field.
Whether you are a seasoned programmer or a complete beginner trying to get into robotics, there are several excellent robotics kits online to get you started. From high-speed mini Sumo robot kits to Arduino robots programmable in C++, there is an overwhelming number of kits to choose from.
In order to make your purchase decision about robotics kits easier, we've brought together the best robotics kits for adults – if you're interested in robotics as a hobby or even if you want to make a career in this field.
Related: The Best Build Your Own Robot Kits for Adults
IMAGE
PRODUCT
DETAILS 

Best overall

Sunfounder Smart Video Car Kit

A perfect STEM kit for adults to learn Raspberry Pi, electronics, programming, and robotics.

Premium Pick

Makeblock mBot 10-in-1

If you want to dig deeper into robotics, this heavy-duty kit comes with an immense learning potential.

Budget Option

Elegoo Mega 2560 Ultimate Kit

A comprehensive kit that comes with plenty of electronic components and more than 35 lessons for Arduino projects.
Best Robot Kits for Adults in 2023
Best Overall — Sunfounder Smart Video Car Kit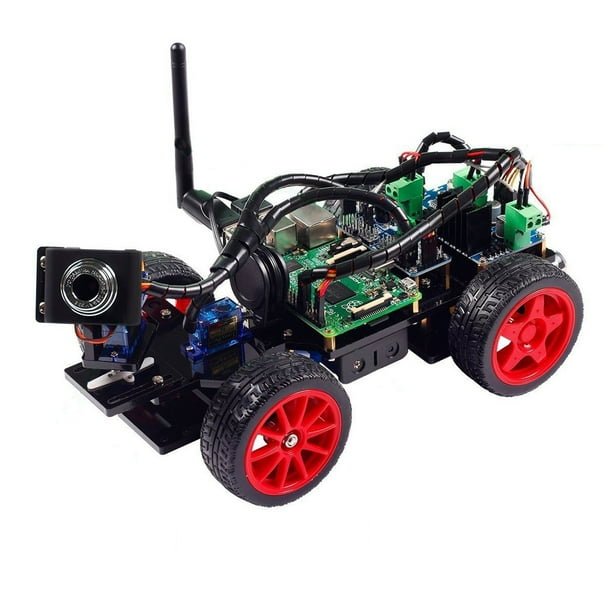 Sunfounder Smart Video Car Kit
A perfect STEM kit for adults to learn Raspberry Pi, electronics, programming, and robotics.
The Sunfounder Smart Video Car Kit 2.0 is the perfect STEM kit for adults to learn Raspberry Pi, electronics, programming, and robotics. As the name of the car kit suggests, a video camera is included with a USB adapter so you can watch real-time video transmission on your PC or smartphone.
You're in the driver's seat! And you get to broadcast it live to your nerdy friends. Or maybe even hold an online contest!
Once you assemble it, you can remotely control the car over Wi-Fi so that it moves forward, backward, as well as turns right and left at your command. OR you can control it via a PC running just a web browser (any!) and Python 2.7.
Yes, you'll get to learn or improve your Python, which is a huge pro as it's one of the most versatile and powerful programming languages.
If you get stuck, consult the Sunfounder Smart Video Car Kit user manual. It features an assembly manual, schematic diagrams, parts list, and detailed descriptions of a few parts. It is one of the best robotics kits for adults to start using Raspberry Pi, learn about basic electronic components and modules, and then use this knowledge to explore other fields.
Main Features:
Real-time image/video transmission
Simple visual programming
Android app
Did we mention real-time video?!?
Premium Pick — Makeblock mBot Ultimate 10-in-1 Coding Robot Building Kit
Makeblock mBot Kit
If you want to dig deeper into robotics, this heavy-duty kit comes with an immense learning potential.
With more than 160 different components and a powerful MegaPi mainboard, the mBot from Makeblock is a compelling option for mechanical and electronics engineers.
A big plus of the kit is it's compatible with both Arduino and Raspberry Pi. Also, it uses block-based programming software that offers great flexibility. It also allows you to use multiple programming languages like NodeJS and Python.
The MegaPi control board is powerful enough to run 10 servos or 8 DC motors simultaneously. That allows you to build a range of complex robotic designs and even 3D printers.
Unlike cheaper kits, most of the components in this kit are made from high-strength aluminum alloy. All components are made in line with industry standards and are great for long-term usage. 
While this kit isn't the best choice for robotics beginners, it's a great choice for enthusiasts who want to explore the details. For students stepping into the world of robotics, it offers excellent educational value. Makeblock is a proven manufacturer of electronics kits – check out our review of their Neuron Explorer Kit!
Main Features:
Support visual programming like Scratch block-based programming languages and the Arduino IDE
Allows you to build 10 pre-configured robots
The add-on packs from Makeblock provide extra flexibility
Budget Option — Elegoo Mega 2560 Ultimate Kit
Elegoo Mega 2560 Ultimate Kit
A comprehensive kit that comes with plenty of electronic components and more than 35 lessons for Arduino projects.
The Elegoo Mega 2560 Ultimate Kit is a complete Arduino starter kit that lets you master the fundamentals of Arduino and have fun at the same time. This comprehensive kit comes with plenty of electronic components and a PDF manual with more than 35 lessons for Arduino projects.
That's months worth of practice and learning by doing! Even if you don't yet have basic programming knowledge, this simple kit provides you the data to help you start from scratch.
This kit from robotics leaders, Elegoo, includes a Mega 2560 controller, an expansion board, and a 6-cell battery case with wire. The package also contains an IC card, RFID module, Breadboard, as well as small parts like resistors, LEDs, potentiometer, and various sensors.  Other cool things like a keypad and an LCD makes the kit a good bang for your buck.
So the fact that this is a budget pick doesn't mean it's cheap. On the contrary! It's one of the most powerful robotics kits on the market.
More Features:
The Elegoo Mega 2560 kit comes with more than 200 component pieces of premium quality and its entirely compatible with Arduino IDE
Over 35 lessons with detailed instructions
A great starter kit for robotic lovers with zero experience
Best Robotic Arm — LewanSoul 6DOF Robotic Arm Kit
LewanSoul 6DOF Robotic Arm Kit
Assemble it, program it or control it remotely, and have it grab stuff around your desk. A super cool gift!
This desktop robotic arm is based on Arduino Uno – arguably the best board to start your electronics and coding adventures.
Building it is a lengthy process, but it isn't difficult – there's a 3D tutorial, plus tons of nitty-gritty videos on Youtube made by buffs, beginners, or just fans such as you or me.
Once you assemble it, you have more than one way of controlling it. You can program it via their proprietary software or even use Arduino, Raspberry Pi, or Python if you're an adventurous type. Or you can keep it simple and remote control it.
It's hard to believe that something previously only found in industry automation and mechanization is now available, in miniature, to anyone. And at a very reasonable price! Similar but more powerful (and much more expensive) robot arms are widely used in electronics, light industry, metallurgy, and work that involves risk.
And this particular robotic arm is made of top quality, almost industrial-grade parts. The mechanics works very smoothly, with excellent servos. The only downside is somewhat limited pre-set functionality, which you can broaden if you know how to code!
Main Features:
Multiple control methods
The excellent quality of all the mechanical parts makes this arm one of the best robotics kits for adults and kids alike
Detailed manual with instructions and some awesome Arduino code routines
Best Robotic Car — ELEGOO UNO R3 Project Smart Robot Car Kit
ELEGOO UNO R3 Project Smart Robot Car Kit
Once assembled, it tracks lines, avoids obstacles and does tons of other amazing stuff! Control it via phone or remote.
While it is marked as a beginner's kit, this kit also allows adults to stretch their creativity by using inventive designs. Thanks to the Arduino-compatible controller board that's simple but intuitive.
It has 24 types of module parts including features like auto-go, line tracing, infrared control, and obstacle avoidance through ultrasonic sensors. It also supports Bluetooth and infrared remote control. 
Besides, the kit has both Arduino and ESP32 microcontrollers that are programmable. You can also use the Elegoo BLE Tool App to control the kit from your smartphone.
Unlike the earlier versions, this kit comes with XH2.54 interfaces to make the wiring simple and error-free. This is a great help for newbie hobbyists by reducing the chances of the sensors getting damaged. However, Elegoo has retained multiple pins on the kit that allow you to customize the kit as per your choice.
Before you ask, the packaging and overall quality of the components in the kit are top-notch. However, the black acrylic surface is a fingerprint and dust magnet. While the instructions aren't the best you'll find, there are YouTube videos that can be used as a guide.
Overall, this kit offers excellent value and is one of the best robotics projects you can buy.
Main Features:
Made from durable plastic and comes with superior grade hardware
HD rendering instructions for assembling the car
Upgraded package design for easy storage
How to Choose a Robotic Kit: Buying Guide
Before spending your money on a robotics kit, you need to ensure that it should be the right choice based on your skills and enthusiasm. 
Most learners prefer a kit that's not overly complex but has enough material to improve your knowledge about such systems. However, for pro-level programmers, advanced kits with elaborate coding options could be the best option.
So here are a few points to keep in mind before buying.
A Complete Package
The first point is to choose a kit that offers a complete package. All the components and structures needed to build and program the robot should be included in the package. 
These should include a control board, a battery, a pack of connectors, and all other accessories. Also, the quality of the components should be good enough to ensure long-term durability.
Other than that, the kit should come with detailed tutorials and clear guidelines to help you with the assembly. While some kits include guide booklets and others function through apps. As long as the instructions are clear and precise, the medium should not be an issue.
Also, check for the degree of mobility that the assembled robot will have. This will give you more programming freedom to make them move in multiple ways.
Versatility
For us, a robotic kit should be able to foster learning and creativity even after it has been put together. Ideally, you should be able to use each robot beyond the instructions provided. That means this kit can be used for years as you continue to expand your robotics knowledge.
For this reason, kits that allow further expansions or add-ons are a good option. This allows you to buy additional components after you have used up the included ones. In addition, kits that offer app control and more flexibility are better options.
Complexity
Most adults with a basic level of coding knowledge would prefer to choose a complex kit that can help advance their knowledge. However, keep in mind that you will need to learn a few more steps to make full utilization of such kits. 
If you are experienced with electronics and robotics, then the intricacy of the kit will be limited by your budget. While robotics kits are available at a wide range of prices advanced programmers should go for more expensive kits.
Frequently Asked Questions
What is a programmable robot?
Such a robot is a programmable machine that can perform multiple functions or a range of tasks through various motions. Such robot kits can be customized and are simple enough to help newbie programmers learn the basics.
What are the best kits for adults to learn robotics?
There are multiple kits in the market that can help adults to learn robotics. For us, the Sunfounder Smart Video Car Kit is the top choice, The Elegoo UNO R3 Project car kit is also a good choice for advanced users.
What is inside a robotics kit?
The kit contains all the necessary components needed to build a robot, along with a tutorial. The components include the primary controller board, motors, sensors, and the required mechanical and structural elements.
What are the skills required for robotics?
While programming ability is necessary for robotics, learners also need the ability to think creatively and should have problem-solving skills. With the field of robotics constantly changing, there's always the need to learn more and keep developing yourself.
Final Thoughts on the Best Robotics Kits for Adults
Robotics kits come in various shapes, sizes, and complexities. It's a good idea to choose a kit that meets your skill level. Choosing a robotic kit that is too complex will frustrate you, while one that is too simple will get boring quickly. Some robot kits focus on the physical and electronic aspects such as hooking up circuits, while others are built for mastering programming skills. We hope that at least one of the options above piques your interest!
Last update on 2023-10-04 / Affiliate links / Images from Amazon Product Advertising API