10 Best STEM Gifts for Girls — Tween Girls Belong in Science!
*We are reader-supported! This page may contain affiliate links. As an Amazon Associate we earn from qualifying purchases. The price to you remains the same.
How can I get my girl to love STEM? We've heard this question many times. Before we offer an answer, let's examine the question a bit.
Girls do need a little push to start loving science technology engineering and math. It's not because girls are less gifted or inclined towards science. It's because society teaches them that they aren't good enough for STEM, right from the moment their self-consciousness is born. When they look around, they see that science is a predominantly male field. This picture creates a negative feedback loop. There are just not enough female role models to inspire future generations and show them that women belong in STEM.
Back to the above question! In an ideal world, this question wouldn't be gendered. How can I get my kid – male, female, or other — to love STEM? Now, that's a different thing! But unfortunately, this world is far from ideal. As we move towards a more equitable society, we need to invest a special effort to get more girls into science.
To do that, we need to increase their exposure to these disciplines from their earliest days – through STEM gifts.
So, here's our list of the best STEM gifts for girls. The one that would suit most girls, in our opinion, is the KiwiCo Crate subscription box. Scroll down to see why!
IMAGE
PRODUCT
DETAILS 

Best overall

KiwiCo Crate

Fun and innovative STEM projects that arrive at your doorstep every single month! Choose from various STEM disciplines to nurture your girl's scientific curiosity and interest.

Best Robotics Set

LEGO Boost Creative Toolbox

An extremely versatile set that lets kids build amazing robots and program any behavior or activity. A great introduction to robotics for all ages!

Budget Option

Hidden Figures Young Readers' Edition

How can you make it in mathematics and astronomy as a female African-American in the 1930s-1960s? This is the young readers' adaptation of a New York Times bestselling book based on a true story.
10 Best STEM Gifts for Girls
Best Overall — KiwiCo Crate
KiwiCo Crate
Fun and innovative STEM projects that arrive at your doorstep every single month! Choose from various STEM disciplines to nurture your girl's scientific curiosity and interest.
Instead of choosing a single STEM gift, how about opting for a monthly bundle of gifts? KiwiCo is one of the most popular subscription boxes for a reason. You get to choose from many disciplines, including science & tinkering, art & design, geography & culture, chemistry, engineering, craft, and more. Every science kit caters to specific ages: 0-8, 9-13, or 14 and up to 99.
As an example, your kid can get materials and blueprints for DIY projects and experiments. For example, a glowing pendulum, a hydraulic claw. Some projects will help her understand the solar system, physics laws, rainbows, etc. Others will have her build working models of lamps, musical instruments, pencil sharpeners. Furthermore, there are always additional project ideas, challenges, and activities to encourage open ended play. But what if something goes wrong? No worries – children also get access to tons of online tutorials to make sure everything runs smoothly.
The beauty of it is that your girl will never know what to expect next. It adds a little bit of surprise to the equation, building up her interest and suspense.
While this subscription box is excellent for both boys and girls, it's #1 on our list because it provides hands on experience at its finest. The best way to build your confidence in STEM is to do it yourself!
Best Robotics Set — LEGO Boost Creative Toolbox
LEGO Boost Creative Toolbox
An extremely versatile set that lets kids build amazing robots and program any behavior or activity. A great introduction to robotics for all ages!
LEGO hardly needs any formal introduction. Most of us parents have tested their building blocks (or building bricks, to be more precise) ourselves. We loved them when we were kids, and we love to buy them for our kids.
By introducing robotics kits, they have stood up to their reputation as an innovative toy company. Not only are they in line with technological progress, but they are also a leader! LEGO Boost Creative Toolbox is one of the company's flagship science kits in the field of robotics. This extensive 847-piece set was introduced back in 2017 and has since remained sensationally successful. Technology has gone further without Boost losing a single bit of its appeal!
Not without a reason, of course. It gives you a chance to build five very cool robots. First, there's Vernie, a 10-inch tall humanoid robot that dances, plays golf, and sings. Other bricky pals are Frankie the Cat, Autobuilder, Guitar4000, and Multi-Tooled Rover 4. Once you master them, unleash your creativity and come up with your own models!
While building these models, girls and boys (and adults!) will learn both mechanical and electrical engineering. They will work with color, distance, and tilt sensors. But the fun doesn't end when they manage to wire up all the components. On the contrary!
Programming the robots for different activities is probably the most amazing part. They have a bunch of pre-programmed activities available through the app. But they are releasing new ones all the time! Just tune in to their site and follow the updates.
Furthermore, as always with LEGO, diehard fans always come up with new models and tricks.
That's why LEGO Boost is one of the best gift ideas for any child in your life. And nearly any age group! It's intended for kids ages 8 and up. But I can easily imagine even smaller kids having their share in all the fun. As for older ages, I can personally attest to that, as someone who has all but kidnapped their nephew's Boost!
If you want to take things to an even higher level, you can also consider LEGO Mindstorms as a STEM gift for your girl.
Best Budget Option — Hidden Figures Young Readers' Edition
Hidden Figures Young Readers' Edition
How can you make it in mathematics and astronomy as a female African-American in the 1930s-1960s? This is the young readers' adaptation of a New York Times bestselling book based on a true story.
Neil Armstrong may be the most renowned name in 20th-century astronomy. But it's far from being the only one. Those few steps on the Moon's surface were prepared and supported by hundreds and thousands of scientists who remained anonymous to the public. Much footwork was required to pave the way for the enormous progress in space exploration.
Many of these scientists were women — and African-Americans at that. Margot Lee Shetterly's book "Hidden Figures" tells the story of these female mathematicians. Dorothy Vaughan, Mary Jackson, Katherine Johnson, and Christine Darden lived when most people thought women belonged at the stove and not in NASA space programs. Black women faced an even worse predicament. Besides gender discrimination, they had to deal with racial segregation.
And yet, they made it. Working as human "computers," they used their problem solving skills to tackle many questions essential for our space missions success.
The account is based on materials the author picked up from her father, a NASA researcher who worked with these women. And in this young readers' edition, it's adapted for ages 8 to 12 – just the ones we are aiming at right now.
There's hardly a better STEM motivator for a young girl than reading about female scientists who managed to succeed against the odds!
Best for STEAM — 4M STEAM Powered Kids Crystal Science Kit
4M Crystal Science Kit
A perfect STEAM gift for your girl, this set includes all she needs to grow beautiful crystals. She can then keep them as a souvenir of a successful science project!
Great things are often simple, and that's exactly what 4M Deluxe Crystal Growing Science Kit is. It provides everything children need to grow crystals!
Doesn't sound like much? It is. Crystals are not only ethereal in beauty. They can also teach us so much about geology. In other words, materials that form up the Earth, how they come together, and what becomes of them.
This set includes powder of different colors, a bunch of containers, display domes, and instructions. Even though the process is relatively straightforward, the child will probably need your help mixing up the materials. For best results, you need to follow the instructions precisely. If not, your crystals may not grow!
The experiments are interesting, but that is not to say that this science kit is perfect. Our main objection is that it only provides a limited amount of learning. Once your crystals grow their maximum, there's nothing more you can do. They will remain nice ornaments and remind your girl of her success. But there is no more potential for play.
Best for Teamwork — FIRST LEGO League Robotics Teams
FIRST LEGO League Robotics Teams
There's strength in numbers and community! This global robotics program opens up a world of opportunities for kids, especially the underserved among them.
What better way for your child to upgrade their STEM skills than enter a robotics community? FIRST LEGO League is a global program for children ages 4-16 that aims to introduce them to robotics through hands on engagement and experience. They work in well-organized teams with excellent mentors and guide. If your child is a LEGO fan, they will love this opportunity!
Design, coding, research, and various problem solving activities are at the heart of this program. Kids engage in friendly competition with other teams while gaining incredible teamwork experience. Once a year FIRST organizes a huge challenge for all participants. They get a chance to solve a real-life problem with robotics! For example, build a sustainable city, or devise a mission to the moon. Later on, they may even get scholarships!
As a parent or an educator, the first step is to register for free. Then, you'll get emails about the teams and activities in your area. You can even start a new team if there isn't one in your area.
The program stands for equity, diversity, and inclusion. That's why it's a wonderful opportunity for girls! There are all-girls teams that are all about empowering girls for robotics and science in general.
Best for Coding — Sphero BOLT
Sphero BOLT
This beautiful and smart spherical robot toy will help kids learn both visual and text programming. Another plus — it's waterproof!
On the surface, Sphero BOLT is just a little ball. A fancy-looking, sleek one, but still a ball. No components to assemble, no building pieces or bricks to tinker with. It seems there's nothing to build here! Apart from Sphero itself, there's also a charging base with a cable and a protractor.
Who would have thought that Sphero is actually a full-blown robot with loads of sensors and functionalities? Indeed, it's a STEM toy for young programmers who aren't necessarily engineers too. Your child will unbox the robot as-is so that she can get to coding straight away.
The kit allows girls and boys to learn both visual coding via Scratch, but also complex JavaScript programming.
From what I've gathered while discussing Sphero with parents and educators, they are often hesitant to get it due to its abstract concept. A spherical robot versus anthropomorphic robot toys such as LEGO Boost or Anki Cozmo? Most parents would go with the latter. Most kids too!
Still, one shouldn't judge a toy by its shape. BOLT is a mighty little ball that has almost unlimited coding potential. Your child might need some time to get familiar with it. But once they do, they will have a blast with all the fun and cool activities! They can even program it to run away from them while they're screaming at it!
The price may be a bit prohibitive for some parents. But as far as coding toys go, it's even relatively inexpensive.
If you need more info to make an informed decision, read our full review of Sphero BOLT.
Best for Electrical Engineering — Elenco Snap Circuits Jr. SC-100
Elenco Snap Circuits Jr. SC-100
This science kit is an excellent way to teach electronics to 8-12 year old girls and boys. A proper little electrical circuits lab in a 32-piece set!
When I was a girl, I hated anything that had to do with engineering or electronics. No wonder! I hardly ever got a chance to make, create, or tinker. Luckily, educators are nowadays very aware that girls and boys need to make in order to learn. Such a pity there weren't any toys that could provide a fun way to introduce these concepts!
The multi award winning Elenco Snap Circuits Jr. SC-100 is a toy that teaches electronics to children through over 100 fun projects. They get to make functional models of lamps, fans, sound alarms, flying saucers, musical doorbells, and more. Check out the list of all projects! But that's not the end. Once your girl masters all of these projects, she will be savvy enough to come up with her own.
Making such cool models is so much more fun than sitting down and learning abstract concepts that you don't understand.
So how many pieces does this kit include? As little as 32! They snap together, so no soldering is needed. Still, some help on your part will be welcome, at least for the first week. Then, she can go on to explore on her own!
Best for Chemistry — Yellow Scope Foundation Chemistry Kit
Yellow Scope Foundation Chemistry Kit
This STEM kit has a laudable mission to get more girls into chemistry. The kit allows girls to perform 19 fun science experiments.
There are many chemistry and science kits on the market. However, most of them are toys that look and act like mere toys and have no real educational value. Unlike them, Yellow Scope Foundation Chemistry Kit provides a true-to-life experience.
The set comes with everything children need to perform 19 cool chemistry experiments. They can learn about molecular motion, temperature, and chemical reactions. All that in a colorful and bubbly way! The kit includes chemical supplies, beakers, a thermometer, even a pair of safety goggles. (No worries – the girls won't really need them! It's just for sport.)
There's also a science lab book. It has instructions and resources, but there's also room for journal entries.
I especially like the pencil with the marking "Think like a girl." You betcha! With this science kit, the company has made it its goal to boost girls' interest in science. Research shows that girls are losing scientific self-confidence precisely at the ages of 8 through 12. That is when that little push can make or break their future career choice as a scientist.
But even though it's geared towards girls, this awesome kit is equally good for boys too. It's like the popular Scientific Explorer kit, but with a twist. A twist that makes all the difference, because you CAN think like a girl in science!
Best for Problem Solving — ThinkFun Gravity Maze Marble Run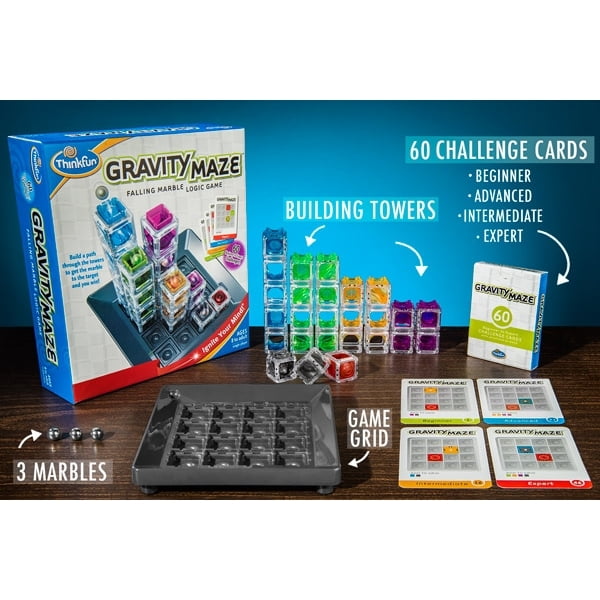 ThinkFun Gravity Maze Marble Run
An excellent puzzle that boosts logic and critical thinking. Young and older children alike will enjoy this set. No less than their parents!
Who doesn't like building blocks? Put them into a puzzle-like concept, introduce a marble into the equation, and you'll get one of the most amazing STEM toys in today's market.
ThinkFun Gravity Maze Marble Run includes 75 stackable colorful blocks. There are 60 challenges for gradual learning from beginner to expert levels. The goal is to build structures through which the marble will fall into the red target block. There will be much trial and error, but that's the whole point! The child will realize that it's okay to make mistakes. Besides logical skills, the games also boost spatial reasoning and planning.
Our favorite feature of this set is the fact that it never gets boring! It's suitable for kids ages 8 and up. But it's so fun and intelligent that even adults will enjoy playing with it! You know that feeling when you can hardly wait for the kids to go to bed? Exactly! It's just one of those STEM gift ideas that you can't go wrong with!
With younger children, it can even help develop fine motor skills. But overall, it's best for boosting problem solving in all ages.
Best for Codoodling — Artie 3000 the Coding Robot
Artie 3000 the Coding Robot
An adorable robot owl that can draw anything you code into it! Kids can program it through visual coding systems and then proceed with Python as their skills grow.
Everyone likes to doodle, but many boys and girls just aren't very good at it. But that's not a reason to despair! Artie 3000 the Coding Robot from Educational Insights will do the drawing for you – if you code it right!
The array of possibilities to program Artie is amazing. Kids will learn as many as six programming methods and languages: Drag & Drop, Remote Control, Point & Click, Blockly, Snap. And even Python, one of the most versatile and powerful programming languages in today's world!
Another thing we like is that Artie doesn't need an internet connection. It has its own WiFi that connects straight to your computer or mobile. That means your kids can bring it wherever they go!
So what's in the box? Besides Artie, you'll also get four washable markers, activity cards, and an instructions manual. Apart from that, the kids will need four AA batteries. Note, however, that Artie may need some calibration before he can draw precise shapes.
To be honest, I expected a more swift and smooth experience. Artie is adorable, but he can be slow and even a bit clumsy.
On the other hand, it's a great concept because it really emphasizes the "A" in STEAM. As for coding itself, it's incredibly customizable. Once the kids learn to do it right, they will be able to get Artie to draw literally anything!
So, Artie may not be a perfect or even a high quality coding kit. Its features and functionality are not very impressive either. However, it's hands down the most affordable introductory toy. Other coding kits will typically cost hundreds of dollars. You always get what you paid for!
What to Consider When Buying a Science Gift for Girls

Learning Curve
It's always a good idea to strike a perfect balance between your kid's current skills and the toy's learning potential. If the learning curve is too steep, it may result in discouraging the child! That's the last thing you want to do.
So, before buying the toy, make sure to consider how complex it is out of the box. Does it require some prior knowledge and experience? As a rule, the best toys will cater to complete beginners but will also have the potential to grow with the child. In other words, they will be easy and simple but not simplistic!
What Does She Like?
By the ages of 8-12, girls and boys already know what they like and don't like. Ignoring their interests would therefore be a mistake. Science experiments and toys are supposed to help kids fall in love with science and not turn them away!
So, if your child is into arts, STEAM would probably yield better results than STEM.
Luckily, many toys are more about logic and critical thinking than formulas, algorithms, and other complex notions associated with science. They break down complicated concepts in a fun way that is easy to understand. That's why hitting the sweet spot between the child's interests and these disciplines shouldn't be too hard.
Age
Ages are always an important factor when choosing gifts for toddlers or preschoolers. However, that doesn't mean you should strictly adhere to the age labels when it comes to tweens.
The recommended age range is crucial for little kids who are quick to chew and swallow everything. At these tender ages, labels mean safety. And safety isn't something to toy with! But with middle school kids, age labels can be confusing and, frankly, restraining.
For example, many robotics kits will read 8-12 on the box. That doesn't mean an older teen can't enjoy them! High quality sets will be super fun and interesting to the kids and their parents, and even grandma! From middle school and up, labels are only there to make you feel bad. Or at least that's how I felt once, while I was eyeing an 8-10 set, and I was 29 at the time!
Luckily, many toy companies have understood that, and they have stopped delineating the upper limit. Still, it's worth keeping in mind that these things are not carved in stone! At least when it comes to bigger kids.
Frequently Asked Questions

Who should buy STEM toys and games for girls?
If you ask me, everyone! All of us should buy toys and games that promote science technology engineering and math to girls. We never know who they will grow up to be. And that is why we need to offer them as many opportunities as possible.
However, that is not to say that we should become pushy with this or any other type of toy. It's absolutely fine to not be very keen on science or STEM toys. It is our duty as parents and educators to offer these possibilities. We should open the doors and remove any obstacles that may lie on the doorstep. The rest is up to the kids!
At what age should a child be introduced to STEM toys?
There are no exact prescriptions or limitations. But the rule of thumb is to start as soon as the child starts playing. Luckily, there are science toys, games, and gifts even for the youngest kids, ages 3 to 5. Apart from teaching them numbers, counting, and critical thinking, these toys usually refine their gross and fine motor skills, as well as hand eye coordination.
For kids ages 6 to 8, you can gradually start introducing coding and robotics toys. They are ready to start acquiring some real knowledge. Tween girls and boys ages 8 to 12 can already dabble in full-blown science. With them, the key concern is to encourage and empower them. And, of course, to build a solid foundation for the challenges of high school.
Can girls benefit from STEM?
Absolutely! Not only can girls benefit from STEM, but science and technology can also benefit from girls. In fact, without more girls and women, these disciplines lose half of their talent pool.
A 2018 Microsoft survey has shown that the majority of girls lose interest in STEM during high school. As expected, the reasons include the lack of female role models who would inspire them and show that it is possible!