Best Toys for Nonverbal Autism [13 Picks Reviewed 2023]
*We are reader-supported! This page may contain affiliate links. As an Amazon Associate we earn from qualifying purchases. The price to you remains the same.
Best toys for nonverbal autism are meant to develop a child's creativity and a host of cognitive, social, motor, and emotional skills. And that's no different from toys in general!
But unlike most other toys for kids, these also have an important mission of stimulating language development with children who find it especially hard to express themselves through verbal interaction.
That is why finding the best toys for nonverbal kids may prove trickier than it looks. After sifting through dozens of options on the market, we found that the best pick for most people is probably MKgames Feelings Memory Card Game. After all, what's more important in life than figuring out your own feelings and finding a way to express them?
IMAGE
PRODUCT
DETAILS 

Best Overall

Feelings Flashcards Game

This set contains 50 emotions cards that kids can use to play with or as a speech aid, or both.

Best Gamified Toy

Goally

Helps the child get a sense of responsibility and independence, fosters their language development, improves their confidence and the go-get attitude.

Budget Option

Super Z Outlet Liquid Motion Bubbler

A visually pleasing to made from colorful descending bubbles that will keep kids engaged for hours.
Related post: Best Toys for Sensory Processing Disorder (SPD)
Best Toys for Nonverbal Autistic Child
1. Best Overall – Feelings Flashcards Game
Feelings Flashcards Game
This set contains 50 emotions cards that kids can use to play with or as a speech aid, or both.
By matching pairs of cards in the Feelings Flashcards Game, the kid will train their memory and improve cognitive abilities. But there's much more to this 50-piece set than memory training.
Children with autism usually have trouble expressing their feelings, and that is exactly what this card game is trying to address. Imitation and role play are some of the best ways for parents to promote communication with their nonverbal kids.
You can set an example by imitating the facial expression from a card. After many repetitions and variations, maybe you can even get the kid to try and describe an emotion. Words are not necessary at this stage – gestures are another great means of communicating! If or when the child starts speaking in phrases, you can ask them to name a particular feeling. Or even pick a card that corresponds with their own feelings.
Another great feature is scalability. Depending on the kid's age or cognitive level, you can start with just a few cards and slowly work your way up.
2. Best Gamified Toy – Goally
Goally
This iPad-like device turns your kid's daily routines and behaviors into an exciting adventure paved with rewards! It helps the child get a sense of responsibility and independence, fosters their language development, improves their confidence and the go-get attitude.
Goally is far more than a simple toy. It's a gamified system app that addresses the hallmark of autism – routines. Well, this tablet-like device and app actually turn routines into positive reinforcement that reduces anxiety and seamlessly helps the child learn to function in different situations.
As a parent, you can use the app to set tasks, chores, and schedules for your kid. Whenever they completes a routine successfully, they will get points that lead to a reward.
And how do kids react to this kind of experience? It's not surprising that the response has been overwhelmingly positive. It's advisable to start with the routines your child already knows and loves, and work your way up together. What better way to do a chore than see it as part of a game?
The great thing is that Goally also works for neurotypical kids who find it hard to adjust to everyday responsibilities, as well as kids with ADHD who have trouble focusing on the task at hand. It is well-known from ABA therapy that positive reinforcement works well for modifying behavior, so it stands to reason that Goally should lead to positive behavioral changes.
Truth be told, Goally is pretty expensive, but it will work miracles with elementary school kids all the way up to teenagers.
An objection that many parents may have is that the app would be perfectly functional on its own, without a proprietary device. Indeed, Goally the app does work on other popular platforms, such as iOS. However, a big advantage of a proprietary device is that your child cannot get distracted by other apps. Many parents also find it more convenient to have a dedicated device rather than an app on a device that may fulfill multiple roles or be used by other family members.
Don't forget to use coupon code MARK5 at checkout to get $5 off Goally!
3. Best Budget Option – Super Z Outlet Liquid Motion Bubbler
Super Z Outlet Liquid Motion Bubbler
A visually pleasing to made from colorful descending bubbles that will keep kids engaged for hours.
Fiddling and stretching with a toy can get tiring after a few minutes. But what about colorful bubbles that will have a calming and mesmerizing effect on your kids?
Each container or bubbler contains bubbles of two bright colors and the action is similar to the movement of sand in an hourglass. The smooth and rhythmic movement of the bubbles in the Liquid Motion Bubbler is a great autism sensory toy. 
The never-ending motion of the bubbles acts as a visual stimulator and helps the kids to stay focused. Once the journey of the bubbles is over, just flip over the container to start it again. And it's great fun to watch the movement of the bubbles.
The quality of the bubblers is good and the outer layer is thick. However frequent drops or knocks can damage them. Since this is a safe toy, it's a great option if you can't monitor your child. 
On the downside, you can't choose the color type you prefer. We wish the manufacturers allowed the buyers to pick the choice of colors.
4. Best for Sensory Play – Monkey Noodle Stretchy String Fidget
What better way to learn about your surroundings than fiddling, stretching, or twitching things that can't break? With this Monkey Noodle Stretchy String Fidget, the kid will get an assortment of brightly colored tubes that will help improve their motor and sensory skills. The noodles are made of BPA- and phthalate-free rubber that's also durable enough to be absolutely safe for little chewers.
Even though it was made with 3+ year old kids in mind, this toy will also work with older children, all the way to adult age. It relieves anxiety so well that even mom and dad will enjoy snagging a string or two!
Note, however, that you should supervise smaller children to make sure they don't hurt themselves by wrapping a string around their limbs or even neck.
There's another flip side to the stretchiness: the noodles tend to snap back if pulled hard enough. If you can't monitor your child at all times, this fidget toy may not be the best choice for you.
5. Best for Spelling – Melissa & Doug See & Spell
A fish is not just a cold-blooded animal that lives in water. It's also a 4-letter word, with each of the letters forming their own shape. Match the letters with their shapes, pair them with a picture, and you'll get the meaning in its entirety! That's what Melissa & Doug See & Spell is all about.
Language works in countless ways, and this highly rated developmental toy shows it. If your child has speech delay, it's not a reason not to learn spelling, practice focus and hand eye coordination!
Another wonderful feature of this set is that it's very suitable for socializing and teamwork. The child can team up with their friend or sibling and learn about the beauty and value of camaraderie!
When you unbox it, just go through all the boards and letters. Some customers have reported issues with mismatched pictures or incomplete alphabet.
6. Best Activity Center – Learning Advantage Horse Activity Center
Horse Activity Center
A beautiful wooden board that mounts on the wall and offers pleasing and educational activities.
A maze with 8 colorful beads and a launching lever. Plus a set of four cogs that you can turn. It's as simple as it gets, and it's about everything this Horse Activity Center can do.
But if there's one word that describes its effect on kids, it's the word "pleasing."
Research has shown that nonverbal autistic kids are sensory seekers more often than not. Considering that they are hyposensitive to stimuli, they crave more sensory input than an average child.
That's why we consider this set one of the best sensory toys – not just educational. Doctors and therapists can also use these in their waiting rooms to keep the kids busy and calm them down.
At a single glance, you can see that this toy can help develop many skills: from fine motor skills to hand-eye coordination to language. Not to mention just how pleasing turning the cogs and moving the beads will be to so many kids on the spectrum!
The only downside we could notice is that the board is on the pricier side. However, the quality of materials, simplicity of design and versatility of use are pretty much worth it.
7. Best for Speech Therapy – Wily Fox Montessori Toy
Wily Fox Montessori Toy
A wildly exciting yet simple game that encourages free play, storytelling, and interactivity, appropriate for many ages, toddler and up. With 36 animals and 4 habitats, playing possibilities are endless.
Does a fox live in the jungle – and why not? The Wily Fox Montessori Toy will nudge your kid to explore and verbalize the answer to this and countless other questions.
If that's too complicated for the time being, fret not! The child will still enjoy solving problems and finding their way through the exciting worlds of farms, forests, jungles, and oceans.
This set includes 36 animal flashcards – more than enough to practice logic and visual skills. There are countless ways to improvise, asking the child various information about the animals, voicing and imitating the sounds they make, practising storytelling.
When you look at it, it's pretty similar to some of the board games that all of us love so much!
8. Best for Hyperactive Kids – Ativafit Folding Trampoline
Ativafit Folding Trampoline
A classic trampoline provides not only loads of fun for activity-seeking kids, but also strengthens their joints and muscles, improving coordination and balance.
You won't see a humble trampoline advertised as a "special needs toy", sensory toy or anything like that. Nevertheless, the Ativafit Folding Trampoline is a perfect toy to work out your hyperactive kid.
Another reason why you should consider getting one is that it's suitable for both indoor and outdoor play. But a trampoline doesn't just mean entertainment and fun. Jumping and bouncing is also an important activity for physical health. It improves balance and coordination in space, refining the kid's proprioception!
The trampoline is designed to be quiet and produces no abnormal sound. A thick cloth cover that makes it low-impact prevents excess stress on the knees. Since it has high-quality springs, the maximum weight limit is 330lbs, two kids can jump together on this one.
The safety handle will provide protection so that the kid doesn't fall over. The trampoline is pretty small anyway, so it shouldn't be a huge concern. Still, we recommend parental supervision. You never know what a kid might be up to!
9. Best for Rockers – Fat Brain Toys Teeter Popper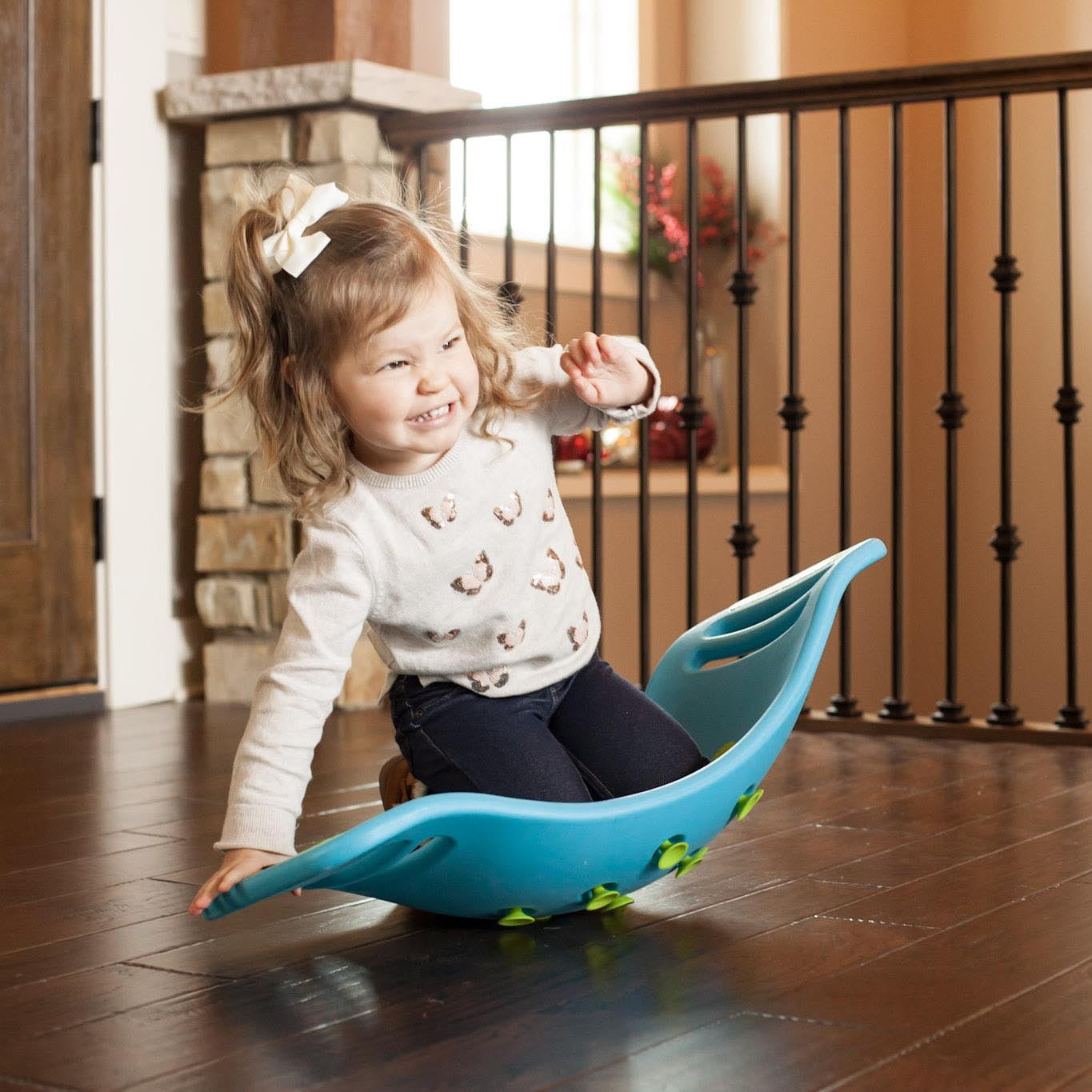 Fat Brain Toys Teeter Popper
Left and right, back and forth – this toy is bound to make your little rocker happy. It also improves coordination and produces popping sounds to supplement their auditory diet.
Is your child a rocker? If yes, Fat Brain Toys Teeter Popper could be the best gift idea you've ever had.
Rocking is just one of the many types of stimming behaviors that are common with autism. This board will make it even more fun and rewarding since it's versatile enough for sitting or standing. Plus, the popping sound of the suction cups will add some more fun (even if it won't delight the parents)!
Apart from producing loads of sensory input, this toy enhances coordination and balance. It doesn't have anything to do with verbal skills, but it will make your kid happy. And sometimes, that's all they need!
10. Best for Nonverbal Communication – ASD Feelings Board & Keyring
Visual ASD Feelings Board & Keyring
Both a toy and a communication tool, this set will help your child channel out their current needs and feelings. It contains a board for indoor use and a keyring to bring outside.
A simple color-coded board with numbers in one column, faces and words in another, and velcro fasteners to attach a "me" card. This ASD Feelings Board is a neat solution for ASD children who stress out whenever they need to communicate their feelings.
Whether they are nonverbal or just pre-verbal, this tool will make them feel comfortable reaching out for help or response.
What makes it even better is a small keyring with all the faces and words on small cards, so they can show other people what they are feeling. That way, this set should also encourage the child to function in social situations.
To foster verbal skills in a child with autism, you can use this tool for role play. The numbers, colors and words will also play an important role in branching out their cognitive skills.
11. Best for Calming Down – Outree Sensory Pod Swing
Outree Sensory Swing
A snuggly, cuddly seat to soothe your child and provide a safe space for some me-time. Suitable for indoors and outdoors.
The Outree Sensory Swing is so much more than a seat or a swing, or even a sensory toy. You can hang it in a room, in the backyard, or pretty much whenever the child prefers.
Parents often find it difficult to travel or explore new areas with an autistic child. This swing will solve at least half of the problem. It's a portable safe nook that can travel with you. Are you planning a family outing? Just bring the swing along, and your kid will have a familiar place for stress relief where they can be alone and recharge even in the middle of a crowd.
Smooth back-and-forth motions of the swing can bring about a calming effect on individuals; especially on kids with processing disorders. It also helps in developing the vestibular receptors in the inner ear that helps to improve balance and coordination.
A downside is that installation is a bit of a hassle if you aren't handy. Also, if the kid is bigger, it would be wise to purchase a more durable set of screws and bolts for mounting.
12. Best Toys for Autistic Toddlers – Melissa & Doug Sound Puzzle
Melissa & Doug Sound Puzzle
A simple and super cute peg board puzzle that will enhance the child's fine motor skills, problem solving, and listening without overwhelming them.
Place a piece of puzzle on the board correctly and it will moo, bark, meow, neigh, oink, cluck, or bleat. It might not be language proper, but it's communication alright!
This Melissa & Doug Sound Puzzle wasn't made specifically with nonverbal kids in mind. But it's one of the top educational toys for them, precisely because it revolves around all the beautiful and different ways in which living beings communicate.
Another way to encourage the development of language is nudging the kid to repeat the names of the animals every time they make a sound. If he doesn't speak at all, maybe you will get him to imitate the sounds if you do it first.
This toy also improves focus by making the child observe the shapes so that they can match a piece correctly.
There's a small con that you need to be aware of, though. The sounds can sometimes go off on their own. If you don't want a cow to wake you up at night, it's best to remove the batteries when out of use!
13. Best for Babies – Fat Brain Toys Dimpl
Fat Brain Toys Dimpl
Babies, toddlers, preschoolers, schoolkids or even parents – this little fidget is a great stress reliever for everyone. Plus, it teaches cause and effect and develops fine motor skills.
The concept of Fat Brain Toys Dimpl couldn't be simpler. It's just a plastic little board with five colorful silicone bubbles that you can push and pop to the other side – and vice versa. By doing that, the baby learns that pushing in results in a dimple popping out. That's the gist of cause and effect!
And how strong a push is strong enough? The kid will have fun figuring it out and will fine-tune their motor skills in the process.
But this toy is by no means limited to babies. As you will see for yourself if you give it a try, the process is quite enjoyable and addictive for all ages. Toddlers, preschoolers, and schoolers can tag along this noiseless toy for fidgeting wherever they go.
And now to the flip side! It's an awesome little tool, but unfortunately, quite expensive for what it offers.
What to Consider When Buying Toys for Nonverbal Autism

Age Matters!
Judging by this study, 4 years of age seems to be a significant milestone with nonverbal children. At or after this age, nearly half of all surveyed kids acquired fluent speech. An even greater percentage managed to learn phrases.
So how does that translate to choosing toys for a nonverbal child? If they are a toddler, you still can't have a precise notion of how impaired their language skills are. That's why it's probably wise to try with a wide range of all-purpose toys for neurotypical children. If a kid's nonverbal intelligence is fine, chances are they will begin to verbalize after the age of 4.
Nonverbal Communication Is Communication Too
The fact that your child with autism finds it hard to spell out their wants, needs, and wishes doesn't mean they don't have other ways to make them known. As a parent, you should try to pick up their signals and use the types of communication that best resonate with your kid.
It means there's no need to insist on verbal toys that speak or sing. In fact, a multitude of artificial sounds could even be disturbing for some children. Instead, you can focus on games and toys that stimulate other means of communication – written language, gestures, mimics, or imitation.
Tap Into the Child's Personal Interests
No two people are alike, and with ASD (Autism Spectrum Disorder) kids and adults, it's even more so. Even if some of them won't spell out how different they are from the next ASD person, you should never assume that there is a single type of toy that works with all ASD kids.
That's why it's wise to provide toys and games that will strike a personal chord with the kid. A toy that works excellently with one kid may be an absolute failure with another. For example, if they react well to music, that would be the way to go.
Many kids on the spectrum will fall head over heels in love with wheels and various mechanisms. Anecdotally, many families report that an autism camp is a great way to discover just what their autistic child is capable of. Developmental experts couldn't be more right when they claim: to each their own!
But even if you were to choose the most adequate toy in the world, don't push it. Let the child approve and adopt it at their own pace. Your role is to create a gentle, affirmative, unobtrusive environment that will stimulate the child rather than forcing or intimidating them into play.
Frequently Asked Questions
How to calm a nonverbal autistic child?
If your child is a sensory seeker, it doesn't mean you should throw all kinds of stimuli at them. Quite the contrary: if you overdo it, it may lead to uncontrollable behavior, also known as autistic meltdown.
Meltdowns can make a parent feel helpless or even embarrassed, especially when they happen in public. But they are your child's way of saying that they've had too much of something, that they are overwhelmed or afraid.
In such cases, panicking and forcing the kid to stop doing what they're doing is counterproductive. The best thing you can do is to remain calm and just be there for them. Don't punish or shame them for a behavior they can't control.
So how does that translate to toys? It's best to avoid toys full of lights, screechy sounds, and movement. Instead, choose a simple toy that will provoke their interest and make them focus on one type of stimuli at a time. It's also good to always have a stress-relieving toy on the go, just in case your child needs some calming down.
Do I need to buy special learning toys for a child on the spectrum?
Autism toys are usually designed by occupational therapists and other experts after years of research and practice. That fact typically vouches for their adequacy, but it doesn't mean that they are the only appropriate toys for an autistic child.
On the contrary, you should always try and offer a wide range of toys to your kid. If they don't react to them or clearly disapprove, you should try with sensory toys. Children on the spectrum are often hyposensitive, which means that they tend to underreact to stimuli. If that's the case with your child, they will need more sensory input to calm their anxiety.

What are the best sensory toys for autism?
Autism often goes hand in hand with Sensory Processing Disorder (SPD). Senses are the first contact point with the outside world for every single child. In nonverbal autism, however, they may often be the only contact point.
That's why these toys are made to meet three main goals:
Calm down a hypersensitive kid and reduce their anxiety level without overwhelming them. Think about fidgets, spinners, and similar toys that even neurotypical kids and adults like to fiddle with.
Provide the stimuli a hyposensitive child craves for in a safe and controlled way. Autistic kids often seek sensory stimuli so desperately that they will engage in unhealthy or unsafe activities such as jumping off the stairs. A sensory toy will meet the child's need without exposing her to danger. These are toys such as hopper balls, trampolines, etc.
Provide a fun opportunity to learn. This is probably the most important developmental function of sensory play in general. That's why most educational toys heavily rely on the senses!
That being said, there is no single best sensory toy for autism. It's up to you to try multiple toys and figure out what works best for your child.
Last update on 2023-10-04 / Affiliate links / Images from Amazon Product Advertising API