Top 8 Fidget Toys for Skin Picking (Dermatillomania) 2023
*We are reader-supported! This page may contain affiliate links. As an Amazon Associate we earn from qualifying purchases. The price to you remains the same.
For a long time, skin picking has been viewed as little more than a bad habit. But as we learn more about the human brain and its various quirks, it's become abundantly clear that skin picking often stems from something much deeper.
Unfortunately for many, skin picking (dermatillomania) is not just a harmless habit. It can cause pain, open wounds, and permanent scarring.
In some settings, skin picking is also seen as distracting, rude, or unprofessional. However, excoriation disorder is a recognized mental illness related to obsessive-compulsive disorder.
Fidget toys can replace the physical sensation of skin picking or redirect hyperactivity manifesting as skin picking. They can also offer an alternative behavior for individuals who use skin picking to aid in focus or stress relief.
Of course, we recommend discussing the use of fidget toys with any professional currently involved in managing compulsive behaviors!
For a fidget toy that can be used by all ages, the Tom's Fidgets Original Flippy Chain is a great place to start. Its portable, quiet, and intuitive design makes it one of the best fidget toys for skin picking out there.
IMAGE
PRODUCT
DETAILS 

Best overall

Tom's Fidgets Original Flippy Chain

Handheld, distraction-free fidget toy that can keep your hands busy for hours.

Best Premium Option

Infinity Cube

Hefty fidget toy perfect for teens and adults who need help focusing or relieving stress.

Budget Option

Mr. Pen Spiky Sensory Rings

Budget-friendly sensory rings that can eliminate or reduce the urge to pick at your skin.
Best Fidget Toys For Dermatillomania (Skin Picking) 2023
Best Overall — Tom's Fidgets Original Flippy Chain
Tom's Fidgets Original Flippy Chain
Handheld, distraction-free fidget toy that can keep your hands busy for hours.
With Tom's Fidgets Original Flippy Chain Fidget Toy you can keep your fingers occupied for great lengths of time without noise or visual distractions.
This fidget toy is perfect for anyone who idly picks at their skin when focused or stressed. It comes in several colors and can be easily kept in a pocket or attached to a keychain.
The small and discreet design doesn't attract attention either.
The chain is made from a combination of stainless steel and silicone O-rings and is extremely durable. The overall weight is well balanced, and it is smooth enough for easy spinning. Even though the design is simple, users have found it to be stimulating and an effective reliever of social anxiety.
If you're looking for a noiseless fidget toy to replace skin picking, you really can't go wrong with this little gizmo. It can be used for spinning, two-handed flipping, or even chewing. However, the small size poses a potential choking risk for young children.
Best Premium Option — Infinity Cube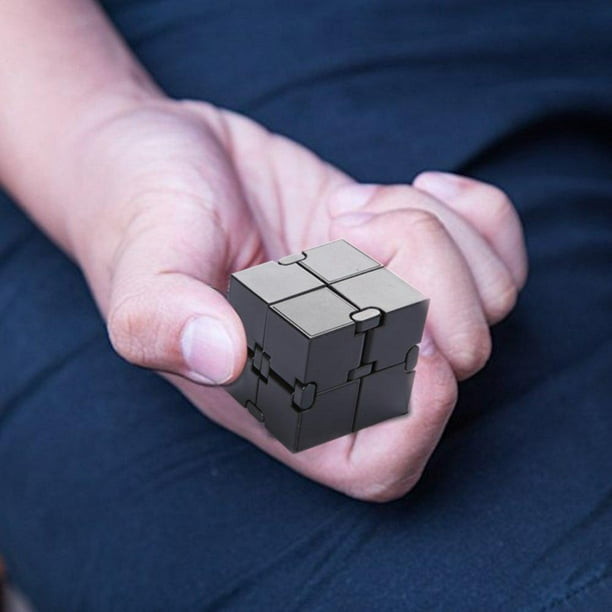 Infinity Cube
Hefty fidget toy perfect for teens and adults who need help focusing or relieving stress.
The Infinity Cube is perfect for keeping on hand at your desk. Passersby may even think it's a display piece when not in use!
When first using this fidget toy, you might find it requires more focus than other designs — this is great if you pick at your skin when feeling anxious. Over time, however, fidgeting with the Infinity Cube can become second nature.
Made from stainless steel and aluminum, the cube feels sturdy. It can easily withstand a few drops or knocks and is great for everyday use. Overall, the weight and the movements are extremely satisfying and can help one to focus.
While compact enough to use with one hand, the Infinity Cube is on the less-portable side due to its weight (just under half a pound) and bulky shape. It also may be too large for young children to fidget comfortably.
Besides, it is also a bit noisy. Some users like metallic noise, but if you prefer a silent fidget toy, there are other options.
Best Budget Option — Mr. Pen Spiky Sensory Rings
Mr. Pen Spiky Sensory Rings
Budget-friendly sensory rings that can eliminate or reduce the urge to pick at your skin.
For one of the simplest alternatives to idle skin picking, we recommend the Mr. Pen Spiky Sensory Rings. Made from stainless steel, the rings are safe and will not hurt your fingers.
These textured rings can be used in a variety of ways. Most notably, though, you can pick at the spiky surface of the ring instead of your own skin. Being silent, they are great for use in all environments.
Since these sensory rings are affordable and sold in a multi-pack, there's less concern about losing them than may be the case with other fidget toys. But they are also far less durable and versatile than other designs.
Best Multi-Functional Toy — Fidget Dodecagon
Fidget Dodecagon
12 sides, 11 things to spin or roll or click or flick!
Dodecawhat?
It means 12, and it means your nimble, busy fingers will have A LOT on their plate.
The Fidget Dodecagon comes in multiple color combinations and has an ergonomic design. 
With 12 sides and 11 different things to 'mess' with, it is a great toy to release nervous energy. It also provides you with both silent and noisy fidgeting actions. And even the noisy options are not super loud.
There are gears, buttons, joysticks, stress balls, and other options for you to pick from. The overall durability is great too. A silicone hop allows you to hang it from a bag.
You may need some time to get adjusted to the number of options. But once you get used to it, the device is a lot of fun. Moreover, it is popular with both boys and girls looking to release some nervous energy.
The lightweight product is made from premium-grade plastic and is easy to carry around. However, the Fidget Dodecagon Toy might be too big for small kids. On the other hand, it is not a choking hazard for kids.
Best Pick in a Box — Chuchik Fidget Cube Toy
Chuchik Fidget Cube Toy
Try not to make it a habit to zip and unzip the little case!
If single-function fidget toys fail to keep your hands occupied after a short time, consider giving the Chuchik Fidget Cube Toy a try.
This fidget toy features 6 distinct functions — one on each side of the cube — that can be used idly or rhythmically (e.g., following a specific order to alleviate stress) depending on your specific needs.
The Chuchik Fidget Cube Toy is the ideal size for both adults and children. With that said, young children may find holding onto the relatively large cube distracting during some activities.
Best Adult Wearable — MUCAL Fidget Rings
MUCAL Fidget Rings
Wearable fidget toy disguised as a piece of everyday fashion jewelry.
If you want a wearable fidget toy that will work as a distraction from skin picking, these stainless-steel rings from Mucal are a great choice.  
At an affordable price, you get 8 pieces of fidget rings that are perfect for twisting and turning. They are available in multiple sizes and the fit is comfortable for both kids and adults.
For some users spinning rings are not as effective as fidget toys. But they are a perfect choice when carrying bulkier toys isn't an option. These rings spin easily and offer a noiseless way to engage your mind.
Also, they look classy and look great with both casual and formal outfits. However, the sizing can be a little off.
Best Children's Wearable — Impresa Products Spiky Sensory Ring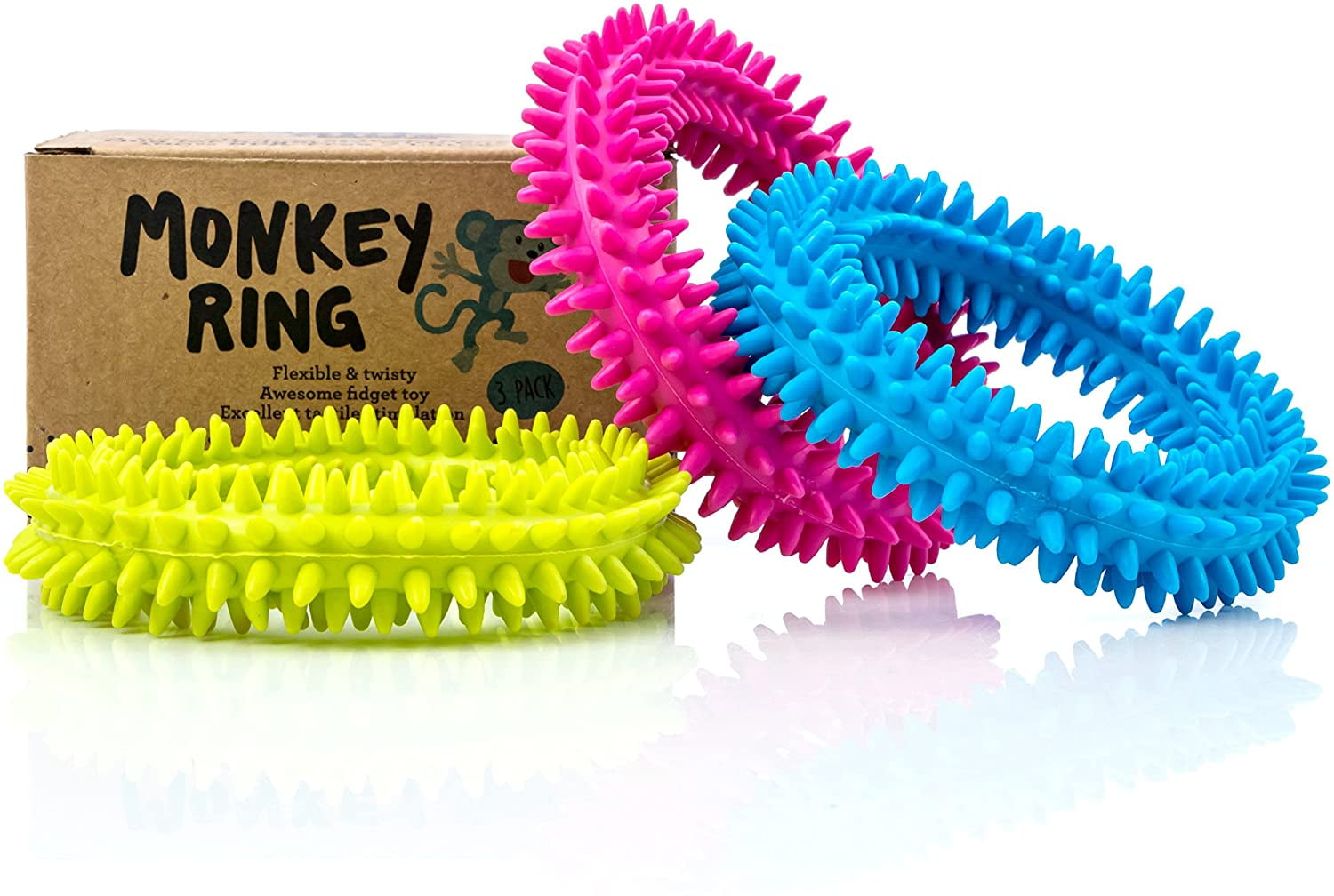 Impresa Products Spiky Sensory Ring
Textured sensory ring that can be worn or used as a handheld stress ball.
In the case of children, the Impresa Products Spiky Sensory Ring is a great wearable fidget toy that can keep their hands occupied during focused tasks.
This bracelet can be squished and pulled for different sensory experiences. The material is on the stiffer side and does not stretch much. The spiky texture can also be picked at instead of picking at cuticles, nails, or scabs. 
Besides these rings are free from BPA, phthalates, and latex and do not have any offensive odor. They are also helpful for controlling the symptoms of ADHD. In fact, they can also be helpful for autistic kids.
Keep in mind that these are not designed for chewing. So, if your kid tends to chew on everything, this may not be a good choice.
For adults, this fidget toy could easily take the place of a traditional stress ball!
Best Picking Alternative — Xipeel Pick Peel Stone Kit
Xipeel Pick Peel Stone Kit
Unique fidget toy alternative that mimics the act of picking at clogged pores.
Skin picking takes many forms, some of which are more easily replaced by fidget toys than others. If you tend to pick at your skin in front of the mirror, the Pick N' Peel Stones Kit may be a viable alternative.
This innovative kit replicates the focused, often-compulsive behavior of picking at real or imagined skin blemishes. 
The product is specially designed for anyone above 12 years of age with ADHD or OCD-related excoriation issues. The toolkit consists of natural lava rock and a filler glue made from latex rubber.
It takes anywhere between 12 to 24 hours for the glue to dry.  So, you need to provide that much extra time before you start picking on the stone.
Once the glue dries completely, you can start picking with the picking tool included in the kit. On the downside, the latex glue has a smell that some users may not like.
While nowhere near as portable as most fidget toys on the market, the Pick N' Peel Stones Kit offers a unique opportunity for behavior reduction at home!
Who Could Benefit from Using a Fidget Toy for Skin Picking?
Despite promising results among subjects diagnosed with ADHD, there is little research supporting the use of fidget toys for skin picking.
However, there is little risk in trying this management technique for yourself.
With the oversight of a doctor or therapist, fidget toys may be used to manage diagnosed dermatillomania (a.k.a. excoriation disorder). 
The best fidget toys for dermatillomania could also be effective in very mild cases of skin picking that do not require medical attention.
What to Consider When Buying Fidget Toys for Skin Picking
Age
Children and adults of all ages can struggle with skin picking. 
For some, skin picking is a temporary response to stress or the environment. For others, it's a lifelong compulsion that may need to be managed differently at different times.
The most important thing to realize is that age can play a large role in which fidget toys are best for any given person.
For example, some fidget toys may feature small parts that are unsafe for unsupervised children. 
Meanwhile, an adult who picks their skin may desire a fidget toy that blends into their outfit or personal belongings when not in use.
Noise
Nearly all fidget toys make some degree of noise. And this noise level can determine whether or not a given toy is appropriate in many situations.
Noise created by a fidget toy may disturb those around the user. This can particularly be a problem if the toy will be used at school, the workplace, or other public locations.
A fidget toy that makes noise can also draw attention to the user. So for those who wish to use a fidget toy for skin picking discreetly, excessive noise can be a big problem.
Portability
A fidget toy for skin picking is only effective when within reach. While many people find large fidget toys effective, they aren't necessarily practical for life on the go.
Portability isn't just about size, however. 
The most portable fidget toys can be conveniently clipped onto a keychain, necklace, or even worn as a ring. These simple features help ensure that you're never without a distraction when the urge to pick arises.
Accessibility
On a similar note, ease of accessibility is a must for many people interested in trying fidget toys to mediate skin picking. After all, nothing is as accessible as our own skin.
Function
No matter the motivation or trigger, skin picking often scratches a metaphorical itch for the person doing it. It's important to find a fidget toy that scratches the same (or a very similar) itch.
There are more varieties of fidget toys available than ever before, making it incredibly easy to test out many different functions. 
If a particular type of toy doesn't "do it" for you or your loved one, don't hesitate to try a different style!
Efficacy
As you likely already know, skin picking and similar compulsions often can't be managed by one method alone. 
Even the best fidget toy may not completely eliminate skin picking. And expecting a fidget toy to cure skin picking altogether is a recipe for disappointment!
Instead, you should view fidget toys as just one type of tool in your arsenal of preventions and redirections.
Frequently Asked Questions
Do fidget toys help trichotillomania?
As with skin picking, there is no guarantee that a fidget toy will reduce trichotillomania (compulsive hair pulling). However, it rarely hurts to try.
Some fidget toys designed for skin picking are also the best fidget toys for trichotillomania. But there are also a variety of fidget toys designed specifically for trichotillomania.
Can you use fidget toys to prevent nail biting?
Nail biting is yet another compulsion that may be managed with fidget toys.
You might find that many fidget toys that help with skin picking also mitigate nail-biting. However, we've also put together a list of some of the best fidget toys for nail biting for you to try!
Last update on 2023-06-08 / Affiliate links / Images from Amazon Product Advertising API