Best Science Gifts for 10-Year-Olds (Our Top 8 Picks for 2023)
*We are reader-supported! This page may contain affiliate links. As an Amazon Associate we earn from qualifying purchases. The price to you remains the same.
If you're looking for a science gift for a 10 year old, then you are probably a fan of science yourself. It can be hard to know where to pitch a science toy. You want it to be fun. You also want it to have some real science behind it as well. This list is filled with a range of options, so there should be something perfect for every 10 year old.
Our top pick is the Gravitrax Starter Set. This is something that will appeal to most 10 year olds and is a fantastic open-ended toy, with lots of hidden physics involved.
IMAGE
PRODUCT
DETAILS 

Best overall

Gravitrax Starter Set

This set lets kids easily create their own amazing marble runs, which don't need gravity to roll.

Best for Electrical Engineers

Elenco Snap Circuits Classic

This physics kit has over 300 exciting electrical projects for your kid to safely build.

Budget Option

4M Bubble Science Kit

This kit lets your child take bubbles way beyond small round bubbles. They can create giant bubbles, unbreakable bubbles, and more.
Related post: Best for Chemistry Sets for 10 Year Olds in 2023
Best Science Gifts for 10 Year Olds in 2023
Best Overall – Gravitrax Starter Set
Gravitrax Starter Set
This set lets kids easily create their own amazing marble runs, which don't need gravity to roll.
The Gravitrax Starter Set is a really great, stealthy, science toy. It's a marble run set, which is the sort of thing that appeals to most kids. They are, after all, hypnotic to watch. However, it's a little different from the marble runs you might normally expect.
This set comes with a marble canon. That means that you're not relying on gravity to get the ball moving; instead, it's about the thrust from the canon. This means kids have to think a little differently about how they design their runs.
This is just the starter set, so if this toy is a hit, you can get some expansion sets. These packs contain other trick pieces that introduce ideas of magnetism and projectile motion.
This is a really fun toy that will provide hours of entertainment and delight.
Best for Future Electrical Engineers – Elenco Snap Circuits
Elenco Snap Circuits is one of the many snap circuit kits from Elenco. All of these kits are great. They let kids build working electrical circuits easily without the need for wires and soldering. Playing with these kits is a great way to get a real understanding of how electrical circuits work.
This kit is an especially cool one. It has a wide variety of projects, which often include fiber optics, LEDs, and even your phone. The projects are easy to follow and build in complexity. So it starts really easy, and by the end, your child will confidently be building some really impressive circuits.
Even once they've finished all the projects in the book, this kit is still fun to play with. With all their newfound skill, they can start to design their own machines. This is a really fun introduction to electronics.
Budget Option – 4M Bubble Science Kit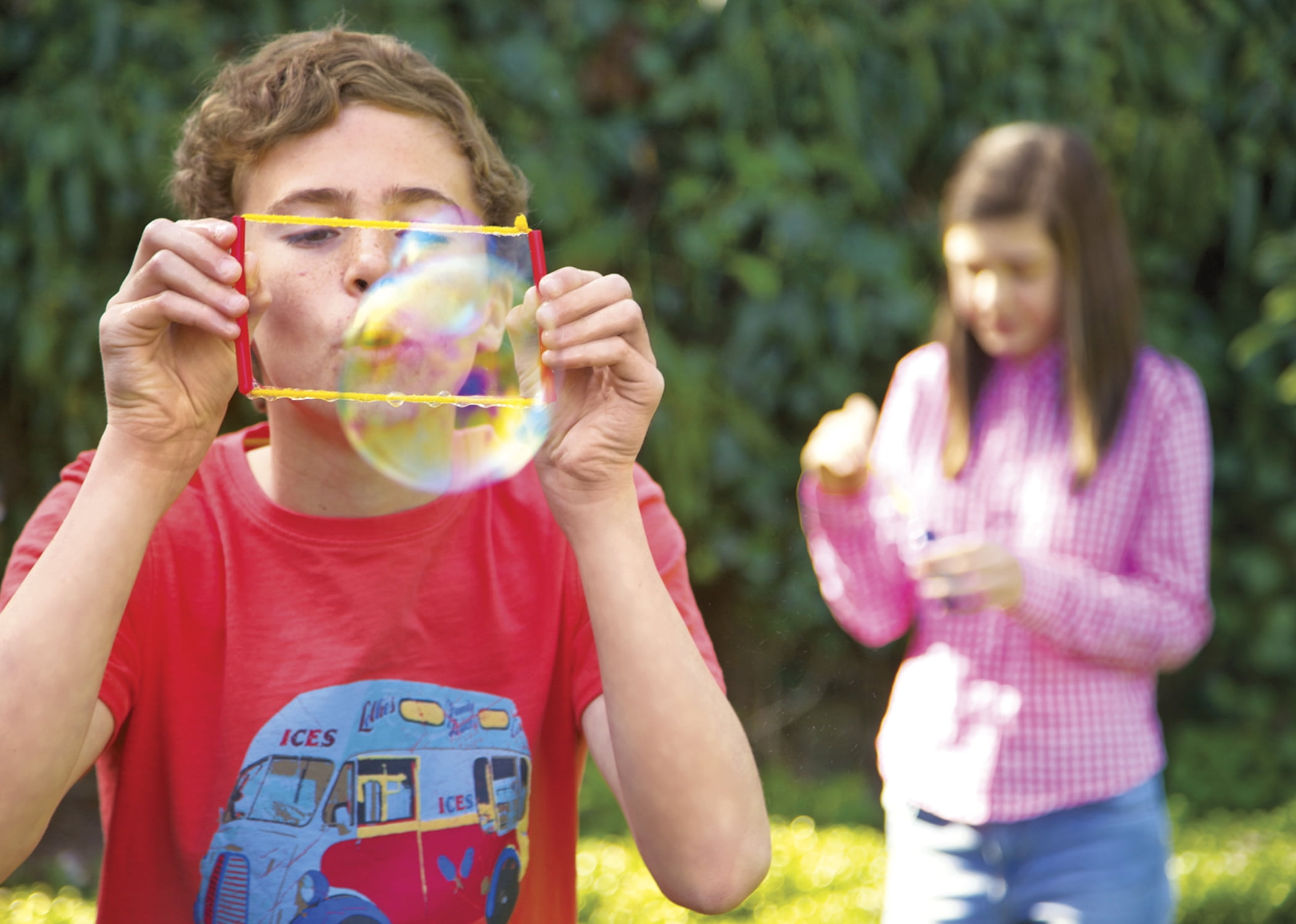 4M Bubble Science Kit
This kit lets your child take bubbles way beyond small round bubbles. They can create giant bubbles, unbreakable bubbles, and more.
4M Bubble Science Kit is a great option for any kid who loves bubbles. So pretty much all of them!
With this kit, kids can make all sorts of amazing bubbles. There are loads of different bubble-making tools that let them play and experiment with all the ways you can manipulate bubbles. The tools help you to make square bubbles, bubbles within bubbles, and even unbreakable bubbles.
The kit comes with a lot of things, but you will need some extras to do everything in the instructions. There's nothing too outlandish – think paper, stick tape, and paint. The kit comes with some bubble solution, but the chances are your kids will quickly blow right through it all. There is, however, a recipe for making up some more high-quality bubble solution, so the fun can keep going without end.
Best Physics Game – Think Fun Laser Maze
Think Fun Laser Maze is a great game for kids who love puzzles. The game consists of 60 challenges to complete that range from beginner to expert. The learning curve is gentle enough that you feel stretched but not out of your depth. With the solutions on the back, there's no need to be endlessly frustrated either.
The way the game works is that there is a laser that works when you press the button. Using the pieces, you have to guide it to the target. There are some great pieces in this set, including mirrors and a beam splitter. This not only makes for a challenging puzzle but is also a great illustration of how light acts as well.
For kids that love puzzles, this game is a winner. I bet all the adults in the room will want to have a go as well.
Best Portable Gadget – Carson MicroFlip
Carson MicroFlip
This pocket microscope is great for kids who like to know more about the world around them.
The Carson MicroFlip is a really cool multifunctional gadget. Its main function is as a handheld microscope. You can use it to look at the hidden structure of everyday objects, an activity that is surprisingly fascinating.
This microscope can also be used to look at slides. It comes with a blank one and a coverslip so kids can experiment at making up slides themselves. The light on the microscope automatically changes to be in the right alignment for either transparent samples on slides or for looking at solid objects.
As a great little extra, this microscope also has a UV light. This lets you reveal the hidden marking on all sorts of things, from banknotes to flowers.
This is a really cool gift for getting kids interested in how much there is going on around them that they can't see.
Best for Getting Kids Outdoors – SmartLab Outdoor Science Lab Bugs, Dirt, & Plants
The Outdoor Science Lab Bugs, Dirt, & Plants is a great gift. If you want something to encourage your child to explore the outside world and develop a love for nature, then this kit is the way to go. It contains everything they need to learn about geology, chemistry, physics, botany, and entomology. If your child isn't already interested in ecology, then this kit is going to introduce them to a fascinating new world.
The kit can be used in pretty much any outdoor environment. As long as there is some dirt and some life, then there are projects to be done. The hand identification cards will help your child to feel confident about identifying plants and bugs that they find. They can then use the nature scope or UV night scope to see even more details that they can't see with their naked eyes.
If you want your kids to love nature or just to get outside, this is a great scientific toy for doing just that.
Best Chemistry Set – Water Gel Science Kit
Water Gel Science Kit
The set contains supplies and know-how to conduct 14 amazing experiments.
This Water Gel Science Kit is a really cool little chemistry set. It comes in a neat little tin, and all you'll need is a bowl and some water. With this set, kids can perform some experiments that they'll probably never have seen before. That makes it an amazing present for chemistry fans.
The experiments in this set revolve around polymers and water gels. They can use these cool materials to carry out a range of different experiments that feel a little like magic tricks or optical illusions.
One of the best features of this chemistry set is the guide book that goes with it. It encourages kids to ask questions and to try experiments to find the answers. It really gets kids thinking like scientists.
Best for Pure Fun – Stomp Rocket
If you're looking for a science toy that leans heavily towards fun, then the Stomp Rocket is a perfect choice. This set comes with 6 rockets and a launcher. The whole thing is 'kid-powered,' so it's safe, and no batteries are required.
If you want to talk to your kids about thrust or do some measurements, then you absolutely can use this for a STEM activity. However, if you just give them to your kids and let them go, they're going to have a whole lot of fun. Just don't expect them to come back, rocket scientists!
This is a great gift for getting a 10 year old out of the house and having fun. It can also be a nice segue into some science if you want it to be.
What to Consider When Buying Science Gifts for 10 Year Olds

Topic
Science is a big subject. Not every science fan is excited by every aspect of science. So it's a good idea to talk to your 10 year old about what bit of science they like before you start looking at science toys for kids. Knowing which aspect of science they enjoy can give you a steer towards the best toy options for your child.
Fun Factor
With science toys, there is often a balance between learning and fun. If you're buying this as a toy, then you are probably going to be more interested in options that have a strong fun factor.
There is a whole spectrum of different toys to choose from when it comes to this. Some of the science kits you can find are surprisingly fun, but you don't realize that until you give them a try. So you may want to avoid them if your child is prone to making snap judgments. However, if you can get your child to give them a go, they will probably have a blast.
Difficulty
Most science toys are accessible for a wide age range of kids. The things you need to be a little careful with are science kits. Some of these can be pitched at kids who already have a high school level of science to help them understand the experiments. For a 10 year old this could be overwhelming and a bit of a turnoff. All the kits on this list are at an appropriate level for kids ages 8 – 12 years old.
Frequently Asked Questions

What's a good gift for a 10 year old?
10 year olds are generally pretty easy to buy for. Most of them are open books when it comes to their likes and dislikes. However, they are also young enough to be swayed by the opinions of the adults around them. This is to say that a good gift for a 10 year old is something that they are already a fan of or something that you are enthusiastic about and want to share with them.
Are science gifts good for 10 year olds?
Science gifts for kids are a great option for 10 year olds. They are curious and interested in the world around them. The excitement and wonder of science toys are a perfect match for the way that most 10 year olds view the world. The best science toys for kids can spark a lifelong love of science and learning.
Can kids learn anything from science toys?
Kids can learn a lot from playing with science toys. Exactly what they learn will depend on the toy, though. Some toys can teach some science theory, while others can teach kids to be curious and to ask questions. Some science toys are great for inspiring kids to find out more themselves.