12 Best STEM Subscription Boxes – Kids Monthly STEM Boxes 2023
*We are reader-supported! This page may contain affiliate links. As an Amazon Associate we earn from qualifying purchases. The price to you remains the same.
Who doesn't love getting something new and exciting in the mail every month?!
Monthly STEM subscription boxes are a great way to satisfy kids' constant need for new stimulation, without driving you crazy!
You won't have to dream up new ideas, gather the components and spark their interest only to find you're missing a vital ingredient for your home science experiment!
STEM boxes take away all the hassle, providing your kids (and you!) with fun engaging new activities to do every month. And the great news is that there are LOADS of excellent options available, from robotics kits to chemistry experiments, STEAM crafts to coding. There's something to suit any interest!
To help you make an informed decision, my kids and I have analyzed more than 30 of the top STEM subscription boxes for kids available in 2023. Here are our top 12 picks!
IMAGE
PRODUCT
DETAILS 

Our Top Pick

KiwiCo

Every theme is a surprise

All age groups and science disciplines

Reasonably priced

Top Science Box

MEL Chemistry

Very safe experiments

Countless resources to dig deeper

Great for family bonding

Best for Independence

Groovy Lab in a Box

Tiered learning, from beginner to advanced

Lab notebook to keep track of the progress

All STEMist Series are interdisciplinary

Artsy-Craftsy-Greensy

Green Kid Crafts

Eco-friendly

Lab notebook to keep track of the progress

All STEMist Series are interdisciplinary

Best for Whole Family

STEM Discovery Boxes

Includes everything you need

3 fun projects per month

There are options for homeschooling parents too

Best GRL PWR Box

Black Girl MATHgic

Box that screams "Girls can STEM"

Boosts confidence through activities and affirmations

Themes include real-life scenarios

Best Robotics Box

GoBox

One-off robot + new sensors and missions every month

Learn coding in Bloxter and Python

Great for rookies and pros alike

Best Coding Box

BitsBox

No coding experience required

Make an app from scratch, customize and share it

Text-based JavaScript programming

Best for Problem Solving

Science Expeditions Box

Real-life problems to solve

Build functioning models

Video and printable resources

Best for Busy Little Bees

Spangler Science Club

Up to 10 science projects per month

Good for science fair projects too

Great value for money

monthly science kits

Bang for Your Buck

Club Scikidz Labs

Up to 25 micro activities per month

Innovative approach in some of the boxes

They offer classes too

Best for Electronics

Creation Crate

Build electronic circuits and learn Arduino

Great potential for open-ended play

Grows with your child
Best STEM Subscription Box Reviews 2021
#1 Our Top Pick – KiwiCo
KiwiCo
Healthy dose of monthly surprise for your kid. Most versatile both in terms of kids age and topics; reasonably priced.
Science works best when served in small, sneaky doses, right?
That's exactly what KiwiCo Crates do. On the surface, your kid will receive a box under their own name, containing a bunch of colorful items to complete one, two or three projects.
What they don't know is that they'll be learning about mechanical engineering while building a functioning claw out of wooden parts and learning valuable critical thinking skills along the way.
You know how toddlers love dinosaurs? Imagine how much fun a 4-year-old will have making a felt dino or clay fossils! A tween or teen will also have a blast building a working mechanical clock that they can actually hang up on the wall.
Even an adult would be proud to hear the tick tock! Kiwico offer so many awesome science and engineering projects, it's hard to choose a favorite!
You might get a little bit confused when you land on their site. Just how many different Kiwi crates are there, and what's with all the names?
We're calling these boxes KiwiCo here because that's the company's name. But these crates have expanded to different age groups over the years, and given them distinctive names: Panda, Koala, Kiwi, Atlas, and so on.
So let me tell you why I chose KiwiCo to be my #1 option.
A giant part of their appeal lies in the surprise factor. Your kid will never know what to expect in their next themed craft subscription box. 
Their #1 spot on our list is also due to the fact that the projects are expandable. With every box, you'll get a magazine that offers even more STEM project ideas (plus there are always more extras on their site).
It's like getting multiple boxes in a single box!
Another amazing thing is that these boxes contain very little plastics. You'll get a bunch of elements made of wood, cardboard, felt, yarn, textile, as well as non-toxic fluids for chemistry experiments. (My wife, a committed environmentalist, especially appreciated this.)
Oh, and shipping is free in the US!
And now to the downsides.
If you want to prepay for a full year, you'll have to dish out $203.40 for the cheapest lines, all at once. (Eureka and Maker Crates are more expensive, starting at $24.95 per month, which works out to $299.40.)
You can opt to get a special book with each monthly subscription box, but they are also charged extra.
And here's another minus.
While your kid will build functioning things that they can actually use or play with further, these things won't last long. The materials are not heavy-duty, and you can't expect a cardboard robot to take much of a beating!
Note that you can turn off your auto-renewing subscription any time so that it doesn't renew automatically, but you can't cancel it in the middle of a cycle. You'll just get the rest of your crates that you prepaid for, and then your subscription will simply expire.
Kiwi Crate Box Options (Age Groups):
| | |
| --- | --- |
| Pros | Cons |
| They've covered ALL age brackets – even monthly subscription boxes for toddlers and babies! | Even though comparatively cheap, it's still a lot of money if you subscribe for longer periods |
| A perfect marriage between STEM learning and fun | Materials are not very durable |
| The least expensive pick | |
| Your kid will make functioning items that they can use | |
| Materials and supplies are (relatively) eco-friendly | |
| Wide coverage of STEM disciplines | |
| Expandable projects, a bunch of free tutorials and ideas | |
#2 Top Science Box – MEL Chemistry
MEL Chemistry
Tons of safe, colorful and gooey chemistry experiments. Kids can do them independently or with your help
Safety goggles? Check. Protective gloves? Check.
Buckle up for an exciting ride with LOTS of colorful reactions!
MEL offers three types of STEM subscription boxes for kids: Chemistry, Physics, and the more interdisciplinary MEL Kids. These are real monthly science kits for kids!
But when I say MEL, I mean chemistry. 
(And it's NOT a bias at work, even though yours truly holds a PhD in organic chemistry!) 
The recommended age for this discovery box is 10 to 16 and up, with more specific age brackets for each experiment. Every experiment is designed for at-home use and is very safe. After all, bigger kids are old enough that you can trust them with all of the substances and solutions, unless there's a toddler tagging along.
Still, I'd be around if I were you. Some of the experiments include flames, so it's safer to supervise. 
Unlike KiwiCo crates, MEL Chemistry boxes don't tap into the engineering and construction side of STEM. But they don't have to! Various liquids that change colors and states, grow, fizz and hiss, are a true treat for curious eyes and there is tons of opportunities for kids to flex their critical thinking skills and learn the scientific method.
One question you may be asking is "Why pay $26 or more every month when you can do kitchen science experiments for free with your child?"
Well, to be honest, this is what I thought for a long while. I mean, I trained as a chemist – I should be able to come up with awesome experiments for my kids, right?
Sounds good in theory, but in practice, it's hard to find the time to think up fun and varied experiments, let alone find the many ingredients and equipment, plus make sure there are genuine learning outcomes!
Besides the tin hedgehog experiment shown above, popular projects include Galaxy in a bottle, rainbow-colored milk, chemical reefs, crystal growing and many more. You can use the mobile app or website to dig deeper into key concepts, plus there are weekly science videos with their top-notch educators.
You can pause or cancel your subscription any time – there's no lock-in contract.
However, if you really want to keep your young chemists happy for many hours of science experimentation, you can get some great discounts by pre-paying for several months of the subscription service in advance.
This educational subscription box has only one con that I've noticed. Some experiments rely on having common household items or ingredients that can't be transported easily in the kits, like hydrogen peroxide solution. Still, there weren't many items not included in the kits and they are easily sourced.
| | |
| --- | --- |
| Pros | Cons |
| Best kits for chemistry, with excellent curriculum | You don't get everything you need for the experiments |
| All experiments are safe (although it's still good to supervise) | Get ready for a lot of creative mess |
| Carefully planned and thought out (unlike your kitchen science experiments) | |
| There are many free tutorials and ideas online, plus there's a mobile app | |
| The company improves their service all the time | |
#3 Best for Independence – Groovy Lab in a Box
Groovy Lab in a Box
It guides them to a certain point, then lets them find the solutions on their own
Just like KiwiCo and MEL Science kits, Groovy is basically a monthly box with tools, supplies and instructions kids need to learn STEM by doing and making.
What's different, however, is that their science and engineering projects offer tiered STEM learning. 
At first, your kid will get hand-holding through the main investigative STEM activity. There's a guide to help them every step of the way.
But the next tier requires more independence (and fosters some in turn). It's the so-called Engineering Design Challenge, which they will be able to complete ONLY if they understood all the scientific concepts!
And there's no manual or tutorial to turn to.
Another thing I really liked about Groovy is the lab notebook, which contains 20-something pages of illustrations and instructions for the month's activities, but also has dedicated space for journaling and recording their progress.
As a scientist myself, I know how important it is to take meticulous notes about your progress throughout a project, for at least two reasons:
Notes help the brain acquire and understand new information. The only way to do it is to pin it down to paper! I've had countless "A-HA" moments while reading my notes, and even countless-er solutions that had stared me right in the face. But they had a paper from which to stare!
Taking notes instils patience and systematic approach in a young learner. Plus, it takes time. And more time spent on task fosters more commitment and the feeling you're personally invested in the project!
My daughter really made these lab notebooks her own and decided to keep them! I bet she's going to have a blast one day when she finds them tucked away in the basement. 
Now, which part of STEM does Groovy target exactly?
All four and more! There are many so-called STEMist Series to choose from: robotics, coding, chemistry, electrical and mechanical engineering… But all of them will tackle at least one other field. After all, modern STEM curriculums are always interdisciplinary.
For example, an astronomy project (building a rocket that travels to the Moon) will also teach your kid some physics (Newton's laws).
I hear you asking for downsides.
Well, this one is commonplace: don't get your expectations too high about the materials. Cardboard items, sheets of colorful paper, disposable cups, balloons – chances are, these items won't see much life past the completion of a project.
The second thing I don't like is that they've put up a paywall around their online materials. 
And that's a bit weird in this day and age.
IMHO, every company that sells educational products should offer something for free. How about some open-source culture?
Also, my eco-minded wife wasn't thrilled about the materials (many of which are made from the cheapest plastic that makes her cringe).
| | |
| --- | --- |
| Pros | Cons |
| Encourages independence more than other kits | Materials not very durable or eco-friendly |
| Has a lab notebook to record their progress and results | Online materials are only available to subscribers |
| Choose from many STEMist series with different themes | |
| Their engineering design challenges rock! | |
#4 Artsy-Craftsy-Greensy Pick – Green Kid Crafts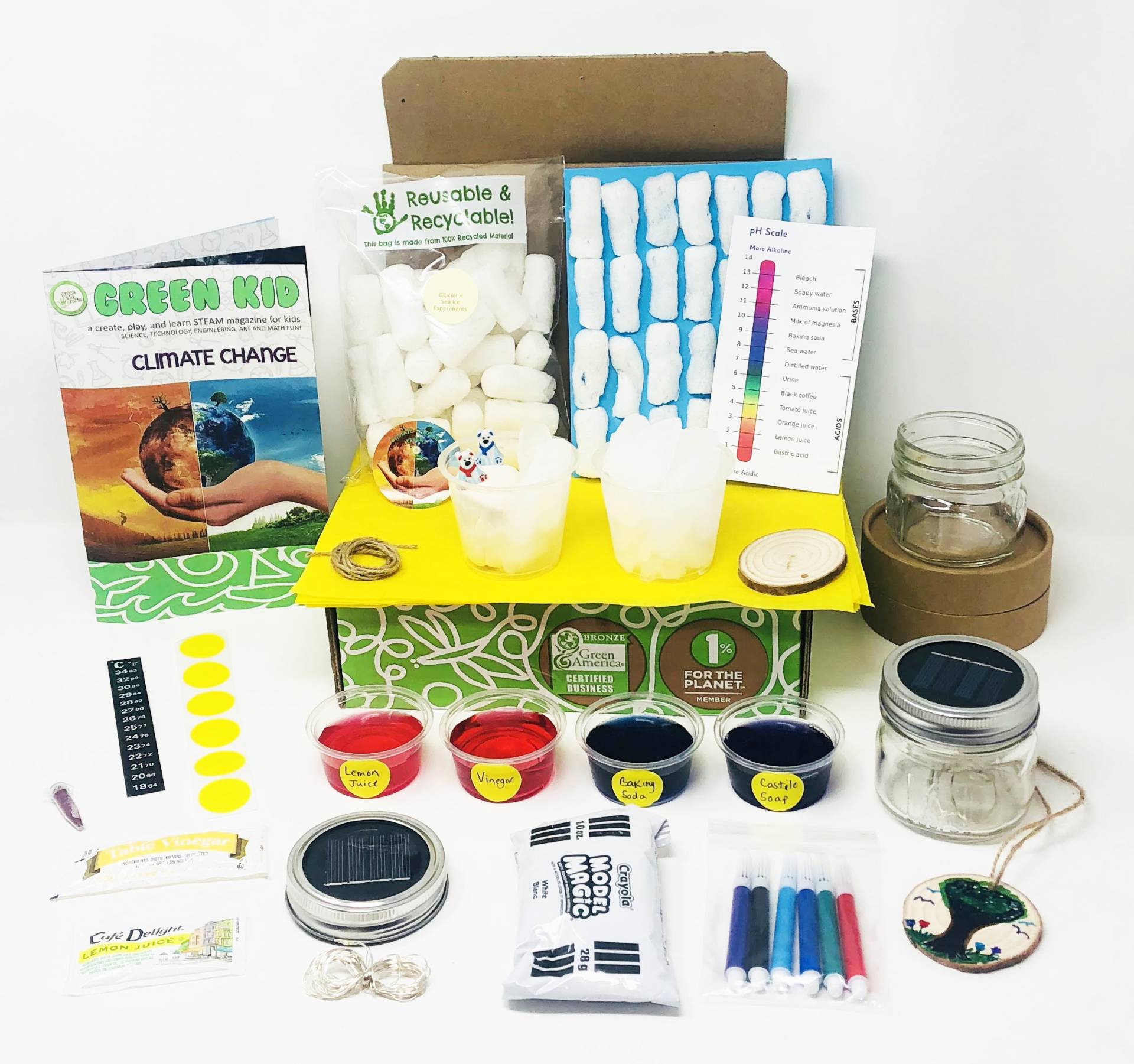 Green Kid Crafts
"Greener" STEAM themes and supplies; boxes include everything you need.
When you hear that a company behind a monthly STEM subscription box was founded by a climate scientist, you know that you can expect LOTS of green!
(My wife says hello.)
And indeed, this fun subscription box is different from all others in that you won't get piles of plastics with every new delivery. Truth be told, there will be SOME of it, but not nearly as much as with some other options. They also use reusable and recyclable materials, so they don't turn into yet another piece of waste to hit the landfill.
But it's not just about the disposables. Green Kid Crafts is also much more geared towards environmental science and activism, with a bunch of green projects such as rainforests, deserts, oceans and other habitats and ecosystems.
But that isn't to say that there are eco projects ONLY. For example, we got a box with projects to make erupting volcanoes, crystals and gems.
They also plant a tree whenever someone places an order.
(If I were them, I'd plant one anyway, though.)
But the pros of this subscription box go beyond ecological concerns. Each box will contain ALL the supplies your kid needs for 4-8 activities.
No need to dig around the kitchen! 
Or run to the store to buy a pack of 6 batteries because the two that you need for the project have grown legs and magically disappeared.
Each box will also contain a STEM magazine, which expands every month's theme through activities, puzzles, and outside resources. With the optional literary upgrade, kids also get an additional book per month, which is in line with that month's theme.
The most significant downside I've noticed is that these boxes aren't always very educational. Some projects will merely entertain your kid.
For example, the Detective Science box includes some fun activities such as sending secret messages or taking fingerprints. My kid enjoyed those, but I couldn't really see any scientific rationale behind it.
| | |
| --- | --- |
| Pros | Cons |
| Green packages, projects, materials | There's still SOME plastics |
| They include the A in STEAM too | Not the cheapest option |
| Boxes have all supplies | Sometimes, it boils down to mere entertainment |
| Less plastics | |
| 4-8 activities per box | |
| They cater to kids as young as 2 | |
#5 Best for Whole Family – STEM Discovery Boxes
STEM Discovery Boxes
Choose from ready-made kits or customize them; all supplies included.
What's one of the most obsessive activities for kids?
Why slime, of course.
Frankly, I can't blame STEM Discovery Boxes for leveraging this age-old fascination. (The only problem is, other subscription boxes do it too. Oh, well…)
Apart from slime, there are also bath bombs and bouncy balls on the menu, among countless other treats. 
That's a lot of potential for creative mess and even greater potential for fun family bonding! (Especially in peeling that slime off the wall.)
Unlike KiwiCo, Groovy or Green Kids Crafts, this monthly science box has a more limited age range – between 7 and 12 years old.
(They say "7 to teen". But if you're a parent to a teenager, you'll know how much their interests and capacities change within months. So I decided to take the "teen" to be 12.)
Projects include things like creating a solar system model, coding, building a solar-powered fan or a hydraulic excavator, and playing with lasers. It includes everything you need for the projects and experiments, including batteries.
However, this also means that children might receive projects that they aren't very interested in from time to time. This box also includes more projects per month than most others, though it is a bit more expensive as well, starting at $24.95 (if you choose a 12-month plan).
So, is there anything that singles out this box from all others?
Yep! Whether you're a homeschooling parent or a teacher, you can order a custom STEM kit with an appropriate curriculum. I didn't try out this option so I can't tell you whether it's more expensive than the regular subscription, though.
Finally, there's one thing I really wish they would improve on: their website.
In 2023, an educational site should offer way more value than just telling you that they have a product here, and you can order it there.
You'd think you can get a sneak peek into their projects, but all you'll get is one picture for each project. They don't even tell you what it is!
So, if anyone from the company is reading this, please make a better site! 
| | |
| --- | --- |
| Pros | Cons |
| They tap into kids' tested and proven interests | Very limited age range (7 to 12) |
| They always include all supplies, even batteries | Not much extra value |
| 3 projects per month is less than some, but more than most | |
| You can order custom kits | |
#6 Best GRL PWR Box – Black Girl MATHgic
Black Girl MATHgic
Empowers girls for math & STEM; awesome themes, quality items
Most of us know this, but it doesn't hurt to hear it AGAIN.
Women are heavily underrepresented in STEM, especially women of color. To even start tackling this problem, we have to usher in a paradigm shift, to show and tell our girls that they are good enough for STEM, and STEM is good enough for them!
So the first thing I love about this subscription box is that it's in line with my mission to encourage and empower my daughter to freely choose her path in life.
And we know that math is the most common boogeyman. With STEM activities for third through eighth grades, Black Girl MATHgic was designed to boost the girls' confidence in their own math abilities. 
Everything about the box works with that mission in mind: from packaging to messaging. It's not just a great STEM box, it's one of the best subscription boxes for girls with an interest in math.
You'll receive TWO booklets: one for the girl, another for you.
The kid's booklet contains all the activities for the month. On the other hand, the Adult Guide will help you muddle through the box alongside her.
And it does make sense to include a parent or another adult into these activities. When society has been telling you for centuries that you aren't good enough for math, you need all the support you can get to BREAK this vicious cycle of doubt and negative reinforcement. 
Each month's activities are themed. We've seen themes of expats, algebra, yoga/relaxation, family, business, road tripping, etc. Better yet, they have an option to choose from various themes, so you can buy a one-time gift for your girl to dip her toes and try a different way of doing mathematics.
For example, the Road Tripping Box include a bunch of themed real-life scenarios that tackle math through: 
traveling via plane through different time zones
planning your budget (buckle up for some algebra!)
a mini globe squeeze ball that you can use afterwards too
a set of high-quality magnetic wooden blocks (similar to what I've seen in Tegu) for learning geometry, etc.
a tote and stickers (no real value except that they're cool and kids are always into those)
Plus, each box features a woman mathematician, with her bio and interview. Sometimes, you may even get a full-blown book. We were so sorry we missed the July 2020 box which contained the amazing novel "One Crazy Summer" by the award-winning author Rita Williams-Garcia!
(Bought the book afterwards, though.)
These boxes are known not only for including exciting math puzzles and activities to engage your child and expose her to great role models, but for adding stickers and clothing items and other accessories to remind her of her potential far after she's done with the activities.
To personalize the box and add another layer of surprise for your girl, you can leave her name when offering. They'll put up a sticker with her name onto the box.
Bottom line! Two greatest pros of this option: it's specialized for math, and it's geared towards girls of color (although any girl OR boy will enjoy it). 
The biggest cons are limited age range and the price, which starts at $39.95 for a one-timer and jumps up to $45.95 if you want a particular theme.
| | |
| --- | --- |
| Pros | Cons |
| Empowering girls (especially of color) for STEM | Only for 3rd to 8th grades |
| Activities focused on real-life scenarios | It's on the costlier side |
| High-quality, reusable items | Math isn't the sole focus (though this can be a pro too) |
| Affirmative messaging (stickers and cards) | |
| Black history, with a featured female mathematician every month | |
| Also good for adults that aren't very much into math | |
#7 Best Robotics Box – GoBox
GoBox
Build and code a different robot every month while learning Python programming!
Fancy getting a robot car and a new mission for it every month?
Although certainly one of the more expensive subscription boxes for kids, GoBox will walk your child through the entire process of building and programming one robot per month. 
This is one of our favorite STEM subscription boxes for emphasizing all four STEM subjects: Science, Technology, Engineering and Math.
If you're anything like me, you might frown at the price.
But hear this.
This robot subscription is definitely worth every penny, as each box contains considerably more than one month's worth of STEAM projects material. 
And the deterring price of $159 is a one-off purchase. Each monthly pack of sensors is only $20. (If you already have the robot, you can only subscribe for missions and sensors.
First off, you'll get the GoPiGo robot car itself. Actually, it's a bunch of parts for your kid to assemble: a plastic chassis, a Raspberry Pi microcontroller, micro SD card, motors, wheels and screws. 
No worries if neither of you is adept at DIY-ing things. There's a detailed tutorial here!
The robot runs on a dedicated GoPiGo OS and lets the kid code in 2 languages: the visual, drag-and-drop Bloxter, and the high-and-mighty Python! So your young'un can do the basics and then proceed with advanced programming.
That's what I was talking about when I said that this box is worth every penny.
Next up, your kid will get a new set of sensors and new missions every month. For example, program the robot to explore Mars by detecting temperature, avoiding obstacles, detecting the amount of light needed for solar energy… As you may imagine, the child will also learn quite a lot about Mars and some NASA technology too!
Other missions include programming the robot to detect whenever a new person arrives at the house so you could help a friend with hearing difficulties. Or deliver mail and sort through it by detecting different colors. Or detectnoise and earthquakes!
So not only are kids tasked with designing, building, and programming their bot, but they have specific tasks they must accomplish with it as well!
Kids don't need ANY previous programming experience. Each STEM box comes with a series of missions, a robotic car update, and an instructions manual to guide your child through the engineering design process and coding projects.
***UPDATE MAY 2021*** 
While updating this article, I checked and saw that the product was out of stock. Bummer!
My first thought was that they discontinued this box. So I reached out to their support, and they promptly responded that they're definitely going to restock within a couple of weeks. So, if the same happens to you, worry not!
| | |
| --- | --- |
| Pros | Cons |
| Covers all coding levels, from beginner to pro | Pretty expensive to begin with |
| 2 programming languages: visual Bloxter and text-based Python | May go out of stock occasionally |
| All lessons freely available on their website | |
| Missions and sensors are very affordable | |
| Fast customer support | |
#8 Best Coding Box – BitsBox
BitsBox
A complete coding beginner will learn to make their own apps every month!
Are you harboring the next Steve Wozniak in your home?
(Or garage, or basement? Coz that's where computer scientists like to hang out.)
BitsBox offers a monthly computer science project. 
With NO coding experience required, BitsBox will supply your kid with regular app coding projects to teach them to code in a seamless way, without getting their head to burst. The coding is all done in a browser, so it works on a mobile device too.
Here's the gist of it: your kid chooses from a host of simple to advanced projects that come with every box. Then they use the BitsBox website to code an app from scratch. Finally, they use their smartphone or tablet to test (or share!) their new app.
There are instructions and guides, but the child can customize their code and really make each app their own.
That's "learning by making" and open-ended play if I ever saw one!
Every project is in fact a card. As the kid completes them, they can lock the cards into the colorful binder they got in the first package, and proudly watch the pile grow.
The projects are also insanely fun even for adults. To get a taste of it, you can see for yourself how it works by writing a few lines of code on their coding page.
One of the best parts of this subscription is that you can tailor the amount of screen time you're willing to allow your kid. 
For those on a budget, BitsBox Basic may be an ideal starting point, in which children get all of the fun of a BitsBox app projects, but WITHOUT the monthly mystery toy. 
On the other end of the spectrum is BitsBox Deluxe, which includes all of the app activities of the previous box, but with hands-on kits to bring the work you are doing in your apps to life in your living room!
Before we gave this box a try, I thought it would be visual programming, with languages like Scratch.
Wrong! You actually get text-based JavaScript coding that teaches you the real underlying structure for different programming languages. Even though Python is all the rage now, JavaScript is still the most pervasive language on the web, and it isn't likely to go away any time soon!
Still, I wish they'd expand to some other languages too.
And before you frown at the starting price of $37.95 for the Deluxe package, think about how much you'd have to shell out for programming classes every month.
And now to the downsides. Preschoolers or 1st-graders are definitely old enough to dip their toes into programming. But 13-year-olds are not TOO old! In fact, no one is too old to learn coding.
And BitsBox, alas, doesn't seem to cater to teens.
| | |
| --- | --- |
| Pros | Cons |
| Text-based programming made fun | Only caters to 6-12 kids age |
| Two or more kids can share OR play independently | Only teaches JavaScript |
| You can test for free | |
| No prior knowledge needed | |
| Any computer or mobile device will do | |
| Free shipping in the US | |
#9 Best for Problem Solving – Little Passports Expeditions Box
Little Passports Expeditions Box
Solve very real scenarios and build working models to play with further!
Before we dive into this option, let's get one thing out of the way.
Little Passports have a variety of offerings for kids as young as 3 all the way up to 12, and they have separate boxes for science but also geography, world culture, and the U.S. They also have a bunch of other one-off gifts and toys, all of them related to STEAM.
However, we only tested their Science Expeditions box for 8 years and up, so I can't speak to the other editions.
So is there anything special about this monthly STEM subscription box?
For starters, it's geared towards natural science. The monthly themes include forensics, hydrology, rockets, crystals, caves, aerodynamics, stars and planets.
Every theme features real-life scenarios and mysteries, so your kid can have their fill of pretend play while learning basic science concepts and flexing their critical thinking skills.
Each box in this STEAM subscription includes a comic book with a glossary and activities, a mystery to solve, a hands-on science experiment and project, and achievement badges for each month to boost their self-confidence. 
Each shipment is themed for the interest of various children, with STEAM projects, such as forensic science, caves and crystals, hydrology, and rockets.
Some of the experiments are just amazing and the kid will build functioning models of a marble run, kaleidoscope, hydraulic arm, pinball machine. 
But! (There's always a but…) 
The materials are often pretty fragile and won't take much of a beating.
As with some other subscription boxes, they won't send you everything you need either, which can be frustrating. 
For example, the first kit you'll receive is about forensics. We had salt, dish soap, measuring tape, paper scraps at home. As a chemist, I had isopropanol for DNA extraction, but I doubt everyone does. What we didn't have, however, was red tempera for the spatter tests.
(We also lacked a piece of newspaper. Who reads print newspapers these days?)
It's not so much about the extra couple of bucks I had to spend. It's about the added hassle of going out when a subscription box should be about convenience.
By the way: from what I've seen on their Facebook page, their Science Junior subscription has many interesting projects too. If you already tested it, drop us a note and tell us about your experience!
| | |
| --- | --- |
| Pros | Cons |
| There are multiple editions to choose from | Materials are cheap |
| The comic book with activities and glossary can serve as keepsake too | You won't get everything you need for the experiments |
| They have video tutorials and printables for each experiment | |
| Some experiments are super interesting (e.g. marble run) | |
| You can cancel anytime | |
#10 Best for Busy Little Bees – Spangler Science Club
Spangler Science Club
Provides enough resources and projects to play every single day!
There is a reason Steve Spangler Science has been so successful providing monthly science kits for kids since 1995. 
They promise to spark creativity and science learning in your little one, and do this through high-quality, research-based science subscription boxes.
Spangler Science Club boxes come with up to TEN science experiments to use every month.
You read that right! It will allow your child to rotate their learning interests every THREE days! 
It's going to satisfy even the STEM-hungriest kids. And there are lots of experiments fit for the science fair too.
Each Steve Spangler Science box comes with a comprehensive guide, and the deluxe box comes with a "Take it Further" guide. This guide allows you to extend what you are learning with your Spangler Science Club box into a science fair project!
With continuity of science learning in mind, the best part of this Steve Spangler Science subscription is that if you subscribe for a whole year, you will be sent enough equipment to start your own in-home science laboratory! 
Together with the high number of experiments per month, this makes Steve Spangler Science Club one of the best value for money STEM subscription boxes for hands-on science.
Unfortunately, there are caveats here too.
I'll just say one word.
SLIME.
Freakin' slime. Yes, kids love it. But almost ALL subscription boxes offer slime activities, and at a price that's much higher than you would spend at a dollar store.
There's also quite a bit of plastics for my wife's taste.
| | |
| --- | --- |
| Pros | Cons |
| 10 experiments per month | Pretty narrow age group |
| Very affordable for what it offers | Lots of cheap plastics |
| The experiments are research based | |
| A year's worth of subscription = a whole lab in your house | |
| The Deluxe box includes science fair experiments | |
#11 Bang for Your Buck – Club SciKidz Labs
Club SciKidz Labs
A whopping 25 activities, big and small; some of the projects are unique
Similar to Spangler Science, Club SciKids Labs participants will be sent the materials to build their own laboratory for endless home science experiments. However, Club SciKidz subscription boxes come with a wealth of extra materials for your child to enjoy. 
In fact, there's up to 25 small experiments and activities in each box! That's a LOT of fun, and your kid can do it every day if they want. Spangler Science is certainly one of the best subscription boxes for kids with a large appetite for new activities!
Each Club SciKids box comes with science experiments, engineering projects, nature crafts, lab equipment, micro STEM activities and observations, secret formulas, science quotes and riddles, inspiring scientists, science surprises, and science stories.
As with all other picks, the longer your subscription, the less you'll pay, starting with $32.95 per box if you choose the yearly plan. That's a bit more expensive than most other options, so let's see what you'll get!
Some of the themes include the seen-one-you've-seen-them-all kits. (Not that it's bad, mind you!) 
So, for example, you'll get boxes that teach the kid forensics, geology, robotics, chemistry.
But there are unique projects too. For example, one thing I didn't notice in any of the other subscription boxes is a Veterinary Medicine Kit, which teaches kids how to use first aid on their dog, lets them perform an experiment to detect yeast in the pup's ears, AND teaches them how to make an ear solution.
My daughter was especially thrilled about this box because she's basically BFFs with our dog. She immediately began to use the stethoscope on him! 
(Took a while to explain that we'll still have to take him to the vet when he gets ill.) 
Boys (and many girls too) will especially ENJOY the boxes that examine science of gross things, and science of spooky things. 
So if you need a one-off gift for a kid, that's where I'd start if I were you. Dookie cookies, cow burps, bacteria bungalows, bird barfs, chewable brain gummies – what's there not to love?!
What's more, the theme isn't grossology for the sake of being gross. Through playing with these eewy stuff, your kid will learn about different animals, a bit of chemistry through growing microbes in a Petri dish, the real reason why washing your hands is important (how relevant during a pandemic!), and so on.
Each box will contain a BUNCH of items, so your kid will likely need your help in sorting them and figuring out what they need for each activity.
Apart from the fact that they cater to children's existing interests, what I really like is that every box comes with an activity booklet that contains instructions, fun facts, experimental designs to nudge your kid to posit different hypotheses. 
If your kid really gets into SciKidz labs, you can pay $76.95 and register them for the Virtual STEAM Academy Program with the theme of your choosing. The price includes getting a corresponding box, plus four 45-minute classes with their educators.
| | |
| --- | --- |
| Pros | Cons |
| They leverage kids' existing interests (e.g. vet science, gross and spooky things) | It's on the costlier side |
| Great value for the money | As one-time purchases, some boxes are more expensive than others |
| You get all the materials you need | No options for preschoolers |
| Items are better quality than most other options | |
| Very responsive and efficient customer service | |
| They also offer classes with their educators | |
#12 Best for Electronics – Creation Crate
Creation Crate
Very unique projects consisting of electronic circuitry and coding; they will challenge your kid at all times!
Learn electronics, circuitry and Arduino coding while creating a LIFETIME's worth of working devices to keep in your home with the Creation Crate! 
Recommended for children ages 12 and up, this award-winning subscription box heavily focuses on electrical circuits and coding projects. It is atop pick in subscription boxes for teens who are looking for a more serious challenge.
In a way, it's like GoBox for electronics (and with Arduino-compatible UNO R3 instead of Raspberry Pi, which is why it's also waaaay CHEAPER).
And it does make sense that they decided to specialize. Tweens and younger teens already know what they don't know. 
(At any rate, they know what they do and don't like.)
Each box from Creation Crate, or project, as they are called, comes with ALL of the needed components to build that month's project: video tutorials, manuals, and over-the-phone support where needed. 
The STEM projects include a mood lamp that changes color in the dark, memory game, a functional LED clock, a theremin (instrument). 
They're quite a design challenge but require no previous experience. They're also extremely rewarding for kids in the target audience (and to be honest, their parents too). 
And from an educational point of view, Creation Crate is great for kids to learn the engineering design process.
The first task in each box is assembling the electronic circuit for whatever project is on your plate. Which, frankly, isn't very difficult thanks to their step-by-step tutorials.
Then, you proceed with coding in Arduino, that is C and C++ languages. There's much hand-holding here too, but you need to be patient. Every little detail makes a difference!
For example, my son got pretty disheartened when it turned out that his Mood Lamp didn't work. It could mean two things: either he did something wrong in hooking the wires up, or he messed up the code!
But he managed to troubleshoot it on his own, and was twice as motivated when he saw it working.
What blew me away was the fact that they really like to bring it to the next level by stimulating open-ended play. If you expand the project or customize it, and send them a short video of your project, you may get some nice free rewards!
They introduced this a couple of years ago, which tells me they are a company that's really committed to education and improving their products.
Subscriptions for 3, 6 or 12 months will also get bonus gifts such as component case, digital multimeter, and soldering kit.
And here's another huge plus. Unlike many other STEM subscription boxes, Creation Crate includes STEM projects that get more and more challenging as the monthly subscription progresses.
It means that your child will NEVER outgrow them and will remain continually challenged! 
If your kid is super enthusiastic about this, you can treat them to a so-called Challenger Project. These come in phases and are NOT for beginners. 
For example, the kid will build a digital clock one month. Next month, they'll get to transform it into an alarm clock. The final phase is the trickiest: make it a puzzle alarm clock, so you have to solve a puzzle for it to stop ringing!
As always, we've noticed a couple of downsides.
First off, they don't cater to younger kids. This one's no biggie because there are a bunch of other options for toddlers, preschoolers, and elementary schoolers.
Secondly, I wish they'd offer at least some of their courses for free. UNO R3 microcontrollers are dirt cheap, as well as other components such as breadboards, cables, wires, resistors, LEDs. Some people may already have them, so it would be really nice to give them a taste of Creation Crate's awesome curriculums and projects for free.
And it wouldn't cost them much either. Most buyers prefer to get everything they need in one place, so they'd buy the kits anyway.
Also, unlike with most of their competitors, Creation Crate charges $4.99 shipping in the US and a whopping $8.99 outside the US. So you need to factor this in when making your purchase decision.
| | |
| --- | --- |
| Pros | Cons |
| Award-winning box | No boxes for kids younger than 12 |
| Specializes in electronics and coding | Online courses not available for free |
| Great for all knowledge levels, from beginners to pros | Shipping isn't free! |
| Excellent support – you can call them for anything | |
| Reasonably priced for what it offers | |
| Great gift idea for adults too | |
So What's the Deal With STEM Boxes?
Feel free to skip this if you're a seasoned STEM box-er.
But for those of you who are new to these boxes, they are like a monthly surprise box that always contains a new STEM kit. What you get are hands-on science experiments and activities, the equipment needed to perform them, and instructions to help you along the way.
There are two keywords here: MONTHLY and HANDS-ON.
The first one guarantees that just as your child gets fed up with one activity, a new one will be en route to you. Not one of your child's existing 247 toys will do that!
(After just one month, my two older kids started countdowns to delivery time, expecting and anticipating what they'd get next. The surprise moment is half the thrill!)
The second keyword means that a STEM box subscription takes the pressure off of you. 
As you juggle work, chores, taking the dog for a walk and spending time with your kids, it takes time and the right headspace to come up with ideas for play AND source the materials AND guide them through the projects.
A good STEM box should do all of that.
But there's a bonus aspect that I really appreciate here. STEM boxes are gender neutral, and not just because they don't come in blue and pink.
They are gender-neutral because they posit that STEM is for girls as well as boys, and everyone is talented and smart enough for STEM.
If you're looking for a buyer's guide, hop on to the lower half of this article!
What to Consider When Buying STEM Subscription Boxes for Kids
Factor #1: How Old is 9 to 99 Years?
Don't buy into the "suitable for 3 to 99 years" taglines.
That might be true in some cases.
But more often than not, it means that YOU will need to step in and supervise your kid some if not most of the time.
Which beats the purpose if what you wanted was independent, fully immersed play.
So, if you are ordering these boxes to be a fun activity for the whole family, there's nothing wrong with an all-ages box. But if you're aiming for a collection of projects that your kid will be able to do on their own, read the age labels carefully.
And sprinkle them with a grain of salt because the child will probably need your help, at least occasionally.
Factor #2: What's in Your STEM Box?
There are four things in STEM: Science Technology Engineering and Math. (And optionally, Art.)
A STEM box usually contains interdisciplinary projects. But some options may focus on a single discipline like coding, chemistry, or engineering.
So, before you opt for any of these boxes, define your goal. You're already familiar with your kid's interests. Do you want them to build things (and tear them apart)?
Or merely get them to spend their time more productively while having fun?
Or maybe you want STEM with an artistic twist, a.k.a. STEAM?
Once you know what types of STEM activities they like and pair that with what you think they could benefit from, you'll be better able to select the box that best meets their needs.
Another concern: some boxes will contain EVERYTHING the kid needs to complete the projects. Others will rely on household items you may (or may not) have around the house. So keep that in mind too!
Factor #3: How Much Are You Willing to Spend?
STEM crates vary in price range from $17 to $150 per month, and beyond. 
And there are good reasons for such a wide range of prices! These boxes cater to everyone, from those just looking for some afternoon fun, to those looking to seriously invest in their kid's future science career.
You should also be aware that the length of subscription may save you some cash! As with anything, the longer you subscribe (and prepay) for, the cheaper it is on a monthly basis.
Factor #4: What Happens If I Cancel?
If you're prepaying for more than one month, you'll want to know if this is a company that won't make a fuss if you want to cancel your subscription at the middle of a billing cycle. 
Will they give you at least some of your money back? It all depends on their individual policies. So before you commit to a longer subscription cycle, make sure to read the fine print on their website!
The general rule of thumb is not to commit with a longer subscription until your kid gets a taste of their projects.
Frequently Asked Questions
What is a STEM Subscription Box?
It depends on whom you ask.
For parents, STEM subscription boxes are a magic recipe for learning, fun, and screen-free time. They are also a way out of the vicious cycle of chasing the latest STEM toy just to see it tossed away into the cat's litter box after one hour of play.
For kids, they are surprise boxes that contain new projects and activities that are sometimes exciting, and other times less so.
Because let's face it: even the best subscription box won't be incredibly new and fresh every single month.
Still, all of the above options are very good, even excellent, MOST of the time.
How do I select the best STEM Subscription Box?
There is no box that fits the needs of every family! Subscription boxes for teens will be different to monthly subscription boxes for toddlers!
When deciding to subscribe to a STEM box, consider your reason for subscribing (to teach or to entertain, for example), your budget, and the amount of time you plan to spend on the box per month. You may also consider your child's interests, and perhaps how to support them to develop a love of STEM. For example, girls can often feel left out by products with male-centric imagery. Choosing subscription boxes for girls where the theme and images are inviting can be a great way to foster their confidence.
Some boxes will need you to supervise (even if they claim they won't). With others, you'll have to troubleshoot when something goes wrong – and trust me, it will. Yet others will require you to get the common household supplies that didn't come included in the package (e.g. vinegar, baking soda, dish soap).
All of the boxes on my list are designed very safely and will provide enough guidance that the kid can complete the majority of projects on their own. But it never hurts to stick around!
How do I use a monthly STEM Box?
Again, there is no one-size-fits-all answer here. 
If you only intend to entertain your child with an educational toy for a few hours, feel free to dazzle them with the contents of the box and then allow them independent time to explore! 
On the flip side, if you select something as immersive as a programming box, you may wish to sit down and ensure your child understands the instructions before they venture out on their own. 
Either way, the right monthly science kit for kids in your house depends on their interests, your child's threshold for frustration, and the amount of time you have on your hands.
Last update on 2023-12-05 / Affiliate links / Images from Amazon Product Advertising API