Best 3D Printers Under $200 [Top 8 in 2023]
*We are reader-supported! This page may contain affiliate links. As an Amazon Associate we earn from qualifying purchases. The price to you remains the same.
3D printers have finally begun to reach the point where they're no longer out of reach for hobbyists. If you're interested in trying out a printer but don't want to dive in at the deep end, then these are great options to get you started. Our top pick is the Monoprice Mini Delta 3D Printer. It's a superb little 3D printer, and it has a large community behind it, so it's effortless to find support and inspiration.
IMAGE
PRODUCT
DETAILS 

Best overall

Monoprice Mini Delta 3D Printe

This high-speed mini printer comes ready to go and can work with a wide range of materials.

Best for Large Build Volume

da Vinci Mini 3D Printer

This printer offers an impressive build volume of 150mmx150mm x150mm.
This is enough to print most things you can dream up.

Budget Option

Longer Orange 10 SLA 3D Printer

This mini 3D printer is a resin printer with proprietary slicer software that is highly rated.
Related post: 6 STEM Toys for Teens that Teach 3D Design
Best Budget 3D Printers Under $200 in 2023
Best Overall – Monoprice Mini Delta 3D Printer
You can get the Monoprice Mini Delta 3D Printer printer wholly assembled. It comes ready to print right out of the box, which is unusual for these printers. This is a function of its design as it's a totally portable printer. The solid metal frame makes it easy to transport. All you need is an outlet to plug it in.
The system continuously calibrates itself, so you'll never need to deal with leveling the bed yourself. This is an essential feature if you're going to be taking it out and about.
The print bed and nozzle heat to many different temperatures, and the printer uses both wi-fi and micro SD card for printing. You may also plug it up to a computer using a physical USB connection.
Delta-style printers like this are known for their speed, and this mini is no exception. While it is fast, this printer does have a small print capacity. Its max size is 110 x 120mm.
You can print with a wide range of materials using this printer as the temperature range is quite broad. You can use both ABS and PLA along with a selection of other materials.
Monoprice is a very popular brand of 3D printers. This means that there is a large community of hobbyists using them. It's easy to find resources and tutorials on using these printers.
This is a superb little 3D printer for beginners and teens. It's quick and easy to get started with and a good choice for most people.
Best 3D Printer for Large Build Volume – XYZ Printing da Vinci Mini Wireless 3D Printer
The da Vinci Mini is a bright and attractively designed 3D printer. This makes it a really popular choice with a lot of hobbyists. Not only does it look great, but it works well too.
Set up of this printer is remarkably easy. It mostly involved removing all the packaging. Once that's done, you set the printer to auto-calibrate. So, there are no fiddly calibrations and less user error. For this reason, it's a good printer for kids and beginners.
The printer bed is impressively sized for a mini printer. At 150mm x 150mm, you have plenty of space. The printer also comes with three replacement sheets to cover the print bed, so you don't have to worry about a little wear and tear.
The biggest downside to this printer is that it doesn't have a heated build plate. This means that some larger models may not stay put during the build. You'll need to use a bit of glue for your larger creations. This also means that you can only print using PLA.
It connects wirelessly to your home network, allowing you to print your wildest creation easily.
Thanks to its single-button design and colored LEDs, it is also straightforward to use. The printer even comes with CAD and slicing software, so you can begin creating your big idea right away.
This Mini Wireless 3D Printer was truly built for consumer use – we couldn't be happier with it!
Budget Option – Longer Orange 10 SLA 3D Printer
The Longer Orange 10 SLA 3D Printer comes partially assembled. It's a quick and easy printer to put together, though, with only three steps needed to get you up and running.
The slicer software that comes with this 3D printer is significantly better than the open-source alternatives you might otherwise end up with. The result of this is that this is a surprisingly speedy resin printer.
Other than the distinctive orange top, this printer is made of sturdy aluminum. This means that it's both durable and stable during printing. Despite this, it weighs in at only 10lbs, which makes it a very portable option.
This 3D printer needs to be manually leveled. This is pretty standard with a resin printer, so it's less a weakness and more a reality of the type of printer.
As this is the budget option, there are some drawbacks. The biggest one with this option is the relatively low resolution you get. You can still get some excellent models out for such a small-sized printer, but it isn't to the same standard as you might get from the Monoprice Mini.
If you're interested in trying out a resin printer, this is an excellent beginner 3D printer.
Best for Those Who Want a Basic 3D Printer Budget Option – Labists Mini Desktop 3D Printer
The Labists Mini Desktop is a simple and basic 3D printer. If you're looking for a way to introduce kids to 3D printing, this is a great option. There is only a small amount of setup required, and it comes with a few preloaded models. So you can pretty much get printing straight out of the box. There are about four screws to put in and a couple of wires to connect.
The bed needs to be manually leveled, which can be a touch fiddly. However, the printer does come with a screwdriver set, which means you don't have to go hunting for one of the right size.
It is surprisingly quiet for such a low-cost printer, so you can easily have it on in the background without the sound drowning out your thoughts.
You can connect to the printer using either the supplied TF card or a USB cable.
The print bed isn't heated. As the printer can only use PLA, this isn't necessary, but it does make it a little tricky to get your model off. The print bed is detachable and flexible, though. The idea is that you can flex the print bed to release your model more easily. However, this does need to be done with care to avoid damaging your model.
The build volume on this printer is small, even for a mini. You have an area of around 100mm x 100mm. When you combine this with limited precision, you have a printer that will not be able to make a massive number of models. It's best to stick to small and simple ones.
This is an excellent printer for beginners who want an accessible introduction to 3D printing. It's probably not one to go for if you're more confident and want to be able to create intricate models.
Best Resin Printer – Creality LD002R LCD Resin 3D Printer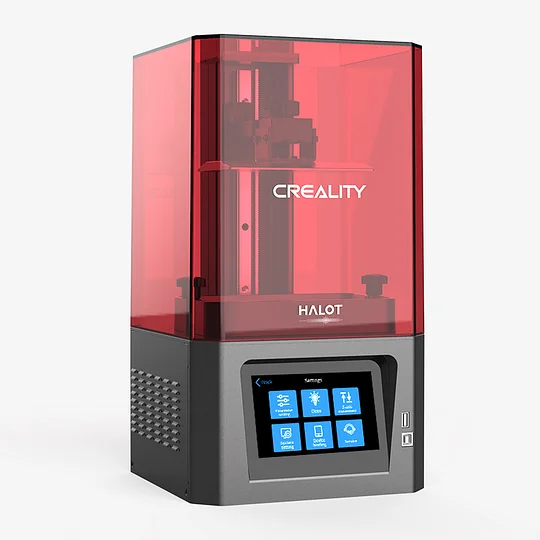 Creality Resin 3D Printer
This mini resin printer is packed with features that make it stand out from other mini 3D printers.
The Creality Resin 3D Printer is one of the most recent offerings from Creality. They have an excellent reputation with FDM printers, and this is their third attempt at a resin printer. With what you get for the price, this is a winner.
This 3D printer offers a reasonably large build volume for such a cheap model. You get around 120mm x 65mm x 160mm; for a mini printer, that's a good turnout.
Resin printers can release some unpleasant fumes. So, it's pleasing that this printer comes with an activated charcoal air filter. It's not perfect, but it is definitely an improvement. It is worth noting that this printer does not come with any resin, so you will need to get some along with it.
This 3D printer comes with a pre-sliced and ready to print Eiffel Tower in its included USB drive. So you can get a feel for how it prints quickly and easily.
The printer comes preassembled, so you don't have to do anything other than load it up, check its level, and get printing.
There are many thoughtful touches on this printer that make it stand out from other cheap resin printers. For instance, the USB interface is thoughtfully placed at the front of the printer for effortless access. The resin vat has milliliter markings on it. This makes it a lot easier to add only the required resin for your build.
Another notable feature of this printer is the print bed. It is perforated in the style of much larger machines. This has two consequences. First, your models are not going to shift as they're built. Second, you will need to sand the bottom of all your models when they are complete.
For anyone interested in a 3D resin printer, this is a great entry-level machine. It offers superior print quality compared to other printers at this price point.
Best DIY 3D Printer – Anet A8 3D Printer
The Anet A8 3D Printer is not a 3D printer for the faint-hearted. If you have no experience with 3D printers, then it might be one to miss. If you relish the idea of putting together your own printer, this is a great option.
Constructing the printer is a bit of a project in its own right. However, doing so will give you a great understanding of how it works and the confidence to tinker with the setup so you can optimize your results.
The calibration has to be done manually and can be a little fiddly.
Once you're up and running, this printer provides high-quality constructions. This printer is capable of exceedingly high-resolution printing, it's really impressive for a printer that costs less compared to others. As a result, it is capable of some quite complex prints.
This is a very popular printer as it's all open source. That means you can find a wealth of resources online that will help you to modify and tinker with your printer. You will even be able to print mods to improve your printer yourself.
You can connect to the printer using either an SD card or via USB.
This printer has the largest print volume of all the 3D printers on this list. It is capable of making models up to 220mm x 220mm x 240mm.
This is a really impressive printer once you get it up and running. If you're looking for a project and relish a challenge, then this is a great kit to buy. Just be aware that it will take at least a day to get the printer built.
Best for Getting Kids Excited About 3D Printing – Tresbro Creality Cr-100 Mini 3D Printer
The Tresbro Creality 3D Printer is a mini printer that is very clearly marketed towards kids. The design of the printer is cute and cartoony, which makes it very approachable. That said, it is still a 3D printer and should be used under adult supervision.
The build volume maxes out at 100mm x 100mm x 80mm. This does put it on the smaller end of things. However, as this is marketed to kids, it shouldn't be too much of a problem. It is ideal for printing all sorts of little toys and gadgets that will appeal to children.
The whole thing is designed to be easy to use. The bed has auto-leveling, and there is an easy to use touchpad. This is as close to plug and play as you can get with a 3D printer.
You load your prints using either a TF card or an SD card, so you need to make sure you can write to these.
The build plate is not heated, which is one of the reasons the printer is limited to using only PLA. The bed is removable and flexible to make it easier to get your final model out.
This is a great printer for introducing kids to 3D printing. If you're happy with something small, fun, and quick, then this is an ideal starting point. Just be aware that you might outgrow this printer after a while as it is quite limited.
Best 3D Printer with Heated Build Plate – Monoprice Select Mini 3D Printer V2
The Monoprice Select Mini 3D Printer v2  is a long time favorite in the 3D printing world. It's a superb value printer with a few quirks that seem to just add to its character.
Not many 3D printers at the $200 mark come with a heated build plate. So the fact that this one does and thus allows you to use both ABS and PLA is very attractive.
You can connect to the printer using either USB or a micro SD card. You will need to get hold of your own slicing software to use this printer as none is pre-installed. However, it is compatible with pretty much any software you can find, so you can pick based on what you want, not on what the printer wants.
The build quality of the Select Mini is excellent. It is sturdy and robust. All the critical electronics are securely contained, and it feels almost indestructible. Despite being built like a tank, it's compact, so it is also a superb portable printer.
When it comes to the output quality, it can be a little mixed. When you push this printer to its highest speeds, the quality drops, and failure is much more likely. If you are content to let the printer chug along at a slower pace, you will get much better quality results out. In fact, when you let it go slowly, its print quality is really quite impressive.
One of the most appealing features of this printer is how hackable it is. There aren't any official upgrades to this printer. What there is, is a large community of makers who are very excited about this printer and all its possibilities. It's very easy to find a wealth of information and ideas about tinkering with this printer.
This printer is an excellent option for anyone who wants to get a real feel for 3D printing. It offers reliable printing at low speeds but has a few quirks that will encourage you to learn what's really going on and how to improve your prints. So, if you're looking for a starting point with the intention of going deeper, this is the ideal 3D printer for you.
What to Consider When Buying a 3D Printer

Type of Printer
3D printing is a broad term. There are lots of different ways to create 3D structures. The most well-known type of 3D printer is a Fused Deposition Modeling (FDM) printer. FDM printers add layers of plastic in the shape you require. They do this by heating and extruding thermoplastics. These are the most common type of 3D printer. All the printers on this list are FDM types.
You can find Stereolithography printers, which are also known as resin printers. They use UV light to harden a pool of liquid resin. This method can give a much higher quality finish. The size of the model you can make is a little more limited, especially if you are getting a more budget version. You're limited by the size of the reservoir.
The other thing to be aware of with a resin printer is that there is a lot of clean up involved. You need to use a high percentage isopropyl alcohol to clean down everything after use.
The final option is a selective laser sintering (SLS) printer. These use lasers to harden the powdered resin. They also give a high-quality finish but are much more expensive.
Printing Material
Two types of material are commonly used in 3D printers. They are both thermoplastics. This means they are soft when heated but freeze at room temperature. You will need a good supply of printing material if you want to make anything. The better the plastic, the better your results will be.
The two options are polylactic acid (PLA) and acrylonitrile butadiene styrene (ABS). Some printers will only accept one type, while others will take both. The right material will depend on what sort of things you want to print.
PLA
PLA is a good material for beginners. It's also an environmentally sound option as it's biodegradable. It cools quickly, which is a good feature while you're starting out as this can prevent the warping of your model. There is also a wide range of colors to choose from.
However, PLA is not the best material. If it gets too hot, it will warp, so you need to take some care when using it and store your models once they're complete. If you're planning to make more complex prints with interlocking parts, then this is not the right material.
ABS
ABS is a petroleum-based material. This means it's not an environmentally friendly option, but it is much more robust and more flexible. So it can be used for more diverse applications. You can easily create interlocking models with ABS. You can, for instance, make functional Lego blocks. With its higher melting point, you don't have to worry about warping once the model is complete.
ABS is harder to work with, which is why it's not the best option for beginners. It takes a lot longer to cool than PLA, so you have to use it with care. ABS also emits fumes when it's used. You need to use it with care.
Slicing Software
When you're looking at 3D printers, you'll see a lot of references to slicing. It can be confusing for the uninitiated. This doesn't refer to any type of cutting inside the machine. It is a process that converts the model into layers for your printer to create.
Most printers will come with slicing software installed. If they don't, you will need to get a standalone program to format your model data. If you get into 3D printing, then you might end up doing this anyway. It gives you more control of the final results.
Bed Levelling
One of the most fiddly aspects of 3D printing is leveling the printer bed. It is, however, a vital thing to get right. If the plate is not entirely level, then it can lead to uneven models and failed prints.
There are different ways to level the printer bed, and you need to decide which you will be more comfortable with. Some are manually leveled. This means that you tweak knobs until you get it just right. Others come with automatic leveling, which will go through this process for you.
Curing
Once the printing is complete, you need to cure your model. This means exposing it to UV light so that it hardens fully. Some printers have UV lights installed, so will do this for you. Some of the cheaper ones don't. This means if you choose a printer without UV lights, then you'll need to either have a separate UV light, or you will have to plan to cure your model slowly using sunlight.
Size
Before you buy a 3D printer, you need to take some time to think about the types of things that you're going to make. The size of your printer is going to be one of the most limiting factors in what you can create. You need to think about what you'd be happy with and use that as a guide in making your decision.
Open vs. Closed Frame
The type of frame you choose will depend a little on your needs and preferences. There isn't a right choice here.
Open frame printers let you see what's going on more clearly. Because everything is on show and easy to access, it makes it much easier to problem solve and perform maintenance.
Closed frame printers can be a better option if you have small children around. They offer a higher level of safety as the hot filaments are out of reach. If you're going to be using ABS, then you might prefer a closed frame, as it can limit the amount of vapor you have to smell. Closed frame printers also tend to be quieter as all the mechanisms are enclosed.
Assembly
Many mini printers come partly assembled. This means that you'll have to put in some screws and attach some pieces before you can get up and running. It's a bit fiddly, but it does give you the chance to get to know your printer before you use it. It can also let you get a larger printer for a lower cost.
If you want to be able to get up and running straight away, then you can find pre-assembled printers. This isn't the default option, so you do have to look specifically for it if it's what you want.
Community
A big part of getting a 3D printer is figuring out how it works and exactly what you can do with it. It's quite a technical and involved process. Each machine has its own quirks and capabilities. So it can be helpful to have access to a community of owners who share tips, tricks, and model files.
Some brands and printers have larger followings than others. A good way to check how much info is out there is to do a quick search on youtube. Active communities will have lots of videos up.
Frequently Asked Questions
What is the best 3D printer to start with?
Most mini printers, like the ones on this list, are good for beginners. Because they are more budget options, they don't have an overwhelming choice of features. This makes it easier to learn to use them. The reality of using 3D printers is that they almost all require some tweaking and fiddling in order to get good results. However, that is part of 3D printing.
Is buying cheap 3D printers worth it?
A cheap 3D printer is a great way to find out if 3D printing is something you'll actually enjoy. With these cheap 3D printers, you can make loads of different things. The results are also surprisingly good. If you have realistic expectations and know that you'll mostly be making things for fun, not function, these are a great option.
Is it hard to learn 3D printing?
3D printing isn't especially difficult, but there is a lot to get your head around. There are lots of small factors that will affect your results. That means this is a great hobby for anyone who likes details and precision. Anyone can learn how to use and maintain a 3D printer. You just have to be prepared to have a few failures along the way. It's all part of the learning process.