11 Best Engineering Kits for Adults | Learn Engineering, Robotics & Design
*We are reader-supported! This page may contain affiliate links. As an Amazon Associate we earn from qualifying purchases. The price to you remains the same.
The concept of what a 'toy' can be and do has changed rapidly over the past couple of years. Due to technological progression in computing and electronics, we have seen an explosion of innovative new educational toys hitting the shelves. From constructing and programming your own robots to building your own computers and designing games, assembling and programming your own RC car, STEM toys aim to teach it all.
However, these aren't just toys! The kits feature some really advanced hardware such as high spec processors, sensors, motors, and more. Below we give our detailed recommendation of the best engineering toys for adults in 2023. They will help you develop mechanical & electrical engineering, creative design, and programming skills.
Among many options, we think that the best all-around engineering toy for adults is Elegoo UNO R3 Smart Robot Car. It tackles most aspects of STEM – mechanical and electrical engineering, as well as coding. It's far from being the most powerful toy on our list. Still, it's an excellent entry-level toy that's both affordable and fun.
IMAGE
PRODUCT
DETAILS 

Best overall

Elegoo UNO R3 Smart Robot Car Kit

Build a cute little robotic car and control it via infrared remote control or Bluetooth on your mobile app.
Once you get enough of that, branch out its functionality by coding new behaviors!

Best Programmable Robotics Kit

LEGO Mindstorms 51515 Robot Inventor Kit

A versatile and powerful kit for building and programming robots, the 51515 is equally suitable for complete beginners and experienced engineers.

Budget Option

Engino Discovering STEM Structures Constructions & Bridges

Build nine amazing bridge models and learn the physics behind them in a fun and unobtrusive way!
11 Best Engineering Kits for Adults Reviewed
Best Overall – Elegoo UNO R3 Smart Robot Car Kit
Elegoo UNO R3 Smart Robot Car Kit
Build a cute little robotic car and control it via infrared remote control or Bluetooth on your mobile app. Once you get enough of that, branch out its functionality by coding new behaviors!
A great way to develop the electrical engineering branch is with an Arduino based robotics kit, such as the Elegoo Smart Car.
But first, a note on Arduino, for those of you who aren't familiar with it. Don't worry, it's nothing to freak out about!
Arduino is an open source platform used for building and programming all types of electronics projects. It's basically a programmable mini-computer consisting of a micro-controller (circuit board) and some programming software.
The language used is a simplified version of the widely used C++ language, so it is great for beginners to learn the basics of coding. We won't delve much further into it in this article, but you can find a good introduction here.
This kit comes with everything you need to build and control your own robotic RC car. For the price, it also includes some pretty cool bits of hardware. There are 4 motors, 1 servo motor, an ultrasonic sensor, Bluetooth, line tracking & obstacle avoidance modules, and all circuit boards and wiring. We also like how this set includes a built-in rechargeable battery pack – we have seen other sets that do not!
You will be guided through assembly with instructions and video tutorials on the CD included in the kit. However, some users also suggest using YouTube tutorials to help with this. You can find a good one below!
This really is a great budget engineering toy for adults. Furthermore, once you become familiar with the Arduino, there are hundreds of other projects out there. You are opening the door to loads more possibilities. As such, it is a great learning tool.
Another great electrical engineering toy for adults is the Smart Video Car by SunFounder. The main difference is that SunFounders operates with a Raspberry Pi – a microcomputer similar to Arduino.
Raspberry Pi kits are also trendy, but we will not go into them in this article.
Best Programmable Robotics Kit – LEGO Mindstorms 51515 Robot Inventor Kit
LEGO Mindstorms 51515 Robot Inventor Kit
A versatile and powerful kit for building and programming robots, the 51515 is equally suitable for complete beginners and experienced engineers.
LEGO buffs won't be surprised that the 51515 Robot Inventor Kit is our second option. To be completely honest, the only reason we didn't kick it up to #1 is its price. The reality is that not everyone will be able to dish out a significant amount of cash for a toy, however brilliant it is.
And this latest (and alas, possibly the last) iteration of Mindstorms really is brilliant. The fancy purple box shows five cool robots, but you can build many more than that.
Unlike its predecessor EV3, the 51515 has nearly 1,000 pieces. That's some serious building work ahead of you! As for the robots you can build, the 14-inch tall humanoid Blast will probably be the most attractive. It can punch, hammer, shoot fire missiles, and give you high fives straight out of the box.
Charlie, a cute little robot friend, will dance and play drums. (Not very pleasing to the ear, we must admit!) There are also the vehicles M.V.P. and Tricky, as well as an amazing quadruped Gello. Who needs wheels to move when you have four amazingly engineered legs?!
These robots can perform over 50 activities readily available through the app. Along with the building time, that will provide weeks of fun! If you have LEGO Boost, you can use it to enhance your Mindstorms even further.
But the coding part is where this kit truly shines. Novice programmers can resort to Scratch visual coding, which doesn't require any special skills. Those of you who have gone past the beginner level can do full-blown line-based coding. That really opens up endless possibilities! You can program these robots to the extent of full automation. That would probably take months or even longer. If that's not an excellent bang for the buck, I don't know what is!
Many LEGO fans are still fervent supporters of the previous EV3 iteration. Indeed, it's been hands down the most revolutionary consumer robotics set.
However, the 51515 Robot Inventor comes with reduced weight and a rechargeable battery. Another advantage is the possibility of adding 6 motors. Many users feel that it offers more ease of use and better playability than the EV3.
Time will tell if its successor is going to beat this popularity. Anyways, the EV3 isn't always available these days. It comes and goes out of stock, but you can definitely check it out.
Best Budget Option – Engino Discovering STEM Structures Constructions & Bridges
Engino Discovering STEM Structures Constructions & Bridges
Build nine amazing bridge models and learn the physics behind them in a fun and unobtrusive way!
Have you ever wondered how bridges work? Many of them are true construction masterpieces. However, building a small bridge isn't rocket science! All you need is Engino Construction Kit — and some patience. (Some would even say, quite a lot of it!)
You don't even need to know any laws of physics to begin with. This set contains a bunch of components that you need to piece together, plus a booklet with building instructions for nine bridge models. It's also available online on Engino's website. Builders who prefer 3D instructions can download their interactive app! By following the instructions, you will learn how different types of bridges are made. Those are beam, arch, cable, truss, and suspension bridges.
However, this building kit doesn't just teach you to assemble a structure. It also teaches you how it works – and why! In other words, it's theory and practice at their best. You'll figure out all kinds of forces that are at work here. If you want to test your knowledge, there are quizzes. And if you want to prolong the fun, you'll also get a bunch of experiments!
All of the above adds to the impression that this is one of the best mechanical engineering kits for adults. Engino STEM kits still haven't gained much popularity, but I sure hope they will. They are just fantastic for kids and curious adults alike! If you want to know how gears, pulleys, solar panels, robots, Newton's laws or motors work, Engino is your go-to company.
Best for Robotics Beginners – DJI Intelligent Educational Robot Robomaster S1
DJI Intelligent Educational Robot Robomaster S1
A fast and smart robot that has a modular design and is a fantastic toy to start learning the basics of robotics and programming!
Suppose you want to cultivate your programming skills with something that is great fun – robots! And after building and programming it, you can even battle other robots with it.
The Robomaster S1 from DJI is a great choice for that.
Now DJI is a brand that is generally associated with drones. No wonder the Robomaster S1 feels as zippy as a land-bound drone.
But it also combines competitive gameplay with a learning platform that supports both Python and Scratch programming. Add to that the basics of maths and physics knowledge and you have a great STEM toy.
To start with, you need to assemble the robot from 46 customizable components. Since it's made from heavy-duty plastic, the unit feels robust and has excellent balance. The robot has 31 sensors and a camera that can record 1080p video.
Once completed, you will have a four-wheeled robot with an imposing chassis and a revolving turret. And that is when the real fun begins!
Controlling is done through the Robomaster app which is available for both iOS and Android platforms. If you want a controller, you need to buy it separately. Once you start exploring the Robomaster app's Lab section, you will find lessons and training courses to develop basic programming skills.
The lessons are more focused on Scratch since it is more accessible for learners. But the S1 also supports Python for those who want to explore even deeper.
Overall, the Robomaster S1 is a great toy for anyone needing an introduction to the world of robotics.  While it is pricey, it is a well-designed tool that combines fun and learning in the best possible way.
Best Robotic Arm – LewanSoul Programmable Arm
LewanSoul Programmable Arm
A mighty and accurate robot arm that's marvelous to build and experiment with!
Robotic arm sets are some of the best engineering kits for adults to learn how to build and control servo motors in a fun and interactive way. Given the prolific use of robotics arms in factory automation, we also think experimenting with these sets is a great way to learn skills that could be valuable in the industry.
Aside from that, they are also tons of fun!
When it comes to recommending the best robotic arm kit, one of the key considerations are the degrees of freedom (DOF). This relates to the number of rotational joints present in the arm, so it is essentially a measure of its flexibility. Another two important factors are the max payload – the mass it can lift, and the control element, i.e., is it remote-controlled, easily programmable, etc.
Based on these criteria, we believe the LewanSoul XArm is a good option. It may not be the cheapest option on the market, but the quality is very high due to the use of all metal components and high-end servo motors. The result being it can lift some 8 ounces with decent accuracy. Additionally, it also moves with 6 DOF, so it has excellent flexibility. Unlike many other similar robotic arm sets on the market that only offer 4 DOF!
The assembly of the arm is guided through a detailed 3D video tutorial. Through this process, you can learn some mechanical and electrical engineering concepts. Once the robotic arm is built, it can be controlled remotely with multiple options, including the Playstation-styled remote, IOS/Android mobile Apps, or even a mouse!
The third option is to program movements with the graphical PC software, which is good for learning coding concepts. Additional video tutorials are also provided to help beginners. Furthermore, more experienced coders can also connect a Raspberry Pi or Arduino Microcontroller to create more complex arm programs. See GitHub for more details!
Overall, we think the quality of build, programming/control options, and overall support for the LewanSoul xArm are fantastic for the price paid. Yes, you could find it cheaper on the market, but this would likely be at the cost of one of the above points.
Best Electronics Engineering Kit – ELEGOO Mega 2560 Starter Kit
ELEGOO Mega 2560 Starter Kit
A top-grade kit that offers a wide range of components and is marvelous to build and experiment with!
It's not possible to find a single complete STEM kit that will cover all the basic aspects of electronics. In fact, as your knowledge progresses you will end up needing more advanced stuff.
But this MEGA complete starter kit does a great job with more than 200 components along with a MEGA controller board and expansion board. We also think experimenting with these sets is a great way to learn skills that could be valuable in the industry. 
Admittedly, it is a great kit for learners, electronic major students, as well as more experienced technicians. Moreover, the unit is also compatible with Arduino projects and is easy to upload by using the supplied CD.
As expected from Elegoo, one of the best features of the board is the high quality of the components which are put together flawlessly. Even though not every component is heavy duty, the overall price-to-quality ratio is excellent. Another advantage is, many of the wires and pins are pre-soldered to save time.
The instructions are clear and easy to follow. There are plenty of example projects to help you get started and Elegoo has included all the necessary source codes.
This is a great kit to start learning about digital and analog signals, as well as converters and communication protocols. You can start by building simple circuits and gradually keep advancing by progressing with the projects. Beyond that, there's every scope for adding additional parts to create your own designs.
The kit also has advanced components like an ultrasonic sensor, accelerometer/gyroscope module, RFID reader, water level sensor, motion sensor, servo motor, stepper motor, and more. While many of these are too complex for beginners, you can learn to use them after progressing through the basic projects.
Initially, it might be overwhelming for someone who has no previous experience with real engineering components. But for anyone with the necessary technical or engineering background, this kit is immense fun and offers ample opportunities to get creative.
In short, this is an awesome STEM kit that offers excellent value for beginners as well as advanced users. With this kit in hand, the only limitation you face is your own imagination.
Best Mechanical Engineering Kit – Thames & Kosmos Mega Cyborg Hand
Thames & Kosmos Mega Cyborg Hand
A super cool cyborg hand that is powered by hydraulic and pneumatic systems.
If you're into building robots but need a more wallet-friendly solution than the above Mindstorms, the Mega Cyborg Hand might be the right choice. Besides, it's also the winner of the STEAM Toy of the Year award in 2021. Admittedly, it's one of the coolest STEM toys on the market.
The best part about this toy is it doesn't need a power source to run. The hand is operated by air and water pressure. That makes it a great toy to learn about hydraulic and pneumatic circuits used in industrial robots and automobile components.
The toy consists of more than 200 different pieces. The mechanical fingers can actually grip and lift objects. The size can be adjusted to fit any human hand like a glove. It can also be adjusted for right and left-hand use.
All the pieces are well-designed and fit perfectly. The instructions are easy to follow too. They also allow you to experiment with the transmissions and learn more. Additionally, you can fine-tune some of the components by lubricating them.
In reality, this is best suited for young kids. However, it can also be a great creative session for adults and enthusiasts. Even newcomers to the subject will have a fun time assembling the pieces.
Thames & Kosmos has developed a range of top-notch science and technical education materials. Undoubtedly, this is one of their best efforts.
Best for Screen-Free Building – CubicFun 3D Brain Teaser Puzzles
CubicFun 3D Brain Teaser Puzzles
A very detailed model of St. Paul's Cathedral, this 3D puzzle has nearly 650 pieces. You don't need help from technology while building it!
Much as we love robotics, we have to admit that there is engineering beyond robotics! Some people just love the good old building kits that don't feature any electronics. The Engino above is one of these kits; this CubicFun 3D is another.
In this listing, you can choose from three real-life models: the Notre Dame from Paris, Duomo di Milano, and St. Paul's Cathedral. We have only seen the latter, and it really is marvelous. True to life to the last tiny detail, it's both an engineering feat and a collector's item you will be proud to display. The pieces are made of 3D foam, which means you won't need glue or extra items.
The 643 pieces take about 16 hours to assemble. At least that's what the product description says! In reality, it will take more, what with all the errors and issues you're bound to encounter.
Note that this isn't an easy challenge! You will need focus and patience. The great news is that you'll feel surges of motivation and enthusiasm every step of the way. Once you complete it, you push the structure open and take a glimpse into the interior!
The only objection we have is the material. Personally, I would prefer wood over 3D foam. It's both sturdier, more durable, and would have been much more stylish.
Best LEGO-Compatible – Contempo Views Edison Robot 2.0
Contempo Views Edison Robot 2.0
A simple and affordable programmable robot that works great as a STEM teaching tool.
If you want to enjoy the fun of robotics but have a limited budget, the Edison Robot is a great package that packs loads of fun. Besides, it is compatible with LEGO bricks, allowing you to use all those old boxes full of Lego and expand the possibilities. In fact, you can combine the elements of engineering and mechanics with programming by using LEGO bricks with this kit.
At first glance, the robot toy looks too small- it will fit on your palm. However, it is packed with powerful features and can follow three levels of computer programming. That allows users to start with simple programs and then advance to more sophisticated programming. You can start by using a barcode and advance to text-based Python programming in the final stage. 
The kit comes with an obstacle sensor, light sensor, sound sensor, and a line tracking sensor. Not all the sensors are of the best quality, but considering the price, that is acceptable.
Note, you need to connect with the Edison Robot by using an audio jack. This may feel odd, especially if you are used to programming via Bluetooth. But this approach makes the robot more accessible to a wide range of computers or tablets. The programming apps can be accessed through a browser.
Overall, the Edison Robot is an effective educational tool that is well-designed. You can even buy two of these robots and use them for projects that need multiple robots.
Best Automotive Kit – Revell V-8 Engine Model Kit
Revell V-8 Engine Model Kit
A scaled-down model of the V8 engine that is great fun to assemble and a perfect kit for auto enthusiasts.
If you ask any auto-fanatic about the engine that makes the best sound and delivers the best power, the answer is simple. It's the V8. Some even find the signature V8 roar intoxicating.
While this engine from Revell will not roar, it will help you understand the internal workings of a V8 internal combustion engine. This plastic model is built on a 1:4 scale and is an exact replica of the V8 engine. Also, it is the winner of the 2008 Parents Choice Award. Once completed, you can turn the crank, and the model will start moving just like the original.
It contains over 300 components, each with a unique part number. The amount of detail in the valves, pistons, and camshaft rocker arms is simply mind-blowing. The assembly instructions are clearly mentioned with diagrams. 
Keep in mind, you may need to remove the extra plastic from some of the pieces by using a file or a piece of sandpaper to get the right fit between the parts. Using some plastic-safe lubricating oil also helps in fitting the parts. Depending on how you look at it, this can be a con. Or else, the hands-on approach can make the entire project even more satisfying.
Being a Level 3 kit, this is for intermediate and advanced builders. If you are planning to hand it over to a kid, make sure to do it under supervision. For those who do not know the basics, the kit also packs a "How engine's work" book. 
Overall, this is an awesome kit that mechanical engineers, or anyone with a heart for cars, will love. I only wish it had an electric drive motor to make things more realistic.
Best for Families – ThinkFun Gravity Maze Marble Run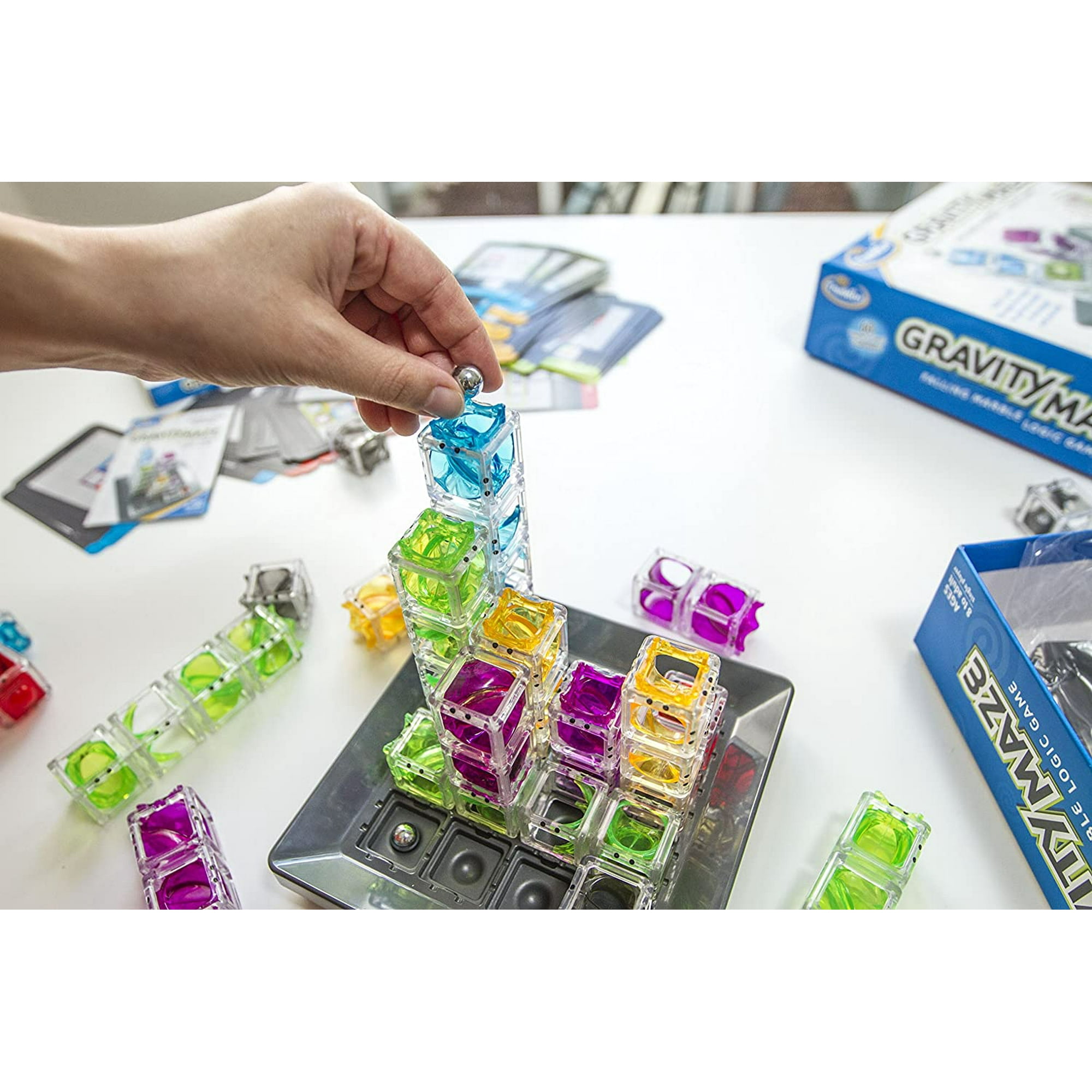 ThinkFun Gravity Maze Marble Run
A highly durable, legendary STEM toy that offers an addictive learning experience and excellent value.
Not many STEM toys combine with the elements of logical puzzle solving and make it a fantastic choice for the entire family. The Gravity Maze Marble Run from Thinkfun hits the bull's eye by offering excellent educational value while you hit targets with marbles. That is one major reason for it being a best-selling product of the brand.
The basic elements of the game are nine translucent gravity maze towers and three stainless steel marbles. There are sixty challenge cards that allow you to pick the game level- beginner, intermediate, advanced, or expert. While running marbles through the towers sounds easy, there are rules to make things more challenging.
The format of the game keeps it interesting and you develop problem-solving skills while conceptualizing moves in the 3D space. At the same time, it provides an idea about the workings of gravity and the fundamentals of physics. The fact that the Gravity Maze teaches physics while offering solid entertainment value is the reason that it won the Toy of the Year Award in 2017 from the Toy Industry Association.
Completing a puzzle doesn't take long, thereby increasing the playability. The pieces can be configured in almost endless ways, allowing you to try new variations every time you play. Adults can even challenge each other while playing. No wonder many parents keep playing this game even after the kids head to bed.
I wouldn't classify the Gravity Maze Marble Run as a typical engineering kit. But it definitely works great as a mind-sharpening kit for all ages. If you want to invest in a STEM and puzzle-solving kit that is great fun for the entire family, you cannot go wrong with the Gravity Maze.
What to Consider When Buying Engineering Toys for Adults

Does Age Really Matter?
If you read age labels, you might find yourself a bit disheartened. Not many engineering toy manufacturers will claim adults as their preferred customer base. Ages 4 to 7, 7 to 10, 10+, those are the most common labels you'll see.
However, this exclusivity is slowly starting to reflect reality. And the reality is that many parents buy these kits for their kids and end up using them themselves. Most engineering kits are so elaborated that they have something for everyone.
So, don't feel guilty if you want to buy such a toy for yourself. Contrary to what most people assume, play isn't just for kids. It has many benefits for adults too, helping us cope with daily stress and refine our cognitive skills. Moreover, you'll end up learning so much about mechanical or electrical engineering and even coding.
How much free time do you have?
Alas, leisure has become a luxury these days. And leisure is exactly what you need for productive and fulfilling play.
So, before you spend a hefty sum of money on a super cool robotics kit for adults, make sure you have the time to actually use it to its full potential. Elaborate projects require continuous effort, even if it's as little as half an hour each day.
Complexity
Many engineering toys for adults have excellent potential for open-ended STEM learning. That's absolutely fine, but not everyone will want to flesh out their knowledge.
Some people are in it just for fun and a few hours of de-stressing. If that's the case, you may want to go with a cheaper option that doesn't offer growth opportunities.
Vice versa, if you seek an engineering kit that will keep stretching out your skills, you'll want to invest in a premium kit.
The point is, you should figure out what a kit can do for you. But also what you can do with your kit!
Frequently Asked Questions

How do I get started in robotics?
To get started in robotics, the key skills you will need to learn involve electrical engineering and coding (software engineering). Each of the engineering kits discussed in this article are a fantastic option to start learning these skills. You may also want to check out our guide to robotics kits for adults.
Can I learn robotics on my own?
Yes! These days, there are so many options, with incredible robotics kits that guide new learners from the very fundamentals of electric circuits to coding and beyond. There are also Beginner's Guides, such as the one from Robotics Online.
Better yet, there are boundless opportunities to learn every imaginable skill from knowledgeable YouTubers and from the companies that make these kits. Having said that, you may still improve your skills more rapidly by joining a local robotics club, where you can discuss all things robotics with like-minded people who will no doubt love to help a new learner in this exciting field.
Are robotics engineers in demand?
Yes! Incredibly so, and demand is only increasing. According to an article by MachineDesign, the first nine months of 2017 saw the highest number of orders for robots ever recorded. And all these robots need robotics engineers to make them function!
Last update on 2023-10-04 / Affiliate links / Images from Amazon Product Advertising API