Choosing the Best Educational Toys for 14 Year Olds (2023) – Educate and Entertain!
*We are reader-supported! This page may contain affiliate links. As an Amazon Associate we earn from qualifying purchases. The price to you remains the same.
Choosing a toy that educates and entertains is tricky at the best of times, but choosing the best educational toys for 14 year olds is a whole new level of tricky. Or shall we say nightmare?
You'll want it to be fun, but not just ANY kind of fun. It should be something that helps them, builds them up, and stretches them.
Still, an ideal toy should do it in a sneaky way. Kids don't like to be told that they are kids.
So you should find a toy that acts like a toy, educates like a toy, but isn't called a toy.
There are a lot of options out there but we've rounded up some particular highlights here. As the best all-rounder, we recommend the Lego Mindstorms EV3. It's a programmable robot that can be built in several different ways, can follow commands, and you can take it almost anywhere.
Kids can play with it through racing (even with obstacles), and they can also start to learn programming skills while they're at it.
Related: Educational Toys for Tweens to Learn Robotics, Coding & Science
Best Educational Toys for 14 Year Olds
Lego Mindstorms EV3
The Lego Mindstorms EV3 is a massive step forward when it comes to user-friendly, child-focused programming that allows seamless integration between the physical LEGO components and the ARM9 300Mhz processor. You can control this robot via bluetooth with your phone or a tablet and plug it into a laptop or desktop via a useful USB port.
There are five starter robot builds to begin with, which will suit anyone in their teens right through to quite a number of their parents. There are over 600 pieces of LEGO in the set to build with, so the only limit is their imagination! The software to program the 'brain' of the robot is compatible with a Mac or a PC and it also feels intuitive to use.
The robot's sensors work especially well on simple grids that you could make out of tape and a wipe-clean floor, but will still work well on any dry surface depending on your build. They can even interact with any other Lego robot.
This Mindstorms edition is thought out so well that it has garnered a cult-like following. And no wonder! It will instruct you on how to build 17 different robots. But that's just the beginning!
If you or your kid (or both) are the adventurous types, you'll be able to improvise and come up with an unlimited number of new designs. And that's WITHOUT integrating this set with other LEGO sets.
DWC Hydroponics System
By the time your teen grows to full adulthood, chances are they will need to start growing their own food.
In their houses, apartments, garages, basements.
And when you think of it, it's not bad at all! On the contrary. But that means it's time to start teaching them!
A DWC Hydroponics System is a great introduction to the essentials of plant biology. Technologically growing your own food is a more grown-up spin on learning about plants and how energy is transferred through their growth process. We all loved growing sunflowers in a flower pot as little kids but this is the next, tastier step.
This set is self-contained, suitable for a teen's bedroom, and comes with a growing medium. All you need to add is a little dilute plant food and a handful of seeds.
Thinking about how minerals and nutrients need to be balanced, being aware of root structure, and enabling photosynthesis can help your teen to get a much better grasp of how plants work as well as how food grows.
Even more importantly, it's a skill that will be necessary in the nearest future.
ELEGOO MEGA2560 Complete Starter Kit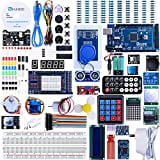 ELEGOO MEGA2560 Complete Starter Kit
A starter kit for sophisticated young programmers with an interest in branching out into complex electronics.
The MEGA2560 might be called a starter kit, but this is the toy for sophisticated young programmers with an interest in branching out into complex electronics.
This kit is compatible with Arduino and comes with a good range of sensors for motion, humidity, and light. It contains LEDs, basic motors, and a basic breadboard as well as some wires to get you going.
Kids could program something as simple as an alarm that sounds when someone steps on to your doormat, or as complex as a humidity monitor that shows a different LED signal according to the level of humidity in the air.
The range of this kit is so incredible that the only limit that you can think of is your own imagination.
SIMREX X900 Drone
The Simrex X900 is a brilliant example of how STEM toys can entertain and educate at the same time. It's a real-life example of a set of motors working in harmony together to resist gravity and external force, communicating and operating with information from sensors and a working camera.
What teenagers will notice first though, is that it's so much fun.
It's decent quality, so you can count on a fair amount of use from it. But unlike professional drones, you don't need to take out insurance or a second mortgage to afford it. It also has a camera with the ability to rotate 360°, and can go up to 120 meters in range.
What to Consider When Buying Educational Toys for a 14-Year-Old
Complexity
A teenager is, as they will tell you upfront, not a little kid. They need their toys to be complex enough to hold their attention.
The upside to that is that they can enjoy toys that a little kid couldn't. That makes a product that you can use for multiple different projects or that unfolds over time perfect for them.
Also, when they get fed up with the toy, it will pass on to YOU. Which is my favorite part of these toys.
Communication
You want a STEM toy for a teen to communicate in two ways. You want it to say "mom and dad understand that you are smart and capable".
And definitely NOT a child.
You also want to consider what it will communicate to their friends and classmates when they use it. Something that makes them feel respected and adult will help them have the best chance to learn.
Personality
Ultimately, you need to know whether your 14-year-old is a pilot or a programmer at heart. There's nothing wrong with trying to develop a skill that is in its very early stages. It's great to open up new interests, but it's always safe to let their personality guide you.
Frequently Asked Questions
Is there a 'best' toy for programming?
There are some really strong contenders, but the best thing for you will depend on your budget and the kind of gift you want to give. The good news is that a lot of toys allow you to start as a complete beginner and work your way up to a more advanced level.
Different toys and devices use different programming languages but they will all build the same underlying skills which are transferable.
Are drones safe for teenagers?
Yes, with supervision. A teen might need a little light-handed supervision with a drone to make sure they don't get into trouble with the quadcopter blades. They aren't sharp but they do spin.
It's also wise to have a quick talk about the responsible use of cameras.
At this age, hormones have a way of interfering with the kid's common sense.
How much input will my teen need with these activities?
The short answer is: however much you want to give. This level of toy or device will be possible for them to make headway alone or with light supervision. You might want to get involved with their more complicated programming or builds or help them get started to allow them to have fun faster though.