Best STEM Toys for Adults to Learn Coding and Engineering in 2023
*We are reader-supported! This page may contain affiliate links. As an Amazon Associate we earn from qualifying purchases. The price to you remains the same.
Technology within the toy industry is advancing at an astonishing rate. Computing power that was worth cost thousands of dollars a few years ago is now available at a fraction of the cost. Even better, it powers tiny toys that fit the palm of your hand.
For the first time, AI robots are moving out of research labs and into people's lives. Not as helpers, carers, or apocalyptic killing machines, but as lovable robot toys.
One of the most popular STEM kits for adults is LEGO Mindstorms Robot Inventor Building Set. The most remarkable thing is that it requires zero coding and engineering experience. There are in-depth instructions for hand-holding through the process. But the fun doesn't end when you master it. On the contrary – that's when the real satisfaction begins!
IMAGE
PRODUCT
DETAILS 

Best overall

Lego Mindstorms Robot Inventor Building Set

A set of almost 1,000 pieces, this edition of Mindstorms allows you to build and program five robots.
Like its predecessor, Mindstorms Ev3, this version is best for learning engineering, robotics, and coding.

Best Budget Option

Coogam Wooden Hexagon Puzzle

An excellent game that you can play on your own or make it a game for two or more people.

Boosts logic and problem-solving

.

Best for Mechanics

ROBOTIME 3D Wooden Laser-Cut Air Vehicle Kit

One of the brightest examples of pure mechanics in a toy.
Extremely precise and require no glue to hold each piece together.
7 Best Adult STEM Toys Reviewed
Best Overall — Lego Mindstorms Robot Inventor Building Set
Lego Mindstorms Robot Inventor Building Set
A set of almost 1,000 pieces, this edition of Mindstorms allows you to build and program five robots.
Our first recommended STEM toy for adults is the revolutionary Lego Mindstorms Robot Inventor Building Set. This kit gives you the power to create your own fully functioning robots, gadgets, and machines. Complete with servo motors, infrared sensors, color sensors, touch sensors, and a powerful processor, Mindstorms is so much more than just a toy!
Download the app and bring your creations to life by programming them with Lego's intuitive drag-and-drop software. Then step things up with the more advanced programming software for PC/Mac. However, this software has its limitations. That's why we suggest updating the firmware if you want to create more complex commands. You can find out more about this in our main article on the best robotics kits. While Mindstorms is primarily for developing engineering and robotics, it's also an excellent coding toy for adults.
The set comes with build instructions for five robots with a further 12+ fan builds on the website, but the rest is up to your imagination. However, if you need a nudge in the right direction, there are many guides and idea books available.
Additionally, the active Lego Mindstorms online community is an excellent resource for ideas, support, or just to show off your designs. Check out the video compilation of the neat things fans have made. You'll soon realize why we recommend Lego Mindstorms made our list this year!
Best Robot Toy for Adults — Anki Cozmo
Anki Cozmo
A state-of-the-art robot with facial recognition software that can recognize you, your friends, and even your pets.
Cozmo is the robot companion who seems to have fallen straight out of a Disney movie. Anki has worked with top animators to create hundreds of emotions, voice tones, and facial expressions. What's more, with state of the art facial recognition software, Cozmo can recognize you, your friends, and even your pets. When Cozmo calls your name and nudges you to play, you'll have a hard time believing the robot isn't alive!
Download the app and play games to unlock new experiences and modes. The more you play, the more Cozmo will develop a unique personality – you feel like Cozmo is your friend! With the ability to adapt and change in response to the environment, Anki's creation moves us ever closer to true AI for the masses.
And we haven't even got to the fun part yet! The Cozmo Software Development Kit (SDK) is where the true magic begins. With the SDK, Anki put the power in your hands to develop your custom software for Cozmo. Some example scripts are provided, including turning Cozmo into an alarm clock, teaching him to sing a scale, or patrol the room for intruders. But the rest is up to your inner creativity…
There are tons of possibilities with access to higher-level functions like the vision system, localization system, animation & behavior systems, and path & motion planners. Cozmo can also connect to third-party APIs like Twitter and IFTTT, further expanding your possibilities. For example, you could tweet Cozmo to turn on your smart lights or program him to show an umbrella animation when it rains!
Furthermore, the SDK uses Python, one of the most widely used and dynamic programming languages. So you can also build a valuable and transferable skill by experimenting with the SDK. That is why Cozmo makes such an excellent coding toy for adults. Anki has given us an affordable robot with high-tech hardware that was previously only available in research labs. We can't wait to see how Cozmo will help to advance robotics in the future!
Best Budget Option — Coogam Wooden Hexagon Puzzle
Coogam Wooden Hexagon Puzzle
An excellent game that you can play on your own or make it a game for two or more people.
Not all STEM toys for adults have to be about robotics, programming, or engineering! Sometimes, a good old puzzle can be just as satisfying. This Coogam Wooden Hexagon Puzzle doesn't have any bells or whistles. Yet, it's an absolute thrill for a lovely family evening.
You can play it on your own or make it a game for two or more people. The kids will also love it! With 14 pieces and over 60 challenges, the toy boosts logic and problem-solving. The best part is that there are always multiple ways to solve a particular puzzle.
So let's see what you'll get. There are a hexagonal wooden board and cardboard panels where the challenges are drawn. Each challenge shows a part of the puzzle. Place your pieces into the designated positions, and figure out a way to complete the puzzle!
It's a simple yet efficient game for hours of fun and family bonding.
Best for Drone Fans — Robolink CoDrone Pro
Robolink CoDrone Pro
An innovative kit that enables you to build a remote and program your own drone.
Last on our list of STEM toys for adults is CoDrone Pro by Robolink. This innovative kit enables you to build a remote and program your own drone. The easy to follow online video tutorials will show you how to assemble the electrical components which make up the remote.
Then you can learn how to code by using Arduino to program your own flight paths! Make sure also to check out video tutorials that teach fundamental coding concepts such as inputs and loops. Additionally, the Arduino coding language is composed of C and C++, both widely used languages. So again, you are building a valuable skill with real-world applications. That is why we recommend Codrone as one of the best programming toys for adults.
Codrone is not just a kids toy, but a real working drone with a range of up to 160 ft. It's also full of technology to improve flight performance, including a barometer, IR sensor, and a special optical flow sensor.
The only downside is relatively short battery life, but this is expectable for the price. After all, this is a learning resource as much as a toy.
That said, with version 2.0 Robolink added the option to easily fit replacement motors if yours burn out. Robolink is listening to users and fixing any bugs or adding new features.
Combined with the extensive online video tutorials and resources, we think this demonstrates the company cares about creating a great experience. That's why we recommend them!
Best for Mechanics — ROBOTIME 3D Wooden Laser-Cut Air Vehicle Kit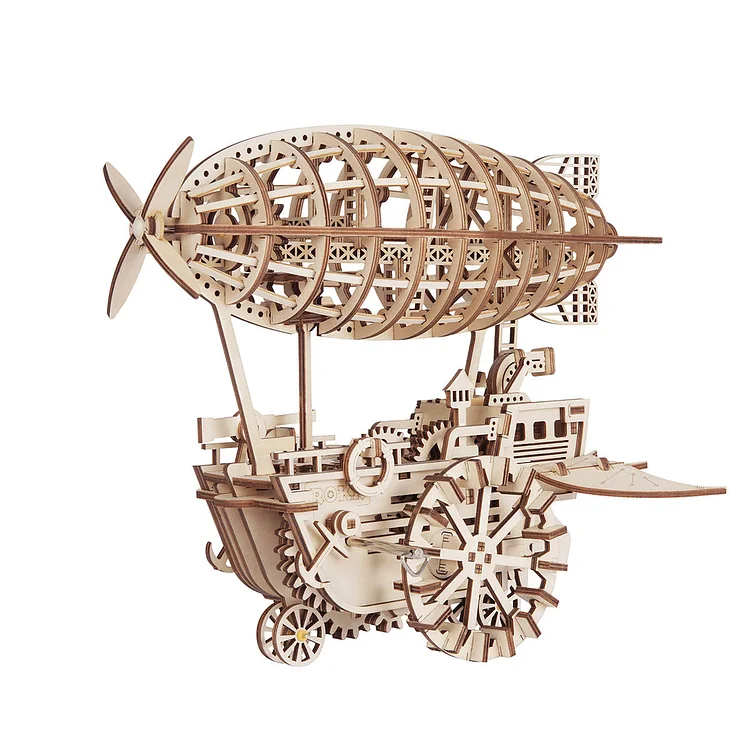 ROBOTIME 3D Wooden Laser-Cut Air Vehicle Kit
One of the brightest examples of pure mechanics in a toy.
I've heard this argument so often: why do most modern STEM toys have to involve coding or programming? Well, those skills are in line with the zeitgeist.
But that doesn't mean there are no other STEM toys! ROBOTIME 3D Wooden Vehicle Kit is one of the brightest examples of pure mechanics in a toy. You'll get 349 bits, pieces, wheels, and cogs. All of them are laser cut, which means they are extremely precise and require no glue to hold them together.
Once you manage to assemble the vehicle, it will be an actual work of art that will make you proud. Best of all, you can disassemble it and start over!
If you like this kit, be sure to check out ROBOTIME's other toys, such as their breathtaking Pendulum Clock – they make the Art in STEAM stand out!
Note, however, that this kit isn't for people who are short on patience.
Best for Robotics Hobbyists — Makeblock DIY Ultimate Robot Kit
Makeblock DIY Ultimate Robot Kit
An awesome starter kit where you can build and program up to ten different robot models.
If you are looking for a slightly more affordable STEM toy for adults than Mindstorms, the Makeblock DIY Starter Kit is a great place to start. Similar to Mindstorms, this set is all about building and programming your robots. The kit comes with making instructions for ten models: robotic arm tank, self-balancing robot, robotic ant, rolling tank, catapult ram, camera dolly, and more. There are also many add-ons if you want to expand and build more!
Additionally, the components of Makeblock kits are all metal and might be a bit more durable than other kits. They also provide spare screws and nuts, which is excellent.
Makeblock is a great way to learn how to control physical objects using sensors, all through programming the Arduino or Raspberry Pi compatible Micro Controller board. You can do that in several ways. Firstly with Scratch 2.0 – a simple drag-and-drop based interface which involves dropping blocks of code into your desired sequence. That is a great way to learn the fundamentals.
You can also run text-based coding languages on Arduino like C or C++, which are more dynamic and efficient. All in all, we think Makeblock is a great coding toy for adults.
Best for Stress Relief — TrueBalance Coordination Game Balance Toy
TrueBalance Coordination Game Balance Toy
Looking for a fun way to de-stress? Stack seven rotating magnetic disks and make sure they won't fall over! Sounds difficult? Think again!
How do you stack seven rotating magnetic disks so that they don't fall over? Before you dismiss TrueBalance Toy as too simplistic, let me tell you that it's harder than it looks. You will have to invest some considerable time in aligning all the disks.
And just when you think you've mastered it, you'll realize it has so much more to offer. Try aligning the disks upside down or with your non-dominant hand.
You'll have lots of fun with this toy on your own. But its real magic will shine through when you have friends over. Just bring it to the table and organize a contest! Before long, everyone will be fighting over it. A timer will spice things up even more.
A particularly great thing about this toy is that it will really help you de-stress and practice focus. That's why it's very suitable for people and kids with ADHD or on the autism spectrum.
What to Consider When Buying a STEM Toy for Adults
Is it a gift?
If you're getting a STEM toy for yourself, that's fine. But if you're planning it as a gift for another person, you should keep in mind what their inclinations are. If they are into coding, they may or may not enjoy a purely mechanical toy.
If you aren't sure about their preferences, it's probably wise to get a toy that's bound to be attractive to anyone. That means you should go for something that isn't too specialized.
How complex is it?
Take the most elaborate and brilliant building kit in the world. It probably has over 1,000 pieces, and you can build dozens of various objects with it. But if you lack patience, the set will probably get out of the box just to go back in.
Complex toys are marvelous, but that doesn't mean they should be everyone's first choice. Sometimes, a simple product will do a better job of entertaining someone.
How open-ended is it?
We said above how too complicated a toy will be one person's heaven and another person's hell. Similarly, a toy that's too simplistic will be plain boring to someone who is very much into tinkering and customizing.
For example, the best robotic toys will allow for open-ended play. It means that you can use them to build several pre-designed robots. But once you're done with them, you can program just about any behavior if you know how.
Frequently Asked Questions
Do STEM toys work?
STEM toys are educational toys that teach fundamental principles about science, technology, engineering, and math. They may be designed for beginners, but don't let that throw you off! Many of the toys start with the basics but have the scope to move into some advanced concepts.
From learning to code and build your own computer to constructing and programming your own robots, you will certainly benefit from tinkering with STEM toys.
What is STEM teaching and learning?
STEM consists of four disciplines: science, tech, engineering, and math. As a whole, though, it's much more than just these aspects put together. It's an interdisciplinary approach that fuses together different areas and encourages many essential skills to life.
Think of skills such as critical thinking, independence, courage to ask questions. Also, the courage to not give up just because you failed many times.
STEM is already profoundly incorporated into our youngsters' education. But STEM toys are a great way for adults to either catch up or keep up with the trends. Even if you've never seen a robot before, it won't stop you from learning how to build one from scratch. That's what's so awesome about these kits. They are excellent for beginners and teach you how engineering and programming work, even if you've never done it before.
Am I too old for toys?
You are never 'too old,' 'too mature' or 'too smart' to play with toys. Not only because they are a massive amount of fun, but because they are a great way to learn new skills. Skills which could one day land you a job!
It's estimated that between 2014 and 2024, the number of jobs in Science, Technology, Engineering & Math (STEM) fields will grow by 17%. Conversely, non-STEM jobs are set to grow just 12%. But the benefits don't stop there. STEM skills could also boost your earnings! That is where STEM toys for adults come into play – pun intended.