Best Gifts for Computer Science Majors (Our Top 21 Picks for 2023)
*We are reader-supported! This page may contain affiliate links. As an Amazon Associate we earn from qualifying purchases. The price to you remains the same.
If you're not especially into tech and computers, it can seem like a whole different world. And computer science majors can be a little unfathomable. I say this with the greatest affection as I married one! So, if you're struggling to buy a gift for the computer major in your life, we've got a great list of suggestions for you.
My top pick is this Mechanical 3D Wooden Puzzle. It's a really cool toy with no tech involved at all. It's something that's interesting for anyone with a logical mind, but it also gives them something to do away from their screens.
IMAGE
PRODUCT
DETAILS 

Best overall

Mechanical 3D Wooden Puzzle

This gift allows you to build a 3D marble run machine using beautifully laser-cut wooden pieces.

Best Robotics Kit

Freenove Hexapod Robot Kit

This is a very cool little robot kit. It's an excellent option for anyone who likes a project and robotics.

Budget Option

Infinity Cube Fidget Toy

This is a high-quality fidget toy for anyone who likes to have something to fiddle with while they're thinking.
Related post: Best Build Your Own Robot Kits for Adults in 2023
Best Gifts for Computer Science Majors in 2023
1. Best Overall – Mechanical 3D Wooden Puzzle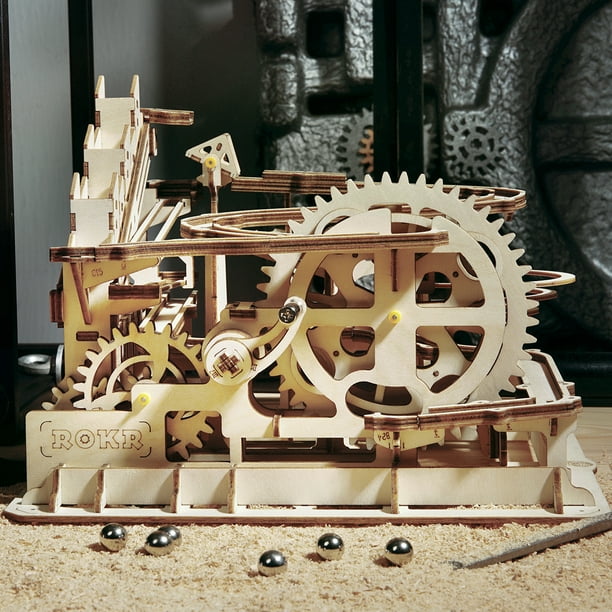 Mechanical 3D Wooden Puzzle
This gift allows you to build a 3D marble run machine using beautifully laser-cut wooden pieces.
This Mechanical 3D Wooden Puzzle is a great gift for anyone who spends a lot of their time staring at a computer screen. It's an opportunity to work with your hands to make something pleasing that you can play with once it's complete.
The completed wooden puzzle is a hand-cranked marble run. Which is really enjoyable to watch and use. The components are made from durable plywood and are laser cut to ensure perfect fit and finish. It's not only a satisfying puzzle but exudes an elegant look as well.
This is an excellent gift for computer science majors because it's an interesting mechanical device that will appeal to anyone who likes to know how things work. Aligning and balancing the complex subassemblies are challenging tasks that most techies will enjoy.
If your computer major is especially interested in hardware, then this is likely to appeal even more. The whole puzzle takes around five hours to complete and provides an opportunity to use their hands to build something a little different.
While there is no tech involved, this project has enough similarity to many computer and coding based projects that it should be appealing while still offering something different.
2. Best Robotics Kit – Freenove Hexapod Robot Kit
Freenove Hexapod Robot Kit
This is a very cool little robot kit. It's an excellent option for anyone who likes projects and robotics.
The Freenove Hexapod Robot Kit is a really great little robot kit. It's also something a little different and a little more technical than many other robot kits you can find.
The robot itself is a six-legged creation that has two different modes of walking. Putting it together offers an interesting challenge. The only thing to be aware of is that this kit does not come with batteries or a charger. So, they will need to be sourced separately. They are slightly specialized, so it's best to use the recommended ones.
Programmers can start with the instructions given and can advance further as per their creativity and programming skills. Also, Freenove provides excellent tech support, which is a big plus. No matter how savvy you are, you never know when you'll get stuck!
Once the robot is put together, it can be controlled in a variety of ways. There is a remote control included, or you can use an android phone or computer. This gives lots of opportunities to play with code to make it do all sorts of cool things.
3. Budget Option – Infinity Cube Fidget Toy
Infinity Cube Fidget Toy
This is a high-quality fidget toy for anyone who likes to have something to fiddle with while they're thinking.
The Infinity Cube Fidget Toy is a great option if the computer major in your life is a fidgeter. Many of the computer programmers that I know have a tendency to pick up and play with anything they can find. The harder they're thinking, the faster they fidget. This is why this is a really lovely gift.
Moreover, it's also a smooth and noiseless device that offers excellent tactile feedback. The combination of high-quality ABS blocks and stainless-steel metal rivets makes the block superbly durable.
This is the kind of fidget toy that will quickly become a favorite. It's well made and durable and can be manipulated in many different ways. This is ideal for turning over in your hands while you're staring at lines of code on a computer screen.
4. Best Practical Pick – FineInno Mini Crumb Vacuum Cleaner
FineInno Mini Crumb Vacuum Cleaner
This mini vacuum cleaner is well-designed and great for removing crumbs and dust from keyboards.
Keeping the work or study desk clean is a big challenge for most programmers. This mini vacuum cleaner is a great tool to keep the desk, and also the computer clean from crumbs, debris, and dirt.
This lightweight, cordless cleaner is operated by AAA batteries. and the spiral blades of the fan generate a strong suction. The fan noise is low which makes it great for use in any setting. The filter is super fine and does an excellent job of collecting fine dust from keyboards,
The cleaner can easily pick up hard-to-reach crumbs that get into narrow channels or tiny crevices. Plus, it is small enough to fit inside the drawer. That makes it easy for you to clean up small spaces, without having to go through the trouble of assembling full-size vacuum cleaners.
Thanks to the affordable price tag, this vacuum cleaner offers excellent value. It drains the batteries fast, but at this price point, I would not mark it as a major con.
Plus it's the only vacuum cleaner (apart from Roomba) that won't spook your cat.
5. Best Gaming Keyboard – KINESIS Gaming Freestyle Edge Split Keyboard
While Freestyle Edge is marketed as a gaming keyboard, it's an excellent choice for computer science majors. When you spend a lot of time using a computer, the quality of the keyboard can make a world of difference.
The keyboard comes with a next-generation split design that ensures high convenience and optimal key coverage. The mechanical switches are extremely durable and rated for 50 million clicks. On top of that, the thick palm supports ensure additional comfort.
All 95 keys are fully programmable and ensure full customization. You can even customize the RGB lighting as per your preference. The keyboard comes with a SmartSet configuration app that is simple to navigate. With low latency values, each key is highly responsive.
Note, this keyboard comes with a steep learning curve that computer majors might enjoy. However, the transition to a split keyboard takes a bit of time and patience. But once a user gets accustomed to it, it's one of the most comfortable options available.
If you are buying this for someone who is currently using a standard keyboard, they will immediately notice the overall improvement.
6. Best Coding Keyboard – Keychron Q1 Pro Mechanical Keyboard
Keychron Q1 Pro Mechanical Keyboard
This one's better for coding than the above KINESIS. Not quirky enough for gamers, though.
If you are looking for outstanding quality and performance, the Q1 Pro from Keychron's widely popular Q Pro Series is a solid option. While it comes at a premium price, this is one of the best mechanical keyboards you can pick for a computer science major.
The first thing you notice while taking the keyboard out of the box is the robust build quality. The aluminum body gives it significant heft, and the high-quality keycaps come with great durability. Not only do the keys sound great but the tactile feel ensures that the typing experience is super-comfortable as well. You also get Bluetooth and USB connectivity, along with a decent battery life.
In addition, the Q1 Pro offers excellent customization options through VIA. By connecting to the VIA website, you can remap the key functions, the RGB lighting, and even customize the volume dial. Besides, all the switches are hot-swappable making repairs easier.
Keychron also adds a small toolkit to the package. That makes making any mods an easier task for enthusiasts.
Using this keyboard as an on-the-go option with a laptop or tablet may not be a practical option due to its 75 percent layout. But for all other purposes, it is a fantastic choice.
7. Best for Gamers – Logitech G502 Lightspeed Mouse
The Logitech G502 Lightspeed wireless gaming mouse is ready to handle anything you might want to play. With 11 customizable buttons, the mouse feels hefty and is well-built. Those with small hands might find it a bit too big, but it excels when it comes to comfort factor
A big plus is excellent click latency that makes the cursor movements smooth and responsive. Another great feature is the "Hyper-fast" mode. By using this, you can blaze through documents and web pages. It also has a customizable weight system that allows you to personalize the experience.
The software used is the Logitech G Hub which allows you to customize all the buttons as well as the DPI. On top of that, there is wireless charging and a LiPo battery that lasts long. The G502 Lightspeed may feel heavy but in terms of flexibility, it is one of the best options you can pick.
Overall, this is a wireless gaming mouse that clicks all the right boxes with its flawless performance. That said, it comes with a high price tag which may drive away some buyers.
8. Best Drone – Ryze Tech Tello
The Ryze Tech Tello is one of the best drones you'll find in this price range. With a flying time of 13 minutes, you can get a lot of fun out of this drone between charges.
It has two antennas, so it can stream video really well. Even if you don't know how to fly the drone, it has EZshot settings, which allow you to capture excellent videos no matter your skill level. The drone weighs just 80 grams and is pretty compact too.
The drone is VR compatible, programmable, and quite simply fun to fly. This is a great gift for anyone, but it should be right up the alley for someone who has chosen to major in computer science.
Note, the Tech Tello can be programmed to perform specific tasks by using the Scratch coding platform. This can be a big plus for any computer major with a flair for coding.
Obviously, the Tech Telo is a minimalist camera drone. But it's the perfect gift for first-time users who are not ready to handle a more advanced version.
9. Best Book for Foodies – Cooking for Geeks
Cooking for Geeks is a fascinating book. It's a cookbook with a difference. While it does contain recipes, it also includes explanations of the science behind why these recipes produce the flavors they do.
Because, as any chef knows, there's much more to cooking than just tossing a bunch of ingredients into a pan. To really get it right, you need to know the hows and the whys. And there's quite a lot of troubleshooting too – another similarity with computer science!
The book is also well written, with illustrations and charts (and an occasional recipe for a quick, late-night meal).
This is a great gift for anyone who likes food and wants to know how to get the most flavor possible out of their food. It will make you look at cooking in a completely different way.
10. Best for App Developers – Mobile UI/UX Design Notebook
If your computer science major spends time developing mobile apps, then this Mobile UI/UX Design Notebook is an ideal gift.
It's just what the name says – a humble notebook. Each page contains 6 mobile phone templates. Within the templates, there is a grid to make planning the layout easy. This is the perfect pad on which to tinker and plan their next incredible creation.
11. Best for Laptop Users – OMOTON Vertical Laptop Stand
OMOTON Vertical Laptop Stand
A well-designed stand for two laptops that helps to clear up space on the desk.
This double dock stand is a great gift for developers working with multiple laptops. The aluminum alloy stand has a top-notch surface finish and is compatible with most laptop sizes. So, you can expect solid durability from the hefty unibody structure.
The insides of the slots are covered with a layer of non-slip rubber that prevents the laptops from slipping and helps to keep them vertical. A big advantage of the vertical orientation is the optimization of the precious desk real estate. 
And you can even adjust the stand by using the included screwdriver to fit laptops of different thicknesses. That makes it a versatile option.
The stand is designed to allow clearance between the laptops and allow airflow. This allows hot devices to cool down and also allows space for connecting the charging cables. In fact, you may find the ports more accessible in this position.
All in all, a sleek and strong laptop stand that developers and programmers will love.
12. Best Interdisciplinary Book – Video Game Storytelling
Video Game Storytelling
An informative book about understanding narrative techniques that is a must-read for game developers.
In truth, a book is not a usual gift for game developers. But game development also involves learning about storytelling basics and applying them at every stage of the development process.
The author of Video Game Storytelling, Evan Skolnick, is a veteran game writer and producer. It focuses on writing the best narrative for a game. The author provides examples and insights from some of the top games and discusses the proper application of storytelling principles. 
Even though the author presents a large volume of information, the simple and straightforward writing style makes it easy to read and understand.
Any game developer looking to provide an immersive experience to the players will find this book incredibly insightful. In fact, this is also an ideal gift for gamers who would like to take a behind-the-curtains look at the concepts of game development.
13. Best for Maintenance – pureport USB-C Multi-Tool Phone Cleaning Kit
pureport USB-C Multi-Tool Phone Cleaning Kit
No more using toothpicks to clean USB-C ports! This tool has all that you need to extend the life of your phone or just about any port.
Keeping the USB-C ports of a gadget clean can be a tough task. Enter the PurePort multi-tool cleaning kit- a perfect solution for the problem. Ordinary swab-type cleaning kits can never clean the internal surface of a port like this specially designed device.
This kit comes with 6 different tools that not only clean clogged and dirty ports, but also restore cable connectors and remove problems like intermittent connectivity. The tools can even clean damage related to oxidation that causes blackening of the pins. 
In addition, there is a separate tool for cleaning speakers and microphones. A cleaning solution is included in the package that works with tools 4 and 5.
The product comes with detailed instructions that make it easy for the users. While it will not resolve all USB-C port-related problems magically, it removes debris effectively. It is a practical gift for mobile game designers that wil keep their devices working for longer periods.
14. Best for Eye Protection – livho Blue Light Blocking Glasses 2-Pack
Spending a lot of time staring at computer screens can lead to eye strain. It can also cause sleep disruption and headaches, especially during the night hours. These Blue Light Blocking Glasses screen blue light and reduce digital eyestrain.
These glasses come with special HEV-Adsorb technology. It uses the process of substrate absorption to absorb the blue light. Also, since the lenses are clear and free from any pigments, it doesn't produce any color difference.
In addition, these lenses also block UV400 rays. They come in a pack of two, so you have another pair in hand if one gets damaged. The TR90 nylon frames are durable but lightweight enough to ensure comfort.
If you're looking for a gift to boost your computer science major's wellness, then this is a good option. They come in a range of colors, but the basic design is fairly 'retro geek' in terms of style. Which is another way of saying that they look a little like Clark Kent's glasses. But for the right people, that is definitely a plus.
15. Best for Time Management – mooas Cube Timer
mooas Cube Timer
A well-designed cube timer that does at least some of the boring stuff for you. Plus it looks cool!
This cube timer is another great tool that keeps a programmer aware of the time spent looking at the screen. That way, you can take a break and come back after relaxing your eyes.
But it's not just about screen time, or even the fact that it looks pretty cool on your desk, nightstand or in the dog's mouth. (Speaking of the latter, take care as the cube's not very big yet animals seem to find it intriguing!)
The cube can also be used for exercising, cooking, and as an alarm while taking a nap. This cube is available in five different colors, each with its own time settings. It runs on dual AAA batteries and the battery life is good.
Using the cube is super simple. Just flip it over on the desired side and the timer starts. To stop, simply flip it over to the blank side. The alarm volume can be adjusted too.
While it may look fragile, the cube is made from ABS and is sturdy enough to withstand a few drops.  Overall, a great eye-care tool for anyone staring at the screen for long hours and perfect for improving productivity in the long run.
16. Best for Ruby Newbies – Mazes for Programmers
A lot of people get into coding because it's a fascinating way to use simple instructions to generate something complex. Mazes are a great example of this. Mazes for Programmers is a book that delves into the world of mazes and will take a lot of computer science majors back to the joy they first found in coding.
The book introduces 12 key algorithms that allow you to generate mazes. This book is for anyone looking to find new ideas or take their skills to the next level.
The algorithms are in Ruby. However, because the ideas behind all the algorithms are well explained in the book, it's easy to convert them into any other language. It's a good introduction to Ruby for anyone who is new to the language.
17. Best for Sticker Lovers – Adult Achievement Stickers
Adult Achievement Stickers are a great light-hearted gift. If your computer science major needs a bit of a pick-me-up, this is a lovely gift idea. They celebrate all of the things that you need to get done as part of being an adult but don't normally get any recognition for.
What makes these stickers stand out is the combination of hilarious achievement words and bright colors. In short, they are a simple way to brighten up the day. You can simply peel and stick them anywhere you want.
So if you know someone who would appreciate a sticker for doing the dishes, this is a fun little gift. After all, who doesn't like stickers – they're not just for kids!
18. Best for Creative Geeks – MYNT3D Super 3D Pen
The MYNT3D Super 3D Pen is a great option for any computer majors who also like to flex their creative muscles every now and then. This is a great tool for creating cool 3D models.
This kit comes with some sample ABS. However, it might be worth getting some PLA filament as well, This is the less smelly option, and it is likely to be of more use. You just need a standard 1.75mm filament, which is easy to get hold of.
This 3D pen can be used to create all sorts of cool things and is sure to appeal to many people. It does help if you're good at drawing if you really want to get the most out of it. This is an easy to use option that is a pretty solid alternative to a 3D printer.
19. Best for Coffee Lovers – Cool Coffee Pot Mug
As soon as anyone in a family begins to show some interest in computers, they inevitably become the person everyone goes to for tech support. If this sounds familiar, then why not give your beloved tech support this novelty coffee mug? 
Not to forget, the chances of any computer science major being a coffee lover are really high.
This mug looks like a real coffee maker carafe and has a capacity of 16 oz. Moreover, it has a sip-style travel lid made from silicone and a comfortable grip handle. It can also be used with anu other hot or cold beverage. Any computer science major will appreciate the unique style and will likely find it amusing. Besides, when you're first starting to live away from home, you can never have too many coffee mugs.
20. Best for Night Owls – Jenvio Stainless Steel Tumbler
Jenvio Stainless Steel Tumbler
A top-grade tumbler to let the caffeine addicts enjoy their drink anywhere, anytime.
Burning the midnight oil as you delve deep in the world of games isn't just about keeping coffee hot. It's also about keeping other drinks cold! And that's where this tumbler comes in.
It's made of food-grade stainless steel with a powder-coated outer surface. The vacuum technology with a double-walled structure will keep the drink warm for up to 8 hours — or cold for up to a whopping 24 hours. That should be enough time to finish that level!
Also, it fits into most cupholders and can be washed in a dishwasher. With a diameter of 3.66 inches, the tumbler is not hard to grip either. Plus, it comes with 2 stainless steel straws and a straw cleaning device. We appreciate the attention to detail which makes it a great item for gifting.
21. Best for Comfort – Qutool Seat Cushion & Lumbar Support Pillow
Qutool Seat Cushion & Lumbar Support Pillow
Say goodbye to back pain and add comfort to your posture by using these pillows.
There's one glitch no computer science major can fix — the one in your back. Fancy computer chairs don't always help either.
That's where this cushion comes in.
The Qutool seat cushion and back support are made from high-density memory foam and can help those with bad posture. (Which is everyone, let's be honest.)
The memory foam has the right amount of softness and ensures that the cushions do not lose shape even after prolonged use. And the best part is, they can add tons of comfort to a lightly padded office chair.
The seat cushion can help in relieving pain and stiffness in the mid and lower back region and ensure all-day comfort. It also helps with any pain in the hip area. The seat cushion has a rubber bottom that keeps it fixed in position. The back support cushion has adjustable straps to hold it in place.
The material does not absorb sweat and allows airflow. The outer cover can be washed as needed. And considering the quality, the price is affordable.
What to Consider When Buying a Gift for Computer Science Majors

Computer Related or Not?
When you're buying a gift for someone who has such a clear preference, it can be tempting to choose gifts that align with this. However, you also don't want to only ever give them gifts related to computing. So, on this list, there is a selection of options. Some are directly related to computing but may be things you might not have considered. There are also some options that should appeal to the kinds of people who tend to pursue computer science majors but aren't directly related to computing.
Fun vs Practical
When choosing a gift, you often have one big decision to make. Should it be something fun or something practical? Which you go for will likely be based on a combination of what you know about the person and what they want.
Practical gifts tend to be more expensive, but they will be used more. More light-hearted gifts are often cheaper but might not see as much use or last as long. We've tried to give you a range of options that fall on this spectrum and should also see a good amount of use.
Redundancy
There is nothing worse than buying a gift and finding that they already have one. When it comes to some of the more expensive items on this list like gaming keyboards or mouses, it's worth checking if your computer science major is happy with their current setup or not.
Frequently Asked Questions

What's the best gift for computer science majors?
Gifts are such an individual thing that there is no one perfect option that will work. Speaking as someone who married a computer scientist, I can tell you they do tend to have some interests in common. They tend to like things involving logic and science, and things that many people might consider nerdy. They're interests are certainly not limited to computers, but many of them do like to tinker with computer adjacent projects, especially things that involve making things.
How do you pick the perfect gift?
The perfect gift often comes from knowing someone well. If you pay attention to what they say and do, you'll soon realize that they most likely have a lot of unconscious habits that can point you towards something that would enrich their lives. For instance, if they have a habit of fidgeting while they are coding them, they might appreciate something like a small fidget cube. It will give their hands something to do while they're focused on programming.
When it comes to finding the perfect gift, a good idea is to look at a lot of different gift ideas. Then comes back to them a few days later. If you are still drawn to the same option, then it's probably a good idea. Sometimes gifts look like a good idea at first, but the more you think about them, the less they fit. This is why it's a good idea to take some time over your choice rather than rushing into anything.
Last update on 2023-12-05 / Affiliate links / Images from Amazon Product Advertising API