Best STEM Toys for Toddlers [Our Top 13 Picks Updated 2023]
*We are reader-supported! This page may contain affiliate links. As an Amazon Associate we earn from qualifying purchases. The price to you remains the same.
It's impossible to overstate the importance of STEM toys for a toddler's brain development. Our brain's basic architecture is laid out during this time. The surrounding environment and early experiences greatly influence it. Furthermore, a child's learning and social skills are directly related to this early period.
Parents often underestimate the role toys play in promoting physical, social, and cognitive development. Toys help build critical thinking, decision-making, and problem-solving skills. Apart from honing gross and improving fine motor skills, they further provide mental stimulation during those first three years. That stimulation, along with love and nurture, is the key to healthy brain growth.
A toy that does all that and more is our best overall choice, LEGO DUPLO Classic Brick Box. It's one of the best building sets for toddlers and an excellent example of toddler STEM toys. LEGO DUPLO is excellent for developing engineering and design skills and will also build your child's fine motor and problem-solving skills.
IMAGE
PRODUCT
DETAILS 

Best overall

LEGO DUPLO Classic Brick Box

One of the best engineering toys for toddlers – your little builder will love them!

Best Subscription Package

KiwiCo Koala Crate

STEM projects designed for your child's age with all the hard work done for you!

Budget Option

LeapFrog 100 Animals Book

The super-popular book brings a fantastic value for the money — kids will enjoy learning about over 100 different animals from 12 habitats.
Our Top Picks in Toddler STEM Toys 2023
1. Best Overall – LEGO DUPLO Classic Brick Box
LEGO DUPLO Classic Brick Box
One of the best engineering toys for toddlers – your little builder will love them!
These DUPLO Building Blocks from LEGO are an excellent engineering toy for toddlers that can develop creativity and fine motor skills. Through trial and error, kids learn how to manipulate the bricks and build what their imagination tells them to. The process is great for promoting problem-solving skills and is a fantastic early engineering toy for toddlers.
What's more, the building blocks are colorful and easy to fit together, keeping kids engaged. Watch your child's creativity flourish with this great value 65 brick set.
We chose this particular set because it features numbered bricks. Those are great for early counting or one-to-one correspondence. LEGO has been producing classic learning toys since the 1930s, and they are still doing that to this day!
You'll undoubtedly get your money's worth with any LEGO or DUPLO set. They last forever, and your child won't grow out of it quickly. This set is an excellent foundation for more complex engineering toys. If you're looking for ideas for other great construction sets, check out our guide to the best DUPLO sets for toddlers.
2. Best Toddler STEM Subscription Package – KiwiCo Koala Crate
These subscription packages have become really popular with parents looking for quality STEM projects for their kids, and with good reason. Even though there are options for all ages, the KiwiCo Koala Crate is especially suitable for children aged 2 to 4. And it's a great way to get started on early STEM skills.
The kits will get delivered to your house once a month, and they save parents a lot of hard work. All materials and instructions are included so your child can create straight away.
There are different themes for each crate, but all are designed with your child's age and skill level in mind. For example, the ocean crate comes with a fishing pole to catch felt sea creatures and all the craft materials you need to make a mosaic marine animal.
The rainbow crate will teach your child how rainbows work. They'll make things like a stained glass rainbow picture, a cloud pillow, and a tie-dye tote bag. A great way to try a range of STEM activities and develop early STEM skills and knowledge.
3. Best Budget Option — LeapFrog 100 Animals Book
LeapFrog 100 Animals Book
The super-popular book brings a fantastic value for the money. The kid will enjoy learning about over 100 different animals from 12 habitats.
I agree that a clownfish may not be an essential part of a kid's vocabulary, but it's beautiful and fun nonetheless! Especially if your kid learns that this is an orange and white animal that lives in the sea. What does it eat? Does it make any sounds – and why not? LeapFrog Animals Book opens up countless directions for their imagination!
With over 100 animals living in the forest, ocean, savannah, jungle, desert, and more, the child will enjoy this amusing adventure every step of the way. Or should I say, every push of a button? Because when they push an animal image, they will hear what it's called, hear fun songs, or even learn fun facts.
What makes this interactive book so remarkable is the fact that there are layers for different ages. A 2-year-old will simply enjoy the colors and sounds. Fast forward one year, they will be able to process some of the fun facts. At four years old, they will already have their favorite animals and start developing an interest in biology. How about learning about baby sharks via a screen-free book instead of Youtube?
Even better, the book features animal names in English and Spanish, which makes it a great learning resource for bilingual children.
4. Best for Math Skills — CoolToys Monkey Balance Counting Math Game
CoolToys Monkey Balance
With the help of this cute set of little monkeys, cards, and numbers, a 3-5 year old child will learn not only numbers and critical thinking, but also basic addition and subtraction.
How many monkeys should you put to balance out a scale? You can go with weighted numbers or equation cards! The CozyBomB Monkey Balance is one of the best math toys because it teaches essential math by stimulating logic and problem-solving skills. The child can play independently, but a parent helping out is also a nice opportunity for some family bonding.
Even though it will be appropriate even for a toddler, this set will grow with your child. Once they learn what numbers mean, you can start offering them the purple and blue cards that show equations. For example, if they put five monkeys as a counterweight to numbers 2 and 3 put together, the scale will level out!
The monkey is fun enough as it is. But if your child prefers frogs or piglets, you can pick those variations too.
5. Best Science-Based Toy – B. Toys Wee MD Medical Kit
Toys Dr Doctor Medical Kit
Gorgeous tools to get your little doctor started on a career in medicine!
Our list of the best toddler STEM kits would not provide a rounded curriculum for your little one without a science-based toy. However, finding science toys appropriate for toddlers can be a hard task because they are often too complex or fiddly.
That said, while not strictly a science toy, the B. Toys Dr. Doctor Medical Kit is a great way to learn some basic scientific principles through pretend play.
The set includes nine doctor's tools:
a stethoscope (with very cool heartbeat sounds)
a pager with lights and sounds
an ear checker
a blood pressure cuff
a safe syringe
a thermometer
forceps
tweezers
a mirror
scissors
Playing with these sorts of sets can help get your toddler familiar with basic scientific equipment and these toys are good for developing hand-eye coordination and fine motor skills.
It also has the added benefit of helping to alleviate anxiety over doctor visits. The carry case is handy for your little doctors to make any necessary house calls (and also for storing their tools when there are no medical issues to attend to)!
6. Best for Sensory Learning — Fat Brain Toys Dimpl Digits
Dimpl Digits Baby Toy
Greatness lies in simplicity! This colorful little toy will teach your 1-3 year old kid or preschooler numbers, counting, and colors.
Ten colorful areas containing nothing but ten numbers, words and colors. Each one has a spongy bubble with dots that simply invites you to pop it in. What's there not to love in Fat Brain Toys Dimpl Digits?
Besides teaching your little one how to count, this simple toy will also provide them with immense sensory satisfaction. Touch is one of the most direct methods for early exploration of the world around us, and that's what this toy was built around.
Best of all, it develops the most basic STEM concepts and skills sneakily, so you don't have to worry about overwhelming your child with numbers at such an early age.
The toy is appropriate for kids up to five years of age, but you can safely offer it to a one-year-old too. It's made of a combination of ABS plastic and food-grade silicone, so there's no harm even if it ends up being chewed! (Which it probably will, let's face it!)
What I especially like about it is that it's a very inclusive toy. Even though it was made with all kids in mind, it will also be appealing and handy to kids on the autism spectrum or those with ADHD.
7. Best for Computer Literacy – LeapFrog My Own Leaptop
LeapFrog My Own Leaptop
A handy piece of technology for little learners who want to get a taste of working on a laptop.
With an alphabetical keyboard that makes learning letters and spelling ever more fun, the LeapFrog My Own Leaptop can be a great introduction to computing. It will get your toddler accustomed to the real thing. They can even send and receive "pretend emails". A convenient way to make them more patient while they are waiting for mom or dad to stop writing those boring emails!
A great feature of this laptop is that it can be customized to help your child spell their own name – an excellent early learning skill!
The LeapTop features various interactive learning modes including music, ABCs, numbers, games, and messages. Furthermore, bright colors, animals, and animations help keep kids engaged. And the carry handle is perfect for taking this toy out and about.
This toy is great for developing basic computer skills, as well as the alphabet and simple vocabulary. It's an all-around decent learning aid and has certainly earned our recommendation as one of the best computing toys for toddlers this year.
8. Best for Fans of Blocks — Melissa & Doug Pattern Blocks and Boards
Pattern Blocks and Boards
A real example of how STEAM (Science, Technology, Engineering, Art and Math) can be appealing for kids as young as 3, this toy combines problem solving with creativity.
With 120 different tiles in six colors and many different shapes, children can enjoy creating abstract shapes. To help them out, Melissa & Doug Pattern Blocks contains ten ready-made designs. But when they grow tired of them, they can make whatever they want. It's a brilliant example of an open-ended play.
So why exactly is it one of the best STEM toys for toddlers? Because it will help your child learn geometry, which in turn will boost their spatial awareness. Younger kids can improve their hand eye coordination and fine motor skills by fitting all of those little shapes together.
Note, however, that many pieces are really tiny. That's why this toy is only appropriate for 36 months of age and up. And even then, some pieces may end up all over your home if you don't supervise the kid!
9. Best for Laugh and Play — Fisher Price Laugh & Learn Smart Stages Piggy Bank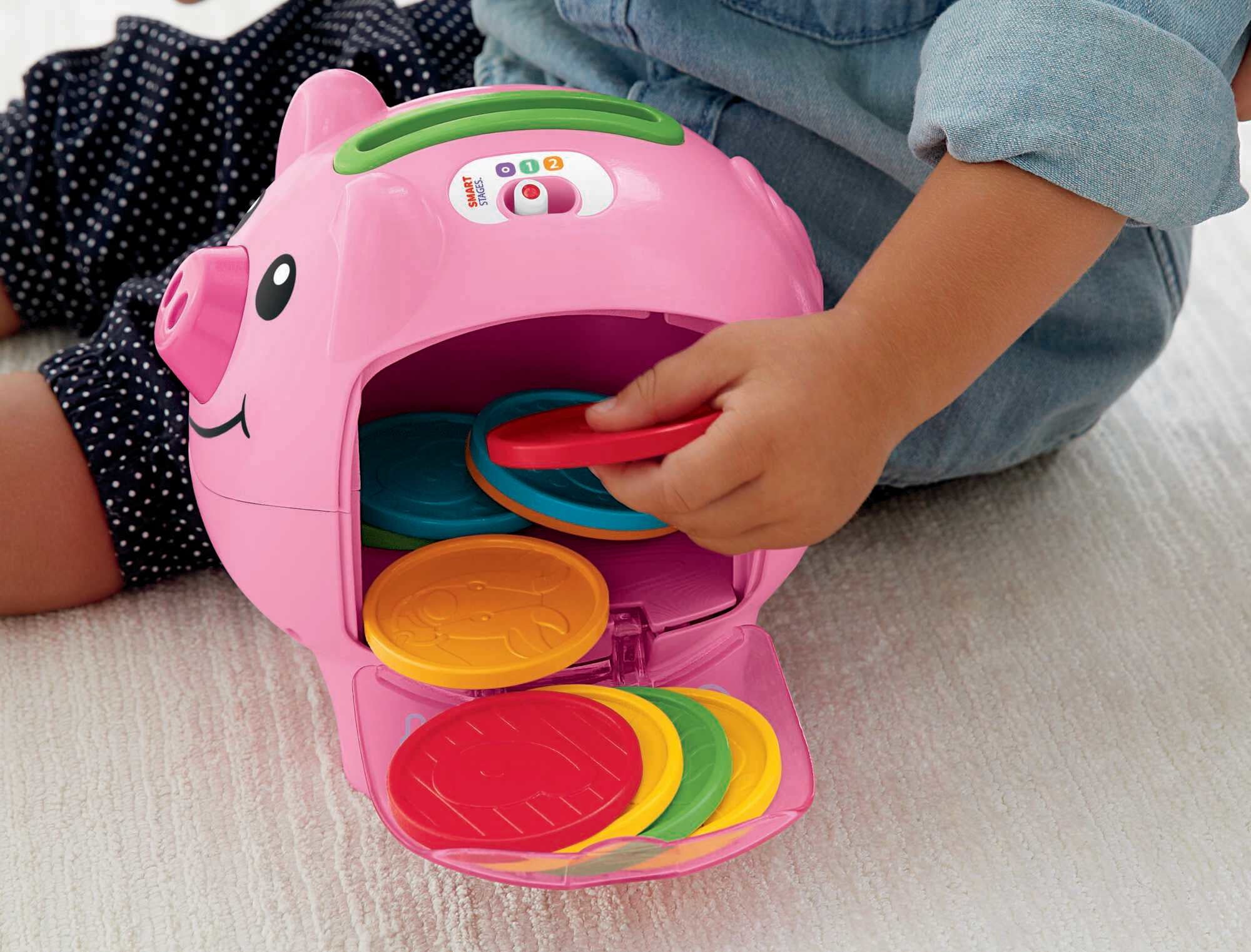 Laugh & Learn Smart Stages Piggy Bank
A super fun, oinky toy for babies and toddlers to make them laugh while playing and learning.
Is there a better way than Fisher-Price Piggy Bank to make babies learn than making them giggle and laugh? This product consists of an adorable piggy bank and ten coins of different colors. The coins have animals printed on one side, and numbers on the other. Those are neat ways to introduce some of the basic concepts of STEM!
While still a baby, your child will probably enjoy booping the piggy's snout the most. But as they grow, they can also learn counting. How many coins are there? And how many of those are yellow?
Parents who are into a frugal living will also appreciate the fact that this toy will teach their kids the importance of saving.
10. Best for Engineering — Haptime 237-Piece Construction Set
Haptime 237-Piece Construction Set
Appropriate for all ages from three to ten years old, this construction toy will let your kid play for hours!
Can you make beautiful shapes with a power drill? Sure thing! With Haptime 237-Piece Construction Set, you can choose from 2D or 3D. Create all sorts of animals, plants, trees, flowers, trees and flowers, or even a robot! There are 43 patterns to follow, but the kid can also make their own.
Little engineers will especially enjoy the countless screws and bolts, gears and cogs that they can manipulate to their heart's content. A great way to boost or tap into their imagination and interest in science technology engineering and math.
This kit could be a great gift for preschool boys or a daughter who's fond of tinkering, making, or building things. Even though it still hasn't gained immense popularity, it is hands down one of the best mechanical toys for toddlers we've seen.
11. Best for Water Play – Boon Building Bath Pipes
Boon Building Bath Pipes
One of the best toys for little engineers and great for water play!
This innovative little Boon Bath Building Pipes set is a great engineering toy for toddlers to develop a bunch of skills. The idea is simple: different shaped pipes stick to the tub with suction cups while your little one pours water through them.
Some of the pipes also have watermills in them which are great for learning about cause and effect. This set comes with five pipes and three tubes. Your toddler can explore different combinations and work out how to make water flow between them.
Developing problem-solving skills like this can really help your kid to start to understand the basics of engineering.
A problem parents often find with bath toys is that the suction cups come off the wall easily. These ones stick firmly to the side of the tub though, and the colors are very inviting.
If your child really engages with the building pipes, there is also an extension available called Boon Cogs, which is a similar idea but with cogs that stick to the side of the tub.  These are also great mechanical or coding toys and could be used with the pipes or on their own.
12. Best for Magnetic Play – Goobi Juniors Construction Set
Goobi Juniors Construction Set
Join the magnetic bars and balls together to create awesome 3D structures.
The Goobi Juniors Construction Set is a great magnetic building toy for toddlers for developing creativity, motor skills and basic engineering. The pieces are large, colorful and simple – well designed for smaller hands! Magnets on the end of the rods attach to the balls, allowing toddlers to build endless different configurations of 3D structures.
The magnets are strong enough to hold their creations together but not too strong to make it difficult to take them apart and build something new. Although the magnets are strong, the pieces are still lightweight for little fingers.
Overall, this magnetic building set is an affordable way to keep your little one busy, while helping develop some essential skills. Additionally, it's also great for laying the foundations for toys like K'Nex.
This 20-piece set includes twelve bars and eight balls which is enough to create whatever your little engineer designs. Great for open-ended designing and learning about magnetism!
13. Best for Dinosaur Fans – SmartMax My First Dinosaurs
SmartMax My First Dinosaurs
Build your own dinosaurs with this magnetic building kit.
If your toddler loves dinosaurs, they'll love building their own Jurassic creatures with this building puzzle take apart toy set. The SmartMax My First Dinosaurs has everything they need to make 5 dinosaurs. Even better, they will enjoy taking them apart and putting them together again – and we all know how much joy there is for toddlers in taking things apart!
The playset is advertised for kids of 1 all the way up to 5. True that! It will grow with your kid. Unlike in some of the similar sets, there are no screwdrivers and wrenches needed to put them together. Still, this set might be best for families with a preschooler and a toddler, where the former will do the engineering work, and the latter enjoy role playing and busting the dinos open.
I like that the pieces are strong and sturdy and won't get damaged easily by rough toddler play. Still, the manufacturer knows how toddlers experience the world through their mouth. So the dinos are soft enough not to hurt little chewers.
What to Consider When Buying a STEM Toys for Toddlers
Safety
There are a lot of STEM toys on the market, but not all of them are appropriate for this age group.  Any toys with small parts or things that could break off are simply not safe for toddlers.
Toddlers love to put things in their mouth, so anything that can fit in there should probably wait until they're a bit older!
Age Appropriateness
It might be tempting to buy your little one some of the very cool STEM toys out there, but make sure they're suitable for their age and skill level. Anything too challenging will result in your toddler losing interest fast! Toys usually have a target age group on the packaging so use that as your guide.
Interests
Your toddler will be starting to develop their own interests so use them as a guide when choosing a STEM toy. Maybe they love to stack things high and knock them over again – you may have a little engineer or builder on your hands!
Or if they love anything to do with animals – a budding scientist perhaps? Encourage these interests, but remember to also introduce them to areas where they might not have had much exposure.
Frequently Asked Questions
What is a STEM toy?
A STEM toy is any toy that focuses on the key learning areas of science, technology, engineering, and maths. STEM toys for toddlers will usually be play-based but they become more challenging and complex as children get older.
STEM toys may target a particular area of STEM (eg. engineering or robotics). Or they might develop general STEM skills like collaborative work or problem-solving.
Are STEM toys expensive?
They can be! But you don't have to spend a lot of money to allow your child to develop STEM skills and knowledge. There are plenty of quality STEM toys on the market that won't break the bank.
Remember that toddlers, in particular, are developing quickly. They will grow out of toys fast, so don't spend too much on this age group!
What STEM skills should my toddler be working on?
At this age, the focus should always be on fun! Things like creativity are important for toddlers and they can always be practicing their problem solving skills.
As they develop their social skills, you can work together on collaborative play and curiosity. Let them ask plenty of questions, but make sure you ask them questions too!
Last update on 2023-12-05 / Affiliate links / Images from Amazon Product Advertising API