Best Chemistry Set for Kids (Top 10 in 2023)
*We are reader-supported! This page may contain affiliate links. As an Amazon Associate we earn from qualifying purchases. The price to you remains the same.
If you are looking for a chemistry set for kids, then you're probably a parent who has fond memories of science kits as a child. Modern kits aren't quite the same as the old ones, and there's a lot to choose from. To help you find the best chemistry kits for your kids, we've got a wide selection of options. Our top picks are the MEL Chemistry subscription boxes. You can get chemistry experiments delivered to your door every month, with everything you need to have some educational chemical fun.
IMAGE
PRODUCT
DETAILS 

Best overall

MEL Chemistry

MEL Science offers two levels of subscription boxes that deliver everything you need to experiment straight to your door.

Best for Future Chemists

Thames & Kosmos Chem C3000 V 2.0

This kit comes with a wide array of equipment, chemicals, and instructions for over 300 experiments.

Budget Option

Glowing Putty Gels and Slime Chemistry Kit

This kit includes everything you need to carry out 13 slime based experiments.
Related post: Best Chemistry Sets for Adults | Explore Chemistry with a Great Kit 2023
Best Chemistry Sets for Kids in 2023
Best Overall – MEL Chemistry/MEL Chemistry Lite
MEL Chemistry
MEL Chemistry offers two levels of subscription boxes that deliver everything you need to experiment straight to your door.
If you are hoping to help your kids develop a love for chemistry and give them a real opportunity to learn, then MEL Chemistry/MEL Chemistry Lite subscription boxes are a great option.
You get everything that you need to perform all the experiments that will arrive at your door every month.
If you go for the classic subscription, your first box comes with a chemistry kit that you can reuse, including safety goggles, test tubes, and flasks. You then get the chemicals and instructions that you need for 2-3 experiments each month. There are 24 months worth of boxes, so you can get 2years of amazing experiments.
The Lite subscription option sends you one experiment each month. The boxes will contain everything you need. There are a total of 12 kits, so that's a full year of awesome chemistry.
Whichever subscription you go for, you'll get enough reagents to do each of the experiments at least twice.
The reason we're such big fans of MEL is that the experiments they send are awesome. They're not the ones you find in every chemistry kit. They are interesting and exciting. Plus, the educational materials are top-notch – there's even VR lessons to go along with the experiments.
Best for Future Chemists – Thames & Kosmos Chem C3000 (V 2.0) Chemistry Set
Thames & Kosmos Chem C3000 V 2.0
This kit comes with a wide array of equipment, chemicals, and instructions for over 300 experiments.
The Thames & Kosmos Chem C3000 V 2.0 is a pretty comprehensive chemistry set. You get high-quality glassware, including test tubes, flasks, and beakers. There is even an alcohol burner, so this feels like you're doing real chemistry.
Because this is quite an advanced chemistry set, it is best for high school students. Even then, adult supervision is probably a good idea for some of the experiments.
The lab equipment that comes with this set lets you carry out a wide range of experiments to explore loads of key concepts in chemistry. This is a great set to help kids get to grips with chemistry and is perfect for science projects.
Not all of the chemicals that you'll need are included. Some of the more involved experiments require chemicals that have limited shelf lives, so you will need to order those separately. However, there are plenty that you can do with the chemicals that are included, it's just something to be aware of.
This is the best chemistry set for kids who are passionate about chemistry and who want the freedom to study the concepts they're more interested in.
Budget Option – Glowing Putty Gels and Slime Chemistry Kit
Glowing Putty Gels and Slime Chemistry Kit
This kit includes everything you need to carry out 13 slime based experiments.
Glowing Putty Gels and Slime Chemistry Kit is a great choice for kids who might be a bit unsure about chemistry. It takes something that kids love (slime) and uses it to sneakily teach them some chemistry.
The kit has everything you need included, which is a nice surprise for such a reasonably priced chemistry set. Using the ingredients, your kids can make more than just the garden variety slime. They can make foam and gel slimes as well as a glow in the dark slime.
The instructions are a little more scientific than you might expect for a chemistry set for kids. So, if your kids are on the younger side, they might need a bit of help, especially with the more involved experiments.
Overall this is a fun chemistry set that is a good way to introduce kids to chemistry.
Best for Creativity – Thames & Kosmos Ooze Labs
Thames & Kosmos Ooze Labs Soap & Bath Bomb
This chemistry set lets kids create their own skin and body care products.
Thames & Kosmos Ooze Labs Soap & Bath Bomb is a great chemistry set for showing kids that chemistry is behind a lot of things that they use every day. With this kit, they can create products that they can use, which can really make chemistry feel much more valuable.
Using the included kit and materials, you can make body scrubs, bath bombs, and some basic cosmetics. Along with the kit, you get some quite cool molds that allow your kids to not only make pretty colored products but interestingly shaped ones as well. This is a great kit for showing kids that creativity and chemistry are not mutually exclusive.
This is a Thames and Kosmos chemistry set, so you know it's going to be good quality. The color guide that comes with it is especially good for explaining the science behind the 10 experiments.
Best No Mess Option – Happy Atoms
Happy Atoms
This chemistry set lets your kids build and discover molecules.
Chemistry is really all about how elements bond together to form new compounds. Happy Atoms is a fantastic kit for letting kids get hands-on with this. They can build models of some of the most common compounds to help them visualize what's going on at an atomic level.
The kit combines physical models with an app that helps your kids to get the most learning out of the set. They have 17 atoms, which they can combine together using some clever bonds that use magnets to hold the compounds together. Because this is a model kit, it means there's no chemical to clean up, which is definitely a plus for parents.
If your child is struggling to understand some of the finer points of chemistry, this is a fun and educational kit that can help uncover the mysteries. With something hands-on and visual, this is a great way to help the dry theory click into place.
Best for Preschoolers – SNAEN Science Kit with 30 Science Lab Experiments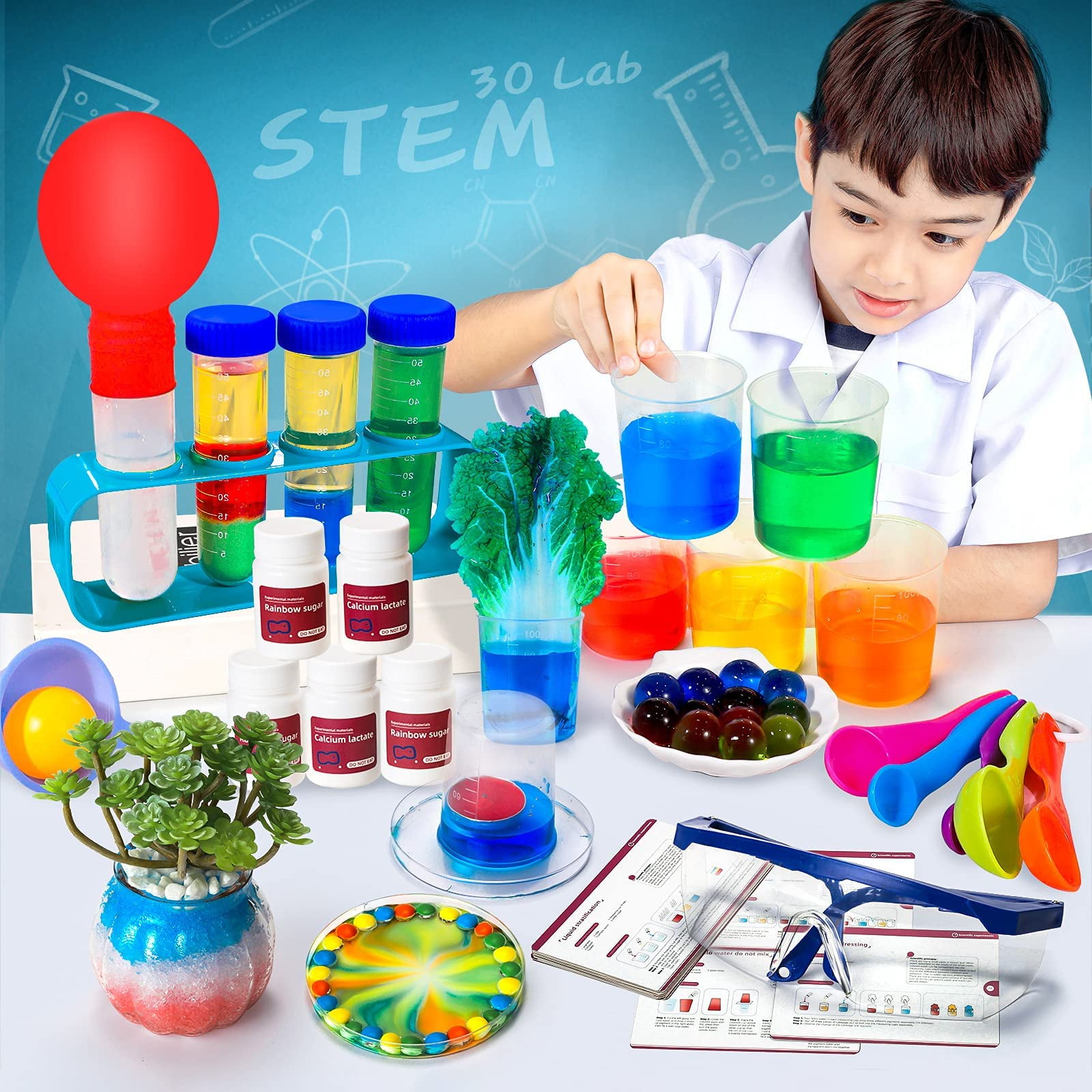 SNAEN Science Lab Experiments
This 47 piece kit has instructions for 30 experiments that are suitable for preschool and elementary school kids.
It's never too early to get kids excited about science. The SNAEN Science Lab Experiments is a great kit for doing just that. It has a great selection of lab equipment that is not going to break but still looks 'scientific.' There has been a lot of thought put in, so the equipment is scaled to be a good size for younger children to use.
The experiments in this kit focus on bright, colorful, and fizzy experiments. Just the type of experiments that younger kids love. This makes it a great first chemistry set.
A nice touch with the kit is the chemical bottles. They come in easily resealable bottles, so you can come back to them later. You also get a good amount of all the chemicals, so you can easily repeat the experiments.
Best for Teens – KiwiCo Fire Lab
KiwiCo Fire Lab
This exciting science kit lets highschool students perform fire-based experiments.
Let's be honest; one of the things that makes chemistry exciting is the fact that you get to play with fire. The KiwiCo Fire Lab gives kids a chance to do just that. Before you panic, the set is well designed, and there are lots of safety features. An especially nice touch is the stand for the alcohol burner, which makes it almost impossible to knock over. Of course, adult supervision is recommended.
This kit is sure to excite teens about chemistry. It gives them the chance to carry out experiments that they will probably only have watched as a demonstration at school.
Not only is it exciting, but it's educational too. The instructions that come with the kit are comprehensive and explain all the chemistry behind the experiments as you go.
The kit comes with everything you need to carry out seven different experiments. This is a really good option for teens who might have already tried a few other chemistry sets as it has things they probably won't have done before.
Best for Learning Food Science – Playz Edible Candy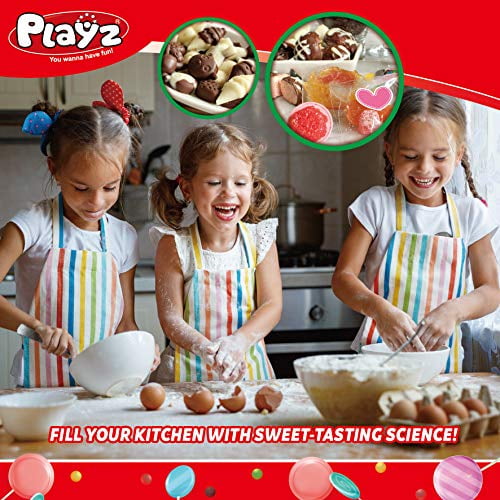 Playz Edible Candy
This is a fun and exciting science kit that lets kids eat the results of their experiments.
Playz Edible Candy is a chemistry kit that focuses a little more on the fun than the science. However, it is very fun and a great way to introduce the idea that cooking is actually chemistry.
The kit has 30 different recipes that let you make a wide range of candies. The things you can make include gummy worms, chocolates, and sugar crystal rings and wands. It's a really great option for kids who love candy and cooking.
The only thing to be aware of with this kit is that the instructions are British, so some of the measurements are metric. A quick google search should sort that out for you though, just remember that icing sugar = powdered sugar and cornflour = cornstarch.
This is a kit that kids are going to have fun with, just don't get your hopes too high that they'll learn any complicated chemistry!
Best for Growing Crystals – 4M Crystal Growing Science Experimental Kit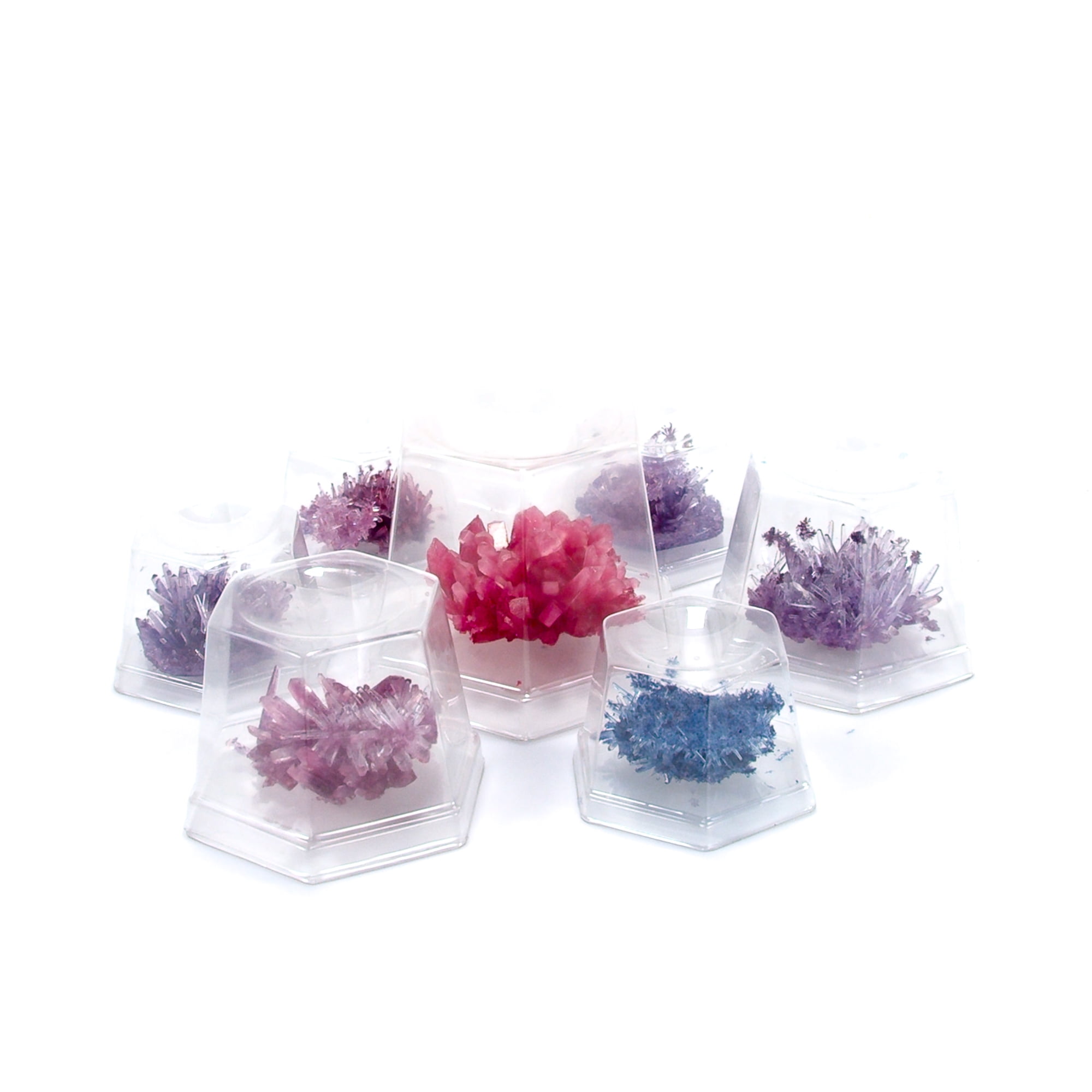 4M Crystal Growing Kit
This kit includes everything you need to grow seven different crystals.
Growing crystals is a favorite chemistry experiment of many kids. This 4M Crystal Growing Kit is a really good kit for growing some great and colorful crystals. All you need to add is water. Everything else is included.
These crystals grow slowly over the course of seven days. It's nice to have a chemistry experiment that lasts a little longer. Many of them are over in a flash, but this is something that your kids can come back to over and over. It's great for exciting them about chemistry.
At the end of the seven days, you'll have seven different crystals in a variety of shapes and colors to enjoy. There are even display cases, so you can keep your creations for as long as you want.
This is a good experiment set to get for having fun and getting inspired, but you're kids aren't going to learn a lot from it, other than the importance of following directions carefully.
Best Unique Chemistry Kit – The Purple Cow Water Gel Science Kit
The Purple Cow Water Gel Science Kit
A kit that's different from all the rest – the experiments are a proper visual show!
The Purple Cow – Water Gel Science Kit is a different type of chemistry kit. It comes all in one small and neat little tin and has only a few experiments. While there are only 14 experiments to explore, they are things that your kids aren't likely to have seen before.
Following the experiments in this kit will give your kids the chance to experiment with the surprising visual effects that can be created with water gels. There is a mix of transparent and colorful water gel beads, SAP (Super Absorbent Powder), and color tablets. The detailed instructions do a great job of guiding kids to ask questions, form theories, and then experiment to find the answers through their own science experiments.
This is a really interesting kit with something a little different to offer and some good lessons to learn.
What to Consider When Buying a Chemistry Set for Kids

Age Appropriate
There are loads of different options when it comes to Chemistry sets, so it's important to try and match the set you choose to your child's ability. Some of the most basic sets are great for elementary school kids but will feel too simple for high school kids.
Getting the level right will, in some cases, depend on how the kit is intended to be used. If you will be using the kit with your child, then it's not a big deal if it's a little more complicated as long as you can guide them through the instructions and you feel confident in the science.
If your intention is to let your child experiment on their own, then it may be better to choose a more simple kit. The simpler kits also tend to be made up of safer experiments. That said, as long as your child doesn't drink the chemicals, there is little chance of injury with most chemistry kits.
Instructions
The quality of the instructions has a big impact on the experience you'll have. If they are vague, it can feel frustrating. For instance, if you're told to add some of chemical A to chemical B, you don't actually know how much that is. The best chemistry sets for kids have really clear and detailed instructions and often include pictures as well.
The other thing you might want to find along with the instructions are explanations of what is happening. If you just want to perform fun experiments, then this is less important. If you're hoping your child will learn some chemistry, then you'll want to look out for kits with high-quality explanations as well.

Amount of Reagents
There are two different types of chemistry sets. There are the ones that come will all/most of the chemicals you'll need and the ones that rely entirely on you having items at home. It's worth checking which sort the kit you get is and making sure you have what you need on hand.
For the ones that come with reagents (chemicals to react), you'll want to know how much you get. The best kits will come with enough to let you perform each experiment a few times. However, these often end up being more expensive as a result.
Frequently Asked Questions
What's in a chemistry set?
What you get in a chemistry set varies a lot depending on which sort you get. Most of the classic ones will contain a range of 'glassware.' However, for younger kids, this is often made from plastic to prevent breakages. You might get test tubes, beakers, flasks, and measuring cylinders. Many chemistry sets for kids will come with some amount of chemicals. In a few kits, you'll get6 safety equipment, with goggles being the most common addition. You should expect to find a full set of instructions.
How old should kids be before they get a chemistry set?
It depends on the chemistry set that you get. There are some really good chemistry sets that are appropriate for preschoolers. For example, the SNAEN Science Kit with 30 Science Lab Experiments has plastic equipment and safe and easy experiments.
All that really matters is if you are ready to spend some time with your child as they explore the kit you get them.
What is chemistry?
Chemistry is a fascinating subject that covers a wide range of topics. The simplest answer is that it is the study of elements and compounds and how they react with each other and energy. This covers so many topics, which is why it's a great topic to explore with kids.