15 Unique STEM Gifts for Kids in 2023 (Plus NEW Releases!)
*We are reader-supported! This page may contain affiliate links. As an Amazon Associate we earn from qualifying purchases. The price to you remains the same.
It's that time of year again. What's going to be your pick of the litter? Will it be another educational gift that's going to stir up your kid's curiosity for 2 hours just to end up in the sad pile of forgotten toys?
That's certainly not the fate that should ever befall a good STEM gift. And that's why we tried to make a list of UNIQUE gifts, many of which are new releases that are not owned by the next kid down the street.
We arranged them by age since that's the easiest way to find what you're looking for. But don't expect just toys – there are activities, card and tabletop games, courses, and even an app!
(If you're looking for oldie-goldie recommendations such as LEGO, Sphero, Snap Circuits and the likes, check out this ultimate guide.)
Related Post: Best Science Board Games (Our Top 14 Picks for 2021)
STEM Gifts for Babies (0-12 Months)
1. Best 4-in-1 Toy: Dingle Dangle
Dingle Dangle
A silly but very effective diaper changing aide for parents. Also very good for making babies giggle.
If Dingle Dangle looks like a silly little octopus dangling from your forehead, it's because that's what it is.
Ever regretted not having more hands while changing your kiddo's diapers? That's why this 4-in-1 little dangler-rattler-teether-mobile is aptly shaped like an octopus.
Now, it was not exactly made for STEM learning. But then again, babies wouldn't make much of STEM geeks anyway.
However, it's still an educational toy in that it provides a fun way to begin developing spatial awareness. (Especially when the octopus accidentally tickles their tummy as you bend down to dispose of the pooey diaper.)
Those little hands also need some sensory stimulation, and this toy is excellent for that. It rattles and can even be used as a teether.
It's also good as a pranky gift for new moms and dads who need to learn to not take themselves so seriously.
Just don't forget to take it off after going for a quick diaper change when you have your friends over!
Educational Gifts for Toddlers & Preschoolers (Suitable for Children Ages 2-5 Years)
2. Best for Math Skills – Kidx Classbox
Kidx Classbox
A Montessori toy that combines online and offline learning. Good for math and general logic.
If you can't make up your mind between analogue and digital toys, why not get a mix of those two that switches back and forth?
Kidx Classbox is a Montessori STEM toy that consists of an interactive penguin board that connects with an app with tons of games and videos that help develop math and logic skills, as well as a more general brain training.
The actual play is done with rods that kids can use to learn numbers, basic operations of subtraction and deduction, but also abstract STEM concepts that are difficult to grasp intuitively, such as length.
This is a perfect gift for very young children because they'll also refine their hand eye coordination and fine motor skills while playing with the rods, online or offline.
Now, before you start freaking out at the mention of YET ANOTHER screen in your home, hear me out.
If someone offered me an offline world where kids have no access to electronics until they enter middle school, I'd be the first one to say: count me in!
But the truth is, they're immersed in the faux reality of screens since day 1. Sadly, their screentime has gone up drastically during the pandemic.
And if that's how it has to be, it's better to use one of those screens to develop some STEM skills than listen to "Baby Shark" for the 1,678th time this week.
3. Best Online Robotics Course: Brooklyn Robot Foundry Mini Robot Makers
Brooklyn Robot Foundry Mini Robot Makers
4-week course that teaches toddlers and preschoolers how to build cute robots they can then play with.
And now for something completely different: how about teaching your 2 to 5 year old to build robots?
Brooklyn Robot Foundry's Mini Robot Makers is an online course for toddlers or preschoolers and their parents in tow.
Before you frown and think "how the heck is a TODDLER going to build a robot," hear me out.
These are not advanced machines but simple, cute little robots with googly eyes that only take a handful of supplies, a screwdriver, basic electronics and some banging to build.
The most important thing here is not to build sophisticated things but to gain some confidence and enthusiasm. After all, the kids will keep their robots to remind them of their accomplishment! That's one more toy in their pool of toys, but they'll know they've made it on their own.
Tinkering is also great for developing fine motor skills and creative thinking. Of course, there will be things they can't do on their own. But that's why there has to be a grown-up present, to help them out where needed or simply keep an eye on them.
To spur their interest in the topic, every class begins with an illustrated story featuring two characters, a robot called DJ and a child called Adrien. Their mission is to build a robot, but they need a little helper. And this helper, you guessed it, is going to be your little one!
There are gazillions of robotics courses nowadays. But I chose to recommend this one because it's the only course (to my knowledge) that introduces robotics to such a young age.
The only aspect of robotics this course misses is coding. But considering that it only lasts 4 weeks, I guess it would just be too much to expect.
If you happen to live in the Brooklyn area, note that they also offer in-person classes for most ages.
STEM Gift Guide for Elementary Schoolers (5-10 Years)
4. Best Old-School Option: MailPop
MailPop
A sustainable newsletter containing educational texts, illustrations, activity sheet and a 3D paper craft.
MailPop is NOT a toy.
Nor a subscription box. (Or at least not a box.)
So what is it?
It's an educational newsletter that gets delivered to your snail mail once a week.
Yes, you read that right – a nice letter made of paper, the kind your parents used to receive from their pen pals!
Your child will get a personalized envelope containing 3 things: a beautifully illustrated newsletter on various themes (music, meteorology, tourism, surfing, Earth, etc.), an activity sheet with a couple of simple games that match the theme, and supplies to build a paper craft 3D toy.
Now, the letter itself contains 3 sections: a text that describes the phenomenon at hand, word of the week, and questions that should branch out the kids' attention and interest.
However, even though MailPop is intended for kids 5-10, I'm pretty sure that the vocabulary is far too advanced for kids on the lower end of this age bracket.
The price starts at $4.50 per week (depending on your plan), which isn't much. But considering how simple the concept is, one wonders if that's not a wee bit too much? I'll leave that for you to decide, but there's no denying that the surprise element is always a nice thing for kids.
I also like it that this concept is entirely screen-free and plastics-free. It's good to have an option that's 100% recyclable.
Oh, and if you don't fancy paying $18-$24 per month, you can always sign up and you'll get 2 letters for free. Just make sure to cancel your subscription within the first 3 weeks so that it doesn't automatically bill you for the first month.
5. Best Card Game: OuiSi
OuiSi
A 210-piece set of photo cards with instructions for 9 activities and games. Excellent for open-ended play too!
What's a thing in common between the doors on your house and a piano? Keys, of course!
Observing and noting things in common between two seemingly unrelated items is the gist of OuiSi, a 210-piece set of photo cards.
The set encourages critical thinking and the young brain's cognitive capacity. But it also pokes abstract thinking so that kids can learn about shapes, patterns, colors, length and depth, and any other concept you can think of.
On the surface, it looks a bit simplistic in a world where we're drowning in photos. But it allows for unbelievably imaginative play. As just one example: draw ten cards and make up a story about them!
If your kid runs out of ideas, the package includes instructions for 9 activities and games, most of which can be played both solo and with others.
6. Best for Young Builders: Clixo Itsy 18-Piece Pack
Clixo Itsy 18-Piece Pack
A magnetic mix of origami and building blocks that allows kids to build animals, humanoids, jewelry and more.
Magnetic toys have been all the rage over the last several years.
But Clixo is something completely different from the crazy popular options such as Magna Tiles and the likes.
Kids can use them to make 2D or 3D models, shapes and objects. But those objects are pretty unique in that they are more akin to origami figures than towers and geometric shapes.
You can make animals (penguins, caterpillars, elephants, different fish, snails, cats, dogs etc.), vehicles such as planes or helicopters, humans or humanoids such as robots, aliens or superheroes. Wearable items are also an option – bracelets, necklaces, gauntlets, different head-wear, you name it.
The greatest thing is that even this small, 18-piece pack encourages open-ended play where you kids can come up with any number of ideas of their own.
And if they run out of ideas, the manufacturer suggests various challenges on their website.
Parents will be delighted to learn that every single piece is washable. As for safety, the blocks feel quite sturdy and the magnets feel well secured. However, it's always good to pay extra care and supervise smaller kids when they play with magnetic toys.
And yes, these building blocks are waaay more affordable than, say, Magna Tiles.
7. Best for Little Travel Buffs: WompleBox
WompleBox
A travel-themed subscription box that teaches kids the beauty of tinkering, culture, diversity and open-mindedness.
These days, there are thematic subscription boxes for just about everything: from chemistry to natural sciences to math or coding. (There are also super weird and wacky options for adults such as Apocabox for doomsday believers, pet boxes or the so-called "Sockscription" where they send you a pair of men's socks. But that's a story for another time, and another site.)
So it's no wonder there are travel-themed options too. if your child is into meeting other cultures and doing some tinkering while at it, WompleBox is about the best STEM kit you can get them.
There's tons of interesting countries to meet such as Ethiopia, Mexico, France, Scotland, Mongolia, Philippines… What I really like is the sheer diversity of cultures that kids and even adults don't get to hear about very often.
So you're in for some learning too!
Every box also contains supplies and instructions to build simple machines, working models or crafts related to that month's theme, a bunch of collectibles and keepsakes, maps, postcards and booklets, as well as science experiments now and then. For example, the Mexico box will have kids build and decorate a functioning Mayan clock out of wooden pieces. With the Philippines box, kids can build a little wooden car.
That's LOTS of mental stimulation and creativity for the young minds.
Of course, as with almost all STEM subscription boxes, the pricing will depend which time period you subscribe for. It starts at $24.99 per month if you subscribe (and prepay) for 12 months. The price is, of course, biggest for a single-month subscription, at $29.99.
That's also the greatest "downside" of this model: a 12-month subscription works out to a whopping $300. That kind of money could buy you a full-blown, all-powerful robot kit that can do anything you imagine.
(I know, I'm a bit partial to robots.)
But the good news is, if you aren't sure you want to commit, you can always choose any box you like and make it a one-time purchase.
And even if you do subscribe for 3, 6 or 12 months, chances are you won't regret it. Kids love their surprises!
8. Best for Sensory Seekers: CMY Cube
CMY Mixing Color Cube
Learn more about color spectrums, geometry and physics.
Some educational toys are heavily STEM oriented, so much so that they are only appropriate for kids (or adults!) who already have a deep interest in science.
As much as I like them, I would think twice before recommending them as an all-around option for the general audience. Not everyone will enjoy electrical engineering!
Well, CMY Cube is something entirely different. It can teach you or inspire you to learn about color spectrums or geometry or physics. But it will still entertain you even if you're not into science.
Maybe it's because it's a perfect embodiment of the "A" in STEAM (science, tech, engineering, art and math).
And maybe it's simply because it's actually a small kaleidoscope that shows a fascinating play of colors as you turn and spin it at different angles against a light source.
The three basic colors, cyan, magenta, and yellow, will change to all shades of any possible color you can (or can't) imagine.
Oh, and even though it's called a cube, there are actually 8 beautiful shapes to choose from. The other ones are even more fun than the cube.
For example, how about an octahedron or dodecahedron? If you're like "octa-what?", it's time you learned some geometry!
Sensory seekers will especially enjoy it. And once you've had your fill of spinning the toy, you can start using it as a desktop accessory. The only problem is, the desktop stands are sold separately.
Truth be told, the cubes themselves aren't cheap either, whether you buy them from this brand or its competitors. But I had a chance once to try out a similar cube that my friend had bought from another manufacturer, and this one feels heavier and is a bit bigger.
9. Best for Robot Fans: Miko 3
Miko 3
A cute little robot that will entertain, educate and emotionally engage your child.
Repeat after me, everybody: AI can't replace genuine human bond (and probably never will).
That's why cute little robots such as Miko 3 should only be used as a supplement, and not the main thing.
But if you use it right, Miko will strike a chord with younger kids.
The thing is, not only can Miko teach them, but they can teach Miko too! It uses deep learning to pick up, identify and memorize the kid's emotions and respond adequately.
In fact, it's a pretty similar to Anki Cozmo, the robotic toy slash personal assistant that gained a cult-like following. But Anki is currently valued at hundreds of dollars, so Miko is MUCH cheaper (and admittedly, much less sophisticated in that it isn't oriented towards coding skills).
What makes it even more fun is that it moves and has sensors to avoid obstacles. Parents can connect it with the app that directs and tracks its usage, plus suggests some fun activities.
A wide array of educational games and apps it's compatible with will give you a break from coming up with new and new activities for your curious kid. The downside is that most of these apps, as well as integrations with Cosmo Kids and DaVinci Kids, are available through Miko Max, a subscription which you need to buy separately.
Another con – the thing is still in the development phase, so you might face some issues with its functionality. On the bright side, the team are working on it as we speak, and they have a fast and responsive customer service that will help you out in case of any doubts.
Now, you may have legitimate concerns about your kid's personal data. There's no way to know for certain (is there ever?!), but the manufacturer claims the data is totally encrypted and isn't stored on any clouds.
Our overall verdict?
While there are better and more powerful options on the market, they are far costlier too. Miko isn't cheap either, but it does offer a decent bang for the buck.
Educational Gifts for the Older Kid (Tweens & Up)
10. Best Tabletop Game: Blinks by Move38
Blinks Game System Starter Set
Smart, modular magnetic pieces great for solo play or multiplayer mode.
Tweens, teens and adults who love social games are likely to enjoy Blinks, a collection of smart magnetic pieces that blink and connect together.
The starter pack contains 9 blinks, which is more than enough to get a taste of the system.
But how are they smart? And how smart are they?
You see, every blink is effectively an Arduino that contains one game that's labeled on the back. But the exciting moment is that it can both teach and be taught by other blinks!
A great thing is that all pieces are modular, so you can get as many more as you want. The more blinks you have, the more games (and more strategic ones) you can play.
I bought this for my 10-year-old niece. Though we didn't get a chance yet to fully explore the starter set, I hear she enjoys the most a Whack-a-Mole based game where you connect all the blinks together to form a green garden, and then tap the popping red "moles" as fast as you can.
This game is simple enough for a 10-year-old, but I guess anyone would enjoy it. And many of the games are multiplayer, so it's a great idea for family or party time too.
But the best thing is that you are in no way limited to a set number of games. Since these are smart little pieces, they allow for open-ended play and coming up with your own games with the Game Maker Kit. Of course, this is only possible for programmers! Share your ideas with the community on Discord or social media – or steal other people's ideas. The existing codes are open-source, so there's a STEM activity to really challenge your kid.
No matter the age, the players will benefit from developing multiple skills: from spatial reasoning to creative thinking, strategic thinking and problem solving skills.
So what's my final verdict?
Granted, even the starter set will burn a nice hole in your wallet. But then again, it's expectable for a set of blinking micro-controllers that are customizable, expandable and REALLY addictive.
11. Best for Artsy Souls: Buddha Board
Buddha Board
A Zen-inspired water painting board that's great for creativity and relaxation.
Erasable doodle boards are awesome.
But there's something even better: a board for water painting called Buddha Board.
No plastics. No magnets. No ink. No screens or any trace of electronics. No colors even!
If this thing doesn't look like a toy, it's because it definitely isn't one. It's a humble board with a bamboo brush, and a square little bowl. All you need to do is pour some water into the bowl, dip the brush into it, and draw to your heart's content.
What I especially adore about this is the concept inspired by Japanese culture and Zen philosophy. You're not making a piece of art that you can hang on a wall and show it to your friends. You're creating art whose greatest value is the creation itself, the fulfillment and relaxation it brings you.
That's why it will self-erase as soon as the water evaporates!
However, you should keep one thing in mind. This is not a perfect gift for the impatient. Using a bamboo brush isn't easy, and you'll need quite a lot of dedication until you manage to do it right!
(And just when you feel you got it right, voila – your drawing vanished. Quite a lesson in humility and willingness to accept life as it is!)
Another thing I really like is that this is one of those rare gifts that won't harm the environment. The board itself is made of eco-friendly materials. And you don't need tons of consumables or chemical-heavy colors.
12. Best App: NatureID Plant Identification
NatureID Plant Identification
Take a pic of a plant, upload it and get all info you need to care about it properly.
This one is especially hard to pin down on ANY age. Even if very young kids won't be able to use its full functionality, even they will enjoy taking a photo, uploading it and getting the info about it at a click of a button.
But the reason why I decided to especially recommend it for tweens, teens and adults is that the botany-minded among them can use it for comprehensive care about plants.
You'll get descriptions, recommendations, and even info on a possible diseases your plant may have. With a database including over 10,000 plants (and counting) and relatively precise identification algorithm, it will identify most plants. Admittedly, there are some misses here and there, but the algorithm is getting smarter every day. Some features, such as diagnosis, are still in beta.
When did you last water your plant? How much light does it need? Any fertilizers to help it thrive? An experienced botanist won't need much help with any of these. But if you're only just beginning, it will certainly help.
And with $19.99 per YEAR, it's not expensive either. If you aren't ready to pay yet, you can get 3 identifications for free, and then 1 free identification every day.
It's available both on Google Play and App Store.
Top STEM Books to Gift in 2023
13. Best for Indoor Play Ideas: Simple Activities for Toddlers by Lisa Forsythe
HALF a year. That's roughly the amount of time that most little kids are forced to spend indoors if you live in the northern half of the planet.
And no matter the number of toys, it's tricky to keep them entertained and engaged in meaningful activities that go beyond watching yet another episode of Peppa Pig.
Simple Activities for Toddlers is a handbook for parents of kids ages 2 to 4 that offers dozens of educational activities for indoor play. They were designed by an experienced educator and a mom of a toddler who has field-tested all the activities.
A great thing is that most of these ideas only require either recyclables, or everyday objects that you are likely to have already, or very cheap supplies.
Another great thing is that almost all areas of STE(A)M are covered, but the book isn't limited to science. Some of the activities are designed to prod the kiddo's emotional intelligence and self-concept. Others will satisfy their sensory needs. Yet others will help refine their motor skills or feed their general curiosity.
Another thing I like is that the author really did her best to make sure that the activities are eco-friendly.
In short, it's a good all-around resource for keeping your kiddo away from the screens.
Keep in mind, though, that all of these activities require a parent to help out, participate or merely hang around. While I'm the last person who would object to family bonding, many parents sadly don't have enough time on their hands to do this regularly.
Still, it's a nice resource for the odd weekend and/or holiday!
(By the way, we've also done some brainstorming and field testing here at STEMGeek, which resulted in our epic article on 101 activities your kids can do when they are bored. Make sure to check it out here!)
14. Best for Young Chemists: Let's Learn about Chemistry by Stephanie Ryan

Let's Learn about Chemistry
A digestible book for kids – from simple to advance games introducing basic concepts of chemistry up to different states of matter and more.
If you're anything like me, you probably think that chemistry is difficult. (I certainly hope that Mark, STEMGeek's founder and a person with a PhD-backed chemistry geekery, won't take offense.)
To be even more honest, I think it's SUPER difficult. (Sorry again, Mark!)
But after browsing through Let's Learn about Chemistry, I kinda regretted that I didn't have something like that while I was growing up.
It's a very digestible book for kids up to 7 years old that begins with simple games introducing the most basic concepts that all of us are familiar with, such as similarity and difference. From there, it works its way up gradually, in a sneaky way. So that by the end your kid will know about states of matter, macro, micro and submicroscopic things, etc.
Periodic symbols won't be hieroglyphs for them like they were (and still are) to me.
Yes, they'll even know and understand those long, complicated words, without ever having tried to mechanically cram them into their memory (like I used to do way back).
Dr. Stephanie Ryan, the author of this board book, is an experienced educator and science curriculum writer, and it shows. The learning curve is very gradual and it's highly unlikely that your kid will EVER get discouraged or put off by any of the concepts the book tackles.
15. Best Fiction: Izzy Newton and the S.M.A.R.T. Squad by Valerie Tripp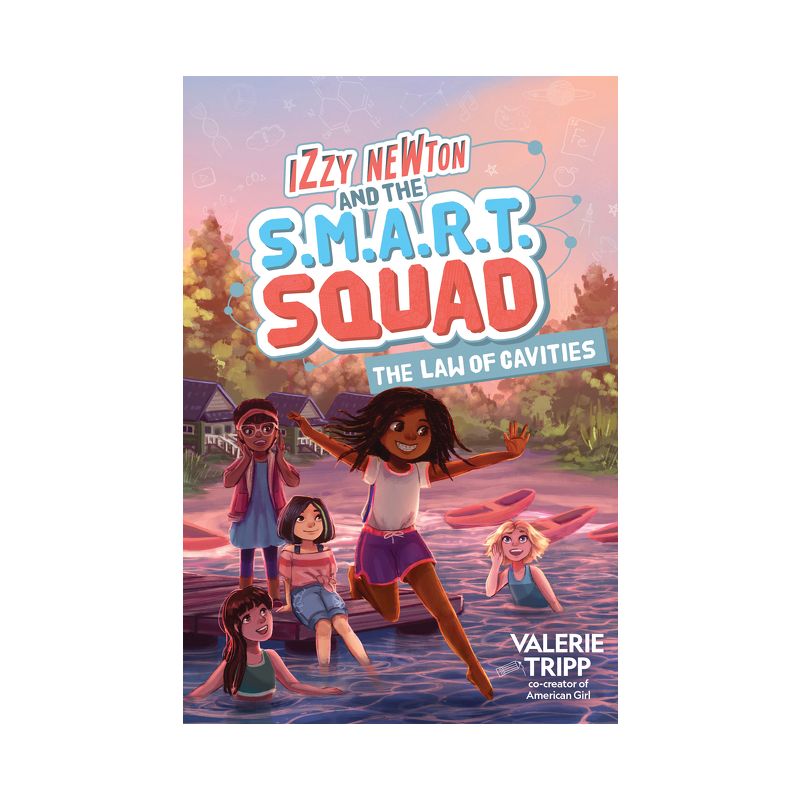 Izzy Newton and the S.M.A.R.T. Squad
A must-have fiction series about a middle schooler and her friends solving trouble with science-based solution.
If you're set on empowering your middle-school daughter for STEM, you may want to tell her about notable women scientists, or buy her a science kit or a coding toy to get her into computer programming.
But if she's the reading type, the best gift would be the amazing fiction series Izzy Newton and the S.M.A.R.T. Squad from National Geographic Kids.
Izzy is a smart and open-minded middle-schooler who hangs around with her friends when trouble hits their school, and they have to use their wits to come up with a science-based solution to save the day.
In the first volume released in 2020, there's a sudden temperature drop in school that threatens both the kids and adults, and nobody has any idea what's going on. Instead of panicking, Izzy and her girlfriends choose to use their brainpower to figure out the solution.
The second volume, launched in November 2021, is even more relevant: all of a sudden, a mysterious illness begins to spread, threatening to shut down the school. So Izzy and her squad are on a mission to figure out what's going on. (Spoiler alert: they succeed!)
Of course, scientific brainstorming is not the only thing that happens in these novels. To make the stories more engaging and relatable, the author included friendships, sports classes, different relationships that make the storyline exciting.
What I especially like about this series is all the hints telling the reader that women belong in STEM. Izzy and her girlfriends have very apt surnames that breathe life into the idea that many notable scientists would have been female in a fairer world: Newton, Einstein, Darwin. But there's also a Marie Curie!