The Best Educational Board Games for All Ages (2023)
*We are reader-supported! This page may contain affiliate links. As an Amazon Associate we earn from qualifying purchases. The price to you remains the same.
Keeping the family entertained while you're at home is no easy task – in times of lockdown and social isolation, it is even harder. You're trying to combat boredom, limit screen time, and promote learning – all while you try to keep family relations as harmonious as possible!
If you're looking for educational board games for kids, we've found some to suit every age group, including adults. Our overall pick out of this list of best educational board games is Ticket to Ride. We love it because it can be played by every member of our family – there are five of us, aged 8+. Not only that, but it is also a visually appealing game and not heavy on complicated rules and strategies.  It is a fun board game for kids and parents, and there are many learning opportunities. From geography to planning skills, Ticket to Ride is an all-round winner for Best Educational Board Game!
IMAGE
PRODUCT
DETAILS 

Best overall

Ticket to Ride

A strategy game for beginners with railway flavor as background theme.

Best Cooperative Board Game

Pandemic

A collaborative board game where you all play together to defeat the pandemic.

Budget Option

Catan

Features high level of interaction amongst players due to constant trading.
Related post: Best STEM Books for Kids of All Ages
Our Top Picks for the Best Educational Board Games
Best Overall — Ticket to Ride
Ticket to Ride
A strategy game for beginners with railway flavor as background theme.
Ticket to Ride is a board game with a railway flavor as the background theme. The original game connects train stations across the US and Canada, but there are other geographic variations such as Europe and Japan. It is a lightweight strategy game suitable for kids ages 8 and above. 
The aim is to build train tracks and connect routes with the chain of carriages you are given. You score points for your tracks. In the end, you get extra points for building the largest continuous track and also for connecting destinations you were assigned to.  The person with the highest number of points wins! It is a fun game for kids and adults alike. 
As this is a beginner strategy game, it is probably less suitable for keen and experienced strategists, and more appropriate for those who are just starting with strategy games, or a mix of the two groups like our family. Whilst my oldest son and I lean a little bit more towards the high end of the 'board game geekness' scale, my wife, daughter and youngest son lean the other way.
Ticket to Ride is just the perfect compromise, it is not too heavy on rules and strategy, but it is also not 'too easy' that you get bored – in fact, quite the opposite. You still need to aim to reach your destinations and need to plan for it strategically. Those plans often change when another player gets in your way, forcing you to review your strategy and apply problem-solving skills.
There is a reasonable amount of tension and competitiveness as we don't really know (until the end) if players have managed to connect the destinations they are supposed to. Ticket to Ride has become our go-to family board game and we highly recommend it! Some of the learning outcomes we have noticed include: 
Geography – our kids get naturally curious and ask questions about cities and countries they had never heard before
Problem-solving skills – it is not uncommon for our kids to get frustrated – often close to tears!!! – when someone gets in their way, but they are becoming increasingly quicker at finding alternative solutions 
Strategy – although far from being strategically complicated, you still need strategic thinking to win (i.e., what is the most efficient way to get from Miami to Seattle?) 
Best Cooperative Board Game — Pandemic 
Pandemic
A collaborative board game where you all play together to defeat the pandemic.
As far as educational board games go, no game could be more timely than Pandemic! Us against the deadly disease(s)! Essentially, you and your fellow players' job is to cure the planet of four rapidly-spreading deadly diseases – you win when/if you cure them all. 
This game is reasonably quick and easy to learn and does not have too many complicated rules. It is also a good visual game – by looking at the colored-cubes on the board, you quickly know what's happening. It's recommended for age 8 and plus, but it covers a wide age range! 
Pandemic is a collaborative game where you all play together to defeat the pandemic – you also often get defeated by it! Needless to say that teamwork is critical here, but don't let that fool you! It gets competitive and tense – you are always hoping to avoid another epidemic and outbreak, and you cheer when you cure or eradicate a disease! This makes for a perfect family board game fun, but we do argue about strategies and actions, and there is constant negotiation.
It's designed for a maximum of 4 players giving 1 colored pawn per person. Each player has a role/character (i.e., scientist, researcher, quarantine specialist, etc.) to play with a special ability. You (your pawn) travels around the world trying to control the spread and to find a cure!
As a family of five, we have been able to play the game by getting two players sharing one role. It has worked fine and, being a collaborative game, we all join the conversation about what needs to be done. This may not be ideal for all families. The good news is there are expansions that cater for more players, such as Pandemic On The Brink and In The Lab. 
Pandemic also has stand-alone variations similar to the original. These variations do not require the original game. The most popular ones include Pandemic Legacy and Pandemic Contagion. Both are recommended for ages 13 plus.  
The main learning outcomes for Pandemic include:
Concepts relevant to epidemiology – this game prompted conversations and questions from our kids around 'What is an outbreak?' 'What is the difference between epidemic and pandemic?' 'What is the difference between cure and eradication?' 'What is exponential growth?'
Teamwork – you have no other choice here, you need to cooperate if you want to have a chance at winning. You also quickly learn how characters interact with each other (i.e., scientist and researcher)
Geography – the world map is the background for this board game and the pawns travel 'around the board' (in this case ONLY, the globe is a flat board!). The game includes several locations that most of us (adults included) have rarely heard of. Thanks to Pandemic, I have learned that Kinshasa is the capital of the Democratic Republic of the Congo! 
Risk management skills – what happens if we leave this disease 'untreated'?
Strategy – what should we prioritize?  
Best Board Game for Interaction — Catan and Catan Extension 
Catan
Features high level of interaction amongst players due to constant trading.
Catan is the modern version of the classic game Settlers of Catan. This is one of the best games for kids as it is pretty straightforward to learn, but not too easy to make it boring or not challenging enough. It is recommended for players aged 10 plus, however, our eight year old had absolutely no problem learning this game. In fact, he managed to win a few times! 
The aim of this game is to build your civilization. You do so by acquiring and trading raw resources (ore, wheat, sheep, clay and timber) which you need to build roads, settlements and cities. 
The player who gets to 10 points first wins. Points are given for settlements, cities, and for certain development cards. There is also a 'robber' that spoils all the fun when it appears on your settlement. 
One of Catan's greatest features is the high level of interaction amongst players due to the constant trading. That means you don't necessarily have to wait until your next turn to do things as you have the option of trading with the active player during their turn.
Catan is designed for up to four players. So, we decided to buy the extension with the original game bringing it up to six players. Apart from allowing more players, the extension increases the resources available to players.
Since I knew Settlers Of Catan, I was confident that getting the extension for a family of five would be a great option, however, for those not familiar with this board game or those with smaller families, the original game should suffice.
 The main learning outcomes for Catan include:
Negotiation skills and trading – in Catan, you are constantly trading resources and some resources are rarer (and more 'expensive') than others
History – this game is a good opportunity to talk to kids about colonization and settlement and how human beings need and, often, fight for resources!
Resource management – how we need resources to build things and to survive 
Best Strategy Game — 7 Wonders
7 Wonders
A unique board game where you can gain points by accumulating coins, playing different cards, and by building your wonder.
7 Wonders is one of my personal favorite family board games. It is strategically slightly more challenging than others (i.e., Pandemic, Catan) as it has more elements to juggle. My oldest son, who is quickly becoming a board game geek, loves it too. The rest of the family has taken to it, but they did struggle in the beginning. 
The goal of the game is to get the most points, and you gain points by accumulating coins, playing different cards and by 'building your wonder' – one of the Seven Wonders of the Ancient World (i.e., Pyramid of Giza, Colossus of Rhodes). All cards have a different function and scoring system and it may take a couple of games before everyone gets their heads around it. 
Many reviewers seem to agree that Seven Wonders can be overwhelming the first time around. My wife's initial comment was, 'it hurts my brain!' But if you give it a second chance, the rules and scoring system will become clearer and you will be able to pursue your strategies towards accumulating the most points. 
We now all love Seven Wonders and think it is a great game. Okay, my oldest son and I love it more than the others do, but everyone in the family will happily play this board game. It is fun, strategically challenging, and it has a good variety of 'wonders' that you could aim to build every time you play the game.
Another great feature is that everyone plays 'together' – there is no turn-taking – and there is trading between players. This makes Seven Wonders highly interactive and reduces any 'waiting time' to pretty much zero, making this an ideal game for 'inpatient' players – a special category that I belong to! 
As a family of five, Seven Wonders is perfect as it can be played between 3 to 7 players. It is a great game option when our kids have friends over. No need for an expansion but, if you do fall in love with this game like we did, there are great options such as Seven Wonders Cities and Seven Wonders Leaders. 
 The main learning outcomes for Seven Wonders include:
History – The Seven Wonders of the Ancient World is the background theme for this game leading to all sorts of curious questions such as 'where is Alexandria'? 
Maths and numeracy – whilst most board games have some maths component (you add/subtract  points, Seven Wonders has a slightly more sophisticated scoring system
Resource management – you need 'resources' to be able to build 'your wonder'
Strategic thinking – you need to think about your long term goals when choosing your next action, and doing this can affect your chances of winning and can minimize your opponent's chances
Best Quick Game — Codenames and Codenames Pictures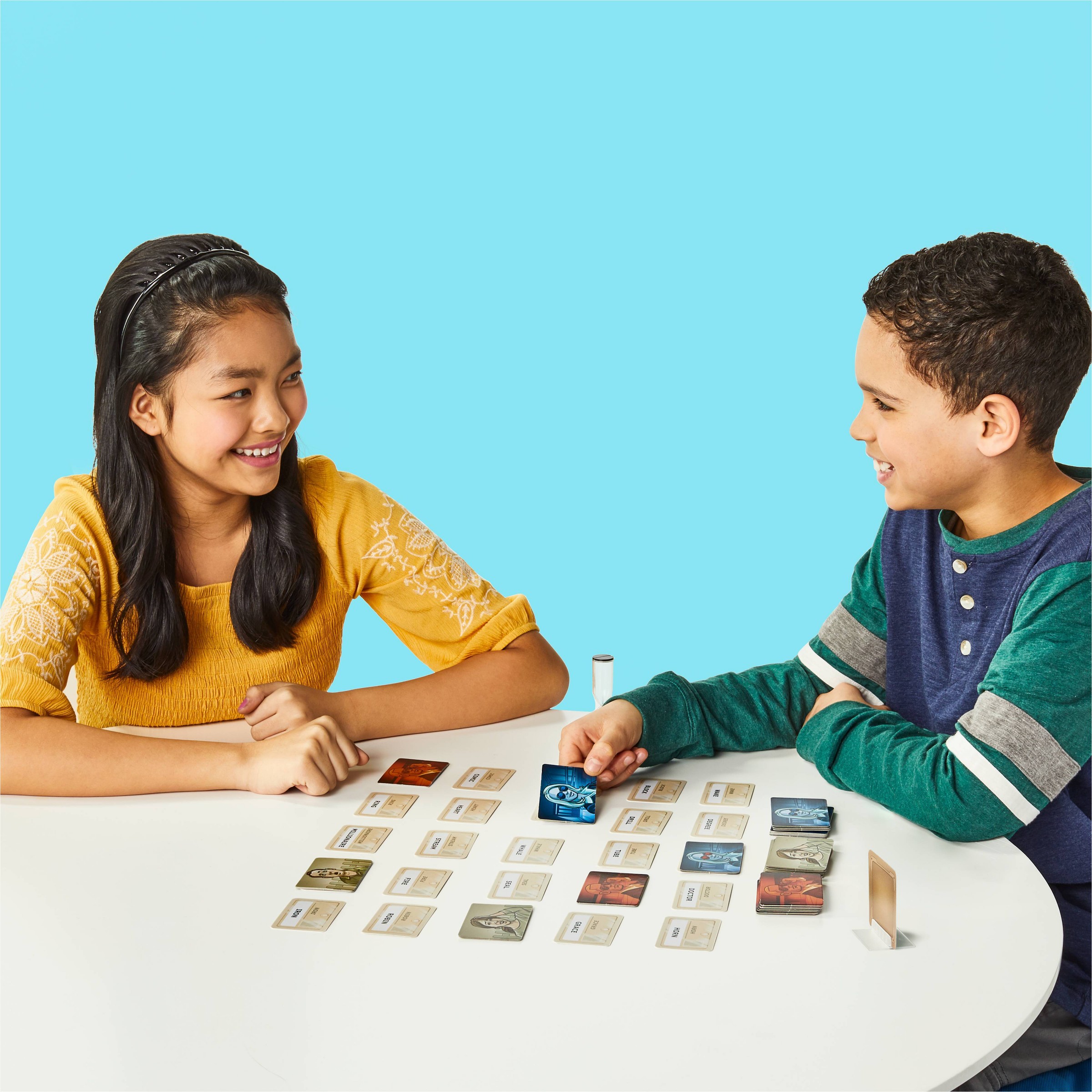 Codenames
A lightweight and fun board game for those who want to take a quick break from strategy games.
Codenames is our go-to quick, lightweight and fun game for when we don't have a lot of time or are a little too tired for a strategy game. Whilst the game can go for about 15 minutes, you can also play multiple rounds extending the fun. The game is also super quick to learn!
You play Codenames and Codenames Picture in two teams. Our family of five splits up in a team of three vs a team of two – two often wins, so the extra player is not necessarily an advantage. 
On the board, there are 25 cards. In the original version of Codenames, the cards represent 25 random words. In the Codename Pictures version, there are 25 pictures. Both versions are played the same way and the same rules apply. 
Amongst the 25 cards, there are cards associated with team 'red' and others with team 'blue.' There are also neutral cards and one card is the 'assassin!' Each team has a spymaster and only they have access to this information!
Each round sees the spymaster giving a clue to their team members who are trying to guess the right card(s) related to that clue. The clue is only one word and can't be the word on the board (if you are playing the traditional version). 
The spymaster hopes their team members will pick the right cards without picking cards associated with the opposing team, the neutral words, or, even worse, the assassin, which immediately puts the game to an end – in your opponent's favor. The team that identifies all their cards first is the winner.
This game can get competitive and risky as your team members have the ability to try to guess multiple cards in one turn! To achieve this, normally, the spymaster gives a 'generic' clue that can apply to as many cards as possible, however there is a risk that such a clue could lead towards the enemy's cards or to the assassin!
The main learning outcomes for Codenames and Codenames Pictures include:
Lateral thinking – you are trying to solve a problem by applying creativity 
Risk Management – you are behind in this game, you have no other choice than hoping you can guess lots of cards in your turn, but 'should I risk it?'
Spelling, Reading, and Vocabulary – if you are playing the traditional version
Best for Incorporating Movement — Hasbro Twister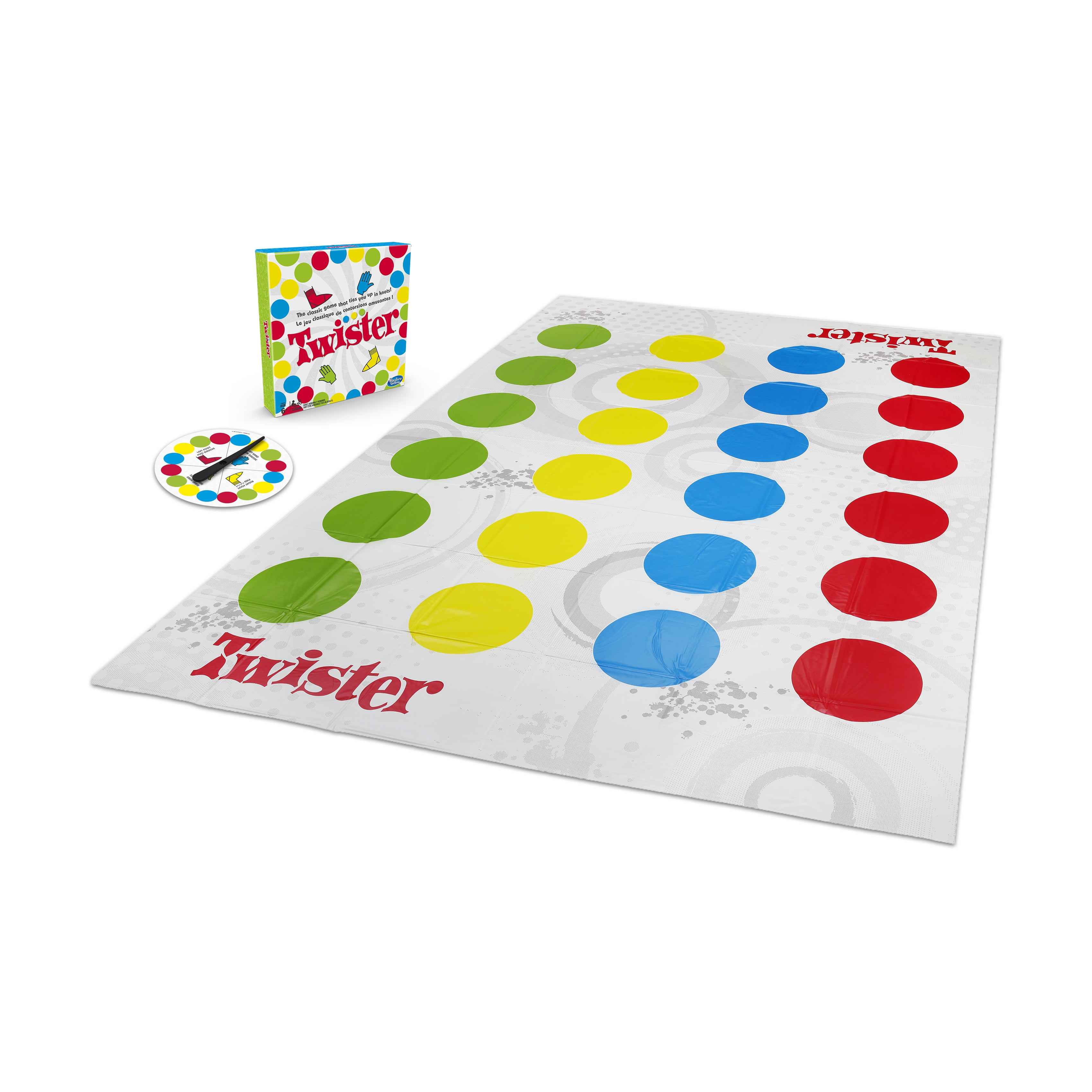 Twister
A great family game with learning opportunities for every age.
Does Twister count as an educational game? Absolutely it does, and here's why.
Twister can be played by every member of the family, regardless of age, and each player will learn something different while they play. Very little ones can practice their colors, young kids can learn their left from their right, and older ones can develop everything from analytical skills to problem-solving strategies. 
Twister is a great opportunity to practice social skills like taking turns and sportsmanship, and every player will learn something about flexibility, coordination, and balance!
There aren't many games that are equally challenging for each member of the family, but this one will put everyone to the test. There's no limit on how many people can play and this is the large family version of the game, so there's room for the whole tribe.
It comes with a Twister mat, spinner, and instructions. For anyone who hasn't played before, the plastic mat has rows of colored circles and the spinner tells players where to put each hand or foot (e.g., right hand on blue). With every turn you take, you get more twisted, and the last player left in position wins. It's good family fun and your kids will be learning without even knowing it!
Best for Very Young Children — Wooden Matching Game
Wooden Matching Game
Call it what you want: a board game, a memory game, or a Montessori toy – it's a great tool to improve your kid's focus! The game works best for 1 or 2 players.
There's nothing complicated about this beautifully made game and that's what makes it perfect for very young children. This Wooden Matching Game will have your kids developing their concentration skills as they focus on remembering where each picture is on the board. 
The images are covered by cute wooden pieces and each player takes turns to lift two pieces at a time. When they match two pictures, they keep their pieces and the winner is the one who has collected the most at the end of the game. Young players will have to focus on remembering where they saw the matching pictures, and the game is also perfect for developing problem-solving skills and practicing fine motor development.
The best thing about this board game is that, while it's certainly more fun and interactive with 2 players, the kid can play alone too.
There will be plenty of opportunities to ask your young players questions like why they think two pictures match or what's different about two images. If you have a toddler, there's a great way to broaden their vocabulary too!
Best for Early School Age — Connect Four
Connect Four
Develop maths skills and strategy with this classic game.
Connect Four is one of those games you could play for a few minutes or for an hour. It's a simple game, but there's a lot of educational opportunities from maths skills to strategy to problem-solving.
Two players each have a set of colored discs which they take turns putting into the slots of a grid. The aim is to get four of your colored discs in a row either horizontally, vertically, or diagonally. Younger players will be able to manage this challenge and older siblings will be happy to play too.
There are more educational benefits to this game than you might first realize. Probability is another skill your kids will work on (thinking about where their opponent might place their disc) as well as spatial reasoning and of course, fine motor skills. The simple games often have the most benefits, even if the players don't realize it at the time.
There's nothing fancy about the set up of this game. It's a standard plastic grid frame with plastic discs. That's all you need for this one though, and I wouldn't expect anything more from the price bracket. Lots of fun and a real challenge!
Best for Middle Schoolers — Upwords
Upwords
A classic game for word play and vocabulary building. Good for kids and adults alike!
This one has been around for a while but there's a reason it's a classic. For those unfamiliar with Upwords, it's like a 3D version of Scrabble. There's an 8 x 8 game board unit and each player has a tile rack and their share of 64 letter tiles. Not only can you make words going across ways, but you can also stack them upwards.
Put your tiles on top of words already in play to make new words. The higher you go, the more points you score, so the game gets more intense the longer you play! It's excellent for developing your child's vocabulary and playing around with phonics, spelling, rhyming, and the way our words are put together.
There are a few versions of this game on the market and this one looks like it's come straight from the 1980s. I like its cool retro vibe, and the plastic board and tile racks only add to its appeal. It feels solid though and the tiles fit nicely in their rack and on the game board. It caters for between two and four players, so it's perfect for a family game at home. If you'd like to expose your kids to a heap of new words, this is definitely the game for you!
Best for Teenagers — uDog
uDog
A game of strategy that's not as easy as it looks.
At first glance, this game seems easy enough – move your marbles around the board and attempt to be the one who gets all their marbles home first. It's so much more than that. uDog is a mix of a board game and card game, and the real fun is in the strategy.
Your moves around the board are determined by the cards you have, but while you're doing that, you also form teams with other players. The strategy is a big part of this game and you'll be surprised how competitive it gets. Teens will love it and they won't even know that they're working on their analytical and problem-solving skills.
The board itself is made of timber and all the pieces are quite durable, so this game set should last your family for a long time. The board setup depends on how many players you have. You can play with only two players, but it's more fun when you increase the numbers to four, six, or eight players.
One of the best things about uDog is the level of complexity involved. You can start off simple when you're learning how it all works, but watch how quickly the game gets complicated when you're all trying different strategic options. This will keep teenagers entertained for hours!
What to Consider When Buying an Educational Board Game

Age of Players
The age and skill level of the people playing the game should be your number one factor when choosing a learning board game. An educational board game for kindergarten players will be very different from something you'd choose for teenagers. Think about the stage of education they're up to and what their learning priorities might be.
Very young children might enjoy a game where they have to identify letters, but older children may like something quite challenging like Scrabble.
If you have children of very different ages at home but you'd like them to play together, you might like to choose a game that's suitable for the whole family. 
Clear Rules or Instructions
Kids' board games need to be relatively easy to understand with clear rules and instructions. If the game is too complicated, children will lose interest very quickly. Of course, games can become more complicated as the players get older and are better able to understand complex directions.
Early childhood games or board games for toddlers will need to be very simple, though. Another benefit of clear rules is there is less likely to be family squabbles. Make sure everyone is on the same page before the game starts because nothing ruins a game faster than an argument over who is not playing fairly!
Fun
It's great if your children are learning while playing a board game but it also has to be fun. If the game is not enjoyable and challenging, it will probably end up gathering cobwebs before too long.
Whether you're looking for an educational board game for elementary students, something for high schoolers, or a game for very little players, make sure they're going to have fun while they play it. Fun means different things to different people, so try to choose something that will interest your kids.
Younger players might like a game that is funny with lots of laughs while older kids might enjoy a bit of strategy in their gameplay. Make it fun and they'll learn without even knowing it!
Frequently Asked Questions
What is an educational board game?
An educational board game is any game where kids are learning while they play. Some games may target maths or literacy skills, while others might focus on problem-solving or strategy.
Games are a great learning tool because children are having fun while they develop new skills. The learning might be quite explicit (a game might require them to practice their multiplication tables) or it could be incidental (learning social skills while they wait for their turn).
It's great if the game is fun as well as educational because kids will be more likely to play for longer or keep coming back to play again.
What are the benefits of educational board games?
The most obvious benefit is that children will be learning new things or practicing skills they are already developing. This is excellent, but there are plenty more benefits to playing an educational board game.
Board games are a great way to spend time together as a family or to develop relationships between siblings. They're also a perfect option to alleviate boredom and keep kids busy.
Playing a game requires the use of social skills so many children will benefit from practice in this area. And quite simply, board games are a lot of fun. They're a great way to have a laugh with your loved ones!
How many people should play?
That's completely up to you and the game you choose! Some games are designed for two players while others can involve the whole family!
Some games can involve only one player and others are flexible about how many people can join. There are benefits to all these games – solo games develop concentration and may target things like patience and analytical skills.
Games for multiple players are excellent for developing teamwork, sportsmanship, and strategy.
Think about what you want to get out of a game and whether you want to develop independent play or foster family relationships. There's a game out there to suit every purpose!