Top 15 Best 6-Player Board Games in 2023
*We are reader-supported! This page may contain affiliate links. As an Amazon Associate we earn from qualifying purchases. The price to you remains the same.
Featured image credit: Marcin Wichary / CC BY (https://creativecommons.org/licenses/by/2.0)
It might be a birthday party, a family gathering, or a weekend at the cottage, but sooner or later, you're looking for a way to entertain six people. For some mysterious reason, most activities, including board games, are designed around two to four players. The same thing for six players can be harder to find.
Luckily, there are several games that can entertain groups of six players or more!
Choose from card development, Euro-style tile placement, role-playing, real-time strategy, and more of each type of board game. Each of the following 6 player board games has its own quirks and advantages. Some are easier to assemble, having fewer pieces, or a stationary player board than others.
The popularity of board games is partly due to their ability to entertain large groups of people, so individual choices will vary for the best 6 player board games. Your own situation may vary. It may be anything including a few unruly kids to some cranky teenagers or a few bored friends. Sometimes your gaming needs are situational, focusing on a weekly gaming session with a certain theme or a holiday gathering.
Some 6 player board games are complicated and intense, designed to entertain more advanced gamers of diverse groups. Certain 6 player games have a less dramatic learning curve than others, ideal for situations that require a mix of newcomers and veterans. The length of playing time also varies widely, from 30 minutes to one night or even several hours.
IMAGE
PRODUCT
DETAILS 

Best overall

7 Wonders

Versatile and economical, this card development game references ancient history.

Best Themed Game

Betrayal at House on the Hill

An immersive game that requires creativity and social deduction in a spooky setting.

Budget Option

Trivial Pursuit

Easy to assemble and learn, this is the original party game.
Related post: Best 8-Player Board Games
Best Board Games for 6 People in 2023
Best Overall – 7 Wonders, New Edition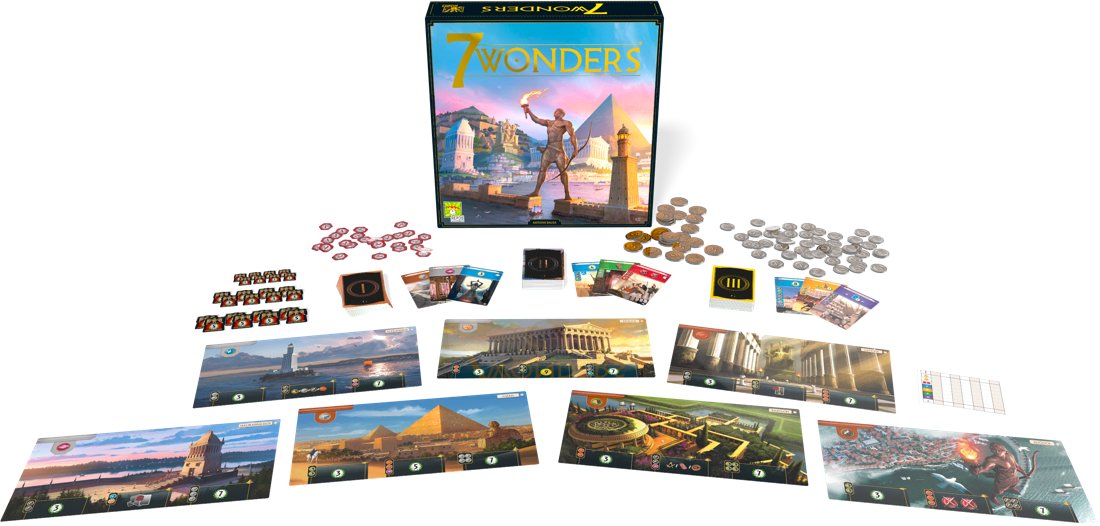 7 Wonders
A card development game that has something for everyone along with being an economical and convenient choice.
7 Wonders takes the spot for best overall game here partly due to sheer versatility, as it can be all things to all players. This is one of the best 6 player board games in a number of categories in regards to gameplay, convenience, and how much you have to spend for the base board game.
This certainly isn't the cheapest game you'll ever buy, but the replay value here is high, and what's included is the best value for the money. Each player uses both tiles and cards to progress and develop their ancient cities.
Players don't create their own kingdoms from scratch but choose which ancient civilization to represent through the three stages of the game. They build cities, trade routes, and famous landmarks to score points. The game lasts for Three Ages, and the player with the most points at the end of the last age wins. The new edition of the game has improved artwork and can be enjoyed by players as young as 10 years of age.
Other board games that include both tiles and cards are often designed for two to four players and require extra expansions to allow room for six. 7 Wonders can be played by two to seven players right out of the box. The rules are different depending on the number of players, but no extra pieces or parts are required.
Best Themed Game – Betrayal at House on the Hill, 2nd Edition
Betrayal at House on the Hill
When hosting a horror night for your friends or just getting the family in the mood for Hallowe'en, this is the ideal game for a themed get-together.
Themed options are but one niche of the vast board game universe and several games touch on the motif but don't plunge in completely. One of the best of these fully immersive themed board games is Betrayal at House on the Hill. Developed and released by the Wizards of the Sword Coast, the same folks that gave us the Baldur's Gate franchise from back in the day, this game is an immersive experience that has an exciting storyline and lots of role-playing options.
Betrayal at House on the Hill uses a system borrowed from European tile placement style, in which the board is built by the players as the game progresses. That means that the haunted mansion is different every single time the board game is played.
Each tile is designed to fit into the other as long as the player isn't afraid to get creative, making the player board unique for every session. The board game contains various scenarios to add further variety to the compelling nature of the gameplay.
The key to the twist in this game is in the title. Each player takes on a different character, and one player turns out to be a traitor and eventually turns on the others. The winner is essentially the last character standing, and it could very well be the bad guy.
Best Budget Option – Trivial Pursuit
Trivial Pursuit
The original, and still the best 6 player board game, it made playing board games at parties cool.
You just can't beat the classics. Trivial Pursuit was once the ultimate party game, which is hard to imagine considering the flashy options that currently exist on the market. The game has a long and interesting history that stretches back several decades. Since its release in 1981, several themed editions have been developed to cater to specific groups, such as Star Wars fans or sports enthusiasts. There are editions for younger players or even explicit versions for grown-ups only.
Part of the game's popularity is how easy it is to learn and play. There are cards involved, but they are intended to be read and not held. Players mark their place on the board using round pieces split into six "pie" shapes, known as wedges. They move around the outer ring of the board, which has a path that resembles a wheel with spokes.
Every correct answer means another wedge of the pie is filled. Once a pie is filled, a player can move to the middle and attempt to answer a final question to win the game.
Trivial Pursuit is limited when it comes to games with more creative settings, and is virtually devoid of features such as world-building, social deduction, player interaction, or role-play. However, this lack of complexity is exactly what makes it the ideal game for 6 players.
Best 6 Player Board Games for Role-Playing
Best Medieval Role-Playing Game – Shadows Over Camelot
Shadows Over Camelot
For those that like medieval settings and role-playing but don't want to commit to a full adventuring campaign.
It's hard to sift through the current selection of medieval-themed games to find the best 6 player board games. Thanks in part to the popularity of shows like Game of Thrones and movies such as The Lord of the Rings, what was once a small niche has exploded into a vast category that stands alone in the world of board games. Shadows Over Camelot allows players to enjoy a medieval role-playing session that takes up less than two hours of time.
Like any proper role-playing game, each player takes on a certain character and is assigned a series of quests. Various scenarios are possible, including those that include famous people like Lancelot and Morgan Le Fay, and one storyline includes finding the identity of a turncoat knight. On the other hand, your own character might be tempted by power and turn traitor themselves. This is a high level of immersion for any board game, and each of the six players has their own quests to complete throughout the course of the game.
The game board is always the same in this case, as opposed to the tile-game motif that other games utilize, but the plot always changes, and each game is a unique story. Players must use a mix of social deductive powers and strategic planning to succeed.
Best Game for Long, Epic RP Sessions – Twilight Imperium
Twilight Imperium
A deeply immersive game that requires a mix of role-playing, real-time strategy, and player interaction.
Right from the start, you should know that Twilight Imperium isn't the ideal choice for a quick, easy game, nor will it fit easily into a budget. However, for those willing to invest both some time and money into their six-player games collection, it's a fun experience and well worth the investment. It might be one of the best 6 player board games currently available, and it certainly has a loyal fan following.
Instead of islands, countries, or planets that you find in other world-building or card development board games, in Twilight Imperium, the player is attempting to control the whole universe. There are no less than 17 factions a player can choose to represent, just as an introduction to this vast part of space.
Twilight Imperium borrows from Euro-style tile games with the game board, which is constructed randomly with different tiles every time. It's also part card game, where cards can offer players resources or actions along with special abilities. It's also a strategy game that requires some role-playing and social interaction, plus it has a lot of accessories, scenarios, and storylines to keep everyone engaged.
This is the ideal game for a rainy afternoon or a lazy Sunday when two to six people at least 13 years of age and up need to kill four to eight hours of playing time. If you have younger friends who want to play, this game works well with teams of two, so it's recommended to pair younger players with older or more experienced ones.
Best Immersive Storyline for a Limited Play Time – The Resistance (The Dystopian Universe)
Not every role-playing or themed board game has to last several hours and require a rather heavy time and financial commitment. The Resistance is a prime example of a game you can play in less than an hour and has all of those features but does them in a compelling way even for the short playtime. That makes it an ideal party game too, and it's also great for friends or family.
The only parts required are the board and the cards, which immediately sets it apart from games like Twilight Imperium that have similar themes and a myriad of usable pieces. There's no dice to throw, no score to compute, no figurines, or tiles to place. It's also light on the wallet, costing less than $20 US for the complete game, which is something everyone likes.
As the title suggests, the setting of The Resistance is a dystopian future. Each of the six players is part of the revolutionary force attempting to liberate the citizens from the grip of an oppressive empire. Social deduction is the name of this game, and there's no system of player elimination. Each person plays until the end and anyone could be a spy infiltrating the resistance forces on behalf of the government.
Best Party Board Games for 6 Players
Best for Gametime Under 30 Minutes – King of Tokyo, New Edition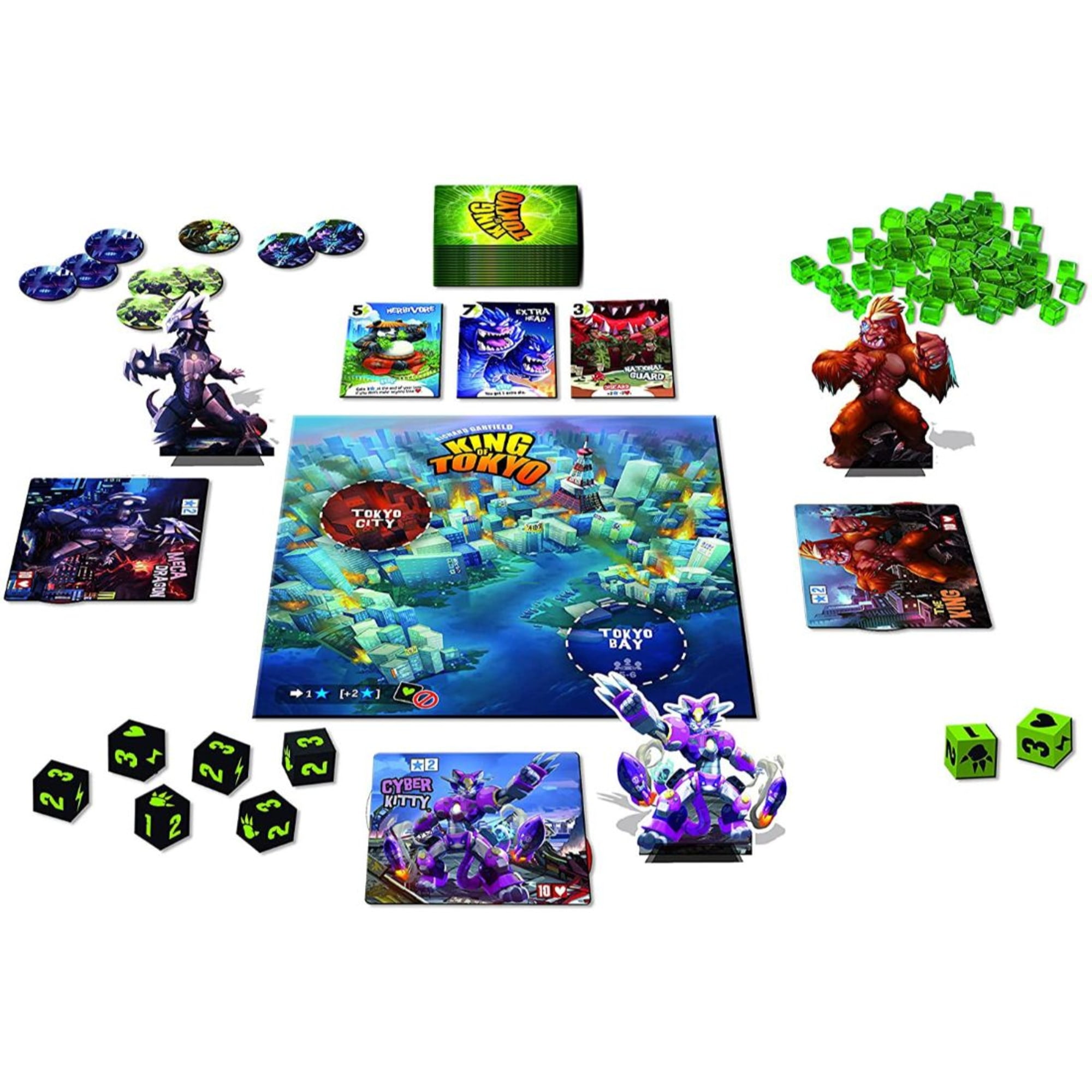 King of Tokyo, New Edition
Entertaining, colorful and flashy, this game is ideal for mixed groups and settings.
King of Tokyo could use "great for kids of all ages" as an advertising slogan. Adults will love the shiny chaos as well, and a quick playtime ensures that nobody gets bored or tired. There's little fighting over the rules, which are simple, and few hard feelings since everyone are out to literally destroy everyone else.
The best six player board games can be a surreal experience, an adage embodied by King of Tokyo. One of your fellow players just attacked you with a giant penguin wielding space lasers. How can anyone take that seriously? Each player starts the game by taking on the character of a different mutant monster, invading alien, or big giant robot. Each of these monsters has the same goal, to be the ruler of Tokyo.
The fast gameplay and animated player interaction make this a great game for any time people get together, such as a simple dinner or a birthday party. A group of kids can have as much fun with this game as the grown-ups, so mixed age groups can play the game together. The new edition contains updated artwork and clarifies some rules to streamline the gameplay even further.
Best for an Easy Learning Curve – Dixit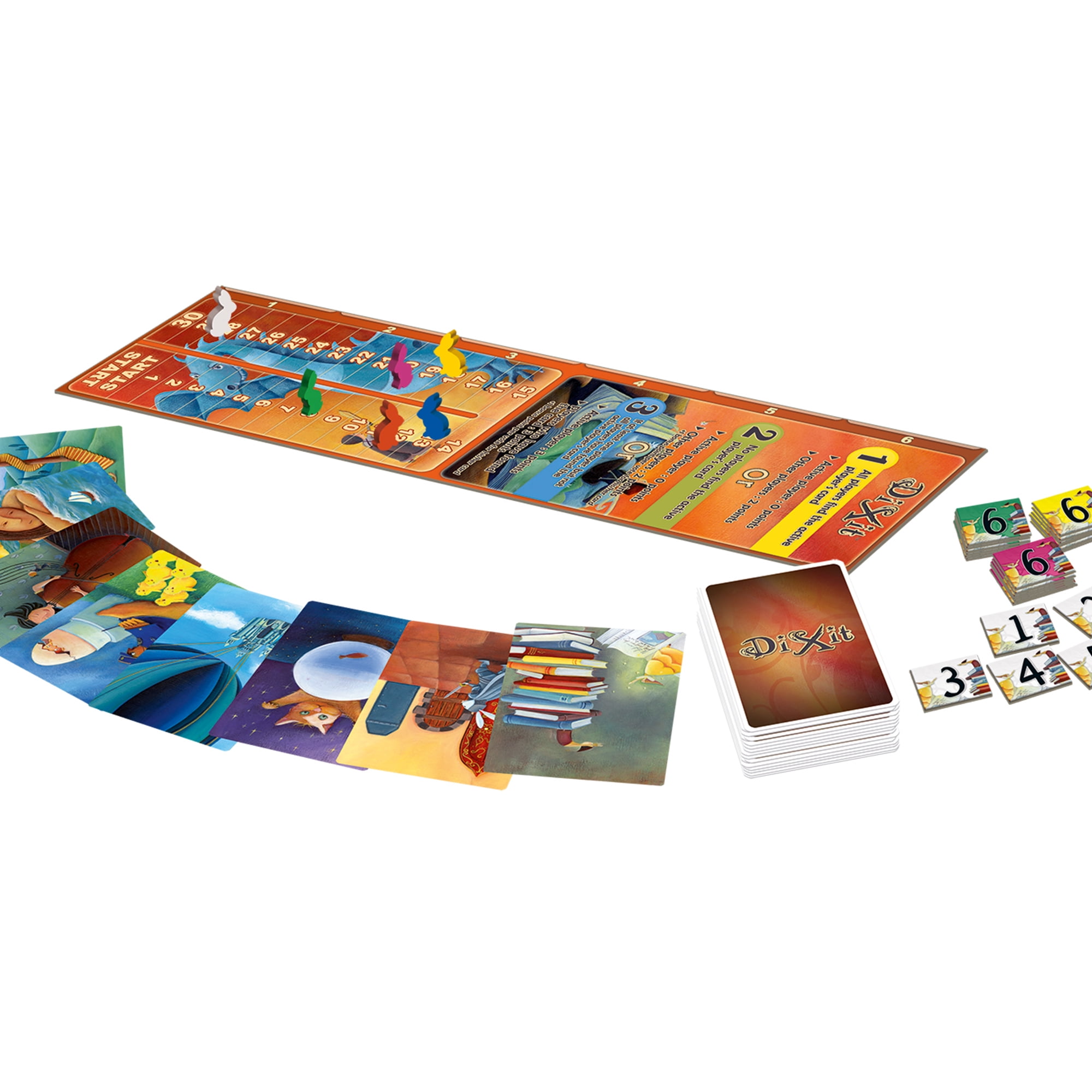 Dixit
Designed mainly for parties to begin with, this is an easy card game designed to entertain 6 players but friends and family can enjoy it just as easily.
Dixit mixes creative storytelling with player interaction to create a fun environment with lots of laughs, making it great for large groups of any kind even though it's advertised as a party game. There are several variations of Dixit as well since the concept is simple and fits into a number of themes and concepts.
This is essentially a guessing game that uses a board and cards, with only some player interaction required. There's no need to mess with small pieces or various scenarios. Each player takes the role of the Storyteller during their turn, in which they have to describe one of the cards in their hand. Very little or no text is involved, giving this game an edge in multi-lingual gatherings.
The game ends when either the cards run out or one player reaches 30 points. There's no process of elimination, theft of resources, or attacking armies to contend with, just a lot of crazy stories, laughter, and fun memories.
Best Non-Trivia Party Game – Wits and Wagers Family Edition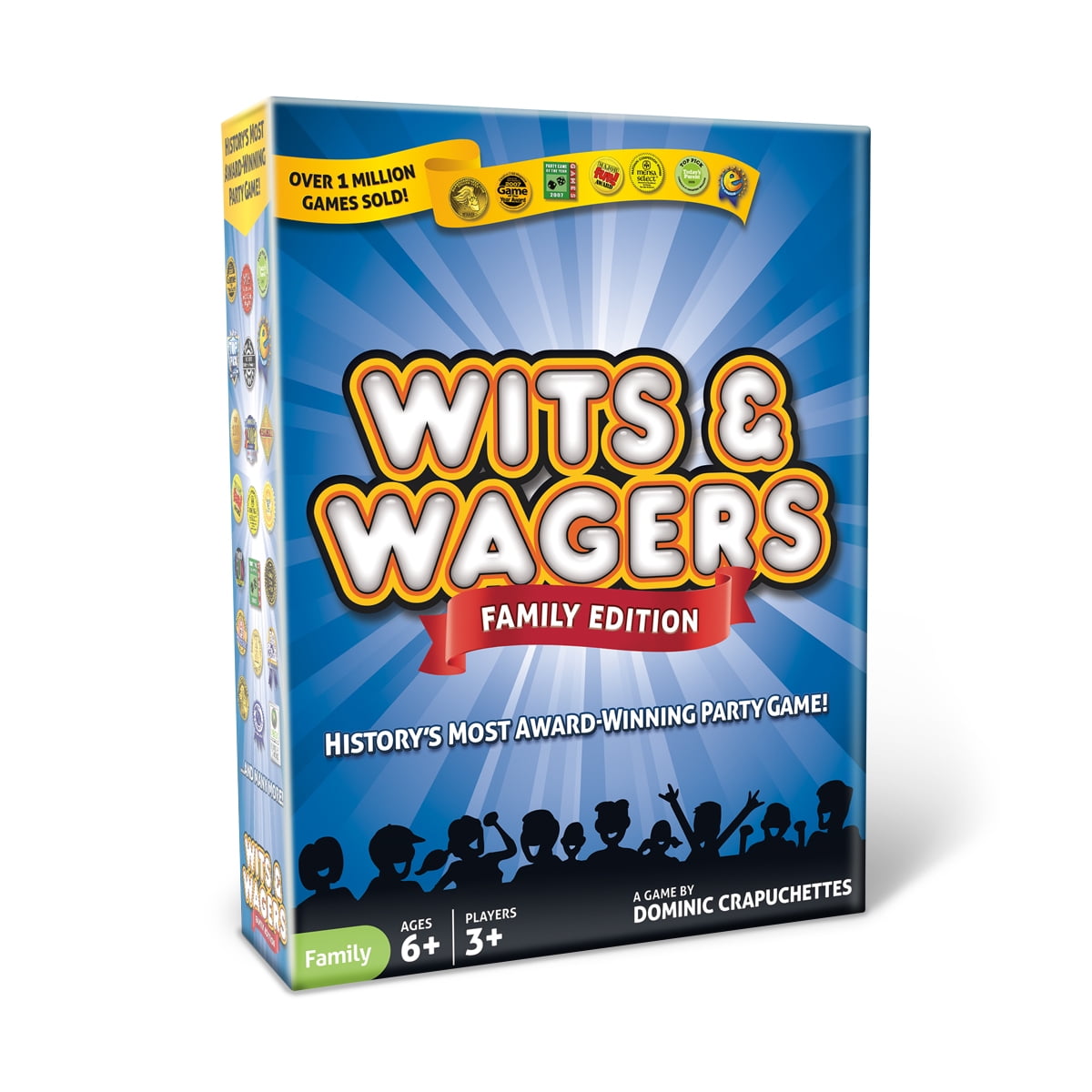 Wits and Wagers Family Edition
A simple but brilliant and fun concept that requires quick thinking and creativity.
Do you hate trivia, but your friends or family always insist on playing a trivia game? One board game for this situation is Wits and Wagers. It's simple to learn, and the materials needed are equally low-maintenance. There are cards, a game board, and the adorable and well-loved meeples that players use to mark their places. Nothing more is required.
On its face, this is a trivia game, but the fun part is where you get to fake the answer. Players can either try to guess the real answer or make something up that sounds plausible, then everyone votes on what they believe is the correct answer.
The twist here is simple. You don't have to vote on your own guess, so it's possible to win this game without being right, ever. It's a fun way to engage everyone in a game of creativity and deceit.
This is about social deduction along with some creative thinking, and the family edition makes it more fun for kids as young as eight years old to play. The players with the highest deductive skills and keenest intuition often win this game. Wits and Wagers is easy to learn and play but takes some special intuitive talent to master.
Best Puzzle, Spy, and Mystery Games for 6 Players
Best Code Breaking Game– Codenames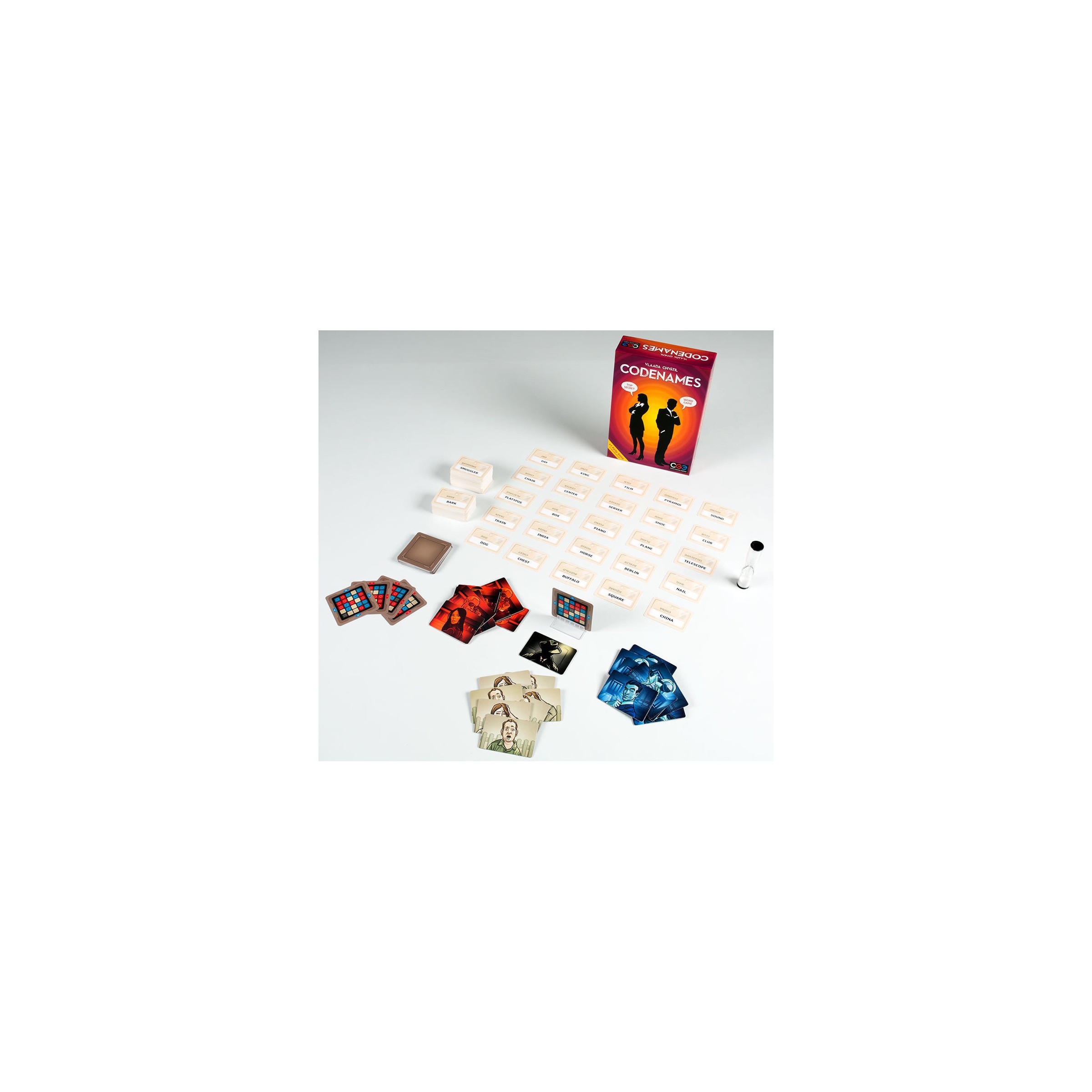 Codenames
A simple and short spy game that focuses on the use of coded names and one-word clues.
For those that prefer to include some wordplay with their board game time, there's Codenames.
This is a game for those that like mystery 6 player board games but prefer the wordplay angle as opposed to the deductive reasoning or player-interaction other mystery board games utilize.
The concept is fairly simple, pitting two teams of spies against each other and basing the progress of the game on the use of simple codes and code words. There's some intuition and guesswork involved, and players not only have to avoid the opposing team's codewords but also dodge the nefarious assassin who targets everyone equally.
The playing time for codenames can be as brief as 15 minutes, making it ideal for round-robin type tournaments or to keep the energy flowing at parties. There are several other themed variations and expansions for the base game if you get bored or want to find something to suit a specific occasion.
Best Mystery Game for the Nostalgic – Clue, 1986 Edition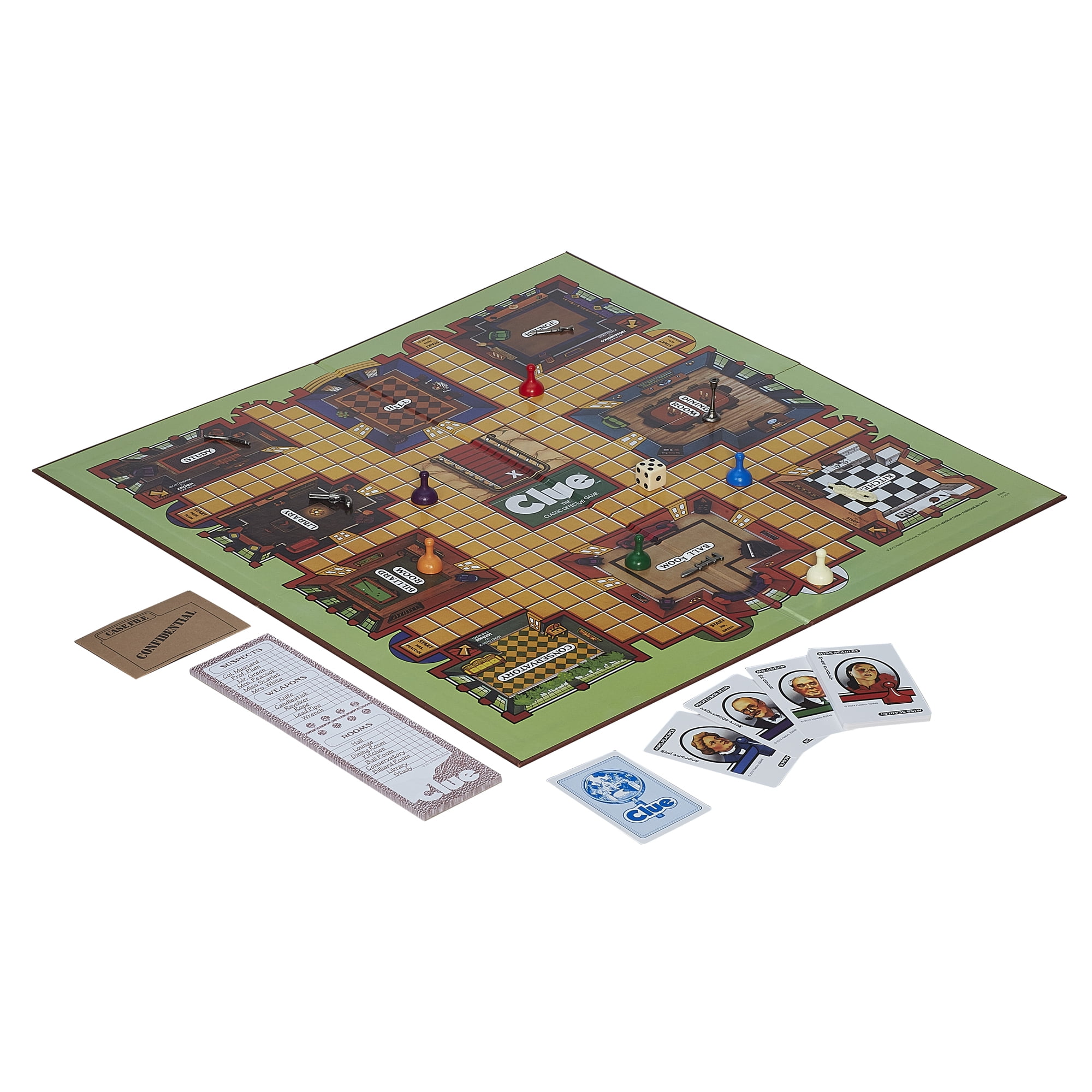 Clue
A classic game with several themed and updated versions, this returns to the basic game with a fun retro look.
This isn't just your old Clue game from back in the 1980s. Any edition of Clue would have some value when it comes to remembering a bygone time, but this one has a revamped version with vintage wooden pieces, weapons, and updated artwork, on both the game board and cards.
It's still that great mystery game with a dash of social deduction and player interaction, and for those more enthusiastic players, some role-playing is fun as well.
Players have to deduce the identity of the culprit, along with where and how they committed the murder of Mr. Boddy. Each player conducts their own investigation of the crime scene, that being the Boddy Estate, complete with several rooms and secret passages. Once a player deduces which three cards are in the confidential envelope, they try to guess the solution.
Although this is often thought of as a game with a player count of four, it can be a six player game as well. The solution is different every time, depending on the cards contained in the confidential envelope, making Clue a fun game to replay.
Best Board Game for a Halloween Party – Mysterium
Mysterium
Solve the mystery of Warwick Manor using clues, deductive reasoning, or mysterious psychic powers.
Be a detective, a ghost, or a medium when you play Mysterium. It's easy to lose yourself in the story of Warwick Manor, which has been confirmed to be haunted by gifted astrologer Mr. MacDowell. One player takes on this role as the medium uses both magic and deductive reasoning to solve an old mystery, while other players take on characters that include the ghost or an investigator.
This is a cooperative game, which means that everyone either wins or loses together. The time limit ensures that each game rarely passes the one hour mark. That makes it ideal for get-togethers where you want to avoid folks getting bored or tension between competitive players.
Even though some complex thinking and deduction are involved, players get clues to help the ghost piece together the events that led to its untimely death. The details of the mystery change for every game, giving Mysterium a high replay value.
Best Euro-Style Tile Games for 6 Players
Best for Mixed Age Groups – Carcassonne Big Box 2017
Carcassonne
Build roads, cities, and monasteries in a game that recalls the medieval days of old Europe.
A classic Euro-tile game and one of the first to make headway in the international market, the original Carcassonne was intended for two to four players, but the popularity of the game inspired more than 30 expansions that can accommodate several more.
It's a complex game but also very easy to learn to play, giving even younger players a chance to participate. Players take the tiles as they would draw cards and lay them one at a time to build cities, roads, monasteries, and other features that are inspired by the real city in southern France.
There are no point limits in the game unless the players agree on one, which is one possible variant if you want to limit your gaming time.
A variety of fun bundles are available for Carcassonne if you're keen to invest in a nice 6 player game, and the 2017 Box set includes The River and Traders and Builders, among others. That's 150 landscape tiles alone, plenty for 6 to 8 players as well.
Best for Real-Time Strategy – Catan with 5-6 Player Expansion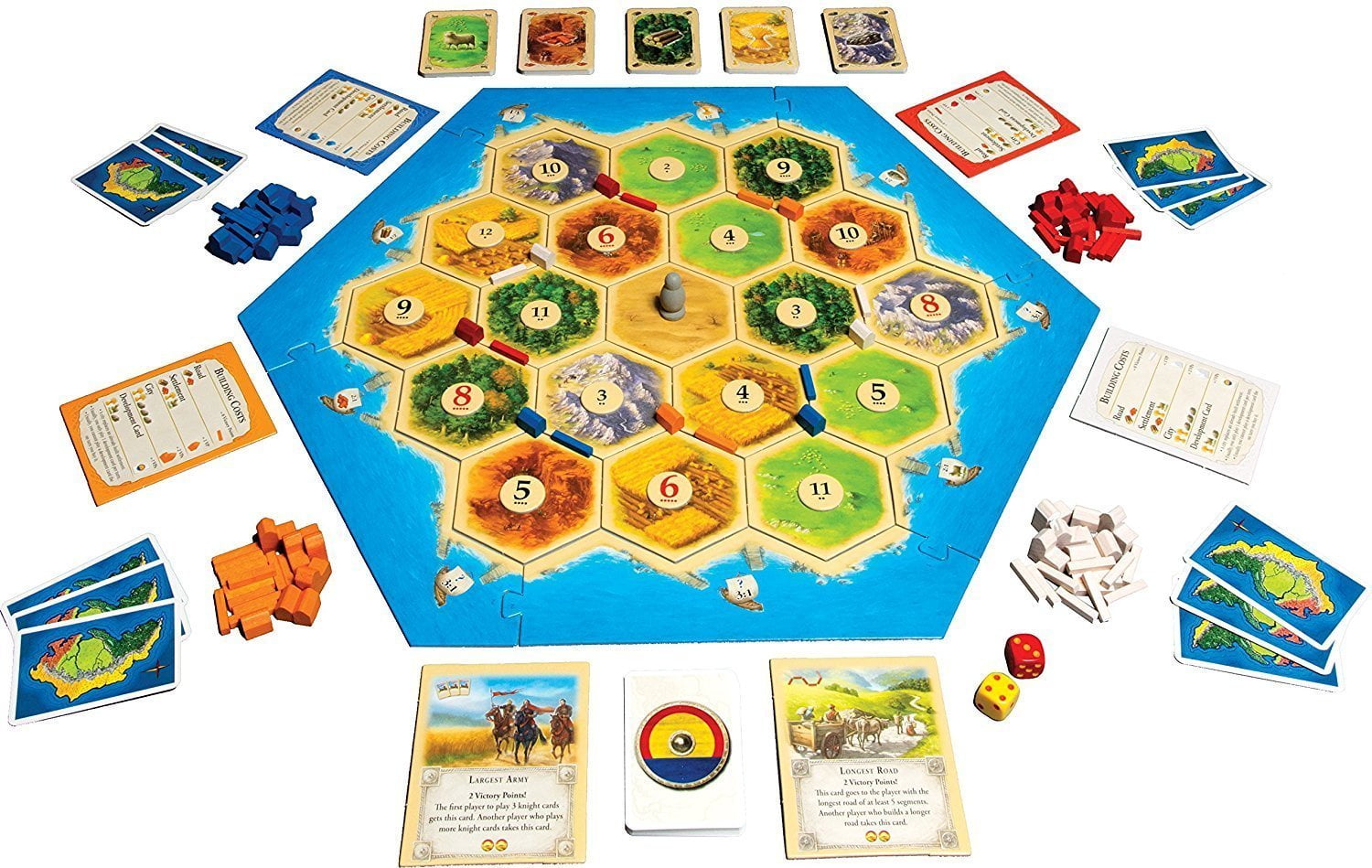 Catan
Build settlements with resources and draw cards to beat your opponents with the highest score.
Catan, also known as Settlers of Catan, is one of the most recognizable board games in the world. It's because of Catan that virtually the whole world understands the phrase "no wheat means defeat." The hexagon-shaped tiles that the board game utilizes are iconic and the game has been produced in a myriad of designs.
Catan has more complex rules than other games in the same category, using both tile placement and development cards, and it is preferable for players at least 10 years of age and up.  It could be a party game if you're hosting a group that understands the basic gameplay, but family and friends might appreciate it more.
It only takes a few turns to understand the basic nuances of Catan, but it often becomes a fairly competitive game that focuses on trading and building. There's some table-talk involved between players, but it's mostly a game of card development and real-time strategy.
Best Fantasy Theme Game – Sorcerer City
Sorcerer City
Build a city using tiles and card strategy, while collecting magical items and trading for precious valuables.
If you start as a Sorcerer, then you might as well have pesky, marauding monsters and conjured buildings that refuse to hold their shape. That's a basic description of the setting in Sorcerer City, a 2 to 6 player game in which each player is a Sorcerer competing with their peers for prestige, money, and valuable loot in the confines of one city.
You'll find this game filed under the title of "board game," but this is both a card game and a tile game, mixing the styles and giving players more options during their turn. Players start with tiles to build their corners of the city and continue with cards that denote actions or items. Occasionally a monster appears in the cards, spreading some chaos to even the best-laid plans of each player.
Sorcerer City is a distinctive board game not only because of its quirky and colorful theme, but also because it has a practical way of limiting game time to an hour with a cap of five rounds and determining a winner via points. There's not a lot of arguing over rules, either, which is always an advantage with a game intended for 6 players.
What to Consider When Buying a 6 Player Board Game
Types of Players
Is this board game intended for a specific audience, like your immediate family or like-minded friends? Or just six people in a variety of general situations when it's your turn to host potluck night? Some board games are more versatile than others, overlapping into role-playing or world-building depending on what the players' interests are.
Setting
A party, a themed gathering, a role-playing session, or is this board game just intended for a rainy day? Another possibility is all the above. Not every game intended for six players has to be a party game, and several board games accommodate larger or smaller groups with different rules. Playing time is a factor, whether there's one night, several hours, or just 30 minutes available.
Learning Curve
Some board games are harder to learn than others, and more complex games are better for mixed groups of adult players or those with a niche interest. In this case, an exception might be games intended for parties since you want to spend more time playing the game than explaining it.
Budget Concerns
Board games that can accommodate more than four players are often expensive, and that's not just for the game itself. Shipping can also be a concern when you think about the weight and size of a big box filled with plastic and cardboard. Keep in mind shipping costs at your location when choosing your best 6 player board game.
Frequently Asked Questions
Are these games appropriate for all age groups?
Board games are generally best for players 8 years of age and up, with little more than dice or simple cards involved in each turn. More sophisticated games that include complicated strategy and cooperative play are better for teenagers or adults, especially since they are harder to learn how to play in the first place.
Can smaller or larger groups play these games?
Each of these board games is also playable by smaller groups, but only a few can accommodate seven players or more. Some board games have expansions that allow larger groups to play but that requires further investment. There are editions of the games that include certain popular expansions if you don't mind spending some extra money initially.
What's the difference between a tile game and a board game?
Tile games are actually a type of board game that was developed in Europe. They're also referred to German-style tile games, and examples include board games like Carcassonne and Catan. Both of these games are designed for two or four players, but there are expansions available that make it possible for six to play.
Are all tabletop games considered board games?
Not all of them. Games that are played on game boards with moving pieces are just one type of board game. Tile games are a type of board game, although the board is built as the game progresses and is different every time. Role-playing games like Dungeons & Dragons are tabletop games, but not board games. Instead of a board, they also use maps, a crucial difference even though similarities include figurines, dice, and turn-based gameplay.