Top 7 Best Carcassonne Expansions (That You Definitely Have To Try!)
*We are reader-supported! This page may contain affiliate links. As an Amazon Associate we earn from qualifying purchases. The price to you remains the same.
Carcassonne is already a riveting tile-game that's great for both kids and adults. The popularity of the original board game has promoted several Carcassonne expansions. There are over 30 expansions and mini-expansions that allow players to add new features to the base game. 
These expansions include various improvements such as new meeples with special abilities, different geographic features, and improvements to farms, gardens, and cities. This is why choosing the best Carcassonne expansions can be confusing. Our opinion is that Traders and Builders is the best addition to the base game overall. It adds a moderate number of extra tiles and few extra meeples that can be used in creative ways and the new game mechanics are easy to learn. 
IMAGE
PRODUCT
DETAILS 

Best overall

Traders and Builders

This expansion includes new meeples with special abilities and extra city tiles that include resources.

Best for Extra Points

Abbey & Mayor

Every single element of this expansion adds to the excitement, kicking off or inhibiting yours or your opponents' progress.

Budget Option

Carcassonne Mini: The Bath

A small expansion that includes 6 extra tiles with bathhouses.
Related post: Simple Carcassonne Strategy Tips
Best Carcassonne Expansions
Best Overall — Carcassonne Expansion 2: Traders and Builders
Traders and Builders
This expansion includes new meeples that enhance existing features and extra city tiles that are marked with local resources.
Traders and Builders was the second expansion developed for the game. It is one of the most extensive but the least complicated. The new city tiles have different features that allow players to create, expand, or cut off other cities and pastures. This invites creative gameplay for completing various features and for scoring extra points. For example, players claim resources by finishing cities that contain the designated resource tiles even if they don't have a meeple there. 
Pigs help the Farmers. They are placed in pastures the player already controls to claim extra points at the end of the game. Builders allow players to draw two tiles per turn when constructing roads and bridges. This makes the game more interesting and helps speed up gameplay. Time can be a factor when playing Carcassonne especially when the game is enhanced by several expansions.
Best for Extra Points — Expansion 5: Abbey & Mayor
Abbey & Mayor
Every single element of this expansion adds to the excitement, kicking off or inhibiting yours or your opponents' progress.
The Carcassonne Expansion 5: Abbey & Mayor includes 12 extra land tiles, 6 abbey tiles, as well as 18 new meeples: mayors, wagons, and barns (6 of each). All of these new pieces are dedicated to scoring more points by using new and existing features. A barn can bump up the value of a field outside the city walls. A mayor can help you control a city, leveraging the coats of arms and outweighing other players' followers.
The abbeys are also useful. While they act (and are worth) like monasteries, you can fill out just about any hole with them. Or, if you play it smart, you can use it to inhibit your opponents' progress.
While it definitely adds some more oomph to the game, this feature-rich expansion pack probably isn't the best choice for people who are only just entering the world of Carcassonne. For them, it might easily be overwhelming.
Best Budget Option — Carcassonne Mini: The Bath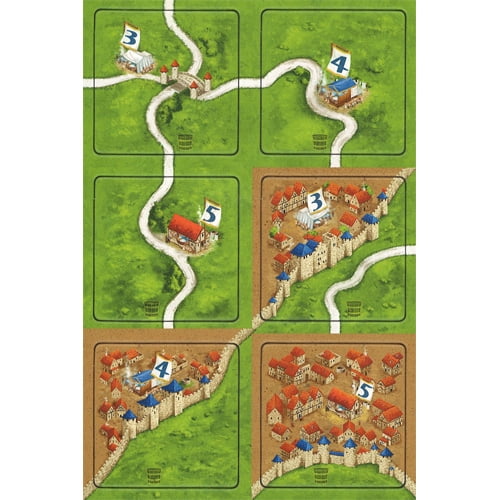 The Bath
A small expansion that includes 6 extra tiles with bathhouses.
Add some extra flavor and surprise to the game with one of the smallest and most economical expansions. The Carcassonne: The Baths expansion is simple, concise, and easy to learn how to use. 
It's also called The Barber-Surgeons. Three of the bathhouses are to be placed in the urban area, and the other three next to roads, in the open area.
So what are these bathhouses for? You can send a meeple there. But there's a caveat: while he will be enjoying his time, he will be unavailable until you manage to release him. And to do that, you need to either place 8 tiles around this one or pay out the bonus.
While it does spice things up a bit, this expansion doesn't really add much extra value or excitement to the game play. But if you are one of many Carcassonne nerds, you'll certainly want to add it to your collection! 
Best for Beginners — Expansion 9: Hills & Sheep
Hills & Sheep
This expansion adds a pinch of surprise and a sense of gambling whenever you draw a token from the pouch.
The Hills & Sheep expansion might be the 9th expansion, but there's a reason why I think it should be the first major expansion you should get if you're still relatively new to Carcassonne.
That's because there aren't many new features that would fundamentally change the game's mechanics. Apart from new city tiles, there are just hills and vineyards – the former to get you an easy win of the ties where you get all the points, and the latter to bump up the value of your monasteries.
You'll also get one shepherd per player, sheep tokens AND two wolf tokens – ouch! Now, obviously, you'll want to grow your flock as every sheep brings you extra points. But the bigger your flock is, the greater the potential damage if a wolf shows up!
And the wolf showing up is not a question of "whether" but "when." This is because you'll draw tokens from a pouch that contains both the sheep and the wolves, so it's essentially the question of luck and not strategy or deliberation. Some players might not like this gambling aspect, but I think it adds a nice touch of excitement. After all, not everything in life boils down to skill and deliberation!
Best for Strategic Gameplay — Carcassonne Expansion 1: Inns and Cathedrals
Inns & Cathedrals
The first expansion is also one of the most extensive and includes extra features for every facet of gameplay, especially cities.
The Carcassonne Expansion 1: Inns & Cathedrals includes several new and unique tiles that add higher risks and bigger payouts for players that love building. It also gives players an extra-large meeple that counts as two, which can make that big city or road construction more secure against opponents looking to steal some easy points.
The special times from which the expansion takes its name are used to double the score that players can get for both roads and cities. An Inn doubles the points from a road and a Cathedral doubles the points for a city. Building and claiming these structures come with a risk, however. Any incomplete feature at the end of the game that includes Inns or Cathedrals will reward no points. Combine this with the Bridges, Castles & Bazaars and players can auction off these valuable pieces rather than risk using them.
Best for Historical Accuracy — Carcassonne Expansion 6: Count, King & Robber
Count, King, & Robber
This includes some historic and geographic features inspired by the real city and combines the best features of several other expansions.
The city of Carcassonne is a real historic place complete with many medieval features like walls and castles that are visible in the game. The Carcassonne Expansion 6: Count, King, & Robber expansion combines the features of several mini-expansions, including tiles that represent that actual city of Carcassonne in place of the usual starting tile. 
Using the city of Carcassonne as a central feature changes the game mechanics and gives plays more options and rewards for building. The King and Robber Baron tiles are used for keeping track of who built the biggest city and the longest road, and the Count prevents other players from para trooping into your space.
Best for High Adventure Fans — Carcassonne Expansion 4: The Tower
The Tower
An expansion that consists of a vertical feature that captures opposing followers.
For those adventurous players that want to add a fantasy element to their base game, The Tower is the most obvious choice. This vertical feature is unique among the Carcassonne expansions which are usually two-dimensional. The foundation is made up of 18 extra tiles and there's a handy box included that keeps them hidden until they're drawn. 
Meeples that are placed in the feature can guard the countryside and actually capture their opponents' followers, jailing them until the prisoner can be ransomed or exchanged. As you can imagine, adding The Tower can make the game a bit savage for those who want a high-stakes challenge that requires a strategic eye.
What to Consider When Buying a Carcassonne Expansion
Age and Interests 
The expansions are a handy venue that players can use to customize their games at home. One of the best examples is how easy this makes it to tailor the game to growing children or a group with diverse interests. Using expansions that include more and complex tiles with different rules might make the learning curve too steep for younger players while it presents a worthy challenge to teenagers or adults. 
Space Considerations
Consider the location and size of your gaming space. If tabletop space is limited, choose expansions that include fewer tiles or tokens that can be used instead. The array of mini-expansions available gives players some excellent choices for enhancing gameplay on a limited budget or in a small space.

Time Constraints
The more expansions you add to make board games more interesting, the longer the time you need to complete it. Games that take more time to play aren't always the most fun or entertaining. Consider the attention span of the players when choosing expansions, as a fast game that requires players to think on their feet can be better than a long game that requires strategy or planning.
Frequently Asked Questions
Can you play Carcassonne with all the expansions?
Every tile used with Carcassonne, including those used for the expansions, is designed to be compatible. It would be an epic game that would take several hours, however. 
What's the difference between a regular expansion and a mini-expansion?
Regular expansions include 12 or more tiles, while mini-expansions are no bigger than 12 tiles. Regular expansions include major structures like cathedral tiles and extra city pieces, while mini-expansions include extra features like bridges, rivers, or ferries. 
What is the biggest expansion, and how many tiles does it include?
The biggest expansion is Count, King & Robber, which is a combination of an original expansion and three mini-expansions. It includes a total of 38 extra tiles along with two extra-big tiles for cities along with two King tokens and two Robber Baron tokens.