Best 3-Player Board Games (Top 15 in 2023)
*We are reader-supported! This page may contain affiliate links. As an Amazon Associate we earn from qualifying purchases. The price to you remains the same.
Finding board games that are genuinely balanced for three players can be challenging. Most games work best with even numbers of players. If you're in a playing group of three, here's some great games for you to try that work well with three players. Top of the list is 7 Wonders. This card drafting game offers great replayability and plays its best with 3 players.
IMAGE
PRODUCT
DETAILS 

Best overall

7 Wonders

This beautiful card drafting game is engaging and beautiful to play. With 3 players, you can all affect the outcome of the game.

Best Challenge Level Game

Spirit Island

In this game, you play as the spirits of the land; you aim to work together to repel the colonists infesting your home.

Budget Option

Perpetual Commotion

This is a fast-paced card game that will get your blood pumping as you race to 150 points.
Related post: Best 2 Player Cooperative Board Games
Best 3 Player Board Games
Best Overall — 7 Wonders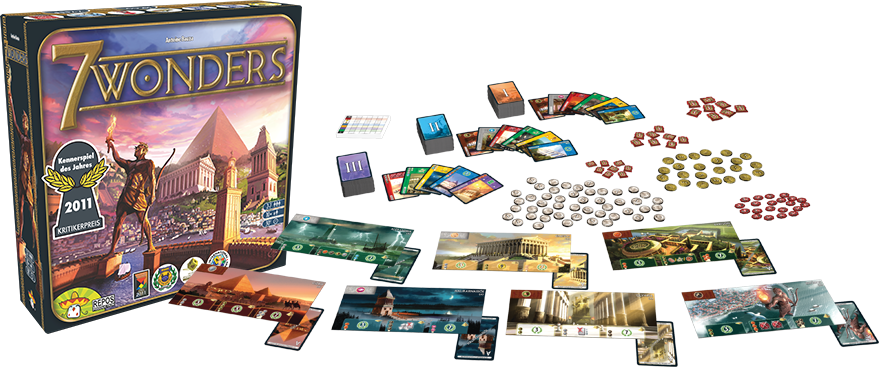 7 Wonders
This beautiful card drafting game is engaging and beautiful to play. With 3 players, you can all affect the outcome of the game.
7 Wonders is one of my favorite board games of all time. It is a real classic, as it's the game that popularised the pick and pass gameplay mechanic.
In this game, you play through three ages. At each age, you pick cards to gain resources, troops, structures of advancements. On your first go, you'll pick from one of seven cards. After everyone has chosen, you reveal your picks and then pass the cards on to the next player.
This mechanic of passing the cards is ideal with three players. It means you can all impact the other players directly. You may find that one person wins just because of who they were sat next to with more players.
There are a lot of different components and tactics that you can put into play with this game. There's also a lot to learn and keep track of. This can be a little daunting to start with, but it makes the game very replayable.
The only problem I find with this game is the scoring. It takes ages to add up all your victory points at the end. However, as is the case with most problems in the world – there's an app for that.
7 Wonders is a great classic board game and, in my opinion, one of the best 3 player board games around. It's also a good game to have in your library because it can support so many players. You get a very different experience with more than 5 players, but having that option is useful.
Best Game for Varying the Challenge Level — Spirit Island
Spirit Island
In this game, you play as the spirits of the land; you aim to work together to repel the colonists infesting your home.
Spirit Island is a cooperative board game for 1 -4 players. It works really nicely as a 3 player game. Each spirit has its own abilities, and you can mix and match them for varying results. With three players, you have a good range of options, and you can support each other well.
The aim of the game is to destroy and kill all of the invading colonists. There's no hiding from the fact that this game is about taking drastic action to repel the insidious and violent colonists who have come to plunder the natural lands, and whose presence will kill off the indigenous people.
At the start of the game, your spirits are pretty weak and powerless. Through each turn, you can grow your spirits as you choose, with interesting end results.
The actions of the colonists are pretty predictable, but they are powerful and relentless. This allows you to plan your actions but prevents the game from being too easy.
What I really love about this game is that there are several different invaders to choose from. Each offers a different experience and difficulty level. So as you get better at the game, you can increase the difficulty. This makes it one of the best 3 player board games for a group to return to over and over.
Budget Option — Perpetual Commotion
Perpetual Commotion
This is a fast-paced card game that will get your blood pumping as you race to 150 points.
Perpetual Commotion reminds me a lot of a card game I used to play at school. You're racing over a few rounds to create stacks of cards and get rid of your cards as fast as possible. This is so much better than the game I played in school because it works with more than two players.
In this game, each player has their own color-coded deck of cards. They lay out five feeder cards, 13 face-down cards, and the rest of the deck can be pulled from separately.
Each deck of cards contains four start cards, four stop cards, and four sets of the numbers 2-12. Play involves creating stacks of cards. Each pile starts with – start, goes up through the numbers, and after 12, you stop.
What makes this game fun is that the piles happen in the middle of the table. Everyone can add to any pile. There is no taking turns. Once one player finishes their face down cards, they can stop the round. You score each round and play until someone reaches 150 points. This can take 45 – 60 mins.
With three players, this free for all card piling game works really well. All the piles are within reach of all players. But, there is still enough chaos for the fun to be felt with three of you playing.
This is a game that works well with more players, but I think it's at its best with 3 -4 players.
Games With Playtime 30 Minutes and Under
Best Competitive Puzzle Board Game — Dimension
Dimension
This 3D puzzle building game is perfect for 3 players.
Dimension is a multi-dimensional puzzle game. As players work independently and then score their creations at the end of each round, it works perfectly with three players.
The game is played over six rounds, so there are plenty of chances to earn points as you play. In each round, five rule cards are drawn. The players then have a limited amount of time to arrange their balls into the tallest tower possible while following as many of the rules as they can. When the time is up, the scoring begins.
The pieces for this game are well made. The spheres you will be stacking are large and made from wood, so will stand up to a lot of playing. Each player gets a tray to keep their spheres under control as you play. Helpfully, there is also a 'cheat sheet' for each player to remind them of exactly what the rule cards mean.
This game comes with sets for up to four players, and it works well with any number. This is the best 3 player board game for a group who love puzzles. This format gets you thinking in ways you wouldn't normally.
Best Cooperative Survival Game — Ravine
Ravine
In this cooperative survival game, you have to survive the danger of the wilderness and the risk of insanity.
Ravine is a really lovely cooperative survival game. There are so many different scenarios that this game has a high level of replayability, which is ideal for a game that typically runs at 15 – 20 minutes per game.
Your characters are the victims of a plane crash. Stranded on an island, you must survive through the night until rescue arrives. You have the day to prepare, and then you're at the mercy of the night.
Each player's health is determined with a roll of the dice at the start. If you drop to two hearts, you have to face the consequences of going mad. As you're in this together, you all have to figure out how to cope with these curveballs.
The game is well designed and made with love. It's easy to learn and offers a lot of challenges. It works well with three players and can support up to 6 players without losing its charm. Three to four players is the sweet spot, though.
Best Deck Building Game — Dominion
Dominion
This is the original and still great deck-building board game for.
Dominion is a deck-building game that makes you wait to play the card you buy. This is a nice mechanic for encouraging you to plan your deck.
Each turn, you get five of the card in your deck to use to take an action or to buy a new card. At the end of your turn, the cards in your hand and the cards you bought go into your discard pile. It's not until you go through your full deck that you'll get the chance to play these new cards.
Unlike other deck drafting games, it can be a disadvantage to have too many cards as you can spend the whole game waiting for the cards you need.
There are plenty of different strategies to try that will lead you to a win. This makes it a good game to replay.
If you love this game, there are loads of different expansions to try, transforming it into a completely different gaming experience.
The only thing that's a little lacking with this game is the artwork. The style does look a little dated. If that doesn't put you off, it's a really good game to play with three players.
Games With Playtime of 30mins To An Hour
Best Dice Game — Fuji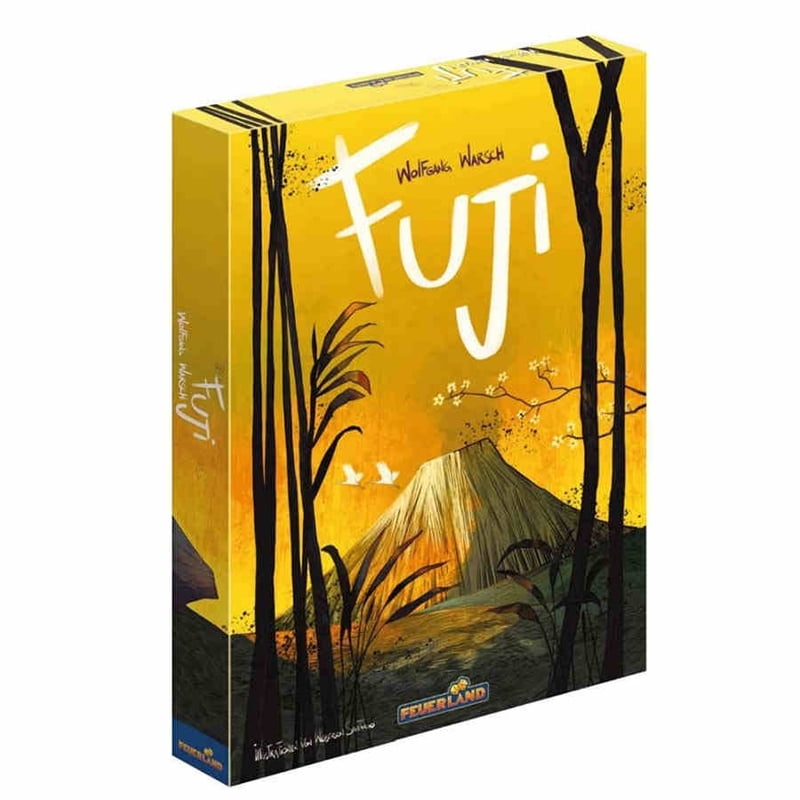 Fuji
In this limited information cooperative game, you roll dice to try and escape to safety as Mount Fuji erupts beneath your feet.
Fuji is an interesting take on a cooperative board game. The game's story is that you are exploring mount fuji and it begins to erupt, so you need to get down off the mountain to safety as quickly as possible. However, as you're rushing and there's a volcanic eruption, communication is hard, so you can only share limited information.
Each player gets their own set of colored dice to roll, which they do so in secret. A perfect round would see each player make moves down the mountain, which requires the least use of stamina. To win, you need to work together so that no one gets left behind.
This game is designed for a minimum of three players, so it does play well with three.
There's a lot of replay value with this game as there are several different tile arrangements, and the tiles are chosen randomly each time. It's also a game that your team will get better at with practice.
Even when you do all survive, your win's quality is graded, based on the state you're all in at the bottom. This is a nice little feature that makes you want to try again to get a better score.
This is one of the best 3 player board games for regular gamers who want to try a new mechanic. I've not found another game that plays quite like this one.
Best D&D Themed Game — Lords of Waterdeep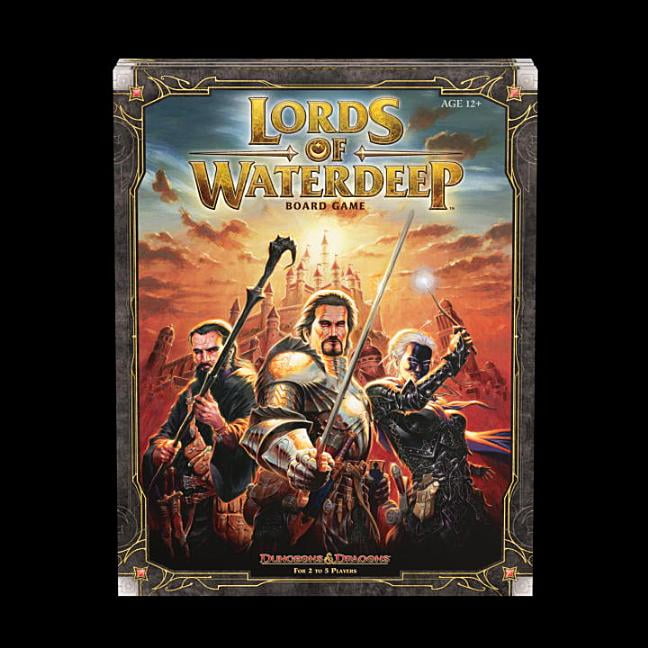 Lords of Waterdeep
An exciting board game set in the Forgotten Realms. However, you don't have to play D&D to enjoy this game.
Lords of Waterdeep is a worker placement game. You can take or leave the fantasy wrapping for this game. The game is enjoyable and well balanced. If you're not a D&D fan, I urge you to still consider this game, especially if you enjoy worker placement mechanics.
In the game, you each control a different faction, and you vie for control of the city of Waterdeep. At the start of the game, you are each randomly assigned a different Lord. This will guide your gameplay as different lords can gain extra points in unique ways.
This game revolves around picking and completing quests, each having their own specific requirements. This does result in a feeling of competition over the available resources.
The only negative about this game is that the workers are just colored cubes. It would be nice if they were shaped like the adventurers they are meant to represent, but if that's the only downside to the game, it's a winner.
This game is really well balanced with three, four, or five players. So it's a good game to have in your library.
Best Survival Game — Forbidden Island
Forbidden Island
This is a great introductory game for gamers new to cooperative gameplay.
Forbidden Island sees the players racing to recover the island's treasures before it fully sinks under the water. Each time you play, the island is randomly created, which makes it nicely replayable.
At the start of the game, some of the islands are already underwater, which is a nice way to introduce a feeling of urgency to the game. You can choose the difficulty level when you start. This changes how much of the island is underwater when you start.
The game is won if you collect all four of the treasures. It's lost if you get stuck on the island, a team member drowns, or a treasure is lost and out of reach.
Each of the players gets to choose an adventurer with unique skills. It's by combining your skills that you can win the game. With 6 to choose from, it makes for a good amount of variety when playing with three players.
The game works well with three. The difficulty selection allows you to find the right level of challenge for your group.
Games With Playtime of One To Two Hours
Best One vs Many Game — Letters From Whitechapel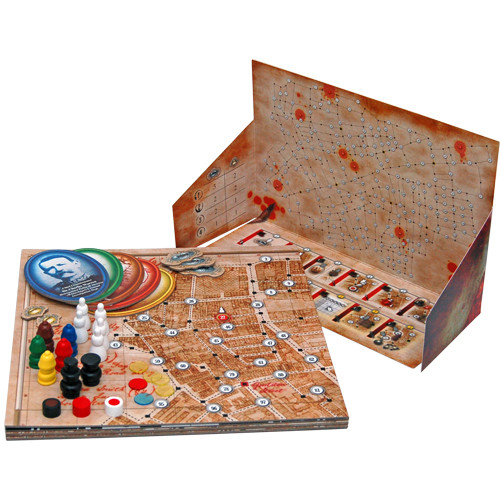 Letters From Whitechapel
One player gets to take on the role of the infamous Jack the Ripper, while the rest of the players try to hunt them down.
Letters From Whitechapel is a great thematic game. You get plunged into the world of Victorian London and the hunt for Jack the Ripper.
One player is Jack. They secretly choose a base to which they must escape before the end of every round. Jack hides his moves from the rest of the players and tries to escape along London's back streets.
The other players take on the roles of the policemen who hunted Jack. They use deduction and teamwork to narrow down Jack's location and try to catch him before he escapes to safety.
This game works well with three players. Two players hunting together works well. There are more ideas than if you play along but not so many that it becomes hard to strategize.
This game is a good thinking game. It's a great one to play with some good friends over a drink. You get an intriguing gaming experience as well as a glimpse into the Seedy underworld of Victorian Whitechapel.
Best Castle Building Game — Castles of Mad King Ludwig
Castles of Mad King Ludwig
This is a great game where you get the chance to build your own castle and set the prices for the work as well.
Castles of Mad King Ludwig is an interesting take on a tile-placement game. Each player takes a turn as the master builder. This means they get to set the prices for the rooms on offer, and they receive the money for the construction.
The game balances well with different numbers of players, as you change the numbers of cards. The advantage of getting to be the master builder early on is offset by starting with fewer points, so the balance has been thought out during this game's planning.
Each round, you have the opportunity to spend your money to buy rooms to add to your castle. However, you do have to be able to fit them together to actually get to every room.
You get points for the rooms you build and for building rooms that match your personal building goals that you pick at the start of the game. Because different players will be aiming for different rooms, the competition is not too direct. Everyone might be looking for different tiles.
You can end up with the crazy constructions, and it's fascinating to watch the castles take shape. It's one of those games that's enjoyable no matter who wins because just playing it is so engaging.
This is a great game for groups of 3 players to 4 players.
Best for New EuroGame Players — Above and Below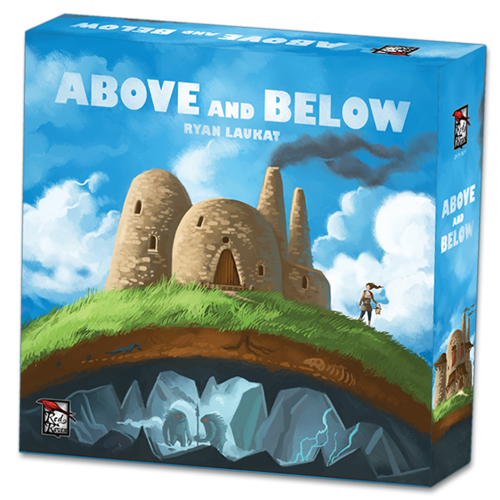 Above and Below
This game is an interesting blend of resource management, worker placement, and storytelling.
Above and Below is an enchanting game. It's light and fun and places in you an enjoyable fantasy world, rather than one just filled with monsters.
In Above and Below, you have four actions you can take on each turn. You can gather resources, build buildings, recruit more villagers, or explore the caverns below. Each of these actions uses a different mechanic, which makes for an interesting game.
The explore portion of the game is possibly one of the most pleasing aspects. If you explore, the player to your right rolls a dice and begins to read the matching story from the book. This is the adventure you set out on. You make decisions along the way and are rewarded for success.
The aim of the game is to amass the most victory points, and you can do this in many ways. There is no direct competition, and the mechanics are really what make the game interesting.
Because it is a lite-euro game, it works well with any number of players and is a great intro to eurogames for new players.
Best Choose Your Own Adventure Game — War With The Evil Power Master
War With The Evil Power Master
This is the perfect game for anyone who loved choose your own adventure books as a child.
War With The Evil Power Master is basically a choose your own adventure book in a card game format. You have four characters to choose from, who each have different strengths. You make choices alone or together to advance the story.
Some of your decisions require you to roll, and your character's stats can help you to succeed. So it feels a little like you have some control over the outcome.
This is a very light game. There are no real tactics involved. It's just a fun and silly adventure story in a game format.
This is a great game for any number of players who love a bit of retro sci-fi action and don't want to play anything too challenging. It's a game you sit back and enjoy.
Games With Playtime Over Two Hours
Best Civilization Building Game — Through the Ages
Through the Ages
This is an epic civilization-building game where you compete to create the civilization with the most culture by the end of the modern age.
Through the Ages is not a lightweight game. Like most civilization-building games, it's intense, detailed and rules oriented. This is not a quick game to pick up and play. If you're going to play this game, you'll most likely want to put aside a good half day. The generally agreed playtime is one hour per player.
At its heart, Through the Ages is a card drafting game. You have to carefully manage your resources and spend your limited actions with care in order to propel your civilization to the top.
As you progress through the ages, you'll gain access to a wide range of routes to pursue. If you want technology, you need to build your sciences. If you want to grow your population, you need food. For buildings and your military, you'll need to get your hands on some ore.
You might want to neglect your military, but to do so will leave you at the mercy of other players, who, among other things, can assassinate your leader if you don't have the defenses to keep them out.
This game works well with three players because it stops there from being one runaway winner. With three, you get a nice and balanced play experience as you all keep each other in check.
Best Engine Building Game — Terraforming Mars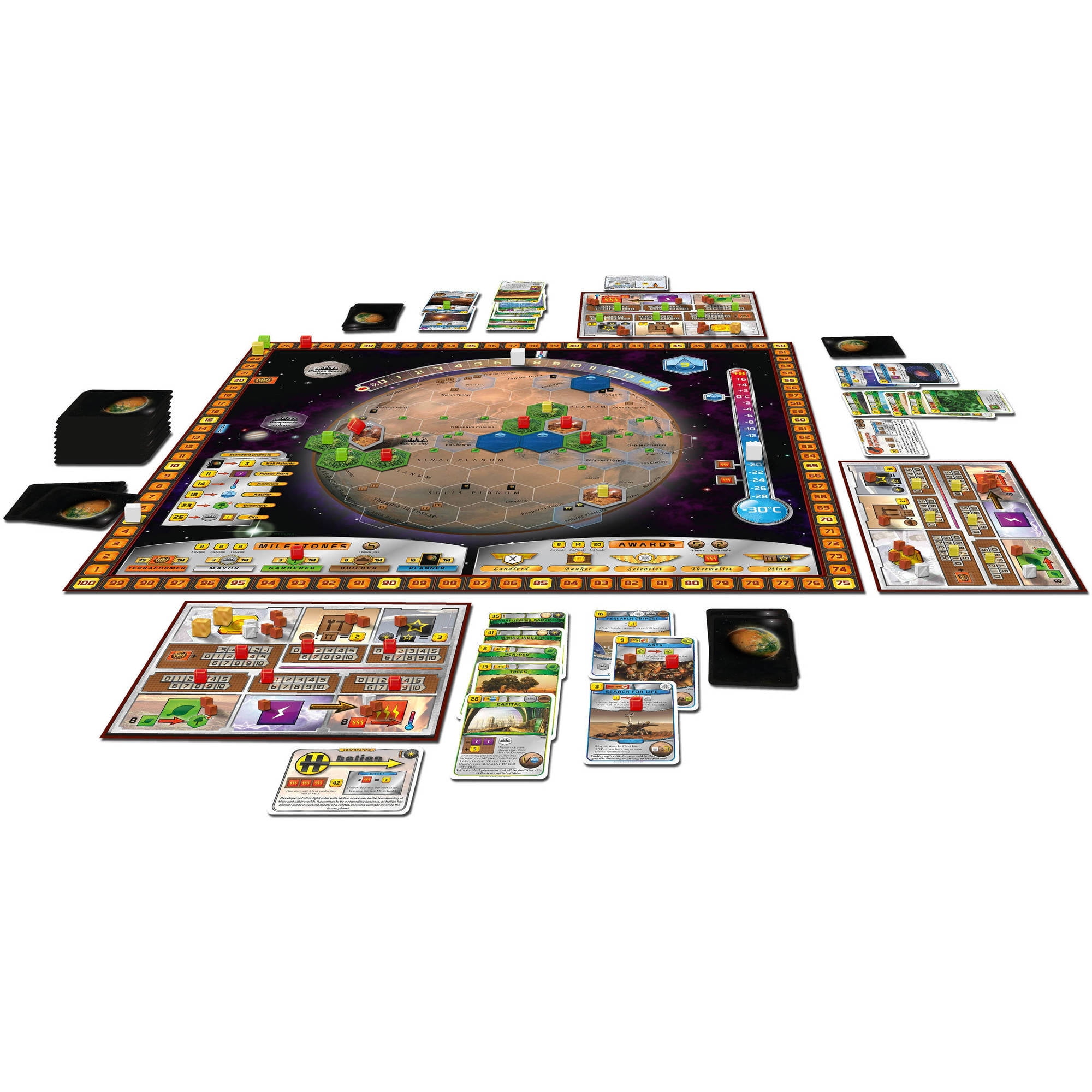 Terraforming Mars
This great game plays best with three players. It's an epic engine-building game that you'll enjoy replaying.
Terraforming Mars is an engine-building game. This means you need to work out how to best produce the resources you need to achieve various goals and projects. It's through these that you can go on to earn victory points.
The game has lots of features that make it fun to replay. For instance, you get to choose your corporations, which give you your abilities and starting positions. There are various ones of these, including some beginner-friendly ones and some that will make games last much longer.
Terraforming Mars is not a simple game. There is a lot going on, but it is worth it. This game is both fun and challenging.
It has been such a big hit that there are now numerous expansion sets. It's always a good sign when game developers continue to put resources into a game. It suggests it's worth trying.
This game is optimal for three players. It balances well and really gives the best experience.
What to Consider When Buying a 3 Player Board Game

Playtime
There is a big variation in the playtime of board games. Quick ones can be done in under 30 minutes. Others can be multi-hour epics. You need to think about the group you will be playing with and match the playtime to the setting and the group.
Theme
The theme of a game can have a big impact on how much you enjoy it. It's a little like choosing a book or a TV show. I suggest picking something that will appeal to as many members of your group as possible.
Game Mechanic
One of the biggest factors that affect how enjoyable a game is is the mechanics it uses. There are almost as many different game mechanics as there are games, but they usually fall into broad groups. Some of the most popular include
Worker placement
Deck Building
Co-operative
Dice Rolling
Role-Playing
Tile Placement
Engine Building
Civilization Building
Each mechanic offers a different experience. When it comes to finding an enjoyable game, the type of mechanic is arguably more important than the game's theme.
Difficulty
Depending on the game's difficulty, it may be an easy task for everyone to learn the rules. However, some games can be very in-depth and require a lot more time to dedicate to learning the rules.
If the rule book is a little hard to decipher, I suggest looking for a video on youtube. There are loads of great explainer videos for most games like this one:
Balance
The challenge with finding a good three player game is finding one that works well for three players. Most games that are flagged as 2-4 players are often suboptimal with three players.
Frequently Asked Questions
What makes a good board game?
A good board game is one that is enjoyable to play. It should be well balanced and offer an appropriate level of challenge to the players. Good board games offer a good level of replayability and don't have one optimal strategy.
Ultimately any game that all the players enjoy is a good board game.
Why do people play board games?
Board games are great fun to play. They're nice activities to enjoy while socializing. They combine the challenge of puzzles, the fun of video games, and the social interaction of a night out.
Why is it hard to find a board game for three players?
Boars games are often designed to work for a range of player numbers. When creating games like this, it's easiest to achieve balance with an even number of players. 2 or 4 players is usually the optimal numbers.
It's a lot harder to make games work well with three players, which is why there are fewer of them.