Best DSLR Camera for Astrophotography [Top 10 in 2023]
*We are reader-supported! This page may contain affiliate links. As an Amazon Associate we earn from qualifying purchases. The price to you remains the same.
If you're ready to make the move from a smartphone to a good quality DSLR or you're looking to upgrade, then finding the right camera can be a real challenge. You need to balance the cost with performance and overall usefulness. With all of that in mind, our top pick is the Canon EOS 6D Mark II. It's a really versatile camera that performs well at pretty much any task you put it to. Its high ISO and dynamic range make it one of the best cameras for astrophotography.
IMAGE
PRODUCT
DETAILS 

Best overall

Canon EOS 6D Mark II

This camera is a great versatile camera that delivers a great quality picture.

Best for Image Quality

Nikon D850

This spectacular camera comes with a full-frame CMOS sensor, 45.7-megapixel resolution, and an impressive top ISO equivalency of 102,400.

Budget Option

Canon EOS Rebel SL3 / 250D

This bundle comes with everything you need to get up and running as well as a 1-year manufacturer's warranty.
Related post: Best Refractor Telescope for Astrophotography
Best DSLR Cameras for Astrophotography in 2023
Best Overall — Canon EOS 6D Mark II
Canon EOS 6D Mark II
This camera is a great versatile camera that delivers a great quality picture.
The Canon EOS 6D Mark II is a full-frame camera with a CMOS sensor. That means you are going to be able to take some amazing pictures, it also explains why this is a more expensive option even without lenses. It's compatible with most Canon lenses, so it is a good option if you're already committed to Canon.
You get an impressive 25.2 megapixels and a solid ISO range of 100-40,000. The dynamic range on this camera is pretty good. It's a little lacking at lower ISO, but if your main aim is astrophotography, then that lack is not going to be a problem.
The sensor is a full-frame one, so you get the maximum amount of light for some great photos of far off stars and nebulae. The tiltable LCD screen makes it a lot easier to get the perfect picture when your camera is mounted on a tripod or to your telescope.
With a maximum shutter speed of 30s, you'll be able to take some great images of deep-sky objects.
This camera comes with both Bluetooth connectivity and wifi. This allows you to easily control it through your smart device. You can also easily browse through all the wonderful images you've captured while you're waiting for the next perfect shot.
Best for Image Quality — Nikon D850
Nikon D850
This spectacular camera comes with a full-frame CMOS sensor, 45.7-megapixel resolution, and an impressive top ISO equivalency of 102,400.
The Nikon D850 is a professional standard camera. It has everything you could want in an astrophotography camera. It even has illuminated buttons to make it easy to operate in low light.
This camera excels when it comes to image quality. When you're interested in astrophotography, it means you want a camera that will capture every detail of the night sky in crips and clear detail. The full-frame CMOS sensor on this camera will do just that.
The unbelievable ISO range will let you capture stars in the night sky that you won't be able to see otherwise. Nikon has done some impressive work to give this camera an equivalent ISO range of 32 – 102,400. You won't find a camera out there that's going to offer you more.
This camera is not only filled with high-quality optics, but it's also been well thought out. For instance, there is no pop-up flash, which means the case is much better sealed. It's far more waterproof than many alternatives.
The touch screen on the back pivots from the top. This allows you to get a better view when the camera is mounted on your telescope. You can also make full use of the touchscreen in any position and mode.
This is a high-performance DSLR. It's fit for professionals and easy enough to use for amateurs. Of course, when you get so much, you should expect a higher price tag. So this is really one for dedicated enthusiasts who really want the best image quality they can find.
Best Budget Option — Canon EOS Rebel SL3 / 250D
Canon EOS Rebel SL3 / 250D
This bundle comes with everything you need to get up and running as well as a 1-year manufacturer's warranty.
The Canon EOS Rebel SL3 / 250D is not the best DSLR camera for deep sky astrophotography. It is, however, a solid and reliable camera that will serve you well for a long time. As a result, it has a very reasonable price tag.
This is an ideal option for anyone who is new to astrophotography. If you're not ready to shell out thousands of dollars, but you still want to capture great images, then this is a good place to start.
This bundle comes with a good selection of items. You get two lenses, one wide-angle and one telephoto. There are 3 filters as part of the bundle, which can come in handy when taking pictures of the night sky. You also get a neck strap and a tripod. As it comes with a memory card, you can get up and running straight out of the box.
As you would expect from a cheaper DSLR camera, it comes with an APS-C sensor. However, to compensate for this, it is a CMOS sensor. The higher quality sensor does a good job of compensating for the smaller size.
Compared to some other budget cameras, this one performs a little better in low light conditions. Its dynamic range is also quite impressive at higher ISO settings. This makes it a good starter camera for those new to astrophotography. It's a good step up from a smartphone, but not a huge leap into the unknown.
Best Flexible Camera — Nikon D5600
Nikon D5600
This reasonably priced camera comes with an APS-C, CMOS sensor and fully connects to smart devices.
The Nikon D5600 is a great starting camera for those interested in astrophotography. It's a really reasonable price, and it's a very flexible camera. It's a DSLR that you'll get a lot of use out of for all types of photography.
One of the reasons that this camera is on the cheaper end of the spectrum is that it has a smaller APS-C sensor (or DX-Format, as Nikon calls it). This is the smaller sensor size, so it can be a bit of a drawback when you're trying to get shots of dimmer objects. However, to compensate for the smaller size, it is a CMOS sensor. This really gives it a big boost and makes it stand out for a more basic camera.
The ISO range is also a little more limited, which is not surprising on a basic model DSLR. It tops out at 25,600. That's still plenty for getting pictures of the night sky, especially when you're just starting out.
It has a good megapixel count at 24.2. That will leave you plenty to work with when it comes to editing or enlarging your images.
The touchscreen on the back of the camera is a really good size at 8.1cm. You can flip it out and rotate it as you please. This is a really good feature for astrophotography as it makes getting you shot much easier when it's attached to a telescope.
It also comes with wifi and Bluetooth connectivity. This lets you get your pictures with ease.
Best Mid Range DSLR Camera — Nikon D7500
Nikon D7500
This great mid-range camera offers a super high range of ISO and a maximum exposure time of 30s.
The Nikon D7500 is a great mid-range option. It offers some great features to support you in your hunt for beautiful pictures of the marvels of the night sky. It has an impressive 20.9 Megapixel capacity.
The sensor in this camera is a purpose-built DX-format. It's built for maximum clarity, which is ideal for astrophotography. The only negative about this sensor is that it is an APS-C. This means it's not the full size. However, the quality of the sensor does a good job of compensating for the smaller size.
The ISO range on this camera is phenomenal, and you can pick from 100 – 51,200. You really can't ask for more. The dynamic range is really good as well, so you're going to get some gorgeous and colorful pictures with this camera.
The LCD screen tilts, which is always a desirable feature in an astrophotography camera. It makes it much easier to check your shot. You can get a good long exposure. The shutter speed is 30s.
The body of this camera is weatherproof. That means you don't need to panic if it gets wet. It'll also hold up to a fine sheen of dew that is a common hazard of astronomy.
This particular bundle comes with two lenses. That means you'll be up and running straight away. It also makes it a great versatile camera.
Best for Beginner Cameras for Astrophotography — Canon T7i
Canon T7i
This modestly priced camera offers everything you need to get started with astrophotography.
The Canon T7i is much more modestly priced than many of the cameras on this list. That means that it does stand out as a good option for beginners. Until you've mastered your craft, it can be wasteful to splash too much cash on an expensive camera, especially if you're not going to make use of all it has to offer.
This camera is on the cheaper side because it has an APS-C sensor, which means that it won't gather as much light as the more expensive alternatives. It also has a lower ISO range, with the maximum range being 25,600. While this is significantly lower than some other options, it is still plenty for astrophotography.
It does offer a high megapixel count at 24.4. This means you'll have a lot of options to edit and enlarge your pictures after you've captured them.
It comes with all the technology that makes Canon cameras easy to use. It has wifi and Bluetooth connectivity. This allows you to easily access and operate your camera from a connected device. It also has a responsive and tiltable touchscreen.
This camera comes with everything a beginner needs. Plus, as it is compatible with a wide variety of Canon's lenses, it's a camera with the capacity to grow with you. Choosing a high-quality lens can really transform a more basic camera into something special.
Best for Skilled Amateur Photographers — Canon 77D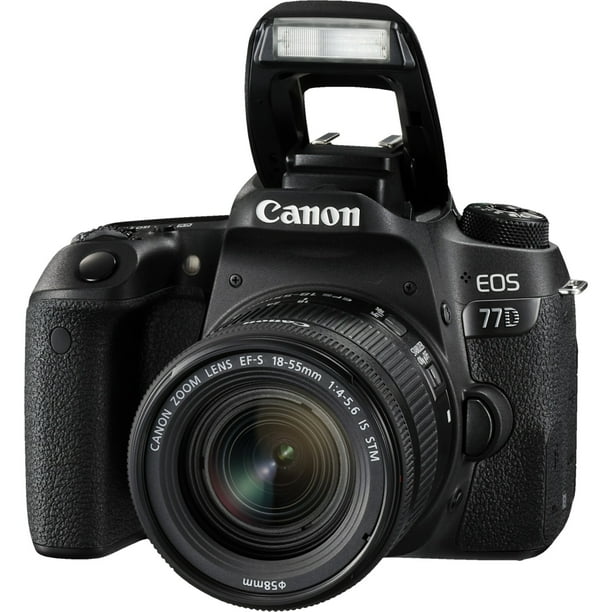 Canon EOS 77D
Great quality and functionality at affordable price. Your space shots will be amazing – just steer clear of wet weather!
The Canon 77D is part of the range of cameras from Canon that is aimed at "prosumers" (Their term, not ours!) It stands for professional consumers. The idea is that this is a camera for people who are good enough to be professionals but don't need to spend as much money as someone who earns a living behind their camera.
This camera is a good-sized camera. It's big enough to feel solid in your hand but small enough to easily transport and take on a hike or camping.
The controls can be navigated using two dials on the top of the camera. This allows you to find the settings you want without moving your eye from the viewfinder.
Given that this camera can take up to 6fps, it would have benefited from a second memory card slot. However, if your main aim is to use it for astrophotography, then this is less likely to be an issue.
The ISO range is good at 100 – 25,600. You will notice a little bit of noise once you get over 3,200, but it's not excessive at all. If it bothers you, there are some noise reduction options that you can have a play with to get your desired results.
In order to keep the price lower and in the range of consumers, this camera does come with an APS-C sensor. It is, however, a CMOS sensor as well, so you retain great image quality at a more reasonable price. With 24 Megapixels, you'll be capturing plenty of detail.
The only real negative of this camera for astrophotography is that it's not weather sealed. So you will have to take some care with it to avoid it getting covered in dew.
Best for Noise Reduction — Canon 80D
Canon 80D
This top-notch camera has outstanding noise characteristics. It's a great choice for experienced astrophotographers.
At first glance, the Canon 80D might not seem an obvious choice for astrophotography. Its ISO range is 100 – 12,800, which is much lower than most of the options on this list. However, do not let that fool you. Even for deep sky astrophotography, you are unlikely to need anything more than ISO 200 or 400.
This DSLR camera offers high performance and a lot of features that you would expect on a professional camera. However, even with that in mind, its cost is not completely out of reach. This is due to the choice of an APS-C sensor. Even with this smaller sized sensor, the high dynamic range and low noise make this a real contender for best cameras for astrophotography.
This is a very popular camera, which has a few benefits for anyone buying it new. YOu can actually find a lot of tutorial videos from current users, explaining how to set your camera up for the best results.
This camera has an optical viewfinder with 100% coverage. This means you won't find unexpected details creeping into the edge of your shots. The shot you line up is the shot you'll get.
If you're interested in taking video of the night sky, for instance, to capture a meteor shower, then this is an ideal camera to have on hand. As well as its APS-C CMOS sensor for stills, it also has a Dual Pixel CMOS AF for Live View shooting. This camera performs phenomenally well for both stills and video.
This is a great camera for dedicated amateurs or professionals who need a smaller, lightweight alternative camera.
Best for Deep Sky Long Exposure Photography — Nikon D810A
Nikon D810A
This camera was purpose-built for long-exposure astrophotography, with up to 15minute exposures possible.
The Nikon D810A is a camera built with a purpose in mind. That is to produce extraordinary pictures of deep-sky objects. It was the first and only full-frame DSLR designed with astrophotography alone in mind.
Because this camera has been designed with deep-sky astrophotography in mind, the clever engineers at Nikon made the excellent decision to tinker with the IR filters on this camera. It's pretty technical but what it means is that this camera is optimized to capture light at the wavelength most often emitted by deep space nebulae, particularly the red variety (hydrogen-alpha).
You will find that there is very low noise at the higher ISO settings on this camera, so your images stay crisp and clean. The max ISO is 51,200, which gives you plenty of range to experiment with.
Most digital cameras will max out the exposure time at 30s. This camera has an extra-long exposure mode, which will allow you 900s. You can even get a preview of what an image may look like before you commit the time.
All of the lights that this camera emits have been modified to be kind to your night vision, from the horizon display to the exposure indicator. Look at any of them won't mean going night blind for a while afterward.
This camera is compatible with a wireless remote. This can be a great little add-on as it will allow you to take an image without the risk of pressing a button on your precisely positioned rig.
If you are committed to deep-sky photography and you want the best images possible, then this is the best of all the cameras for astrophotography you can find.
Best Full Frame DSLR Camera — Canon 5D
Canon 5D
This full-frame DSLR produces clean and color-rich images of the night sky.
The Canon 5D is a great option if you're looking for a full-frame option. It's a little light on some other features, but that is the trade-off for larger sensor sizes. For instance, it doesn't have a tilting LCD view screen, which would be nice to have.
Another quirk of this camera is that its buttons don't offer any tactile feedback. It's fine in daylight, but in low light, you can easily find yourself pressing the wrong button over and over. Given its price and the fact that it has a full-frame sensor, it's easy to forgive it for being a little rough around the edges.
On the positive side, not only is this a full-frame DSLR, but it's also one of the lightest DSLRs around. This makes it ideal for astrophotography as it won't add too much excess weight to your telescope and mount.
This camera is well built and will survive being knocked around, so you can feel safe to take it wherever you go. Always a plus in an expensive piece of kit.
When it comes to picture quality, this camera offers excellent low light performance. It doesn't suffer from too much excess noise as high as ISO 12,800. This lets you get shots of the milky way even with a slow lens. You can go as low as f/4 and still get a great shot.
What to Consider When Buying a DSLR Camera for Astrophotography

Shutter Speed
When it comes to astrophotography, you will want to take pictures with longer exposure times. That means that you'll want to look for a camera that offers you a range of shutter speeds.
ISO
If you're not an experienced photographer, then you might not be sure what the ISO setting is and what it does. When it comes to astrophotography, it's important to get as much light as possible into your camera in order to capture the images you're after. The ISO setting determines how sensitive your camera is to the light.
If you've ever had the experience of taking a picture of something you can see, only to find it invisible on your picture, then the problem lies with your ISO settings.
So for something like astrophotography where there is very little light to capture, it's important to look for a camera with high ISO capability. You'll likely want at least 800.
Sensor Size
DSLR cameras have two different sizes of sensors to choose from. There are full-frame and crop (also known as APS-C). For astrophotography or any night photography, you're best served with a full-frame sensor. Again this is all about the light. With the larger sensor, you will capture more light and get much better pictures as a result.
Sensor Type
It depends on how exacting you are in your requirements as to whether you will need to worry about the type of sensor. Most standard full-frame sensors with a long exposure time at a high ISO setting will perform very well for astrophotography.
However, if you are imaging many deep-sky objects, then you might benefit from a CMOS or CCD sensor. These are the top end sensors and are mostly found on professional-grade cameras. They do make a big difference to your image quality, but you'll be paying much more for that improvement as well.
Dynamic Range
The dynamic range of a camera is a measure of the number of tones that the camera can capture. This is really a case of more is more. The more dynamic range, the more color and the easier it will be to manipulate the images in editing as well.
Mega Pixel Count
The megapixel count is possible the term that most amateurs are familiar with. The higher the number, the higher the resolution of the pictures. This is especially important if you want to print large versions of your images.
Screen
Most digital cameras these days come with a touch screen on the back. This is really handy when you're trying to frame a picture. However, if your camera is mounted on a tripod, then a touchscreen that is fixed to the back of your camera is going to be difficult to use. So, it is worth looking for cameras that have screens that can be tilted. This will allow you to find your images a lot more easily and with a lot less backache.
Connectivity
Most cameras are wifi and Bluetooth enabled. This allows you to get your images off your camera easily and without wires. In many cases, it allows you to remotely control your camera. Again this can really come in handy when your camera is mounted to a telescope. It lets you change settings without worrying about knocking the telescope.
If this is a feature you're interested in, you should double-check that your chosen camera will work with your smart device. Many of them are only compatible with android. iOS doesn't support many of these connections, so you might need a connected device that is not an iPhone.
Frequently Asked Questions
What is a DSLR Camera?
DSLR stands for digital single-lens reflex. These are very versatile cameras that are great at capturing detail. What really makes the camera is the lens you use with it. By changing the lens, you can drastically change the images you can capture.
Which is better, Canon or Nikon?
There really is very little to split between the two brands. They both make great cameras. It's best to look for the camera that works best for you rather than worrying about the brand. Once you make a decision, you can get locked in if you start buying lenses. But as both have a great range, it's not something to worry about. There isn't a wrong choice.
What's the difference between a DSLR and a Mirrorless Camera?
With a DSLR, there is a mirror that directs light to the viewfinder. This gives you an immediate image of what you're seeing. In a mirrorless camera, the light goes straight to the sensor. The image you see is then created electronically.
Basically, a DSLR has an optical viewfinder so you can see what's happening exactly when it happens. A mirrorless camera is more compact and tends to be cheaper.
Last update on 2023-10-04 / Affiliate links / Images from Amazon Product Advertising API