Best Magnetic Board Toy for Kids (Top 4 Picks for 2023)
*We are reader-supported! This page may contain affiliate links. As an Amazon Associate we earn from qualifying purchases. The price to you remains the same.
Something about magnets keeps us engaged for a long time, and for kids, the excitement is even more! If you are confused as to which magnetic board toy is the best for your child, you've stumbled upon the right place. In this guide, we will help you choose the right one that doesn't cost a fortune.
Our best overall product is the ODDODDY Magnetic Wooden Toy, as it can be used to teach a wide variety of concepts while making the activities fun and interesting. The little humans will most certainly fall in love with this toy as it provides an excellent opportunity to discover their talents and work on them.
Related post: Picasso Tiles vs Magna Tiles | The Best Magnetic Tiles
Best Magnetic Board Toy for Kids
Best Overall – ODDODDY Magnetic Wooden Toy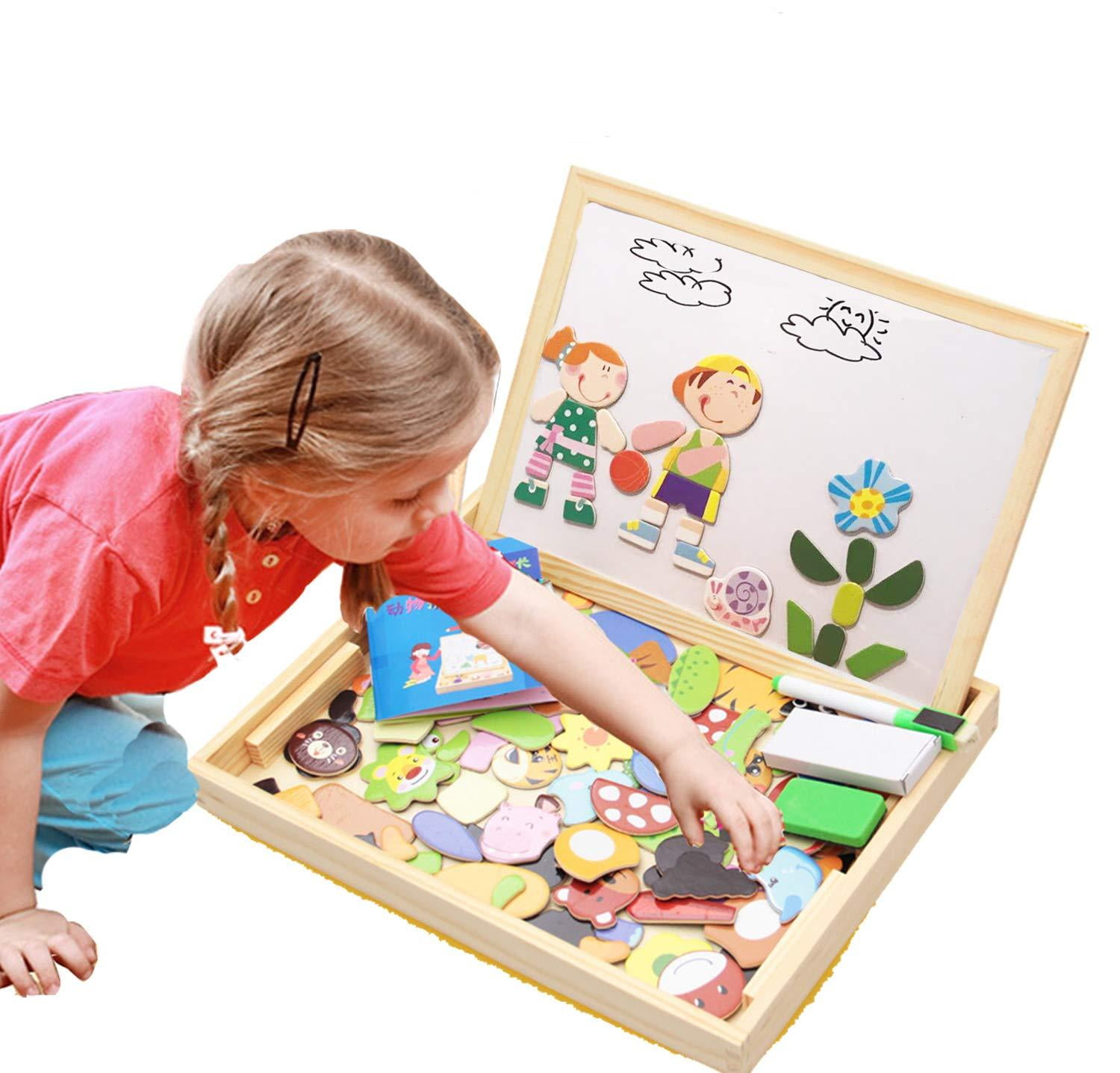 Magnetic Wooden Toy
A versatile toy with whiteboard, blackboard, letters, numbers, animals, and puzzles. An excellent learning tool that will help kids showcase their creativity.
Letters, numbers, animals, etc. are different concepts that we usually teach kids through different examples and by using various toys. But the ODDODDY Magnetic Wooden Toy is definitely a go-to magnetic toy as it is highly entertaining for the kids while enhancing their imagination and intelligence.
This toy is chosen as the best overall due to various reasons. It has a whiteboard and blackboard on which you can draw interesting and fun pictures. Both boards do not occupy much space as they are attached to both sides of a single wooden frame. 
This toy comes with letters, numbers, animals, and many puzzles that have magnets on them. So you can just attach these on the board along with your writing and drawing. This one can help your kid enhance skills like concentration, memory, attention, and teach color concepts, alphabets, numbers, etc.
Best for Fine Motor Skills – HABA Town Maze Magnetic Game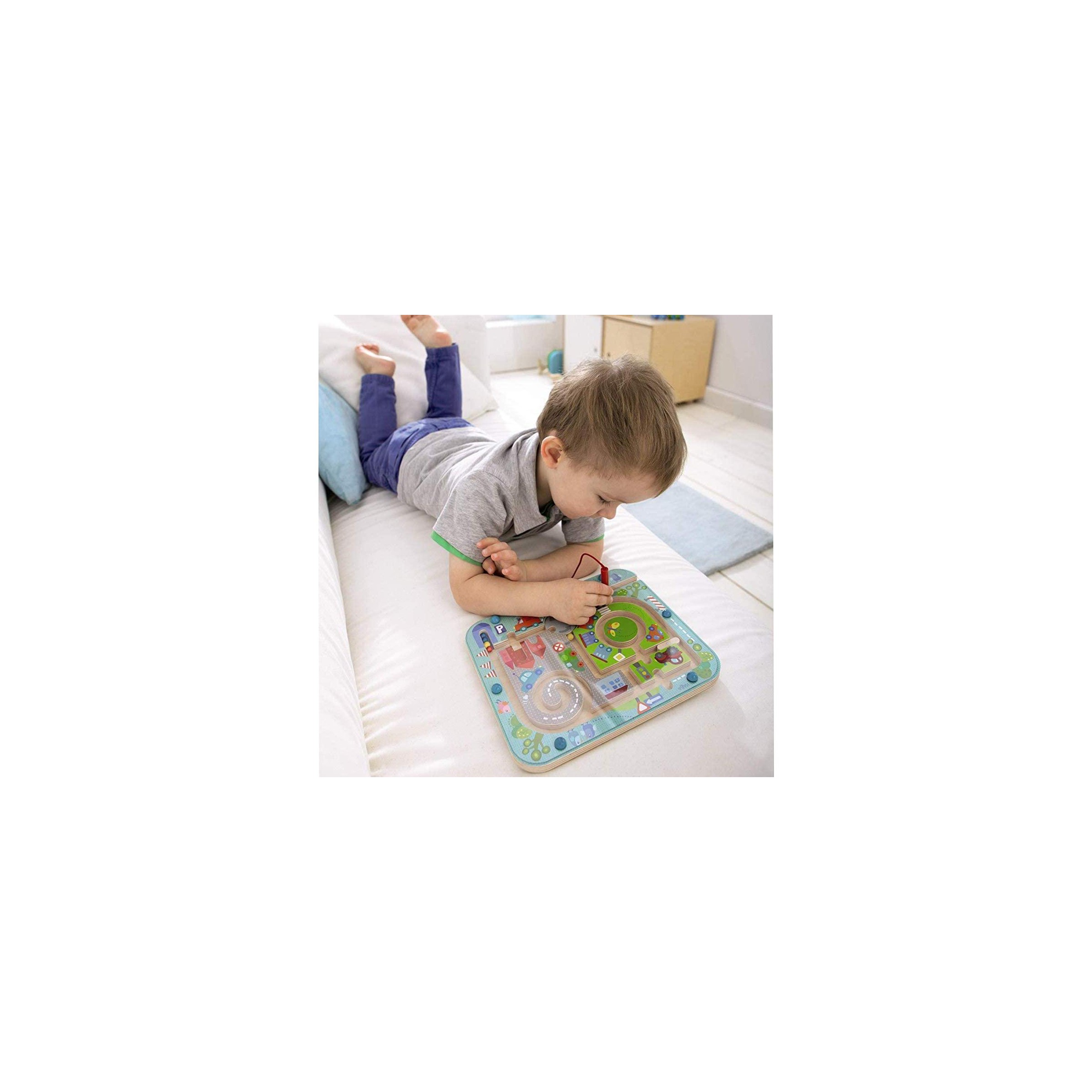 HABA Town Maze Magnetic Game
A fun city-themed game that improves fine motor skills, concentration, attention and color concept.
Developing age-appropriate fine motor skills is extremely important to be able to do tasks like writing, feeding, buttoning, etc. The child should be able to control his or her hands, fingers, and thumb to move small muscle groups in the correct manner.
HABA Town Maze Magnetic Game is a great toy that has tiny magnetic balls in a city-themed roadblock. The child is required to move these colored balls using the built-in magnetic wand to the matching garage.
To play this game, the child should be attentive, familiar with colors, and able to move the wand precisely. 
Best Budget Option – Wellchild Magnetic Drawing Board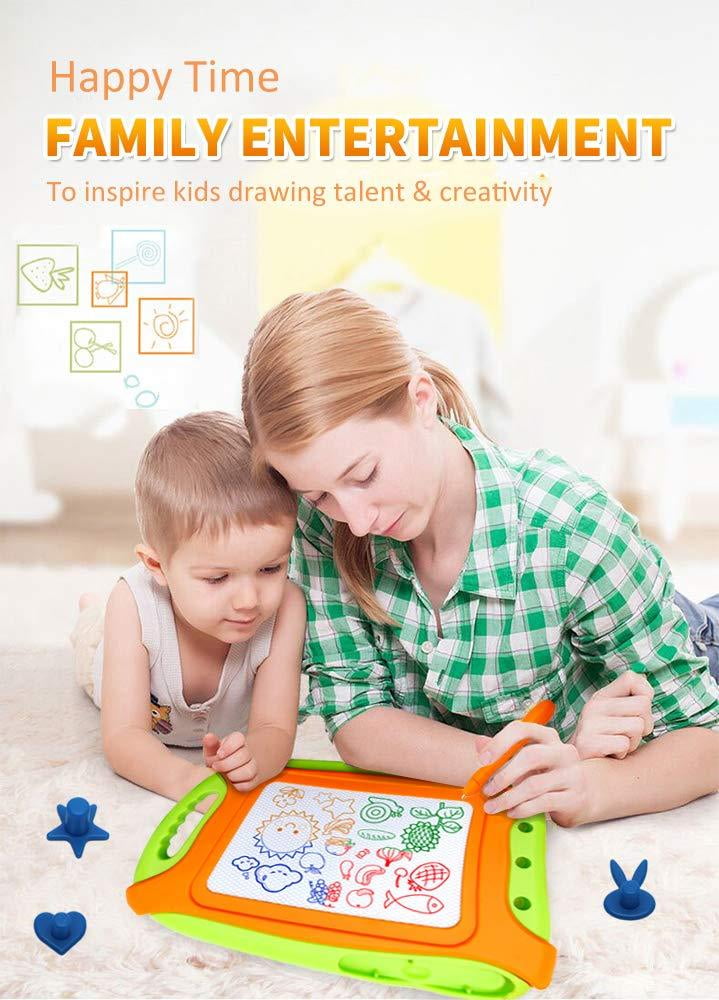 Wellchild Magnetic Drawing Board
A handy magnetic drawing board that is great for road trips.
A magnetic drawing board is probably familiar to most of us, but what makes Wellchild Magnetic Drawing Board special is that it is easy to carry. Though it is not very expensive, the quality is not compromised in any way.
It has a magnetic pen and a sketch board. The drawing can be erased by sliding a built-in eraser towards the right. It also comes with shaped stampers to take your kid's drawings to the next level!
This toy is perfect for kids aged 3 to 6 years. They will unquestionably love drawing on this magnetic board and will find erasing the whole thing very satisfying! If you are having a hard time making your kids draw on paper, this is probably the best option. 
Best for Alphabet Recognition – Gamenote Magnetic Alphabet Maze Board
Gamenote Magnetic Alphabet Maze Board
Learning the alphabets will be fun and easy with this interesting maze board!
The Gamenote Magnetic Alphabet Maze Board is among the best toys out there that can teach alphabets to the little ones. This maze board has 26 colorful balloons and 26 letter magnets that represent each letter of the alphabet. 
Kids can choose a letter magnet and move it to the balloon that represents the same letter. This enhances letter identification and helps kids reinforce their memory every time they match a letter.
If you need more magnetic toy options, check out our article where we listed the Best Magnetic Toys for Kids and Toddlers.
What to Consider When Buying a Magnetic Board Toy for Kids
Even though magnetic toys grab the attention of kids of all ages, there are a few things to consider while buying one. 
Strength of Magnet
When buying a magnetic toy, it is important to make sure that the toy magnets are strong. Detaching the magnets should neither be too difficult nor be too easy. Good quality magnetic toys tend to stay longer, whereas others might lose their magnetism within a short period of time.
Safety
Safety is an important factor that should be considered while buying any toy. Some toys have small parts that may be dangerous for smaller kids. Small pieces, if swallowed, can cause damage to the digestive system. Therefore, always buy toys that your kid is capable of playing with. 

Skill Development
Always buy age-appropriate toys for kids to develop the skills that match their chronological age. Magnetic toys help to develop a wide range of skills, so choose the one that matches your child's level to enhance learning. 
Frequently Asked Questions
Are magnetic toys dangerous?
Magnet toys are safe to use, provided that you follow all the mentioned guidelines. Always choose age-appropriate toys to avoid risks. In magnetic toys, the danger lies in kids swallowing the magnets. Hence, choose toys in which the magnets are tightly sealed. 
What do children learn from magnetic toys?
Magnetic toys help improve language skills, attention, memory, fine motor coordination, and learning of new concepts. As different toys teach different skills, look for the toy that closely matches your child's age and skill level. 

Which is the best magnetic toy?
A single magnetic toy will not teach all the skills. The wisest decision is to use different toys to help the kids learn a wide variety of topics.