18 Best LEGO Technic Sets — An Easy (& Fun!) Entry into Mechanical Engineering
*We are reader-supported! This page may contain affiliate links. As an Amazon Associate we earn from qualifying purchases. The price to you remains the same.
Life is hard when you need to choose from the best LEGO Technic sets!
Primarily because ALL of them are good. And your wallet does have a bottom.
So, how to make your choice without being sorry?
LEGO Technic sets are STEM toys made for children eight years and older. A step above your average LEGO toys, these sets promote engineering while remaining accessible and fun for children to do independently.
From realistic construction vehicles to fully-functioning crane systems, these sets are a gentle introduction to STEM. A key feature of Technic sets that makes them stand out from regular or, say, LEGO Creator sets is the highly functional mechanical components.
Technic kits may have functioning winches, rotors, articulated joints, wheels and even gearboxes and differentials! Seeing these key engineering components in miniature is great preparation for their life-sized counterparts.
To make your life at least a little bit easier, we're going to present some of our favorite LEGO Technic sets. These toys are made to work alongside your child's interests.
If your child loves helicopters, get the rescue helicopter. If your child is into race cars, get the Porsche 911. Some are more difficult to assemble than others, so keep that in mind when selecting one!
Related: LEGO Boost vs. Mindstorms
Best LEGO Technic Cars, Bikes & Racing Vehicles
1. LEGO Motorcycle to Adventure Bike Building Kit
LEGO Motorcycle to Adventure Bike Building Kit
A cheap but well-designed option that is perfect for kids and first-time Technic buyers.
This is an ideal choice for first-time builders at an affordable price. The chopper-style motorcycle with realistic details and wide tires is sure to catch the eye of enthusiasts. The model contains a 3-cylinder chain-driven engine, moving pistons, steering, and more.
You can also convert this model into a cool adventure bike. The model is designed for 7+ years of age (although realistically, it's probably better for 4-7) and it is sturdy enough to withstand rough handling from kids. Watching the engine functioning and the pistons moving up and down will surely pique the interest of kids in engineering. In fact, even adults will find working on this kit a lot of fun.
2. LEGO Technic McLaren Formula 1
LEGO Technic McLaren Formula 1
With nearly 1,500 pieces, it's insanely detailed and a must for every F1 meets LEGO fan.
This 1434-piece set feels exclusive right from the point you open up the package. Engineered in collaboration with McLaren's designers this Technic car with its 18+ age rating is clearly for grown-up fans.
Open up the pack and you will find plenty of sizable stickers that will need a lot of care to line up. In the next stage, you will need to assemble the moving pistons, the gearbox with differential, and the suspensions. However, putting together the complex mechanisms is what makes the process so rewarding. Make sure to read the instructions carefully before starting with the intricate building process.
Once completed the vehicle looks classy. Even though it is extremely challenging to replicate the fine-tuned aerodynamic curves of the original car, LEGO has done a great job. That said, I wish the wheel covers were better designed.
Even if you are not into technic models, you will love playing with this realistic F1 car. Besides, it will look fantastic as a display piece in your home. Hopefully, more interesting creations will come up in future from the LEGO and McLaren collaboration.
3. LEGO Technic Porsche 911 GT3 RS
LEGO Technic Porsche 911 GT3 RS
Recommended for older children who have developed attention spans. Better yet, adult collectors and geeks!
This incredibly detailed Lego Porsche is best for older children who have developed attention spans. With over 2,700 pieces, this car takes quite a while to put together, but the results are very worth it!
As you can imagine, this is also one of the pricier sets. In fact, since it's now (as of November 2023) retired, sellers will often value it well above even the notoriously expensive LEGO cranes and excavators, as well as advanced robotics sets such as Mindstorms.
However, the amount of detail on this car is unforgettable and makes the price tag very worth it. Which is why this list just can't go without it as it's earned an all but legendary status among collectors! Even the driver's seat is detailed and it comes with a full-color, collectible book that includes a comprehensive history of this unique car. Children can even put together the engine, which has moving pistons.
4. LEGO Technic Police Pursuit 42091
LEGO Technic Police Pursuit
An easy-to-build LEGO set recommended for beginners. But don't be deceived by the simplicity – it actually races!
If you're on the fence about whether or not to purchase your child a Lego Technic kit, you might as well get the LEGO Technic Police Pursuit Building Set. It's simpler and therefore substantially less expensive than most of the others we've reviewed here.
It's easier to put together as well, making it the best option for those with absolutely no LEGO or STEM experience.
With that said, this vehicle does have a lot to teach children about STEM. It has a powerful pull-back motor, allowing children to pull the car back and then watch it speed off. These basic mechanics can go a long way to igniting a child's passion for STEM.
5. LEGO Technic PEUGEOT Le Mans Hybrid Hypercar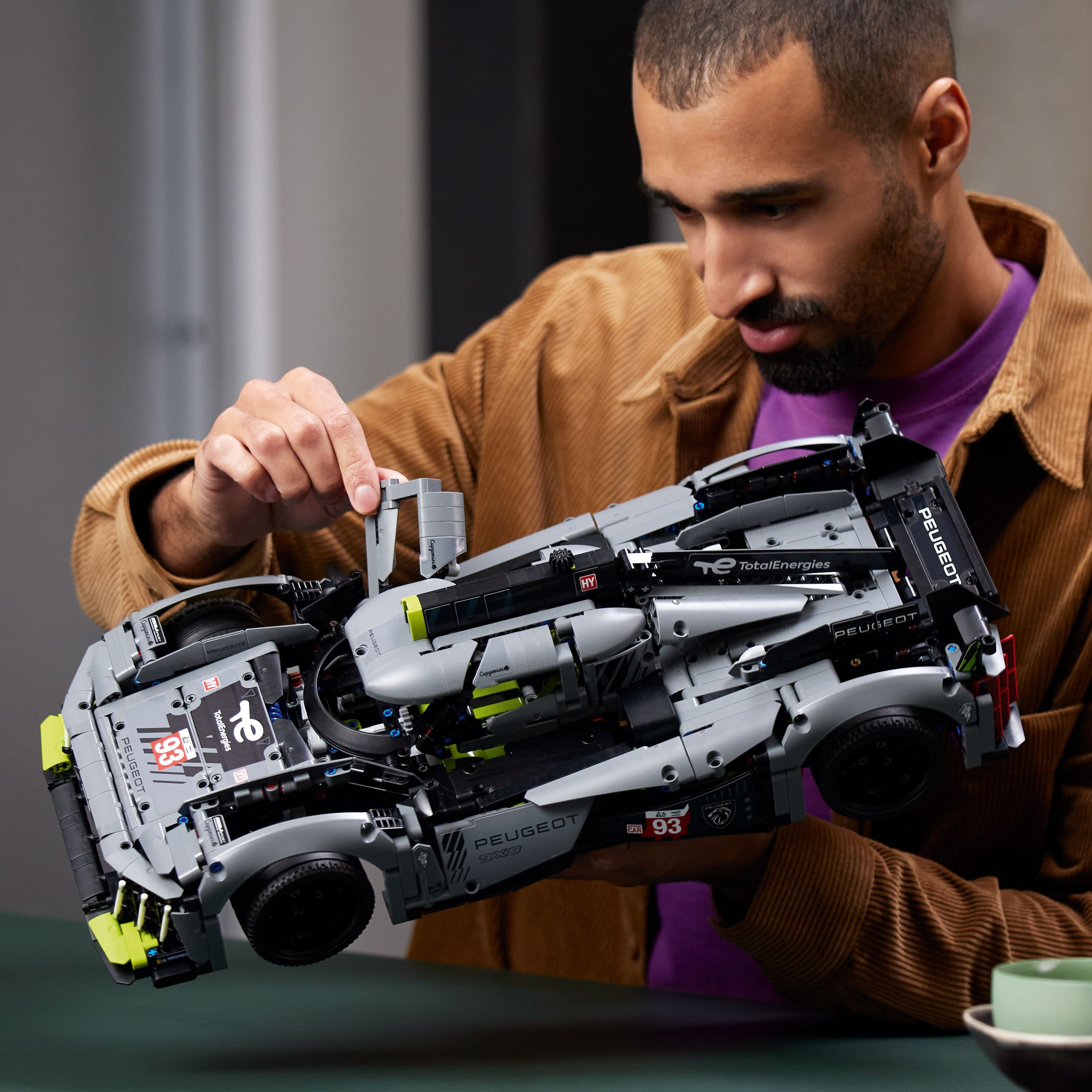 LEGO Technic PEUGEOT Le Mans
An intricate Technic model for anyone looking for a building challenge and offers great functionality as well.
The fact that Lego Technic can be used to make such a complexly shaped vehicle indicates how versatile the Technic elements have become. This model is a 1:10 scale replica of the original hypercar and is made of 1775 pieces. In fact, it took 12 months for the Lego and Peugeot team to finish the detailed design of this model.
Among the other realistic features are the seven-speed transmission and the advanced suspension with horizontal shock absorbers. Multiple new pieces have also been used to create the frame. The fact that it has dual drive elements, a V6 motor and an electric engine, adds to the complexity. Taking your time to assemble the car will help you admire the advanced Lego building techniques used here.
Admittedly, this hypercar looks somewhat odd when compared to conventional cars. However, it offers excellent functionality and offers an enjoyable assembly experience for enthusiasts.
6. LEGO Technic Audi RS Q e-tron 42160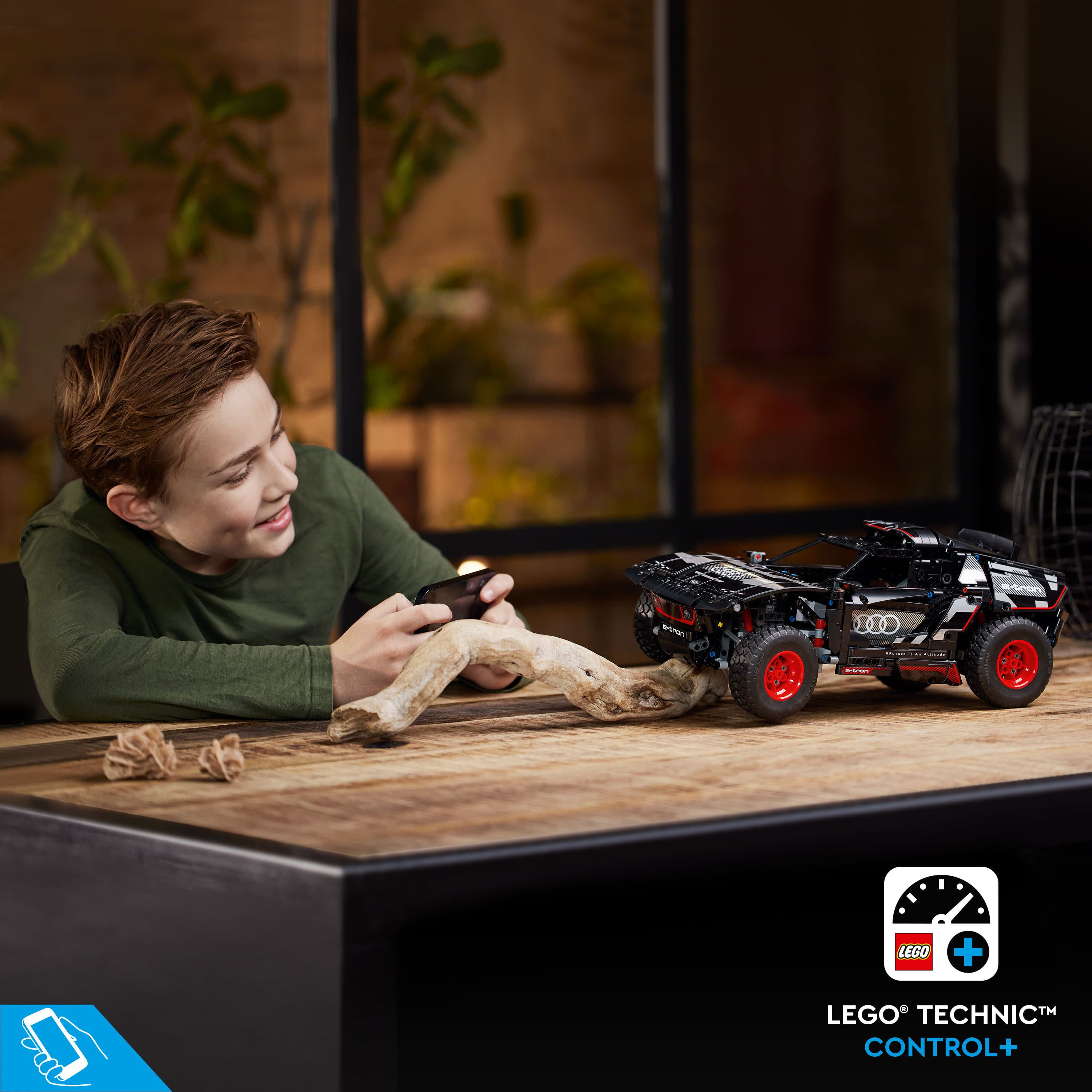 LEGO Technic Audi RS
A LEGO kit with a few new design features and an aggressive final design that offers great fun as an indoor toy.
If you are looking to build a rally car, this is one of the best options from the LEGO Technic series. With more than 900 parts, this serious machine is a relatively new addition to the Technic series that enthusiasts will love.
Inside the pack are detailed instruction sheets with huge stickers that have plenty of wow factor. The stickers add an attractive finish with a consistent color scheme to the final finish. While some users may not like using a ton of stickers, once assembled the aggressive design looks cool.
You can use the Control+ app to remotely control the car through iOS and Android platforms. However, Lego has not added a physical remote that would have enhanced the experience.
Each of the 4 wheels of the car has individual suspensions. Just like a typical rally car, the suspensions are soft enough to tackle irregular terrains and still keep contact with the ground. If you head outdoors, the performance is good but nothing extraordinary.
Three large motors and a heavy-duty differential are included in the kit along with newly designed wheel hubs and CV joints. The treads of the large tires look super cool too. 
Comparing the number of parts and the standard Lego quality with the price, the kit offers excellent value. Overall, this is a sturdy and great-looking choice with a high fun-factor.
Best LEGO Technic Aircrafts & Spacecrafts
7. LEGO Technic Rescue Helicopter 42092
LEGO Technic Rescue Helicopter
A set that you can rebuild into a futuristic plane, providing even more fun and hours of learning.
The LEGO Technic Rescue Helicopter is one of the easier sets to build, as well as one of the cheapest.
This realistic helicopter comes with opening and closing side and rear doors, a working winch, and a rescue stretcher. The winch lowers and raises the stretcher, and children can turn the blade by hand.
When you get fed up with the helicopter, you can rebuild this set into a futuristic plane, providing even more fun and hours of learning. Of course, you can use this helicopter with other LEGO Technic sets. After being built, this helicopter is entirely open-ended and keeps promoting tinkering.
Technically, it's for kids aged 8 and up. Note, however, that a kid 8-10 may need your help here and there. But if you're intending it for a tween, they could find it a bit too easy to build. For tweens, keep looking for a more challenging build!
8. LEGO Technic Race Plane 42117
LEGO Technic Race Plane 42117
Similar in concept to the Rescue Helicopter above, but promotes role play better and has a few interesting details such as propeller that spins as you push the plane along a surface.
Say hello to another one of the cheapest Technic sets! Made of 154 pieces, this eye-catching plane is a great choice for kids who love things that fly (or pretend to fly). The size of the plane is perfect for kids to handle and once built, it looks super cool.
Lego has combined 2 models in 1 and this racing plane can be converted into a jet plane. It has great details with a spinning propeller and a realistic landing gear. The propeller really works exactly the same on both variations, except that it sits in the front of the plane and in the back of the jet.
Oh, and if you ask me, the jet looks a lot cooler than the plane. Kids will also love proudly applying the decals onto their creation once the building is done.
Overall, a great pick to make young enthusiasts familiar with the LEGO Technic system.
9. LEGO NASA Mars Rover Perseverance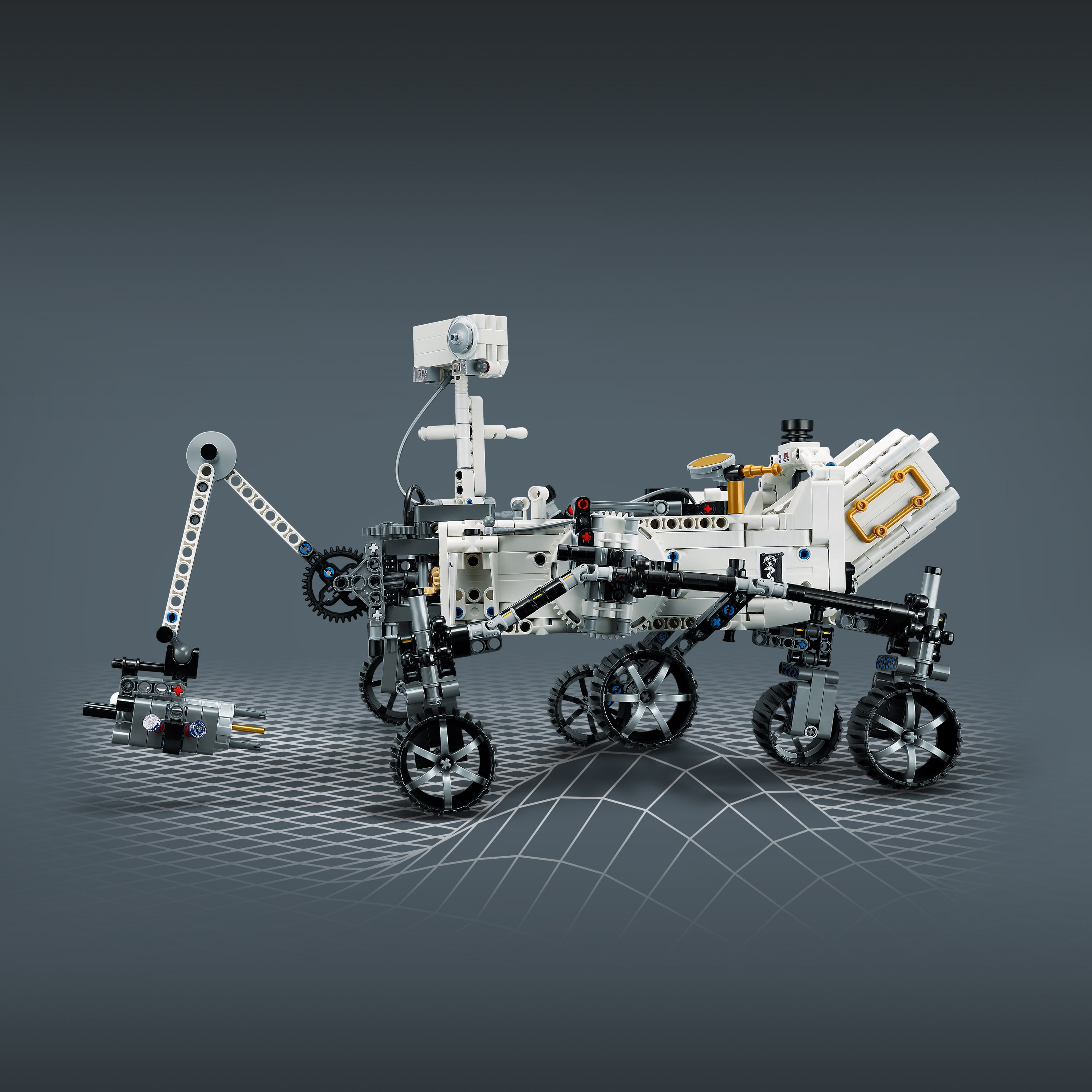 NASA Mars Rover Perseverance
If you are looking beyond the standard Technic kits of supercars and heavy vehicles, this is a toy that you need to check out.
Space exploration is a subject with a broad appeal. If you are looking for a unique educational tool this Lego model based on the NASA robot that drives around on the surface of Mars is a great choice. 
In fact, Lego and NASA have collaborated previously on a number of space-themed kits. So it comes as no surprise that the ingenious steering and linkage mechanisms of the original craft have been implemented well by Lego.
The Lego components are made from hard plastic with black and silver shades that make it look great. If you check it against the original rover, the details are mostly accurate. It has six wheels, a movable robotic arm, a power unit, and multiple cameras and sensors. The entire craft is capable of rotating 360 degrees. The set also included a model of NASA's Ingenuity helicopter, which was tested on Mars.
The rover has 1132 pieces and if you are bored with the assembly of a typical Technic set, you are in for a surprise. The rocker-bogie mechanism is great fun to assemble and equally fun to operate.  For operation, you can use the steering mechanism or use the Technic AR app.
While the rover is not as challenging to  build as some of the more expensive technic models from Lego, it is a welcome change.
Best LEGO Technic Watercrafts
10. LEGO Technic Catamaran Sail Boat 42105
LEGO Technic Catamaran Sail Boat
A brightly colored and well-designed replica of a real-life sailboat.
The LEGO Technic series is replete with automotive vehicles. At the top, we highlighted an aerial vehicle. Now it's time for a seafaring vessel!
LEGO Technic Catamaran Sail Boat 42105 is a fresh take on the Racing Yacht 42074, which was recently discontinued.
I am personally at a loss as to why LEGO discontinues any of their products. I've never seen any manufacturing defects, and customers are always unanimously thrilled with these sets!
Be that as it may, the Catamaran set was released just three years ago (2020). With 404 pieces (74 more than the Yacht set had), it allows you to build a functional boat that you can actually sail in your bath tub or in a pool.
(Just don't test it in a river, or off it goes!)
And it's half the price of the Yacht Set!
Your kid can play around with the sails, raising, lowering or angling them for different speeds. It's very affordable, so it's not a bad idea to get two. Then they could race the catamaran against the speed boat and compare their features and construction.
Best LEGO Technic Construction & Heavy-Duty Sets
11. LEGO Technic Compact Crawler Crane 42097
LEGO Technic Compact Crawler Crane
An imposing tower crane that measures 20 inches high and 19 inches long when fully built; can rotate 180 degrees.
For children with a little bit more experience, this LEGO Technic Compact Crawler Crane is a great option. It measures 20 inches high and 19 inches long when fully built, making it extremely rewarding when children get done with it! The boom is extendable, and the hoist works – it even has cabling and a safety lock. The whole crane rotates 180-degrees.
What's best about it is that the fun doesn't stop when you complete it. On the contrary – it can really help kids understand how force works, as hands-on as can be.
When children are done creating the crawler crane, they can also create a compact tower crane, which features the same features packed into a smaller, slightly more difficult to build design.
Note that many young builders are finding it challenging to put together. So it will probably require some commitment on your end, too.
12. LEGO Technic Cat D11 Bulldozer 42131
LEGO Technic Cat D11 Bulldozer 42131
An impressive and sophisticated design makes this bulldozer great fun to play with. But it's not for kids — and not for the impatient!
Okay, we have to be honest for a second – this kit is probably OUR favorite.
The LEGO Technic Cat Bulldozer is not just the most expensive set you can pick but is also one of the most challenging ones. The Cat D11 is one of the most powerful bulldozers from the brand and LEGO has made it super-realistic looking.
The construction is divided into eight stages and it is fairly complex – especially that of the caterpillar track. Take care while connecting the smaller motors with the gearbox as any mistakes at this stage will require a full rework. Interestingly, as per the instructions, the building process is identical to the assembly of the actual D11T.
Once built, this is an imposing machine with plenty of thoughtful details. If you ask me, a touch of red or brown to break the yellow monotone could have made it better looking. As expected, the operation is through the Control+ app. You get a realistic range of movement which is faithful to the real machine.
But the main question is, is it worth the astronomically high price tag?
Could be. If you don't mind the long time needed – anywhere between 6 to 8 hours, and that's if you're skilled – to put it together, this is one of the most fun LEGO models you can pick. Honestly, this beast is one of the most impressive Technic sets on the market.
Just take a look at what it does.
13. LEGO Technic Car Transporter Toy Truck and Trailer
LEGO Technic Car Transporter Toy Truck
An extremely detailed LEGO car that includes a V8 piston engine designed for children.
The LEGO Technic Car Transporter is another one that produces lots of open-ended opportunities. It has an adjustable deck, tilting driver's cab, and working vehicle locks. The car is extremely detailed and includes a V8 piston engine design for children to put together and explore.
This toy truck and trailer building set can alternatively be built into a technic truck and multiple car models. It's also compatible in scale with the LEGO Technic Chevrolet Corvette ZR1, so you can expand with that set and use the transporter to carry multiple cars! If your child loves cars, this is a great way to introduce them to STEM concepts.
14. LEGO Technic 2 in 1 Telehandler 42133
LEGO Technic 2 in 1 Telehandler
Another simple, introductory building set for kids for construction-site role play.
The Telehandler is a realistic forklift truck toy that allows young LEGO builders to learn about the basics of heavy vehicles. Even though the model consists of 143 pieces, the build process is unconventional and interesting.
The telehandler arm is operated by a worm gear mechanism located at the back of the unit. Considering the small size, the overall functionality is good. Note, this is a 2 in 1 model and you can download the instructions to convert it into a tow truck.
While it lacks advanced features, the best aspect of the telehandler is its excellent value. And the ability to develop two different models with so few pieces is definitely a big plus.
15. LEGO Technic Ford F-150 Raptor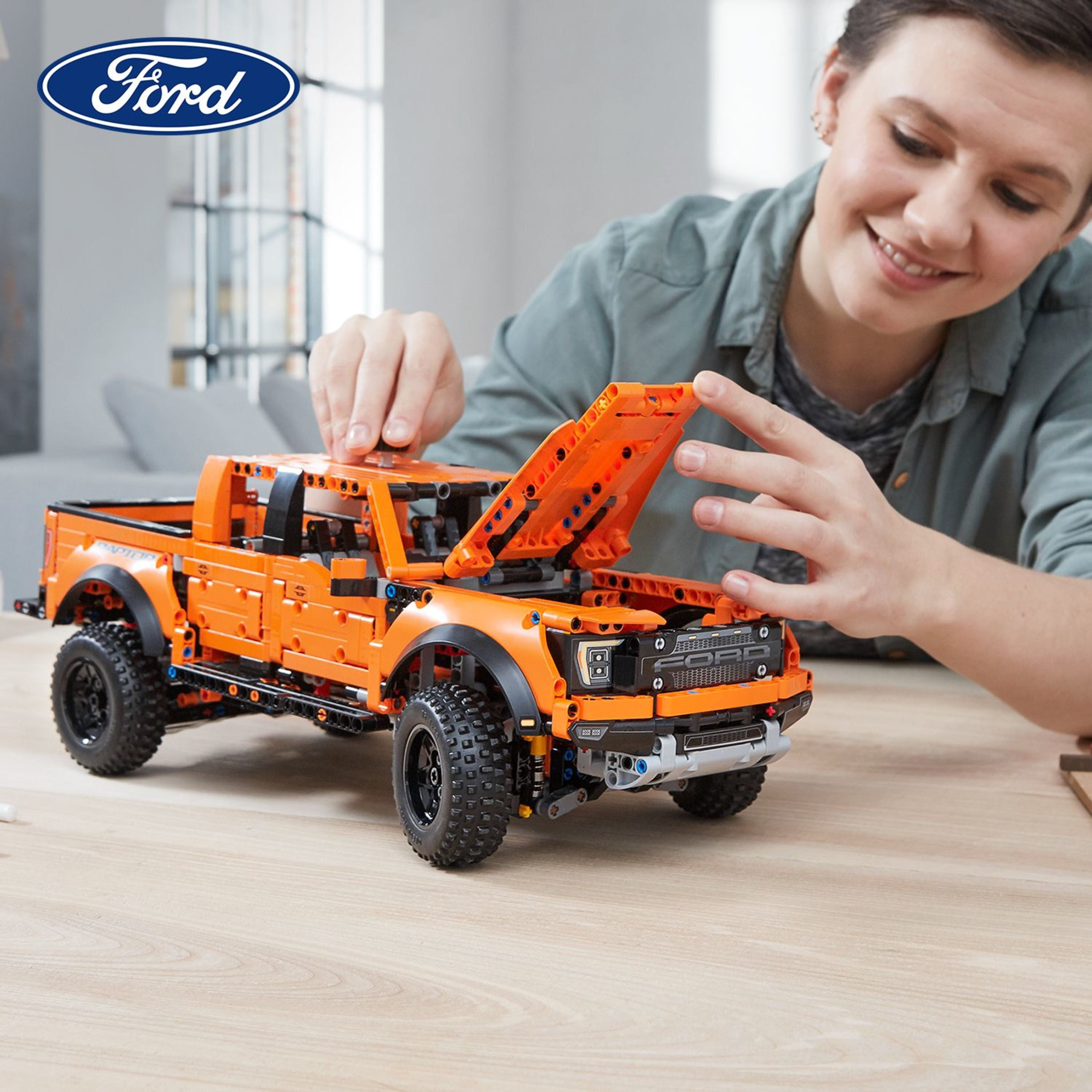 LEGO Technic Ford F-150 Raptor
An eye-catching model that you can enjoy assembling with the kids. Overall, a very good value for the money!
LEGO's version of Ford's best-selling pickup truck is not a 4-wheel drive like the original, but it still packs a lot of fun. Building the model is pretty straightforward, the only complex components being the front and rear axle assembly. 
Once the model is complete, you will surely appreciate the work that the LEGO team has done to replicate the details of the truck. The orange and black combination is eye-catching too. You can admire the details of the drivetrain and suspension from the bottom. A peek inside the bonnet will provide a look into the functioning of the V6 engine.
Since it does not come with the Control+ app, the price is more affordable. While it doesn't bring anything truly exciting to the table, the truck boasts of an excellent design and offers a fun building experience. And even though it is marked for 18+, this is a model that even young Lego enthusiasts can enjoy.
16. LEGO Technic 6×6 All Terrain Tow Truck 42070
LEGO Technic All Terrain Tow Truck
An actual, drivable vehicle that doubles as researcher explorer vehicle. Once you rebuild it, of course!
LEGO Technic 6×6 All Terrain Tow Truck features 2 LEGO Power Functions motors, a battery box, receiver and remote, allowing children to actually drive it around after they build it.
Because it is a vehicle that's actually DRIVABLE, this is one of the more complicated sets for children to make. We recommend it for older children or those with quite a bit of Lego experience.
You can also rebuild this kit into a research explorer vehicle, which is even cooler than the tow truck. This kit is one of the best out there, if a bit costly!
17. LEGO Technic Heavy-Duty Excavator 42121
LEGO Technic Heavy-Duty Excavator 42121
An easy and affordable model for kids who have just started using Lego Technic.
There have been a few excavators in the Technic lineup and most of them were impressive models. This heavy-duty model is the latest and also one of the most good-looking ones. The model has 569 pieces and supports manual operation only.
Interestingly, the building process starts with the boom mechanism and not the undercarriage. If you don't prefer pasting stickers on Technic models, there is good news. This model doesn't have many of them. Considering that this is an 8+ Technic set, the build is easy and playability is excellent.
I like the clever use of two small linear actuators that move the boom and the linkage assembly of the arm and the bucket. Since the mechanism is not covered by panels, young builders can easily study it as an example. However, just like other Lego excavators, the range of movement for the boom is limited.
Quite simply, this is a compact and simple model that is designed to deliver a solid playing and assembling experience for young builders. If you want to pick a Technic set as a gift, this is a great option. And if your appetites grow for a far more advanced, all-powerful LEGO excavator, check out the famous Liebherr below!
18. LEGO Technic Liebherr R 9800 Excavator 42100
LEGO Technic Liebherr R 9800 Excavator
A super powerful LEGO kit that contains 4100 pieces that can be built into a realistic scale model of a Liebherr R 9800 Excavator.
Finally, we have the granddaddy of LEGO Technic sets.
This build is not for the faint of heart! The LEGO Technic Liebherr R 9800 Excavator has over 4,100 pieces! In fact, at the time of writing (updated Nov. 2023), this is the largest LEGO Technic set available. No wonder it's recommended for ages 12 and up.
Not only is this a realistic scale model of a Liebherr R 9800 Excavator, but it also has 2 advanced Smart Hubs and 7 motors which allow it to be operated via a dedicated mobile app.
Standing at 15 inches high, 25 inches long and 10 inches wide, this monster engineering kit is big enough for your kid(s) to start digging a pool in your backyard! Control via the app is incredibly sophisticated, providing 4 control screens and even giving real-time feedback with data such as drive distance and power usage.
It doesn't compete with LEGO Mindstorms 31313 or 51515 though – there is no 'robot brain' that allows programming of autonomous behavior.
Nevertheless, this LEGO Technic set is an engineering marvel in its own right that will provide hours upon hours of STEM fun and learning!
Which of These LEGO Technic Sets Would You Get?
It may be challenging to pick just one since they all offer so much fun and learning! The great thing is, LEGO has such high standards – there aren't any bad Technic sets!
Currently, there are dozens of LEGO technic sets available. All are designed for children to use independently and teach some basic engineering skills. These sets do not require any STEM knowledge and very little parental help.
While they are a little bit more challenging to put together than most LEGO sets, they create exceptional learning opportunities for children with little to no previous STEM experience. Plus, the approachability of LEGO makes them an easy transition towards more sophisticated STEM toys.
Frequently Asked Questions
What is a LEGO Technic set?
LEGO Technic is a LEGO system that features sophisticated components that can mimic the mechanical aspects of modern machines. LEGO Technic sets include special pieces, such as gears, cogs, axles, winches and the like.
How old is LEGO Technic?
LEGO Technic was originally introduced as the Expert Builder Series in 1977 and was renamed "Technic" in 1984.
Does LEGO Technic work with normal LEGO?
Yes, generally. LEGO Technic sets include many 'standard' LEGO pieces and are therefore compatible with other, normal, LEGO blocks. The LEGO Technic pieces are designed to interface with each other, eg. a gear with another gear, a cog mounted on an axle, and to interact with regular LEGO blocks.
What is the biggest Lego Technic set in the world?
Presently (Feb. 2021), the largest LEGO Technic set is the Liebherr R 9800 Excavator 42100 Building Kit, with 4,108 pieces.
Last update on 2023-12-05 / Affiliate links / Images from Amazon Product Advertising API