Best Small Box Board Games (Top 17 Picks for 2023)
*We are reader-supported! This page may contain affiliate links. As an Amazon Associate we earn from qualifying purchases. The price to you remains the same.
Featured photo credit (resized): Matěj Baťha, CC BY-SA 3.0 <https://creativecommons.org/licenses/by-sa/3.0>, via Wikimedia Commons
Small box board games are an excellent option for people with limited space or those who want to have a game to take traveling. This list is a collection of fun games that come in a box small enough to throw in a backpack.
Our top pick is The Mind from Pandasaurus Games. It's a small card game that is super fun and keeps you engaged. It's a good option for gamers of all types and skill levels. But this is just one of over a dozen options we've tested and reviewed below!
IMAGE
PRODUCT
DETAILS 

Best overall

The Mind

This game for 2 – 4 players provides a unique team experience that makes it superbly enjoyable.

Best Strategy Game

Hive

This is an excellent, award-winning and Mensa-endorsed strategy-based board or tile game that can be played anywhere!

Budget Option

Sushi Go

This pick and pass card game for 2 – 5 players is all about collecting the most valuable sushi rolls.
Related post: Top 13 Best Quick Board Games in 2023
Best Small Box Board Games in 2023
1. Best Overall — The Mind
The Mind
This game for 2 – 4 players provides a unique team experience that makes it superbly enjoyable.
The Mind is an ingenious and addictive card game that is a great choice for 2 to 4 players. Apart from being a winner of multiple awards, this fun game is super compact and can be played anywhere. Overall, an ideal choice for family trips.
The game consists of cards numbered from 1 to 100 and the rules are simple. The players need to work together to arrange the cards in a specific numerical order. 
The catch is, the players can't communicate about the cards they hold in any manner. That means each player needs to get a feel for what the other player holds. In fact, the less communication you use, the more fun this game is.
The game consists of multiple levels and you win after you successfully complete each one. For those looking for additional challenges, there's also an extreme mode. The rules are simple enough for younger players to understand.
2. Best Strategy Game — Hive
Hive
This is an excellent, award-winning and Mensa-endorsed strategy-based board or tile game that can be played anywhere!
While it may not be a classic board game, Hive is a fantastic two-player strategic game that is great for families. Since it has no board, cards, or dice, the portability is excellent. 
The tiles come with an almost indestructible build quality and will last forever. You also get a cool-looking travel pouch for carrying the tiles
The game comes with 22 hexagonal tiles and each player gets 11. The tiles represent five different insects and each insect has a different movement style. In general, the average playing time for a game is between 5 to 10 minutes.
While the gameplay is simple, you need some practice to get good at it. Even though it may look simple, Hive is a deceptively challenging game that older kids and adults will enjoy. 
However, younger kids can also have a fun time playing with the tiles, even though they may not understand the strategic elements.
3. Budget Option — Sushi Go
Sushi Go
This pick and pass card game for 2 – 5 players is all about collecting the most valuable sushi rolls.
Sushi Go is a great game to travel with as it comes in a light but sturdy tin. The game is really easy to pick up and learn, and the cards are bright and colorful.
Each turn, you look at a hand of cards and pick one to keep. You pass the rest on. Once the hand is empty, you add up your score. And start another round. When all the cards are gone, the player with the best sushi wins.
This is a game for 2-5 players and since this is a fast game, it takes no more than 15 minutes to play. Apart from that, this is a cute game that kids will love. A big plus is the super-affordable price tag that makes it a great buy.
4. Best Silly Game — Beat That!
Beat That!
A game for 2 – 8 players that requires focus and dexterity, which is all the trickier when you're laughing all the time!
With most board games, the concept is people sitting around a table and pondering on their next strategic move.
Well, forget about it with Beat That! Not only will you not be sitting but crawling, jumping, throwing and balancing things out, but none of you will be silent either. Get ready for some real silliness as you're trying to throw a ball into a cup that's on your head. Or stack cups with a single arm while standing on the rest of your… limbs. Or rise from the floor as quickly as possible without the cup falling from your forehead. Or organize a paper plane competition!
The game will be fun for ages 9 to 99. But what I especially like about it is that you can use it not just at family get-togethers, but also in team buildings or stag parties or just about any informal social circumstances.
5. Best Board Dice Game — Juegoal Shut The Box Wooden Dice Game
Juegoal Shut The Box Wooden Dice Game
A classic game that works well on family vacations and is also popular as a traditional pub game.
The Shut The Box Dice game offers a solid combination of fun and educational value. This is a great game that's fun for ages 9 to 99. It's best to play it with 2 -4 players, but more players can always be added.
The aim is to arrange the numbers in the right sequence so that you can 'shut the box'. You roll the dice and add up the numbers to make your move. Anyone who is able to shut the box is declared the outright winner. While it's an easy game, it keeps the players engaged. Additionally, it also helps kids to learn math.
What stands out is the high quality of the box, handmade from premium pine wood. Rest assured; it will last for a long time. Even so, it's lightweight. The size of the box also makes it great for carrying.
Overall, the game is not just for family get-togethers but also for just about any informal social circumstances.
6. Best Tile-Based Game — Rummikub
Rummikub
A time-tested classic for 2-4 players that is easy to learn but extremely satisfying.
Rummikub has been around since the 1940s but it has aged well and still remains an extremely popular choice. While it's similar to the classic card game rummy, it also includes features from other games like Dominoes, and Mahjong. 
The game uses 106 plastic tiles. The players start with 14 tiles each and are required to form a set. The idea is to get rid of all your tiles as quickly as possible.
On the surface, it looks easy to play. But delve deeper and you will realize that it needs a good amount of strategy. To make things more fun, it also involves a certain amount of luck and some creative puzzle-solving.
And the best part is, Rummikub helps kids to learn sequencing and pattern recognition skills. The game can be easily stored and carried around in the supplied travel case which makes it a highly portable option.
7. Best Quick Play Game — No Thanks!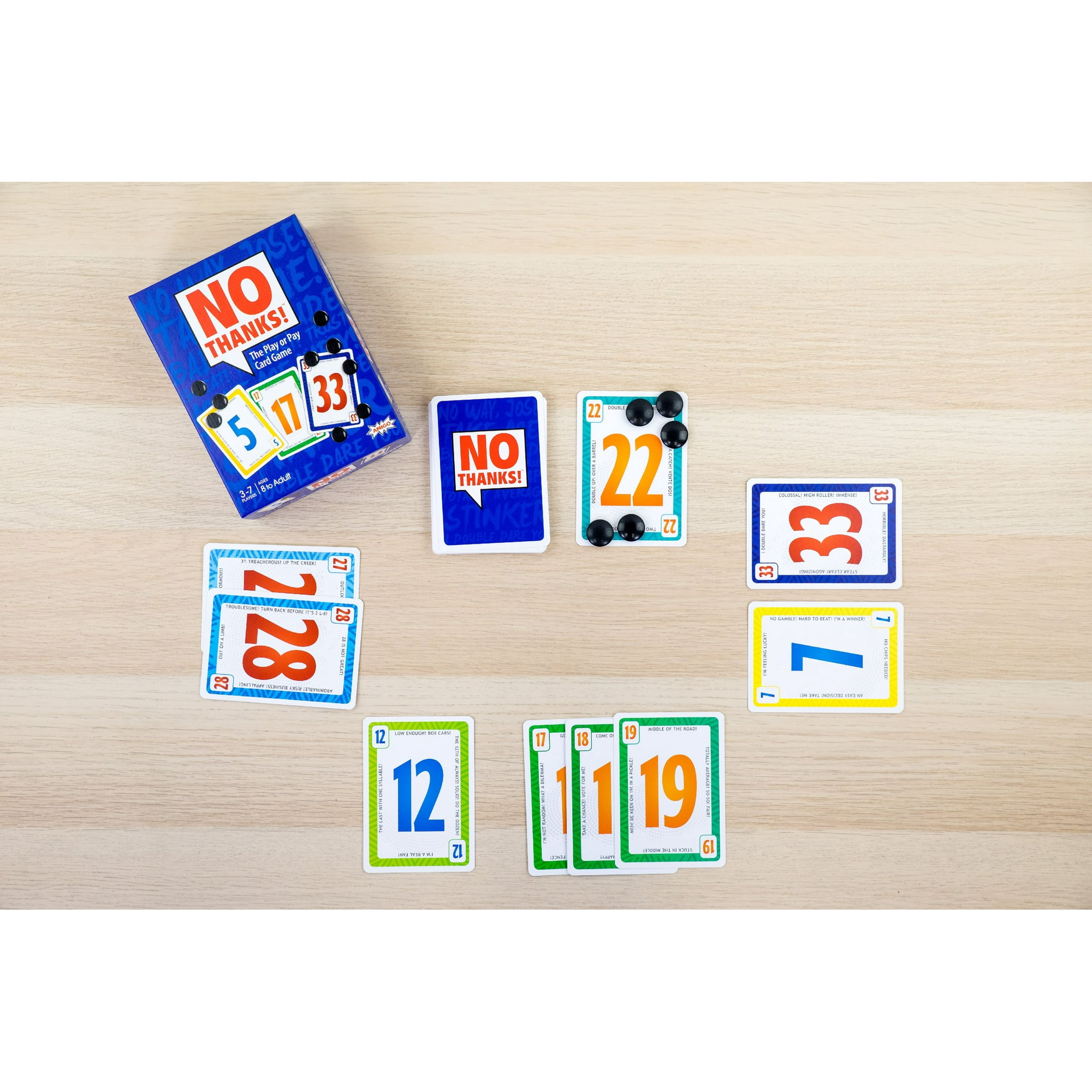 No Thanks!
In this game, for 3 – 7players, you pay to leave cards on the table. The lowest score at the end wins.
In No Thanks!, the aim is to have the lowest score at the end. The first player turns over a card, and either takes it or pays to leave it on the table. Play continues with players either taking the card along with all the tokens on it or paying to leave it. Once it's taken, a new card is turned over.
The game is simple, but the scoring rules add a nice layer of strategy to your choices. It plays fast and is simply fun.
This game works with a minimum of 3 players and a max of 7. It takes no more than 20 minutes to play. But don't let this trick you: in all likelihood, you'll be playing it over and again for hours on end!
8. Best Simple Game — Love Letter
Love Letter
In this game for 2 – 6 players, you're vying for the affection of the princess.
Love Letter is an exquisitely simple and minimal game that comes in a small package. It has a small deck of cards and a few red tokens.
This is a game of deduction and intrigue. You use your cards to try and get your letter delivered to the princess by the highest-ranking member of the court possible. You play in rounds. The first player to win 3/4 rounds wins the game.
The game is simple enough to learn but it's highly competitive. Spoiler alert- it doesn't have anything to do with love as such. However, the concept is based on medieval characters which gives it a Shakespearean feel.
Love Letter is for 2-6 players and is elegantly simple in design and concept. It takes about 20 minutes for you to win the princess's favor.
9. Best Trivia Game — I Should Have Known That!
I Should Have Known That!
This is a flexible trivia game that comes with interesting questions and is good for all skill levels.
Ever caught yourself complaining at just how much your brain appears to have shriveled since the advent of Google? You're definitely not alone!
If you enjoy playing trivia games while sitting around a campfire, I Should Have Known That! is definitely a good choice. The game comes with 110 cards and over 400 questions. It can be played with a minimum of 2 players.
The game is played in rounds and you can play it in teams. Points are deducted if a player gives a wrong answer. To make things more interesting you can create your own rules.
Many trivia games come with questions about which we have hardly any idea. This game comes with its share of such questions, but that number isn't high. That said, such questions make the game more fun to play.
Overall, it's a basic game that works great for families. Since the questions are work-appropriate questions, you can also use it while hanging out with colleagues.
And the weirdest thing is, you think you'd remember the answers second or third time around. But you won't! There are so many questions that you'll be able to have a blast 4-5 times. And when you exhaust the fun, you can simply hand it down to a friend.
10. Best Easy to Learn Game — Taco vs Burrito
Taco vs Burrito
It caused a frenzy for a reason – it's deceptively simple and incredibly easy to learn, yet fun and challenging!
The gist of Taco vs Burrito is as simple as it's silly. Each player gets five cards, which are actually ingredients for taco or burrito. All you need to do is – make one!
Except that there are twists. Your ingredients may also contain something gross such as mustache hair! How's that going to work?
To spice things up (pun intended!), you'll also get action cards that can either decrease or increase your meal's final value, or just mess things up a bit. Tummy ache won't feel very good! And the health inspector is even worse: this card means your food is unsafe and belongs to the trash bin.
Amazingly enough, this game was designed by a 7-year-old kid. Still, it's so addictive and hilarious that adults love it too. In fact, the game turned out to be an instant hit at Emerald City Comicon.
11. Best Cooperative Game — Hanabi
Hanabi
This game for 2 – 5 players sees you race against the clock to set off fireworks in the right order.
There are two categories of board game fans: the ones who thrive on competition, and those who prefer working with instead of against their co-players.
This game is for the second group! Hanabi is an interesting take on a hidden information game. You can see everyone else's cards, but you can't see your own! With that in mind, you have to work together to lay the cards down in the right order, relying on memory and teamwork to do so.
Your co-players will reveal bits and snippets of info on each of your cards. It's up to you to process and memorize, then use this intelligence to choose which card you'll play.
This is a pretty and fun cooperative game for 2-5 players. It takes about 30 minutes to launch your fireworks and find out if it was a success or if they just fizzled out.
12. Best Dice Scoring Game — Qwixx
Qwixx
A simple but challenging dice rolling game for 2 – 5 players that is easy for anyone to enjoy.
If you're looking for a fast and exciting dice game, try Qwixx. As the name suggests, the game is fast-paced and the time to play is between 15 to 18 minutes.
And if you're suspicious towards these very simple, dice-and-pen games, hear this. The game won the Mensa Select award back in 2014!
It packs six dice and a pad of full-color score sheets. The basic rules are simple. The players will roll all the dice and try to score the highest. Even though the gameplay is simple, you will need to make quick decisions and take some risks. 
At first glance the game seems to be totally dependent on luck. But it's not so. Players need to make choices and are involved in the game with every dice roll. That makes Qwixx more engaging than traditional dice-throwing games.
However, the game comes with 80 scoring sheets. So, you might need to photocopy the sheets in the long run.
For anyone who played Yahtzee and found it boring, Qwixx offers a refreshingly different gaming experience.
13. Best Roguelike Dungeon Delve — One Deck Dungeon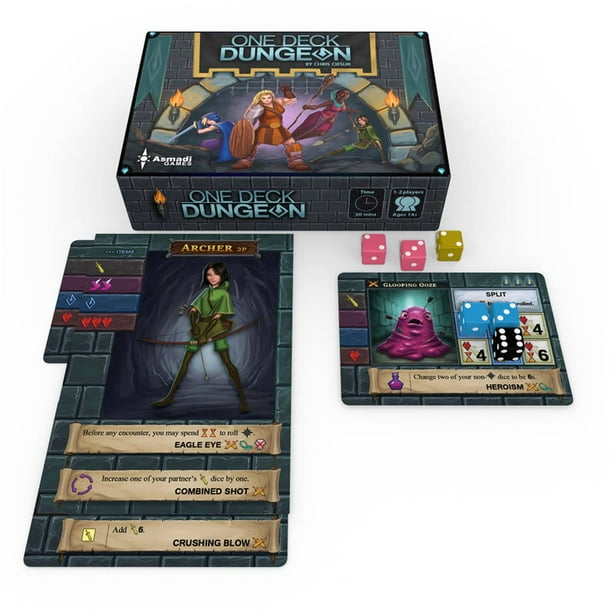 One Deck Dungeon
This is a 2 player cooperative dungeon crawler best suited for players over 14.
One Deck Dungeon is the ideal choice for anyone who likes RPGs but doesn't want to spend hours building characters and games.
The deck takes you through a dungeon where you are faced with numerous challenges to overcome. Each time you succeed, you can choose to get XP, an item, or a new skill. This is how you grow your character to delve deeper. Plus, the game never gets boring and the replayabality is on the higher side.
The game packs in many of the elements of much larger RPG and roguelike games into a really small package. This is definitely one that's worth a try. Some players may find the game to be on the tougher side though, but it never gets impossible.
The game can be played with 1 or 2 players. However, by using multiple boards, you can add more players. It takes around 30 -45 minutes to play. The compact size makes it ideal for playing in small spaces.
14. Best Exploding Kittens Style Game — Goat Lords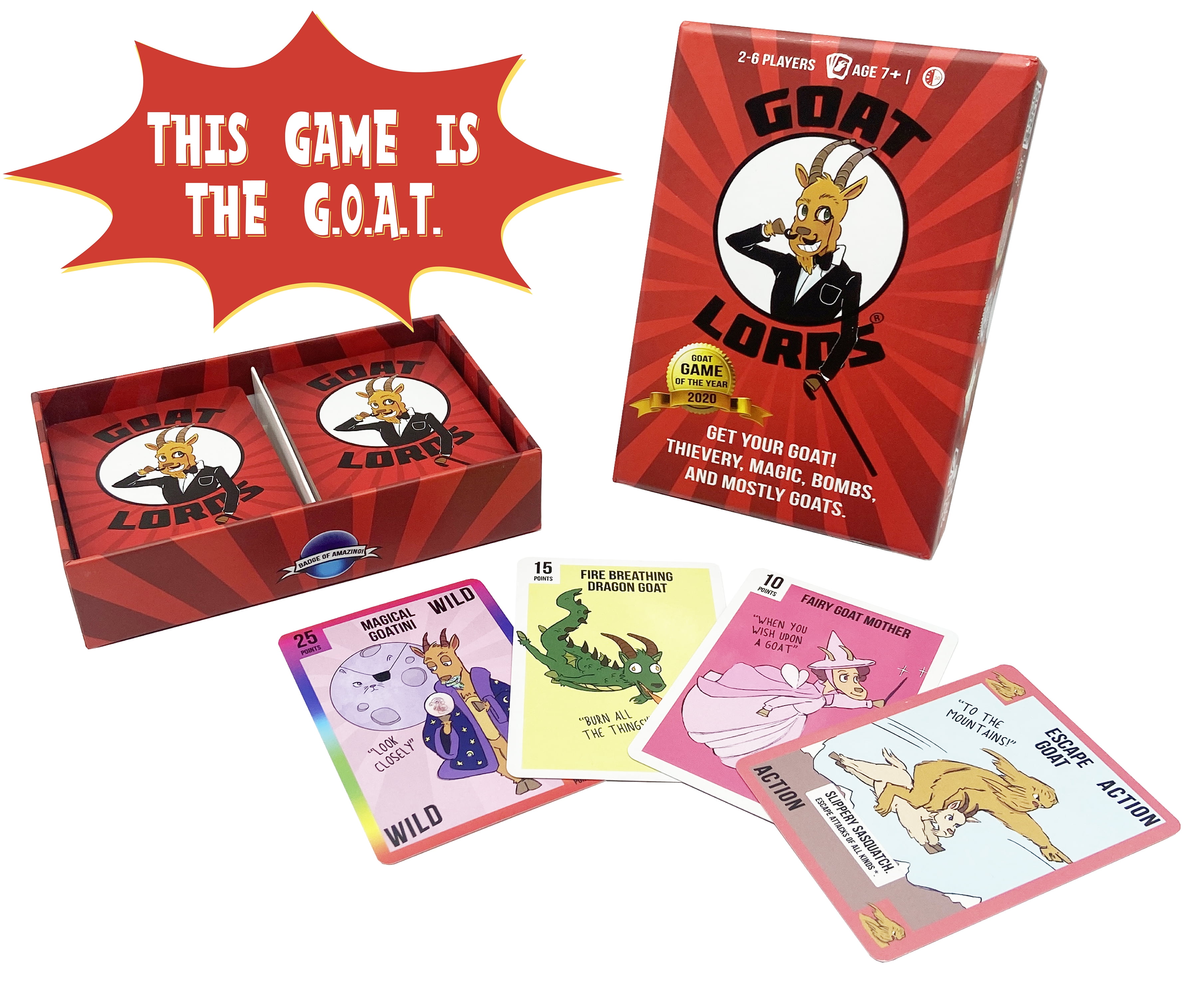 Goat Lords
This card game for 2 – 6 players has a dynamic and competitive play mechanic.
Goat Lords is a game that will look familiar to anyone who has tried Exploding Kittens. It has the same silly feel but offers a very different mechanic. If you like Exploding Kittens but want to try something new, this is a really good choice.
Basically, the game is about collecting pairs. However, you can steal goat pairs from other people in duels. The game is well-balanced to prevent you from totally wiping each other out, so it stays interesting and competitive throughout.
The cards are well-designed and the fun factor is on the higher side. Since it's fast-paced and involves strategic thinking, younger players find it easy to focus their attention.
The game works for 2-6 players and takes around 30 minutes to play through. And before you start, don't forget to take a close look at the instructions.
15. Best Bluffing Game — Bamboozled: The Bluffing Dice Game
Bamboozled
In this game for 2 – 8 players, you roll the dice and try to spot who's bluffing.
Bamboozled is a fun little dice game. If you're in the mood to outwit your friends and emerge as the last man standing, this is the right game to pick.
There are two dice, a set of 42 cards, and a dice cup—every turn, you have to roll a higher score than the player before you. If you don't, you must bluff about what you rolled. Get caught bluffing, and you get a strike. Falsely accuse someone of bluffing, and you get a strike. Three strikes and you're out.
To add an extra dimension, there are action cards. You start with one and can earn more through bluffing. These cards can help you to get out of a tight spot when you need some help.
Since it works with 2-8 players, the game is flexible enough for various group sizes. However, no matter the group size, it will take around 15 minutes to play through.
16. Best for Treehouse Fans — Best Treehouse Ever Forest of Fun
Best Treehouse Ever Forest of Fun
In this game for 2 – 8 players, you are each trying to build the best treehouse without it falling out of the tree.
Best Treehouse Ever Forest of Fun is a deck drafting game. In each of the three rounds, you get to place cards to build your treehouse. This means adding rooms like an ice rink, an observatory, or a hot tub. At the end of each round, you score your treehouse based on the colors you have grouped together.
However, to make this a more competitive game, each round, players can alter the way the scoring is done. So you can maximize your points and stop other players from scoring so well. It's a good mix of whimsical and brutal!
This game works equally well for 2 – 8 players. It only takes about 20 minutes to complete a full game of three rounds.
17. Best Push Your Luck Game — Deep Sea Adventure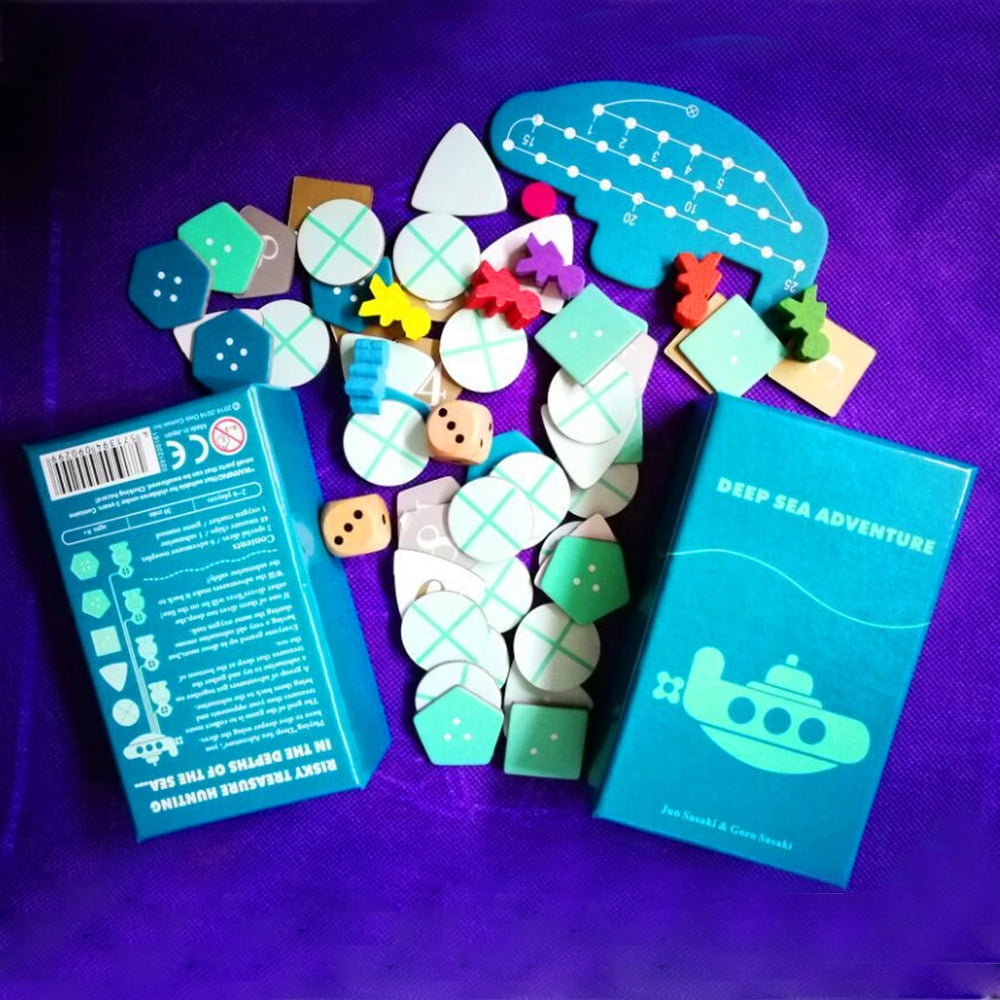 Deep Sea Adventure
In this dice rolling game for 2 – 6 players, you descend to the bottom of the ocean to collect treasure.
Deep Sea Adventure is a game of three rounds. In each round, you roll dice to dive up down the ocean. At each stop you make, you can pick up a treasure of unknown value. The deeper you go, the more valuable the treasure. However, the oxygen will slowly run out, and if you don't make it back to the sub in time, you lose all your treasure.
Each round, the deeper treasures get more valuable, tempting you to push your luck and go deeper.
This game for 2-6 players takes around 30 minutes to play.
What to Consider When Buying a Small Box Board Game
Number of Players
It's not uncommon for small box games to only support a small number of players. So it's worth checking on the player count before you choose a game. If you need a game that's more flexible, it can be a good idea to look for card based games as these are usually more flexible on player numbers.
Mechanics
Small box games tend to rely on either cards or dice. That means your likely to find a lot of deck drafting and dice collecting games. If these aren't mechanics that you enjoy, then you'll want to look for options like Best Treehouse Ever or Port Royal. These games feel more like big box games than some of the other options.
Theme
As with anything, it's always a good idea to pick something with a theme you will like. The artwork on some of these games is very distinctive. Choosing one that you like the look of and has an attractive theme will make the game even more enjoyable for you.
Frequently Asked Questions
What is a small box board game?
There are a few different definitions of small box board games. Some people are only referring to the size of the box, while others are referring to games that don't come with a lot of pieces, and for some, they are ones that have minimal mechanics. For the purposes of this list, we have taken small box board games to be one that comes in a box that is sized for travel. There are also some options that meet the other definitions as well.
Are card games board games?
It depends on who you ask! However, 'board game' is becoming a very broad term. When you see it used now, it is referring to any game that is mostly based on physical objects. So that might be a board, it might be a deck of cards or a set of dice.
For those who really care about terminology, it might be better to call them all tabletop games. But, as most people just use the term, they know better board games is the most common name used for all these games that you play on a tabletop.
Are small box games as good as regular board games?
Just because a game comes in a small box doesn't mean that it's less fun than a full-sized board game. In fact, many of these small games have simple rules and are quick to play. This can make them more accessible and fun to play than some more involved options.
Last update on 2023-06-08 / Affiliate links / Images from Amazon Product Advertising API