Best Computerized Telescope for Beginners (Top 9 in 2023)
*We are reader-supported! This page may contain affiliate links. As an Amazon Associate we earn from qualifying purchases. The price to you remains the same.
If you're new to astronomy, it can be overwhelming to decide on a telescope. Computerized scopes offer an accessible introduction to what can be a daunting hobby.
Our top pick is the Celestron NexStar 90 SLT. It's an excellent all-around computerized telescope that will be the best option for most beginners.
IMAGE
PRODUCT
DETAILS 

Best overall

Celestron NexStar 90 SLT

A great all-round telescope that's easy to get to grips with for beginners

Best GoTo Dobsonian

SkyWatcher GoTo Collapsible Dobsonian

This collapsible telescope has everything you need to get up and running quickly and easily while providing high-quality optics.

Budget Option

Meade Polaris 90

This budget-friendly refractor scope comes with three eyepieces, a red dot finder, a tripod, and a database of 10,000+ celestial objects.
Related post: Best Telescope for Beginners
Best Beginners Computerized Telescope
Best Overall — Celestron NexStar 90 SLT
Celestron NexStar 90 SLT
A great all-round telescope that's easy to get to grips with for beginners.
The Celestron NexStar 90 SLT is part of Celestron's range designed explicitly for beginners. As such, it's easy to put together, and you can be up and running in around 10 minutes.
Celestron's range of computerized telescopes all come with their patented 1,2,3 Star Algin process. This lets you set up the telescope with no knowledge of astronomy at all. You first align the red dot finder scope. Once that's done, you just need to find any three bright stars in the night sky. It's swift and easy.
The software that comes with this computerized telescope is great for helping you to learn more about astronomy. The sky maps are perfect for helping you to get the hang of making observations.
This telescope is very much a mid-range option. It's not the biggest, the best or the cheapest. It will give you clear views of solar system objects as well as some brighter deep-sky objects. With a database of over 40,000 celestial objects, there will be plenty to keep you engaged.
Like many computerized telescopes, this one is battery hungry. It can go through the 8 AA batteries it runs on pretty quickly. So, it can be worth considering buying a powerpack to go along with your shiny new computerized telescope.
Best GoTo Dobsonian Telescope — SkyWatcher GoTo Collapsible Dobsonian 8-Inch
SkyWatcher GoTo Collapsible Dobsonian
This collapsible telescope has everything you need to get up and running quickly and easily while providing high-quality optics.
The SkyWatcher GoTo Collapsible Dobsonian is a very pleasing piece of kit. It does come with a higher price than the other options, but as with most things in life, you do get what you pay for. You get a lot with this telescope.
The design is innovative and allows you to easily collapse the optical tube for transport. There is no need to re-collimate, so it's a convenient feature. You can also separate the optical assembly from the base to fit with ease into any vehicle.
The mount can be operated either with a motor, or you can move it manually. There is nothing to change when you switch from one method to another. There is no realignment needed if you decide to manually use the telescope for a little while.
You can control the mount using the handheld device. Or you can connect to it using wifi. With this, you can use a smartphone or tablet to control the telescope using the associated app.
The database that comes with this telescope has over 42,000 objects listed. The controls are easy to use and well thought out. There is also an easy access tour of the sky option, which will give a simple guided tour of the night sky. It's an excellent option for beginners and when you just want to enjoy the beauty of the night sky.
This telescope comes with everything you need, including a selection of eyepieces. They are lovely wide-angle eyepieces that are comfortable to use. There is also a handy space built into the mount for storing them while you're out observing the night.
Budget Option — Meade Polaris 90
Meade Polaris 90
This budget-friendly refractor scope comes with three eyepieces, a red dot finder, a tripod, and a database of 10,000+ celestial objects.
Back in 2019, backyard astronomers were shocked to hear that Meade Instruments filed for bankruptcy after losing a court battle to Orion. It was a big blow to the industry of cheap yet powerful scopes for amateurs. But if you're one of Meade fans, fret not: the brand and all the trademarks and licences were recently sold to Orion, so we'll keep seeing, buying and stargazing through these amazing scopes.
The Meade Polaris 90 is an impressive telescope considering the price. It's incredible that you can get a computerized telescope at this price, never mind one as nice as this.
As you would expect from a budget telescope, it does not have the largest aperture around. However, as it is a refractor, you do get a decent image despite its smaller size.
The single-arm tripod mount is secure, steady, and lightweight, which makes this an excellent telescope when you're on the go.
The database has 10,000+ objects that you can find with the go-to mount. This is plenty for a beginner, but you may find you outgrow it if you really develop a passion for astronomy. The handheld controller does have an audio function. It has 4 hours of information about some of the most popular celestial objects. Which is, again, a beginner-friendly feature.
This telescope is most suited to observing the planets and objects inside the solar system. Due to its smallish size, you may struggle to see many deep-sky objects.
Best for Easy Transport — Meade ETX80 Observer
Meade ETX80 Observer
This is the ultimate in a portable telescope. It comes with its own backpack that you can fit everything you need into.
The Meade ETX80 Observer is probably one of the most easily portable computerized telescopes around. This is a really great all-around telescope that you can carry in a backpack.
The refractor assembly and the computer all fit into the backpack, along with the two eyepieces, red dot viewfinder, and built-in flip mirror and Barlow lens. This arrangement of a flip mirror and Barlow lens means you can simultaneously use a camera and the eyepiece. It's ideal for astrophotography.
The tripod is made from lightweight aluminum and folds up well so even though it doesn't fit inside the backpack, it is still straightforward to transport.
The database has 30,000+ celestial orbit. Included with this is around 4 hours of audio descriptions. These are mostly concerning the most famous objects in the sky. It's a charming introduction to astronomy for beginners, though.
The big downside to this telescope is that it is battery hungry. You will always need to make sure that you put in a fresh set of batteries each time you plan to use it because it really drains them quickly. It can be a good idea to bring a spare set if you plan to be observing for a long time. For how portable this telescope is, though, this isn't a deal-breaker as long as you prepare.
Best for Astrophotography — Celestron NexStar 8 SE
Celestron NexStar 8 SE
This Schmidt-Cassegrain telescope is user-friendly and combines portability with great optics.
The Celestron NexStar 8 SE is an updated version of a classic 1970's design. It has all the much-loved features of older telescopes but has been modernized with some great technological features.
The software for this telescope includes a database of over 40,000 objects. Once aligned, it will automatically suggest a list of the brightest objects in the night sky that you might wish to observe. Alignment is straightforward. You just have to find three bright stars. You don't have to know which stars you've picked. You just need to use the finder scope to line them up in the eyepiece.
The mount is a single fork arm. This is a more lightweight option. There is also space in the arm for the controller to sit. There is also an internal battery compartment so you can power your telescope without the need for excessive wires. The wires you need are contained, and this prevents things from getting tangled.
This telescope comes with a wide selection of both eyepieces and filters. Along with the stable mount and smooth motors, this makes it such a good option for astrophotography.
Given how many accessories this telescope comes with, it's nice that an accessory tray sits within the tripod. It makes it easy to keep all your eyepieces and filters to hand so you can swap them out as needed.
The only negative about this scope is the spotter scope. It can be a little fiddly to get it aligned. Given how this telescope is configured, it's imperative that you have the finderscope aligned before you begin configuring your scope. However, once this is sorted, it is a very user-friendly telescope.
Best Large Portable Telescope — Meade Instruments ETX125
Meade Instruments ETX125
This is an excellent sized portable telescope that's easy to set up and offers a good aperture size.
The Meade Instruments ETX125 is the largest of Meade's ETX range. It is still reasonably portable but has a substantially sized aperture. All the telescopes in the range have handheld control with an integrated speaker. This is to play over 4 hours of audio narration linked to the 30,000+ celestial objects in its database.
The amount of items in the database is plenty for beginners. However, you may find you outgrow the selections as you gain more experience.
Because this is a large telescope, it comes with a dual fork arm and a full steel mount. This gives a firm and stable base for your observations. There is a built-in tilt plate as part of the mount.
This telescope is pretty easy to set up, which is what you want in a telescope for beginners—especially one designed to be portable.
The telescope is a Maksutov-Cassegrain arrangement, which gives some good quality images. The scope comes with two eyepieces, a red dot viewfinder, and a bubble level.
The combination of a good-sized aperture and a portable assembly makes this an excellent option for enthusiastic beginners who want to get out and about with their new computerized telescope.
Best for Viewing Deep Space Objects — Celestron NexStar 130SLT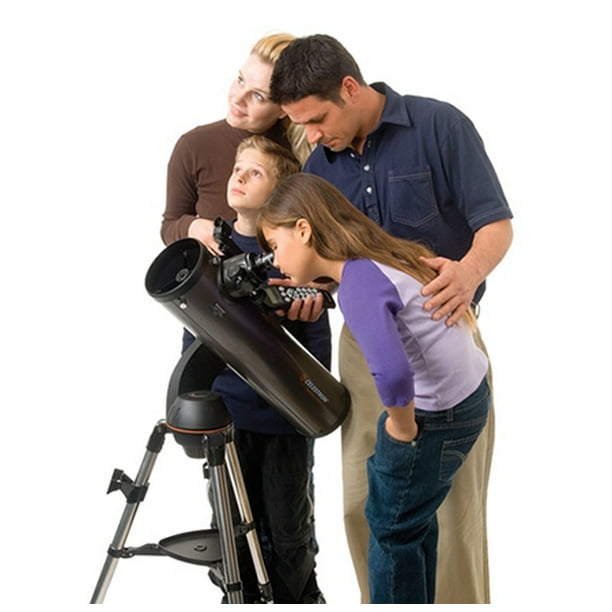 Celestron NexStar 130SLT
This compact and portable telescope is capable of viewing local and deep space objects well.
The Celestron NexStar 130SLT is surprisingly compact for the size of the aperture it offers. This is due to its Newtonian reflector design. This allows you to view Jupiter's cloud bands and Saturn's rings, and a range of brighter deep space objects. The range is impressive for such a portable telescope.
Because it's a reflector, this optical assembly has the eyepiece located at the top of the barrel. This makes it a lot easier to get the telescope into a comfortable viewing position. It means you can stand to observe without having to crane over an eyepiece.
This telescope comes with Celestron's Sky Align system. That makes it really easy to set up. You just need to locate any three bright objects in the night sky, and the telescope will do the rest for you. This setup system is ideal for beginners, as there is no prior astronomical knowledge required.
Once you have calibrated your scope, you can get a tour of the night sky with a single button press. It's effortless to get started with. The database has a selection of over 40,000 stars, planets, galaxies, and nebulae to show you.
Best Small Computerized Telescope — Celestron 70mm Travel Scope
Celestron 70mm Travel Scope
This is a great compact and no-frills refractor telescope. It's an ideal starter telescope.
The Celestron 70mm Travel Scope is a great little telescope. It's one of the smallest computerized telescopes you'll find on the market. This makes it great for taking out and about to explore the skies around you. It's swift and easy to set up, and you can be viewing the stars in minutes.
The telescope is small and light. The stand is foldable and made from aluminum. So the whole thing is very lightweight and easy to travel with.
The aperture is on the small side at 70mm. However, as it is a pure refractor scope, it does offer a great image for that aperture size. It's best for beginner astronomers who are interested in making observations inside the solar system. You can see some of the brighter deep sky objects with this telescope, but it is limited by its size.
Of course, if you're a hobbyist already, steer clear from this or any scope with aperture below 76mm.
It also comes with all the Celestron computerized telescope features. This includes the extensive database, easy alignment process, and supporting apps and software.
The best way to define this pick is a telescope for dipping your toes in. It's the lowest in performance, but also the cheapest on our list and you may even catch it on sale from time to time! So you won't regret splurging on something you or your kid turns out to be not interested in after a while. It's compact and easy to use. If you want to upgrade, it is compatible with a range of Celestron accessories, so you do have options to help it grow with you.
This telescope is particularly suitable for beginners because it has very low magnification. This makes it easy to make observations while you're still learning the ropes. There are two wide-angle eyepieces inside, so you can still get some good close up views as well.
Best for Viewing Planets — Celestron 114LCM 
Celestron 114LCM
This Newtonian reflector is an excellent telescope for viewing planets and solar system objects.
The Celestron 114LCM is another member of the Celestron family. This is the largest aperture model from their basic computerized telescope range. While it is the basic range, this is still a fantastic telescope for amateur astronomers.
This Newtonian reflector has the ideal range and size for viewing planets. If you want to see the rings of Saturn and the clouds and moons of Jupiter, then this is one of the best computerized telescopes for beginners to do just that.
As this is a reflector telescope, the eyepiece is located at the top of the telescope. This is ideal for viewing while you stand comfortably. There are two eyepieces included, which you can easily change if you want to get a closer look at your chosen target.
As this is a Celestron telescope, you can expect all the accompanying features. The 1,2,3 Star Align, accompanying software and compatibility with their accessories, for modifying your telescope.
This is a telescope that is easy to use for anyone. Set up is quick and easy, and it contains everything you need to get started. This whole range of telescopes has been designed to make astronomy more accessible. They're done an outstanding job of that because this telescope is the height of user-friendliness.
What to Consider When Buying a Computerized Telescope

Database
When you choose a computerized telescope, you're choosing it for the ease of tracking objects you want to view. So the size of its database is critical. There's no point buying a telescope that won't follow the objects you're interested in.
Most computerized scopes will have all the necessary objects you'd expect, like major stars, nebulae, and planets. Some will have more deep space objects than others, though.
You will also probably want a database that is easy to operate and access. It's no fun if you spend your whole night flicking through menus instead of watching the skies.
Star Alignment
All computerized telescopes will need to be aligned before you can use them. Most will offer several different methods. The most common requires you to level the mount off. Then find two bright stars in the night sky. You will often be able to pick the stars from a list. You then center them in the scope. When combined with the date and time, this gives your telescope all the information it needs.
Some scope allows you to plug in a GPS system or Wifi connection, making it easier to align the telescope. Another feature to look for is an integrated bubble level in the mount. This makes it a lot easier to get your mount set up correctly.
Aperture Size
With any telescope, the aperture size is one of the most important considerations. The larger the aperture, the more light your telescope can take in. This allows you to view more objects and get better images.
Larger aperture size will also correlate with price and size, so don't go nuts hunting for the most giant telescope possible.
Size and Weight
The size and weight of telescopes vary a lot. You need to be realistic about the amount of space you have and where you will be doing your viewing. If you don't have the means to transport a large telescope, you might need to opt for a more compact model.
You need to settle on a size that will give you a good viewing experience but isn't too much hassle to move around.
Viewing Location
If you are lucky enough to have a backyard where you can set up your scope, you don't need to worry about how portable your telescope is. However, if you will be traveling to dark sky locations with your telescope, you'll want to look for a smaller one. It will also be worth thinking about how challenging it might be to set it up. If you're in the middle of nowhere, you might not be able to get a wifi signal to look up a how-to-video one more time.
The Mount
Motorized go-to mounts can be either EZ or Alt-Az. When your mount is computer-controlled, the type of mount is a little less critical. What does matter is how stable the mount is. You'll want a mount that minimizes the vibrations and gives the best image possible.
Type of Telescope
There are three main choices for telescope types, and you can use any of them with a go-to mount.
Reflector
Reflector telescopes use mirrors instead of lenses. This makes them much cheaper for the same aperture size. However, the image quality is usually a little lower. They tend to be barrel-shaped, and the eyepiece is most often mounted towards the top of the telescope. This can give a more comfortable if counterintuitive viewing position.
One of the most significant advantages of a reflecting telescope is that they can be more compact. Because light is gathered using mirrors, the telescope's barrel doesn't need to be as long.
Refractor
Refractor telescopes are the most traditional type of telescopes. They are usually the best option in terms of image quality at any given aperture size.
However, you are entirely at the mercy of the quality of the lens. This means that you can get chromatic aberration if you opt for a cheaper telescope. This means that the color of the image doesn't remain faithful all the way to the edge of the image.
Compound/Catadioptric
There are many different types of compound telescope. The most favored are Schmidt-Cassegrains and Maksutov-Cassegrains. These telescopes use some combination of mirrors and lenses. This means that if they are well designed, they can have the advantages of both types of telescope. You can get a good image quality with a more compact telescope.
Because they offer the best of both worlds, this does mean that they are often the most expensive option.

Eyepiece
The eyepiece on any telescope is usually the source of the magnification. If you are new to astronomy, then you may be better off with a lower magnification.
The other consideration with the eyepiece is the size. You're going to want to select something comfortable to look through. If you're squinting all night long, you're going to get a headache, and you won't want to get back out again.
Frequently Asked Questions
What is the best computerized telescope?
You can't just pick a scope and call it the best, whether it's computerized or not. It really depends on what you're planning to use it for.
But one thing can almost be taken as a rule. More often than not, a computerized scope won't have as much power as a manual one within the same price range. Its main asset usually isn't power but convenience and ease of use right out of the box.
Typically, most people will be looking for scopes that are easy to carry around, pack and unpack.
There are roughly two groups of users who should be looking for computerized scopes: complete beginners who don't want to get intimidated with a steep learning curve, and stargazers who love a sleek, automated experience.
What is the best telescope for deep space viewing?
When you're viewing deep space objects, you will need a telescope that can offer the brightest image possible. This means looking for large aperture sizes. The two ways to do this will be to look for Dobsonian reflector telescopes or compound telescopes. The compound telescopes will be the more expensive option.
You will also need a very sturdy and stable mount. The best eyepiece will be one with a wide field of view and reasonably low magnification.
What are the advantages of computerized telescopes?
Computerized telescopes are great for tracking objects in the night sky. If you want to follow something without making constant adjustments, then a computerized telescope is ideal. If you are taking photographs, then you will want the smooth motion that these telescopes offer.
Another advantage of a go-to mount is that you don't have to spend a lot of time calculating the coordinates of what you want to view. Once your telescope is aligned, you can let it do the hard work of finding the object for you.
If you are viewing in an area with a lot of light pollution, finding and keeping track of any object in the night sky can be a frustrating experience for a beginner astronomer. With computerized telescopes, you don't have to second guess if you're looking in the right place or not.
Last update on 2023-10-04 / Affiliate links / Images from Amazon Product Advertising API